Grilling vegetables skewers seems like a no-brainer, but there are a few tricks to making them a simple success every time.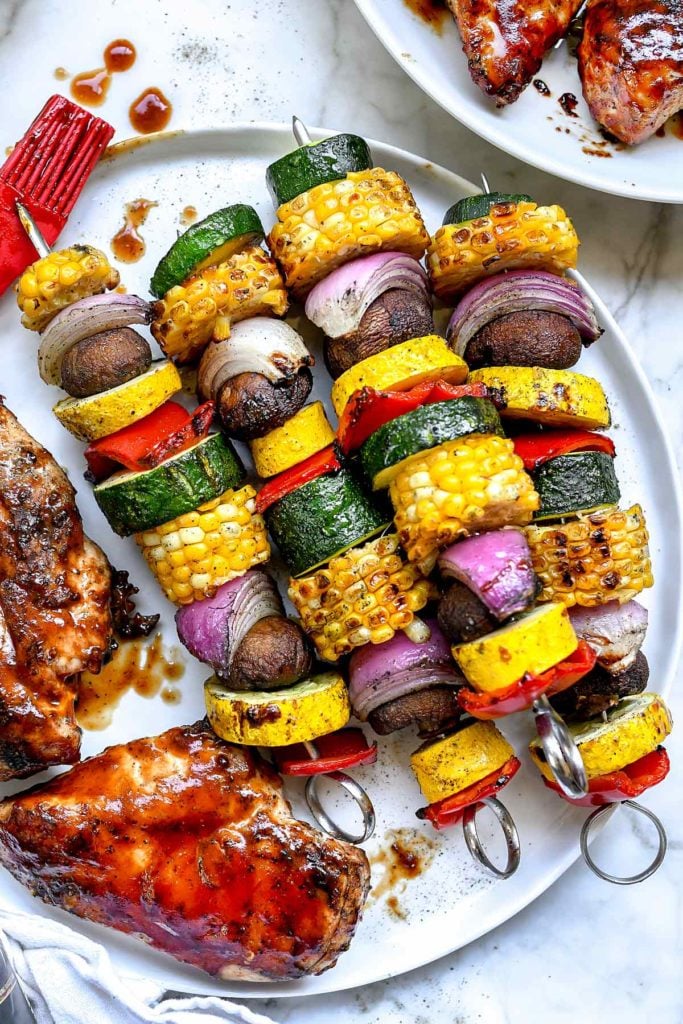 I grew up with a side of vegetables served at every dinnertime meal, so even when it comes to grilling, that muscle memory is still very much ingrained. That's why when I make a quick dinner of grilled BBQ chicken breasts, my husband's perfectly juicy grilled pork chops and healthy grilled salmon, I'm always including grilled vegetables alongside.
Depending on what I have in the fridge usually dictates whether I'm making the best easy grilled vegetables for a simple mezze platter, or skewering them up for vegetable kebabs for a little veggie variety.
These grilled vegetable kebabs aren't as much a recipe but a method to master, with simple seasonings to go with anything they're paired with.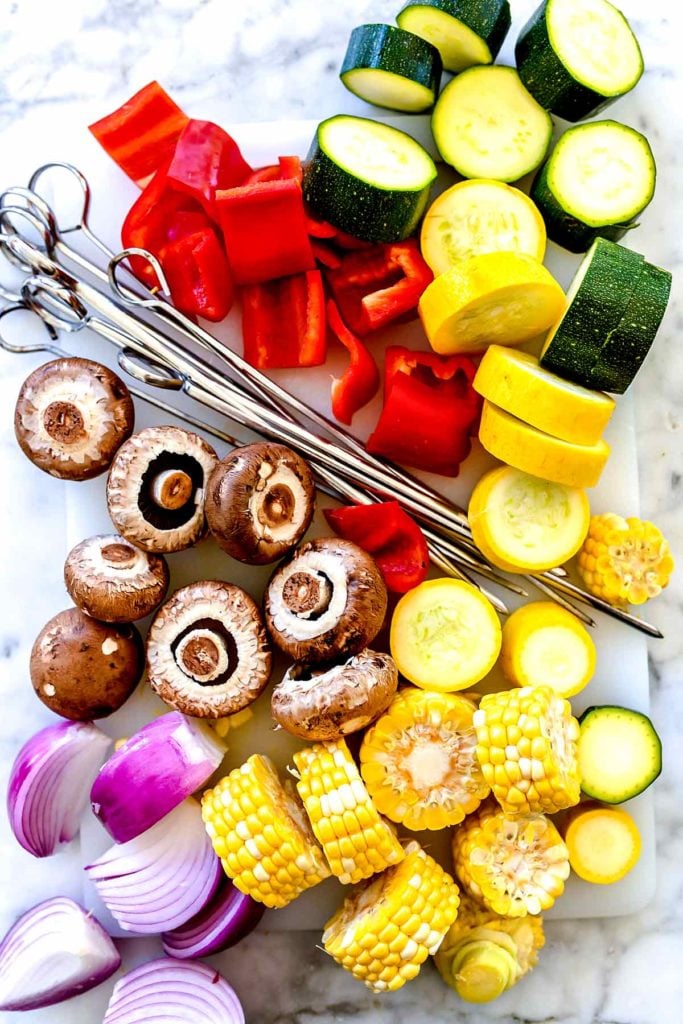 Which Vegetables Are Good for Grilling
Grilling vegetables adds a smoky flavor to each bite. Just like my easy roasted vegetables I make all year long, grilling caramelizes the vegetable's sweetness by bringing out their natural sugars. If you have a non-veggie liker, try serving them grilled veggies on a skewer, and watch them fall right in line.
The best vegetables for grilling on skewers:
How to Prepare Grilled Vegetables Skewers
Choose your skewer. I most often use metal skewers for threading veggies, but bamboo skewers will work too. If using wooden skewers, soak the skewers in water for at least 15-30 minutes so they don't burn on the grill.
Cut the vegetables the same size. Cut the vegetables into the same size chunks so they cook evenly. Cutting the vegetables too thin have a tendency to fall off the skewers as they cook, so keep them thick. Tender vegetables like zucchini or summer squash can be cut thicker because they take less time to cook and curving chunks of sliced onion over the rounded tops of mushrooms not only melds flavor, but maximizes skewer space too.
Pack them tight. Because the vegetables shrink as they cook, pack them together tightly. Because of my OCD tendencies, I like to keep my sequencing of the vegetables the same for each skewer, but feel free to use just one type vegetable per skewer if you're serving the vegetables all together on a platter.
Grilled Vegetables Marinade Ideas
Because of most vegetables hardy texture, unless you're using it on softer mushrooms, zucchini, or summer squash, most vegetable marinades don't infuse much flavor into grilled vegetables. Due to that fact and that I like the natural, caramelized sugars in grilled vegetables to shine through, I don't feel there's a need to marinate vegetables before grilling. Sugary marinades also have a tendency to burn and cause flare-ups.
Instead of a marinade, simply flavor your vegetables with:
Extra virgin olive oil
Kosher salt
Freshly ground black pepper
If you want more flavor for the vegetables, add a sauce after grilling, like:
If you do wish to marinade your veggies before grilling, place the sliced vegetables in a gallon-size zippered freezer bag with one of these marinades for 1 hour up to overnight:
Herbs and Spices That Go Well With Grilled Vegetables
If you're looking to up your basic seasoning game, mix in minced herbs or spices to the olive oil, kosher salt and black pepper, such as:
Tarragon
Oregano
Marjoram
Mint
Basil
Garlic
Cumin
Chile powder
Allspice
Italian seasoning blend
Ginger
The Best Way to Grill Skewered Vegetables
Cut the vegetables the same thickness so they cook at the same rate. Slicing the veggies too thin will make them too tender and fall off the skewers.
Give your veggies an oil down. Follow the golden rule of grilling: oil what you grill, not the grill itself. Drizzle the skewered vegetables with olive oil and spread it evenly with your fingers.
Season simply. Sprinkle the vegetables somewhat generously with kosher salt and freshly ground black pepper. They absorb the salt as they cook, enhancing their inherent sweetness. Feel free to add dried herbs such as oregano, mint, tarragon, or basil if you'd like.
Grill 'em up hot. Start your veggies over medium heat, about 350°F to 450°F. Close the grill lid and cook the vegetables undisturbed, rotating every 3-5 minutes until cooked through.
Close the lid. Closing the lid of your grill creates the same environment as an oven, baking the vegetables as they lightly char.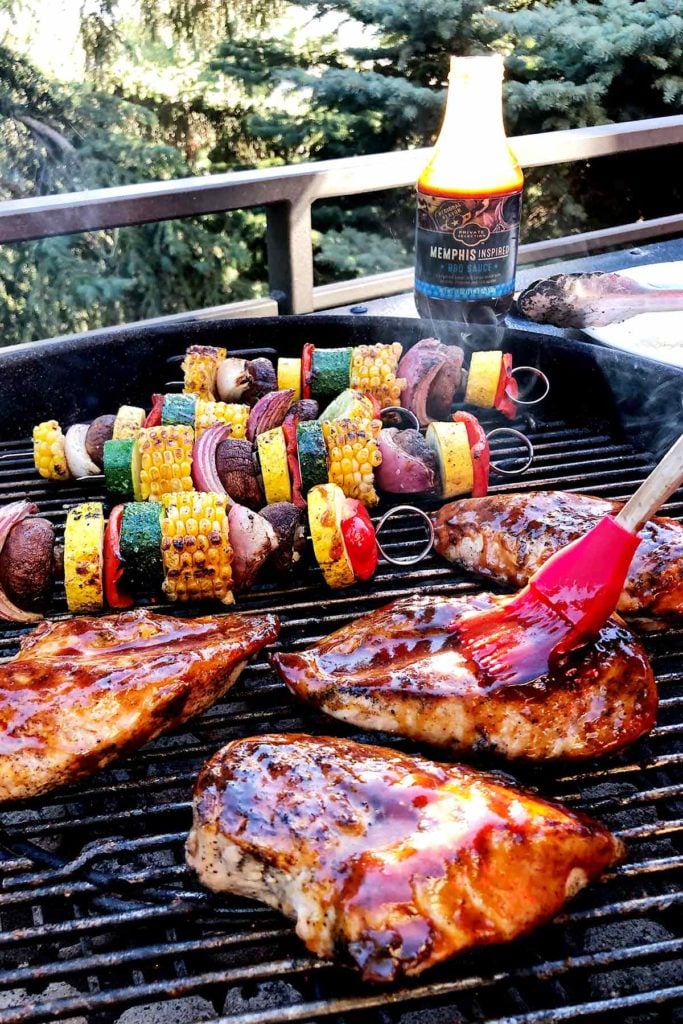 Are Grilled Vegetables Healthy?
Sure, antioxidant-rich veggies are good for you, but what about when they're grilled? The question sometimes arises: Can grilling be bad for you?
After digging around the internets, the answer is clear: Grilled vegetables are the best, healthiest way to grill.
According to WebMD, grilled vegetables are safe to grill because risk-potential PAHs and HCAs don't form on grilled fruits and vegetables. Vegetables don't have fat to render and drip onto the grilling element to cause the flare-ups to flap back these compounds back onto the food.
What to Serve With Grilled Vegetables
with the addition of herbs or spices to the olive oil, salt and pepper,
If you make this recipe, please let me know! Leave a 
 rating on this recipe below and leave a comment, take a photo and tag me on Instagram with #foodiecrusheats.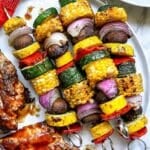 Print
Grilled Vegetables Skewers
I most often use metal skewers for threading veggies, but bamboo skewers will work too. If using wooden skewers, soak the skewers in water for at least 15-30 minutes so they don't burn on the grill.
Ingredients
1

ear

corn

, husk removed

1

zucchini

1

yellow summer squash

½

red bell pepper

, seeded and cored

½

red onion

8

brown mushrooms

2

tablespoons

extra virgin olive oil

1

teaspoon

kosher salt

½

teaspoon

freshly ground black pepper
Instructions
Prepare the grill with clean grates and preheat to medium heat, 350°F to 450°F. If using wooden skewers, prepare them by soaking in water for 10 minutes. If using metal skewers, no prep is necessary.

Cut the vegetables into ½" slices or chunks. Thread the vegetables on the skewers alternating the veggies, until you've reached the end of the skewer. Drizzle the vegetables with olive oil and sprinkle evenly with salt and pepper.

Grill the vegetables with the lid closed until tender and lightly charred, turning every 3-5 minutes. Serve warm or at room temperature.
Nutrition
Calories:
119
kcal
|
Carbohydrates:
12
g
|
Protein:
3
g
|
Fat:
8
g
|
Saturated Fat:
1
g
|
Sodium:
590
mg
|
Potassium:
535
mg
|
Fiber:
2
g
|
Sugar:
5
g
|
Vitamin A:
720
IU
|
Vitamin C:
38
mg
|
Calcium:
26
mg
|
Iron:
1
mg
More Grilled Vegetable Recipes Ideas
We send good emails. Subscribe to FoodieCrush and have each post plus exclusive content only for our subscribers delivered straight to your e-mail box.
Follow me on Instagram, Facebook, Pinterest and Twitter for more FoodieCrush inspiration.
As always, thank you for reading and supporting companies I partner with, which allows me to create more unique content and recipes for you. There are affiliate links in this post of which I receive a small commission. All opinions are always my own.