From zippy potato salads, quinoa salads, coleslaws, and pasta salads that just seem to get better and better over time, we can't get enough of this list of 30 healthier,  light and refreshing summer potluck salads to make now.
With the official first day of summer lingering around the corner (can't wait for you to get here June 21!), we can't help but daydream of picnics, potlucks, and pool parties. That's because we know these shindigs always have the best food.
Childhood memories of cookouts and summer get-togethers bring up all the happy memories of summer's answer to comfort food: All the side dishes you can fill a plate with and for me that means all the salads.
We're talking salads that'll cool you down even on the hottest of days; dishes eaten pool-side, picnic-style, or enjoyed on those lazy summer eves with all the grilled foods and in the company of family and friends.
So whether you're a caprese salad junkie, coleslaw queen, or broccoli salad aficionado (this one's my fave!), the gang's all here. You'll recognize healthier riffs on your classic faves, plus some new inspiration. But whatever your craving, we've got you covered so you can bring your best potluck game all summer-long.
Make meal planning your month of meals a snap.
First, download this free printable weekly meal planner/to-do list to fill in, tape to the fridge, take to the grocery store, or use for reference next year when you can't remember what the heck were your fave recipes from this one.
And then sign up for your free weekly meal plan and prep list here.
You get the idea. Now let's dig in.
These healthy sides will be your best friend for potlucks, cookouts and more.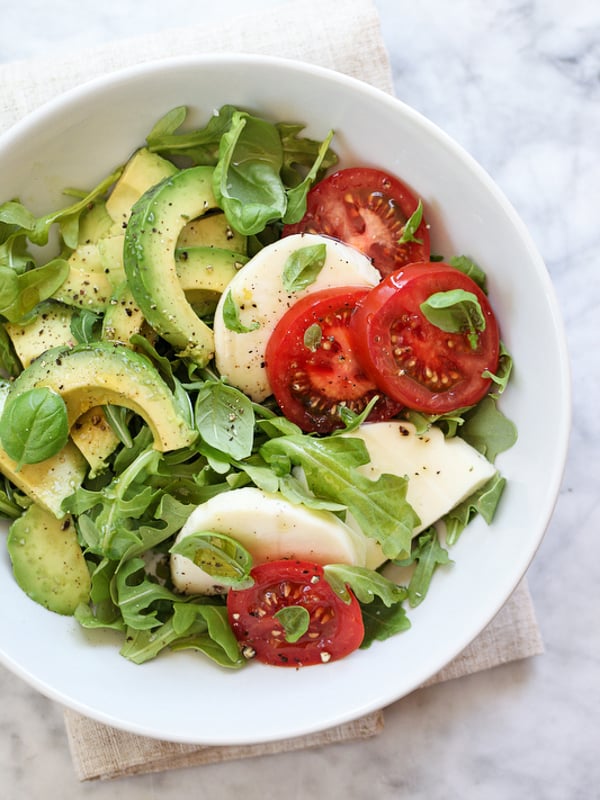 FoodieCrush
Caprese salad is basically the Beyoncé of potluck sides, and this is the one that keeps me singing all summer long.
Salt and Lavender
This super healthy side is bursting with bright Mediterranean flavors from kalamata olives, cucumbers, tomatoes, fresh oregano and parsley, and chickpeas to make it extra hearty.
FoodieCrush
Greek yogurt is spiked with fresh garlic, dill, mint, and lemon for a zingy and ultra refreshing cucumber salad that goes well with absolutely anything. Plus, it seriously couldn't be easier to throw together!
Flourishing Foodie
White beans, black beans, and garbanzo beans tango with a garlic-balsamic vinaigrette in this cranberry and celery-studded salad that's a breeze to make.
Spoonful of Flavor
Berries and pesto aren't two ingredients you'd naturally think to pair together, but this pasta salad with chicken,  spinach, and fresh mozzarella proves the combination works like a charm!
FoodieCrush
A zippy lime dressing gives the pop to this fresh and crunchy watermelon salad spiked with just the right bites of mango and jalapeño to get your potluck hoppin'.
Stephanie Lee Nutrition
Broccoli salad's a potluck oldie hit, but it comes with a lot of fat and calories — not this recipe though! Don't worry, it's still wonderfully creamy and has (turkey) bacon and cheese, it's just got less sugar, less mayo (thanks to the addition of Greek yogurt), and more veggies (hey cauliflower)!
Jo Cooks
Inspired by the popular Mexican street food — esquites — this salad is packed with awesome smoky flavor. It features fresh corn kernels, red bell pepper, green onions, avocado, red onion, cilantro, and plenty of feta or cotija cheese for a nice, salty bite.
FoodieCrush
Greek salad gets pasta-fied in this addictive side which has all of the flavors you love in a classic Greek salad. It's easily customizable too, so add more veggies if you like, and use a long or short noodle for your pasta!
Vanilla and Bean
This summery salad is an excellent (and easy) way to get your veggies in. It's chock-full of healthy ingredients like hearty wheat berries and garbanzo beans, peppers, cucumber, carrots, onion, and lots of fresh herbs, all tossed in a creamy, zesty dressing.
A Beautiful Plate
A bed of nutty farro tossed with homemade pesto, plus the addition of juicy strawberries makes for a fun departure from the traditional caprese salad.
A Saucy Kitchen
All you need are 9 ingredients to make this healthy and simple chicken salad, made creamy with smashed avocado and brightened up with fresh lemon juice. As Ina would say, "how easy is that?"
FoodieCrush
Mayo haters rejoice, 'cause this coleslaw's for you! It's zesty and naturally-sweetened with honey, and boasts tons of awesome Mexican flavors, including fresh lime and cilantro (and of course hot sauce for good measure). Not to mention this slaw goes with anything.
Chelsea's Messy Apron (as seen on The Recipe Critic)
Here's another one for all the mayo naysayers. This orzo salad is full of healthy veggies, mozzarella cheese, fresh basil, and a lemon-honey-garlic vinaigrette that ties it all together.
Cookie and Kate
This is not your mama's potato salad (and that's a good thing). Inspired by the French potato salad variety, it's lightened and brightened-up with lemon juice,  Dijon mustard, and plenty of fresh parsley and green onions, making it healthy and full of amazing flavor!
Joyful Healthy Eats
Charred corn and onion and roasted red peppers give this goat cheese-studded farro salad a killer smoky flavor, and zesty lime and fresh cilantro brighten everything up nicely.
This Healthy Table
Honeydew is definitely the melon that gets the least attention, but this gorgeous salad quickly reminds us why we should show it some more love! When paired with tart blackberries, fresh watercress, and spring onions, and tossed in a lemon-honey vinaigrette, it totally steals the show.
FoodieCrush
This versatile power salad can be eaten for lunch, but it also doubles as a hit side for any potluck or cookout. It features protein-packed quinoa, crunchy peanuts, tons of crisp, colorful veggies, and fresh herbs, and a satisfying sesame-ginger-lime vinaigrette.
Double Thyme
Tiny pearls of Israeli couscous are tossed with roasted broccoli florets, chickpeas, a vibrant walnut pesto, and fresh-grated Pecorino cheese in this super addictive salad.
Gimme Some Oven
This nutritious herb-loaded orzo salad is just begging to be packed up for your next picnic. It's full of chickpeas, greens, and cheese, but is easily customizable with whatever types of greens, herbs, and cheese you use.
Little Broken
It doesn't get much more refreshing than watermelon and cucumber. This bright, easy to make salad with arugula, feta, and a balsamic glaze is the perfect antidote to a hot summer day.
Feasting at Home
This light chopped salad is bursting with amazing summery flavors thanks to a colorful array of fresh veggies and herbs, and plenty of lemon.
FoodieCrush
When in doubt, a good pasta salad is always a safe bet for a potluck or party, and this one, inspired by the flavors of Tuscany, is a guaranteed hit. It's got three different types of salamis (I mean, how can you go wrong there), provolone cheese, Italian white beans, black olives, tomatoes, baby spinach, onions, egg noodles, and a creamy Italian dressing you won't be able to resist.
Vanilla and Bean
Not all broccoli salads are created equal, but this one is incredibly addicting. It's spiffed up with golden raisins and walnuts, and it comes together fast in the food processor (even better, you can use the entire broccoli too — stem, leaves, and florets)! It's also easy to make ahead of time, and holds up well in the fridge. What's not to love?
FoodieCrush
If you've been to a potluck, you've had this salad in some form or another. It's a classic, and always a hit, thanks to crunchy ramen noodles and cabbage, juicy oranges, and a crazy-addictive dressing (this version has less sugar)!
Creme De La Crumb
There's a lot going on in this pasta salad, but it works, and it covers all the bases — carbs, protein, veggies, and fruit! Bowtie noodles, arugula, spinach, avocado, sweet strawberries, shredded chicken, nuts, and cheese get tossed together with a creamy balsamic dressing.
Two Peas and Their Pod
Channel the Mediterranean with every savory bite of this healthy protein power salad.

Little Spice Jar
This pearl couscous features tomatoes roasted with garlic, basil, olives, roasted red peppers, chunks of fresh mozzarella, and a roasted garlic Italian-style dressing for a light but satisfying salad that hits every flavor note.
Chew Out Loud
This crowd-pleasing salad doubles as a dip, but whether you enjoy it on its own or with tortilla chips, you can easily make it ahead of time. Bonus? It's full of antioxidants and superfoods, and free of refined sugars!
FoodieCrush
While it isn't the healthiest salad on this list, I simply couldn't leave my favorite potato salad of all time out of this round-up. It's the potato salad I grew up with and that started my summer-side-salad obsession. While nobody does it quite as well as my mom, I highly suggest you be like me and still make it all summer long.


This recipe round-up was curated  and written by FoodieCrush contributor Hayley Putnam of Seven Day Weekend. Follow her foodie tastes and other flights of fancy on Pinterest and Instagram.

Thanks for stopping by and visiting FoodieCrush. Have something to say or a recipe round-up request to make your dinnertime meal making easier? I'd love to hear from you. Email me at [email protected] or let me know in the comments below.
As always, thank you for reading and supporting companies I partner with, which allows me to create more unique content and recipes for you. All opinions are always my own.  
Thanks for reading and subscribe to FoodieCrush to have each post delivered straight to your e-mail box.
Craving more life balance, less stress, and better health? Check out my Nourished Planner, the daily planner to help create simplicity and under-schedule your life.
Follow me on Instagram, Facebook, Pinterest and Twitter for more FoodieCrush inspiration.
SaveSave
SaveSave
SaveSave
SaveSave
SaveSaveSaveSave
SaveSave