The jalapeños made me do it.
This past New Years Eve we were celebrating at my friend Mandy's house, doing those things that people do on that auspicious night. Everyone brought a little something to nosh on and there was quite the spread to complement the flowing toasts and the Santa-inspired-karaoke caroling going on in the other room.
So we ate, we sang and then the secret weapon came out.
As the others were piling chicken wings and side salads to their plates, Mandy pulled me aside and with a devious grin and flashed the goods: her famous Pickled Jalapeños.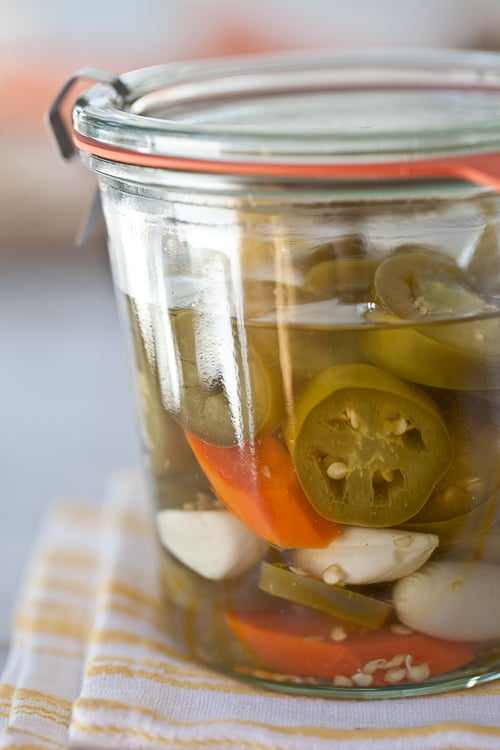 She was sharing her last bottle from her secret stash with me. We were like two 6 year olds hoarding our Halloween candy in the hall closet as we hid from any lurking siblings.
And then things took a nasty turn.
It was time to bid our final New Year's wishes and hit the road, but I was still thinking about those damn jalapeños. So what did I do? I hijacked the bottle of straggling peppers. Her last bottle! She laughed and being the good friend she is generously said to take it and enjoy it.
Mandy replenished her cupboards with another pickled batch shortly thereafter but they never last long around her house. We're planning a pickling date soon and this time you can be sure I'll leave with only the jalapeños I came with. Maybe.
This recipe makes 3 to 4 pints per batch but Mandy usually triples the recipe to make 3 batches and keeps the brine warm on the stove in between pickling batches.
Easy Pickled Jalapeños
adapted from examiner.com
makes 3-4 pints
5 cups white vinegar
1 cup water
4 teaspoons pickling salt
2 teaspoons sugar
2 pounds jalapeños peppers or banana peppers pepperocini, washed and stemmed, and cut into ¼″ rounds
1 carrot, peeled and sliced into ¼ inch slices (3-5 slices per jar)
4 mexican green onions (white part only, 1 per jar)
9-12 cloves of garlic, 3 per jar
1. Prepare boiling water bath and keep jars and lids hot (tips here)
2. Combine vinegar, water, salt and sugar in a stainless steel or enamel non-reactive 2-quart saucepan, bring to a boil then turn to low and cook until sugar and salt dissolve. Cover and keep hot.
3. In clean hot jars, layer 3 cloves garlic, 1 Mexican green onion and 3-5 slices of carrot. Pack jars with jalapeños, packing tightly but careful not to crush. Pour hot brine over the top of jalapeños. Tap jars on countertop to remove any bubbles. Wipe rims, apply canning lids and tighten bands on jars.
4. Process bottles in a boiling water canner for 10 minutes. Cool and store in dark place for up to one year.
Jalapeños are just one of the delicious by-products of Cinco de Mayo and boy has there been a plethora of recipes floating on the www.
One set of recipes I've been totally craving and will be making this weekend is thanks to Terilyn and Jenny at Spoon Fork Bacon and the recipes they created for my last issue of Foodie Crush. Get the deets on these delicious recipes here.
Your Mexican fiesta is well in hand if you just follow their lead.
photos > Spoon Fork Bacon
And now my Friday faves:
1. While I was putting together my round up of tomatillo recipes I lit upon these limey sweets from Created by Diane. Oh my word. They're coming to the party too.
2. Don't let the sombreros overshadow the proper fancy hats. It's Kentucky Derby time and another perfect excuse for a party with these Mint Julep inspired recipes
3. I wasn't able to fit this conference into my schedule and so I'll be following the tweets to stay in the loop
4. This weekend while I'm working on recipe posts for May I'll be referring to my just arrived brand-spankin' new copy of this book from one of my favorite food photographers
5. Congrats to all all of the contenders and winner in the Saveur Best Food Blog contest. If I've said it once, this proves it again: food bloggers are kickin' it with talent.
6. Foodie Crush magazine submissions are underway and I want yours!
7. In my ever continuing obsession with finding the best e-mail client I'll be trying out this one that Aimee recommended via Twitter. I'll let you know what I find.
8. My KitchenAid pasta attachment is coming out to play thanks to Paula's recipe
9. If I feel crafty I'll give this a go. It reminds me of my 5th grade project making astronaut helmets. Ding! Gotta try that with Smudge!
10. I'll be selecting the winner of my $100 Visa Card and Harabu House giveaway this Sunday so don't forget to enter!
Related Posts
Grilled Stuffed Pasilla Peppers
Nacho Taco Salad
Roasted Tomatillo and Green Olive Salsa
Chile Verde Huevos Rancheros
Spicy Chicken and Hominy Soup
Thanks for reading and please keep in touch. Subscribe to Foodie Crush and follow me on Twitter, Facebook and Pinterest and check out Foodie Crush magazine and Cookie Cravings cookbook.