A healthy dose of fresh, peeled garlic cloves, homemade pickling spice, and chili peppers give these homemade pickles a seriously delicious spicy kick.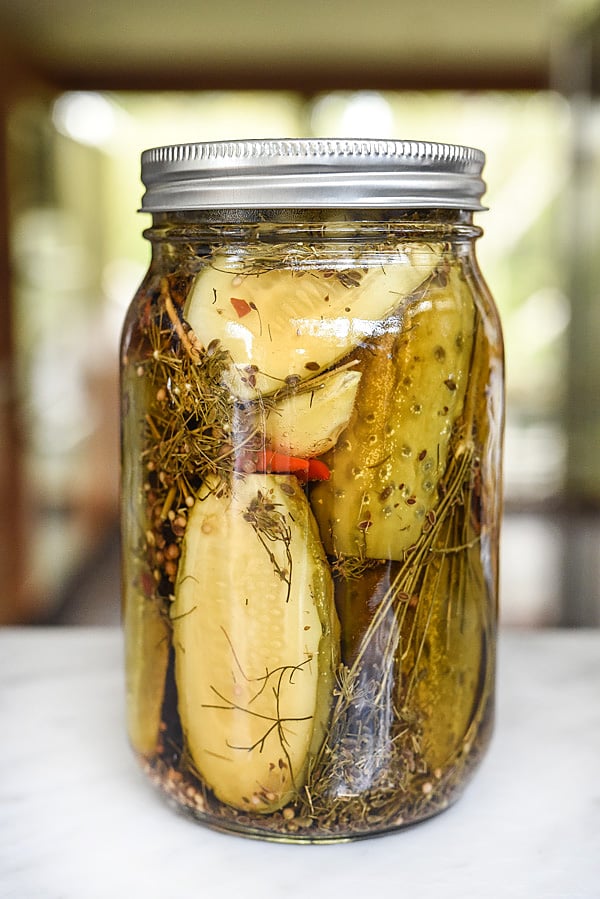 Homemade Spicy Pickle Recipe
Every summer I make plans to can a few jars of spicy garlic pickles to match the taste of a jar I picked up at one our farmers markets that left me slack jawed and puckered. Because as a self-professed pickle-head, I always want more.
Those farmers market pickles were spicy. And dilly. And totally amazing. I mean, if you're going to do it, do it big.
This spicy pickle recipe matches everything I crave about a spicy pickle: Garlic, dill, and a little bit of heat with a whole lot of crunch. It's based on a recipe I heard about on NPR's All Things Considered Lost Recipe series. The listener wanted to recreate her aunt Minnie's secret pickle recipe, but only had a few details to go by. To reverse engineer the recipe, NPR turned to no other than the doyenne of canning on the www, Marisa of Food In Jars, who supplied some very helpful intel for pickling pickles, and the base for this homemade dill pickle recipe.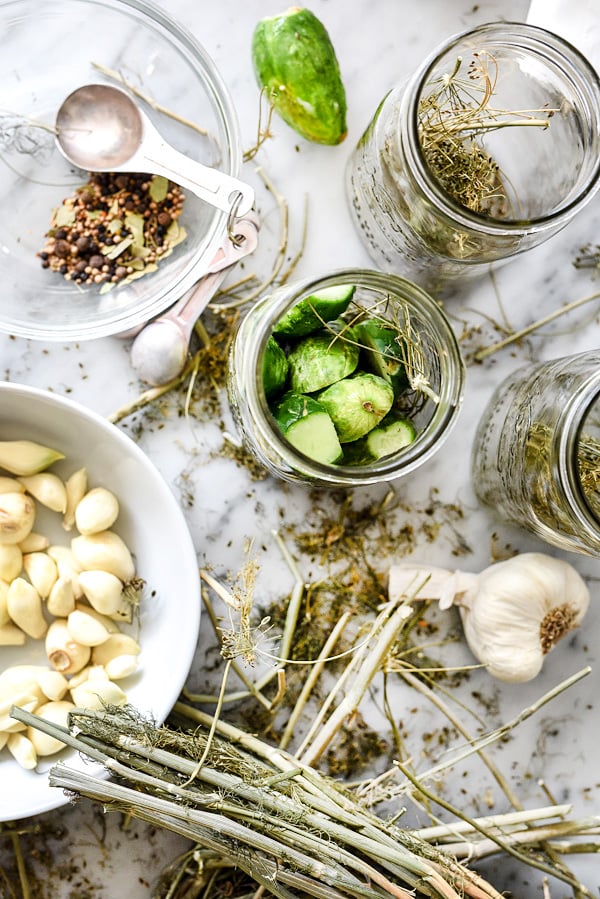 What's in These Homemade Dill Pickles?
With garlic and Thai chili peppers added to the brine, these dill pickles have a spicy kick. And they're exceptionally flexible to fit your taste. Can them so they last for months or make them refrigerator pickles to eat quicker. Feel free to leave the chili peppers out if heat isn't your thing. If your cucumbers are bigger, cut them down to fit. Or, if you really love the vampireness of garlic, toss more in, or leave it out.
I use half cider vinegar and half white vinegar in my brine because white vinegar gives these pickles more pucker.
Ingredients for the spicy pickles:
Pickling cucumbers
Apple cider vinegar
White vinegar
Water
Pickling salt
Dried dill weed (not fresh)
Thai red peppers, or other spicy chili such as habenaro
Garlic cloves
Homemade pickling spice (ingredients listed below)
What Type of Cucumbers Are Best for Pickling
Choose firm, green cucumbers that don't have a lot of blemishes or discoloration.
For quick pickles or refrigerator pickles, like in my refrigerator pickles recipe here, choose a thin-skin cucumbers that absorbs the vinegar solution easily. Regular garden cucumbers, Persian cucumbers, or seedless English cucumbers work well.
For canning cucumbers, choose a sturdier cucumber with thicker skin like kirby pickles that will hold their snap after brining in the vinegar solution.
How Many Cucumbers Are In a Bushel
I buy my kirby cucumbers at the farmers market where they were sold by the basket. But is a basket a bushel? How many cups is that? And what in the heck did he say they weighed? Oh wait, he didn't.
I suck at math. So when figuring out exactly how many cucumbers are in a bushel to share for this crazy good dill pickle recipe…well guys…you're just going to have to join me and go with the flow on this one. Even though I did indeed get out my pencil, my calculator and conferred deeply with Google, my calculations may not be exact science.
But, then, except for baking, when ever IS cooking a science?"
In doing the math, I discovered this PDF about pickling cucumbers that spelled out the bushel weights for me. For someone who is no good at math like me, it was very helpful to deduce.
1½ to 2 pounds fresh cucumbers is equal to 1 quart canned dills (4-inch average).
which means…
1 bushel (48 pounds) is equal to 16 to 24 quarts (average 2 pounds per quart). My brain already hurts.
Since I ended up with about 11 quarts, and I bought 2 baskets, I'd bought 1/2 a bushel. 1/2 a bushel equals 24 pounds and would equal 8 to 12 quarts. I was just about right on.
Wait…that's right. Right? I hope so.
How to Make Homemade Pickling Spice
This recipe starts with the homemade pickling spice mixture suggested by Marisa in the NPR segment, with some slight alterations. I cut down on the amount of allspice and I left out the red pepper flakes since I knew I was going to be adding whole, split Thai chiles for heat.
Ingredients for the pickling spice blend:
Black peppercorns
Mustard seeds
Coriander seeds
Dill seed
Allspice berries
Crushed red pepper flakes (if not using fresh chiles)
Bay leaves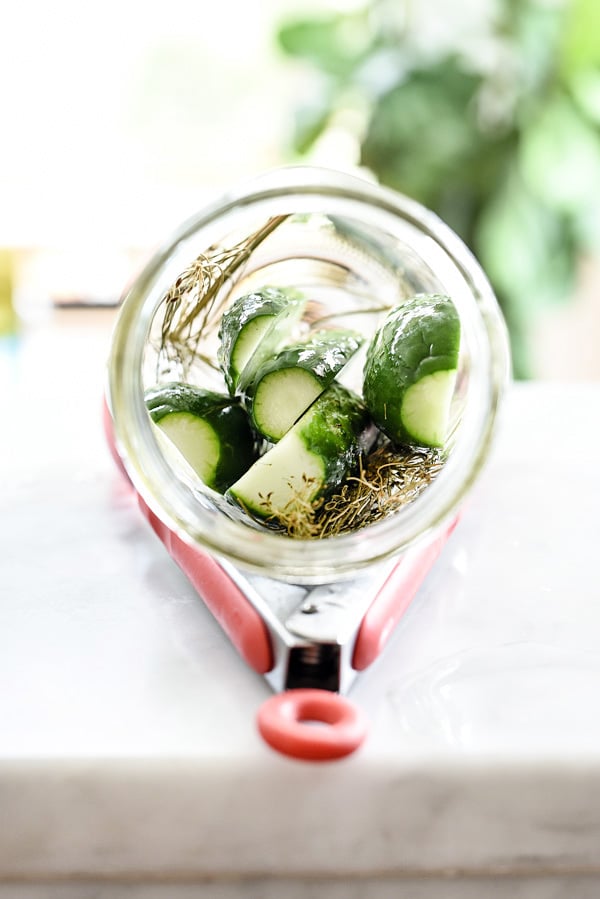 How to Make Dill Pickles
First, prep the pickling jars. Wide mouth jars that are easy to stuff are essential for canning pickles. If canning, sterilize the jars and lids by running them through the dishwasher or boiling in an extra large pot of water for 2 minutes per jar. If you're not canning the pickles, simply wash and rinse the jars and lids in hot water.
Prep the cucumbers and trim the ends before pickling. To avoid limp pickles, always rinse the cucumbers well and trim the bloom end of the cucumber to prevent spoilage. Half of the time I wasn't sure which was which so I just trimmed both. I like safer than sorry. Leave the cucumbers whole or slice the cucumbers into spears or coins with the skin on.
Pack the Pickles
Start stuffing and packing the jars. To each jar, add a few tablespoons of the pickling spice, 2 or 3 fronds and stalks of dried dill weed, 2 or 3 Thai red peppers, and a few whole garlic cloves. Then, pack the cucumbers (whole or sliced) into the jars so they are tight but aren't damaged in the process.
PICKLE PACKING TIP: To easily pack the jars and keep the cucumbers from tipping over as you do, tilt the wide mouth canning jars at an angle on tongs. Then, pack the jars in layers of cucumbers and dill. Stuff away, pickler!
Add the brine. Next, bring the vinegars, water, and salt to a simmer in a large stock pot. Pour the brine over the cucumbers in the jars, leaving about 1/2 inch headspace.
Tap to release air bubbles. Tap the jars on the counter to release any air bubbles between the brine and pickles then top with the lids and screw tight.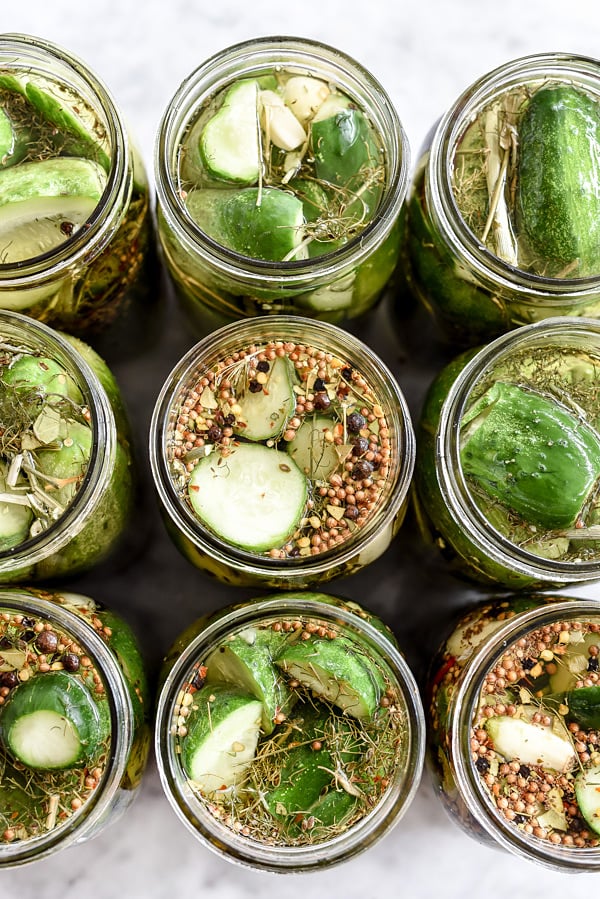 How to Can Pickles
Fill a canning pot with water and bring to a boil. Allow enough room so that when the bottles are added the water doesn't overflow.
Wipe the rims of the jars and use tongs to place the sterilized lids and rings on top of the jars.
Process in a canner water bath for 10 minutes.
Remove the jars from the pot to the counter topped with a dish towel to cool.
Make sure the lids pop down to show they are sealed. Refrigerate the jars of pickles that don't pop and eat as refrigerator pickles.
I let these babies sit for about 10 days before I eat them. Oh man. They are really, really good. My mom likes to let hers sit for 3 months. I'm not sure how she can hold out that long, but like most things, they do get better with age.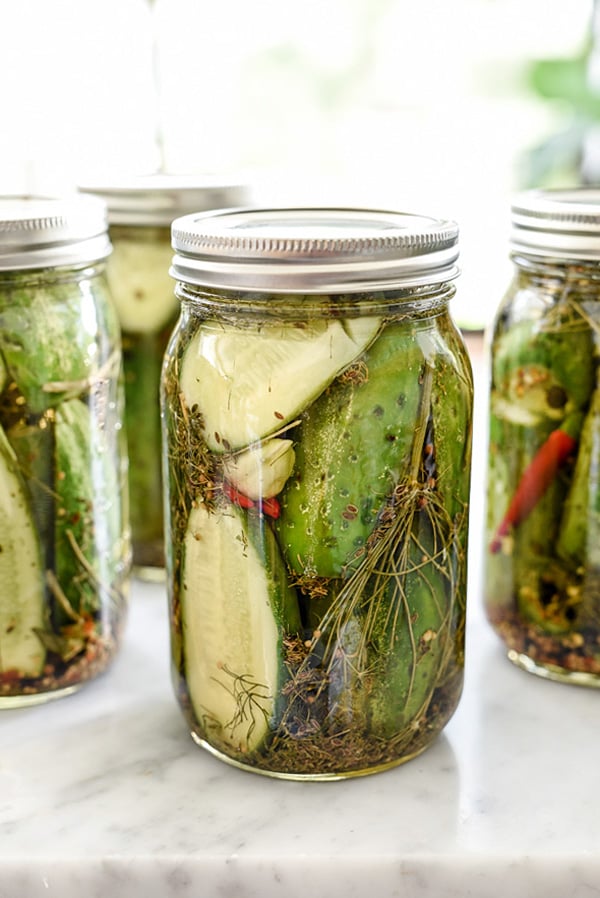 Can I Make These as Refrigerator Pickles?
Yes you can! For refrigerator pickles, skip the hot water bath and place the jars directly into the fridge instead. They won't last as long and won't be shelf-stable, but will last in the fridge for 1-2 months.
How to Make Homemade Pickles Crisp
Marisa suggested using alum in the recipe to keep the pickles crisp. I haven't tried this technique because these pickles come out crisp without it. Be sure to avoid over processing the pickles, which will "cook" them and make them limp.
More Homemade Pickle Recipes to Try
If you make this recipe, please let me know! Leave a 
star rating on this recipe below and leave a comment, take a photo and tag me on Instagram with #foodiecrusheats.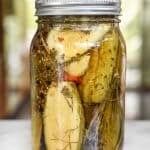 Print
Homemade Spicy Garlic Dill Pickles Recipe
A healthy dose of fresh, peeled garlic cloves, homemade pickling spice, and chili peppers give these homemade pickles a seriously delicious spicy kick.
Ingredients
For the Homemade Pickling Spice
2

tablespoons

black peppercorns

2

tablespoons

mustard seeds

2

tablespoons

coriander seeds

2

tablespoons

dill seed

1

tablespoon

allspice berries

1

teaspoon

crushed red pepper flakes

10-12

bay leaves

crumbled
For the Spicy Garlic Dill Pickles
1/2

bushel pickling cucumbers

scrubbed clean and kept whole or sliced

2

cups

apple cider vinegar

2

cups

white vinegar

4

cups

water

5

tablespoons

pickling salt

Homemade pickling spice (recipe above)

2-3 tablespoons per jar

Dried dill weed from a 2-ounce package

2-3 fronds and stalks per jar

10-18

small Thai red peppers

split down the middle but not separated, leaving seeds intact (2-3 per jar)

20-30

whole garlic cloves

peeled and lightly smashed (4-5 per jar)
Instructions
For the Homemade Pickling Spice
Add all of the ingredients to a small bowl and stir to mix.
For the Spicy Killer Garlic Dill Pickles
Prepare your jars and lids for canning. I run my jars through the dishwasher to sterilize and remove them while still warm. Add the lids to a small pot of simmering boiled water to pull from for the canning process.

In a large stock pot to avoid contaminationbring the vinegars, water and salt to a simmer.

To each sterilized jar add: 2-3 tablespoons of pickling spice, 2-3 fronds and stalks of dried dill weed, 2-3 Thai red peppers depending on your preference and 4-5 whole garlic cloves to each jar. Pack the whole or sliced cucumbers into the jars so they are tight but aren't damaged in the process. The cucumbers should sit below the neck of the jar. Trim the cucumbers if they're poking up too high.

Pour the brine into the jars leaving 1/2 inch headspace, just covering the cucumbers.

Wipe the rims of the jars and use tongs to place the lids and rings (that have been sterilized in simmering water) on top of the jars. To avoid contamination, do not touch the lids where they sit on the jars with your fingers.

Process in a canner water bath of boiling water for 10 minutes. Remove the jars from the pot and allow them to cool on a dishtowel on the counter. As the jars cool you will hear them pop as they seal. Sealed jars should feel solid when tapped and be concave in shape.

Store in a dry cool place. Pickles will be ready to try in about 7-10 days but get even better over time. They can be stored for up to 1 year.
Notes
To make these as refrigerator pickles, skip the hot water bath and place the jars directly into the fridge instead where they will last for 1-2 months. 
Nutrition
Calories:
114
kcal
|
Carbohydrates:
14
g
|
Protein:
3
g
|
Fat:
3
g
|
Saturated Fat:
1
g
|
Sodium:
7006
mg
|
Potassium:
344
mg
|
Fiber:
4
g
|
Sugar:
2
g
|
Vitamin A:
245
IU
|
Vitamin C:
21
mg
|
Calcium:
142
mg
|
Iron:
2
mg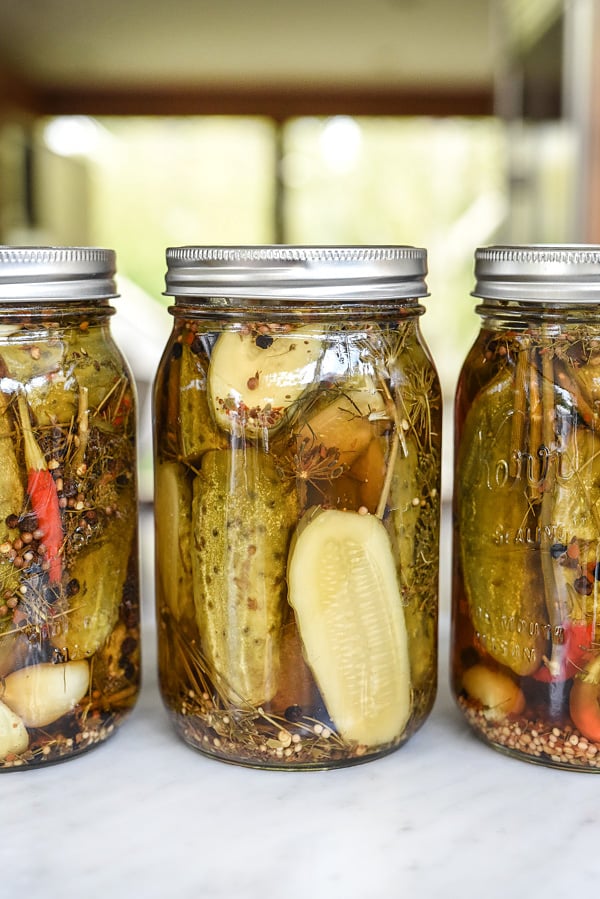 What to Eat with Dill Pickles
We send good emails. Subscribe to FoodieCrush and have each post plus exclusive content only for our subscribers delivered straight to your e-mail box.
Follow me on Instagram, Facebook, Pinterest and Twitter for more FoodieCrush inspiration.
As always, thank you for reading and supporting companies I partner with, which allows me to create more unique content and recipes for you. There may be affiliate links in this post of which I receive a small commission. All opinions are always my own.