There's this thing I inherited from my mother. Besides her blue eyes, our inability to remember names of acquaintances in the grocery store and our shared aptitude for back-seat driving.  
I inherited her love of pickled green beans. Specifically my mom's BFF's Dilly Bean Recipe.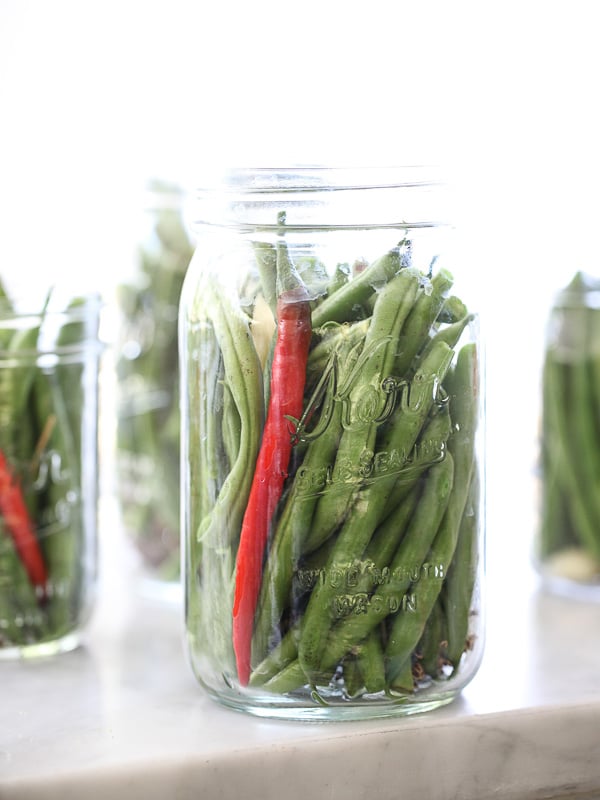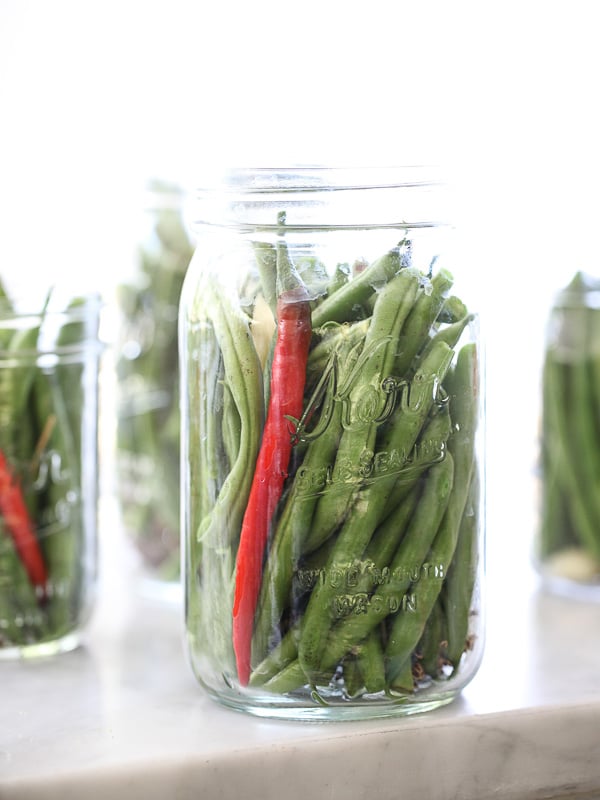 My mom's best friend Mary is the queen of the dilly bean. Mary deserves a crown, or a pretty green bean tiara or a sash that has QUEEN DILLY BEAN bedazzled upon it. Every year she bequeaths a few bottles to my mom, of which I imploringly ask for for in exchange for my undying love.
My mom usually says yes. But certainly not always.
After I bought a bushel of green beans from the farmer's market last weekend, Mary was my go-to source for my soon to be born Dilly Bean recipe.
I've done my fair share of quick pickling. Mango Gazpacho with Quick Pickled Shrimp or Pickled Strawberries with Roasted Beet Salads. So why I thought I had time to drag out the canner after my Burr Trail Grill Pickled Beets canning escapade two weeks ago was beyond me. I could have just stuck with Pickled Jalapeño, but I was wooed by the sand still clinging to those farm stand green beans.
Seriously, the sand made me do it.
I sometimes glance inside the pop-up tents and wonder whether some of the stands have ever gotten their hands dirty or farm their own produce. I know many of them are, especially here in Utah with its yet to be extinct agricultural community, but when I see the backs of pick-up trucks littered with boxes from California, I tend to be a tad skeptical.
But these beans just had to be fresh. There was that dirt. And the dirt-caked beets sitting right next to them alongside carrots all short and stout like the real deal beta carotene packers that come from your uncle's farm.
These green beans had to be the real deal.
But the problem with my reliance on Mary the Dilly Bean Queen is that I didn't have the recipe. My mom has it, but she's in Europe celebrating the Big 50 wedding anniversary with my daddio. And Mary? I found her number, made a call, but to no avail. So I did the next best thing and went to the www to find a recipe.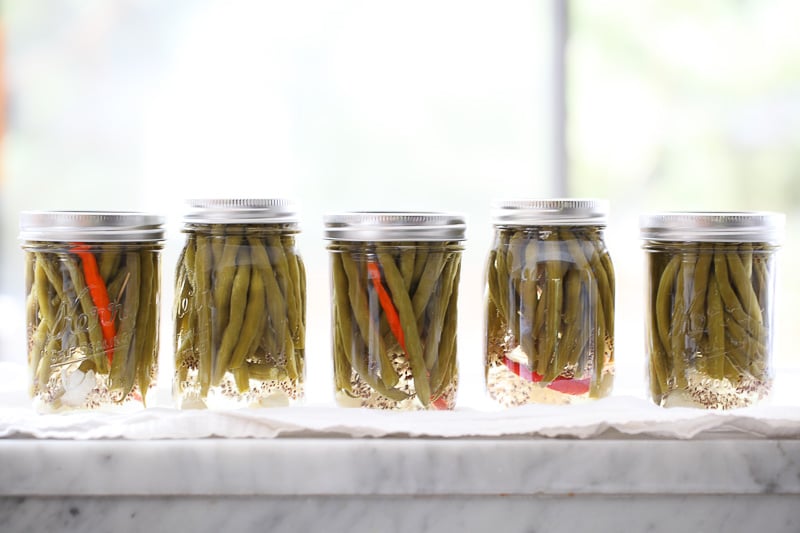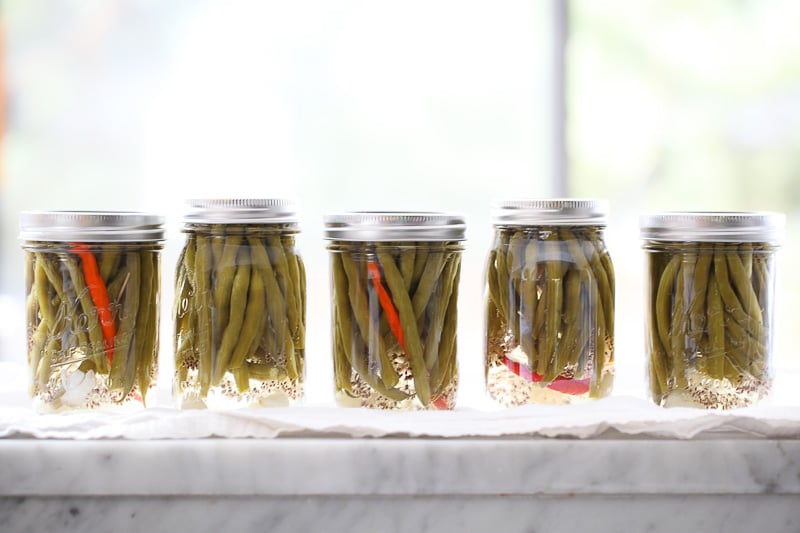 Dilly Beans aren't rocket science but canning is. So I went to the definitive canning source for reference, Food In Jars, and gleaned some intel from Marissa who certainly deserves a throne and something sparkly for her canning highness-ness.
This recipe is a love child of Marissa's and Pick Your Own's. I elbowed my way in and added an extra garlic clove to each bottle and scavenged a few Thai chiles from my neighbor. Two of the bottles went chile-less in hopes to engage Smudge in the flavors she has built into her DNA, and you never know,she may have more of her mama and her grandmother in her than we know.
Print
Dilly Bean Recipe
Ingredients
4

pounds

fresh green beans

8 to 16

heads fresh dill seed blooms

16

garlic cloves

peeled and smashed

8

whole cayenne pepper chile or for extra spice try Thai chiles

smashed

4

cups

water

4

cups

white vinegar vinegar

½

cup

canning or pickling salt
Instructions
Sterilize your jars and lids. Clean and trim beans to fit in tall Mason Jars (about ½ pound of beans fills one pint)

For each jar, put 1-2 dill blooms and 2 cloves of garlic into each jar. Pack the jars firmly with whole green beans and on cayenne pepper, leaving ½-inch space from the top of the jar.

Bring the water and white vinegar to a boil. Add the salt and stir to dissolve. (I add the salt after the water comes to a boil so my pans don't become pitted.) If you run out of vinegar mixture, just mix up another half batch.

Ladle the vinegar mixture into the jars leaving ½ inch space from top. Wipe edges of mouth clean and place a sterilized lid and then a ring on the jar.

Process the jars in a canner for 5 minutes if under 1,000 FT or 10 minutes from 1,000 -6,000 FT. Remove and allow to cool, making sure the jars have sealed by pressing on the lid. If it pops up the lid isn't sealed and should be thrown away.

Dilly Beans will be ready to eat within a week and are good for about a year.
While researching pickled everything from eggs to a quickly-passed-over pickled pigs feet, I recognized how predominant pickling is around all parts of the world. Pickles. The great unifier.
Here's a few pickled picklers to add to your pucker.
Aren't these recipes purely Pinnable? Please be sure to click through to the blogger's site to save to your Pinterest boards so credit goes where credit is due.
Sylvie wows once again with Gourmande in the Kitchen's Quick Pickled Carrots and Asparagus with Tarragon. No canning required.
The ultimate salad topper, Sarah adds a beet to make these beauties vibrant enough to eat in A House in the Hills Pink Pickled Onions.
This boy knows how to do it! Chris puts his garden to work and using every bite. A bit sweet, a lot tart with a big of sriracha heat is the brine that makes Shared Appetite's big tasting Pickled Swiss Chard Stems.
Not quite a pickled, but Diana's version is close enough in my book. Righteous Bacon's Marinated Asparagus Spears.
Ready to top just about any dish, sweet (rhubarb and brown sugar) sour (vinegar and salt) and a hit of spice (chipotle, ginger) Nik makes pickled Indian-Style Sweet and Sour Pickled Rhubarb from A Brown Table the bomb dot com.
More savory than sweet, with just a few spices to spruce it up, Plum Pickles from Love Food Eat will put any pregnancy pickle craving on hold.
Temper lemons in their own juice for a Lemon Pickle perfect for puckering. From The Tiffin Times.
As colorful as it is healthy, Recipe Girl's recipe for Pickled Vegetables eases Lori's veggie needs with pickled cauliflower bumped up with red bell peppers and carrots.
Perfectly paired with pork or heaped upon goat cheese slathered baguettes, Shawnda makes the most of her cherry jubilee with Balsamic Pickled Cherries from Confections of a Foodie Bride.
What more can you do with the beloved avocado? Pickle it! Rachel does the deed with La Fuji Mama's Pickled Avocado.
Thank you for supporting me and my partners which allows me to create new and special content for my readers. As always, all opinions are my own. 
Are you following me on Instagram, Twitter, Facebook and Pinterest? Thanks for reading and please keep in touch by subscribing to FoodieCrush.