It's about time I got on the pickling train, and there's no better recipe to start than with these Pickled Beets from The Burr Trail Grill in Boulder, UT.
Two years ago we made a trip down south to Torrey, UT for a music festival some of my husband's old band buddies were in. After the gigging was done, we went exploring and landed about an hour east of Torrey in Boulder, UT, the gateway to the Grand Staircase-Escalante National Monument (look at this landscape!), Capital Reef National Park and the Glen Canyon National Recreation Area including Lake Powell.
While the stunning red rocks contrasting the bright blue sky and wooded canyon lend to amazing outdoor adventure that brings world wide travelers to the area, in my opinion the real deal here is the the local eateries including the renowned Hell's Backbone Grill.
We tried to grab some lunch at Hell's Backbone while we were there, but since they were open only for dinner that weekend, we skipped next store to the Burr Trail Grill for tasty burgers and the most amazing polenta with caramelized onions, grilled red peppers and goat cheese appetizer. Seriously, I still think about that thing.
But what really rocked my socks was the sides of pickled veggies and pickled beets they served with their sandwiches and burgers.
I am a pickled beet fanatic. Anytime, anywhere if I see them they go on my plate. So asking the waitress to ask the owner for the recipe was really a no-brainer for me. All she could do was say no, right? But she didn't.
While the establishment has since changed hands, and I've yet to revisit, I'm hoping these beets are still on the menu but even if they aren't their legacy lives on.
With beets fresh from my friend Sherrie's garden, we headed up to her cabin over Labor Day to do some serious cooking and feasting and these ruby jewels were at the top of our recipe to-do list.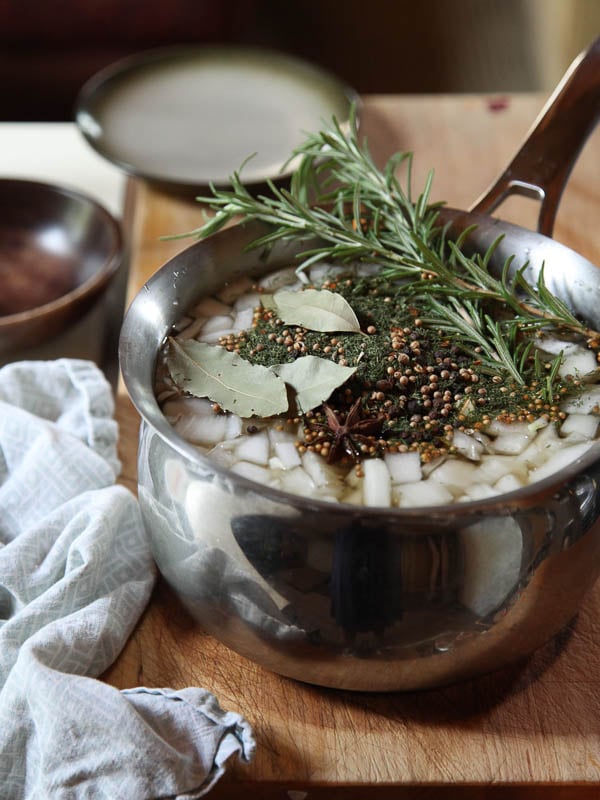 Since we didn't quite have 5 pounds of beets as the recipe calls for, we ended up with a quart of extra brine which we saved to make a few more rounds now that we're back in the city and able to do another garden raid.
We also chose to refrigerate these babies instead of canning them, given they only take about a day to absorb the full flavor and we knew they'd be gone as soon as a bottle was opened so why bother with the extra sweatiness?
They're perfect right out of the jar and I'm loving them. And if your a beet freak like me, you should too.
Burr Trail Grill Pickled Beets
Ingredients
5

pounds

beets

5

cups

apple cider vinegar

2 ½

cups

water

2 1/2

cups

sugar

1

large onion

cut into1 inch dice

5

bay leaves

1

tablespoon

whole black peppercorn

2

tablespoons

dried dill

1

tablespoon

whole coriander

1

tablespoon

crushed red pepper flakes

1

tablespoon

whole anise seed

2

full sprigs fresh rosemary
Instructions
In a large pot, cover beets with water and cook until tender, but still slightly firm.

Drain and let beets cool, peel off the skins, and cut into ½ inch slices.

Add remaining ingredients to a medium size saucepan, bring to a boil then reduce to a simmer for 30 minutes, then chill and strain the liquid.

Add strained liquid to beets and allow them to marinate in the refrigerator for at least 24 hours before serving.
Thank you for supporting my partners which allows me to create new and special content for my readers. All opinions are my own. 
Are you following me on Instagram, Twitter, Facebook and Pinterest? Thanks for reading and please keep in touch by subscribing to FoodieCrush.
SIGN UP FOR FREE!
THANK YOU FOR VISITING FOODIECRUSH.COM

Subscribe to the FoodieCrush email newsletter and have every new post plus exclusive content delivered straight to your email box,
FOR FREE!