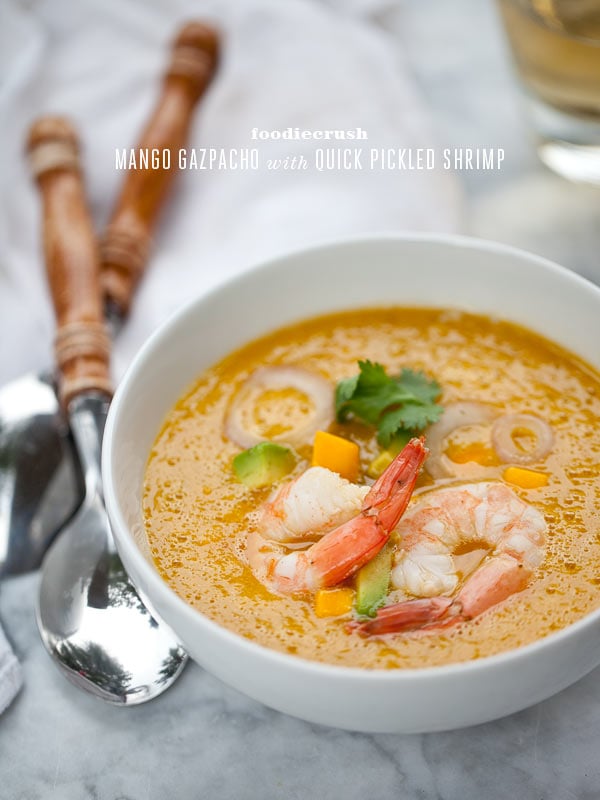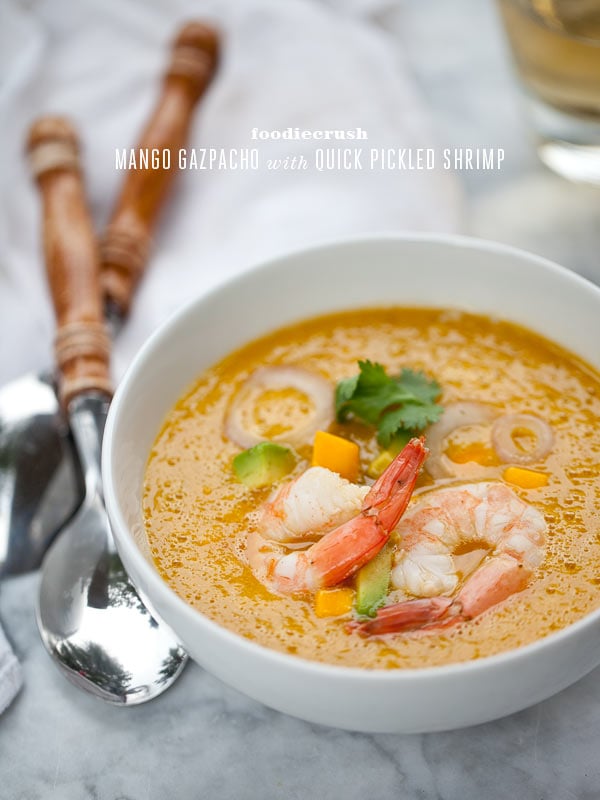 He's on a diet and in his book that means one thing. Soup for dinner. But every night?
Soup is my man's default meal when he wants to drop a few lbs. and with his band's final reunion gig just around the corner, he's definitely made the commitment to come out strong and looking gooood. He's even switched from his beloved Sierra Nevadas to light beer. HORRORS!
Thus his creativity in the kitchen has taken a nose dive. And since I'm not a big fan of soup in a can I had to take things into my own hands.

A week or so ago Smudge requested that I get her some mangoes. Wow, okay, that's pretty adventuresome for her since mangoes are a fruit we don't generally keep in our regular arsenal. I was impressed at the request and shot down to Costco to pick a jumbo size pack.
Why. Did. I. Do. That?
Long story short, it wasn't fresh mango she wanted. Oh no, she wanted DRIED mango. Ah-ha! Fine then.
So what do I do with all of these mangoes? When life gives you mangoes, make mango gazpacho.

I rummaged through the crisper and discovered I actually had some additional veggies that fit the gazpacho profile. I usually like my gazpachos, and soup in general, on the chunky side, but I thought I'd give this a try as a smoother fruit soup.
Apparently old habits die hard and after giving it a go I know that next time I'll keep it on the chunkier side. I did however add in a some extra chopped mango, onion and avocado for a little chew. I was inspired by my Bloody Mary Gazpacho post that featured a gazpacho recipe from Christopher Cina that was topped with shrimp so I created a quick pickling and poached some shrimp as toppers with some reserved mango and onion with avocado and cilantro as garnish.
It's way better than soup in a can.
Print
Mango Gazpacho with Pickled Shrimp
Ingredients
3

ripe mangoes

peeled and cut into chunks

1

cup

cantaloupe chunks

1

yellow bell pepper

seeded and cut into chunks

¾

cup

red onion

cut into large chunks

3

cloves

garlic

1

rib celery

cut into chunks

1

large jalapeno

seeded

3

limes

juiced

1 ½

cups

Simply Orange Juice with Mango

if you can't find this brand regular orange juice will work

1

teaspoon

salt

¼

cup

fruity olive oil

¼

cup

red wine vinegar

¼

cup

cilantro leaves for garnish

1

avocado

diced

1

pound

medium shrimp

3

cups

water

½

cup

champagne vinegar

1

tablespoon

mustard seed

1

tablespoon

peppercorns

pinch

of red pepper flakes

1 1-

inch

knob of fresh ginger

smashed

1

teaspoon

sugar
Instructions
For Gazpacho

Set aside ¼ cup each of red onion and mango. Put the rest of the ingredients except cilantro in a blender. Pulse 5-8 times. If you like your gazpacho chunky, reserve 1 cup of mixture at this and add after blending the rest of the ingredients until smooth. If you a smoother gazpacho, go ahead and blend it all at once. Chill in the refrigerator for 30 minutes for flavor to meld. Serve with cilantro and avocado and top with pickled shrimp.

For Pickled Shrimp

Rinse, shell and devein shrimp and set aside.

Bring water, vinegar, mustard seed, sugar, ginger knob and red pepper flakes to a boil in a medium pan. Remove pan from heat and add shrimp. Let rest for 10 minutes, turning shrimp so they cook evenly. Place mixture in refrigerator and let marinate for 30 minutes to one hour. Use as garnish for gazpacho or eat on their own. Delicious.
There are some other food bloggers who have my number when it comes to craving a soup that's fruity and fresh. Here are just a few.
Name that gazpacho in 7 ingredients or less? Cassie did with Back to Her Roots Layered Fruit Gazpacho
With a tomato base sweetened up with one of my favorite summertime fruits, Chinmayie shares her melon creation all the way from Bangalor with Love Food Eat's Watermelon Gazpacho puts the 'fresh' in refreshing.
Karly proclaims this the perfect soup for summer, you'll have to read her story to find out why, but I agree, Carly Klock's Cucumber Dill Gazpacho is a summer smooth operator.
Lindsay knows about more than just cookies and proves it once again with Love and Olive Oil's Peach Gazpacho. And remember to watch for pits!
Refreshingly delicious is this soup in cups, Leemie is solving her Summer Olympics withdrawl by imbibing in My Cooking Hut's Cantaloupe Gazpacho 
Related Posts
5 Gazpachos and a Blood Mary
Matzo Ball Soup with Chicken Meatballs
Pickled Strawberry with Roasted Beet Salad
Thanks for reading and please keep in touch. Subscribe to Foodie Crush and follow me on Twitter, Facebook and Pinterest and check out Foodie Crush magazine and  Cookie Cravings cookbook.