Zucchini gets a light and crispy turn coated with Panko bread crumbs, Parmesan cheese and fresh thyme, and then baked in the oven instead of fried.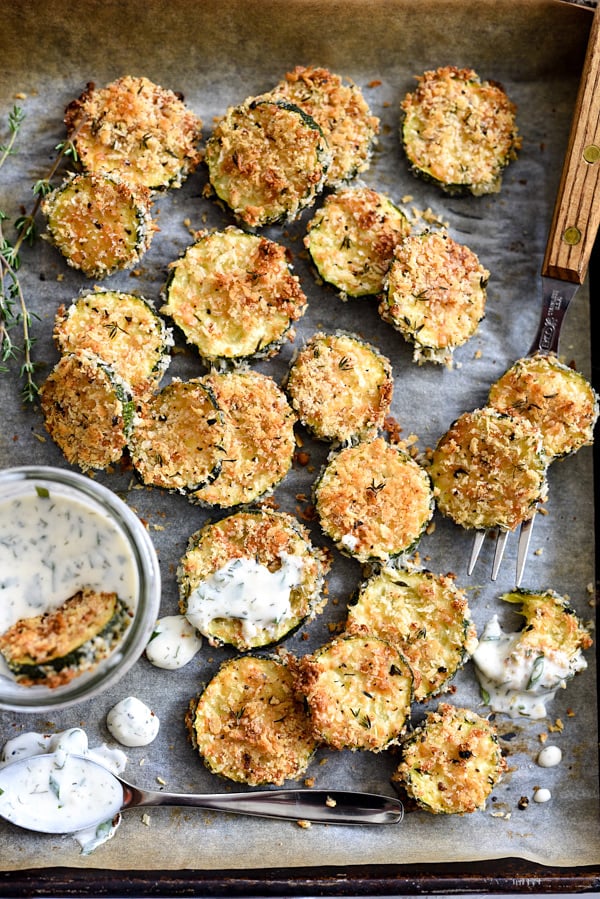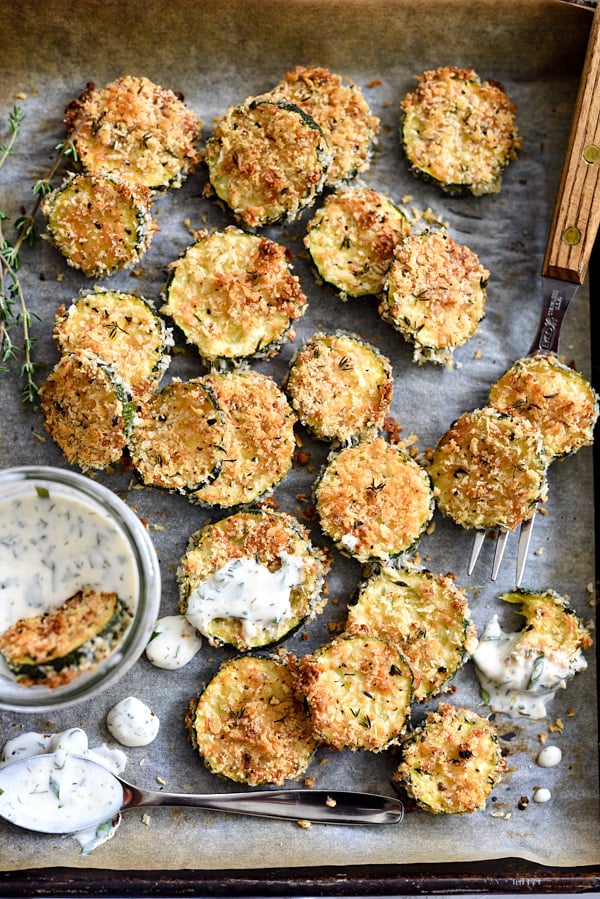 Sometimes my phone's autocorrect totally hits the nail on the head.
For example, the other day I heard a quote that totally reminded me of my grandma Mary Jane. She was the queen of quotes and always had a poignant comment or comeback no matter what life was throwing your way. Something to remind you to build up, keep up or get out.
It was a quote that resonated so I took to my iPhone to quickly type it in. Later, I re-read it to add a little oomph to my day.
"Be yourself because everybody else is already faken taken."
Faken? Taken?
I think the type-o is the world's way of telling me you don't have to fake it 'til you make it because everyone else is already doing so. Just be yourself. Isn't that the easier and smarter way.
How did Siri become as smart as my grandma?
So what does that little story have to do with zucchini crisps? Not much.
Except that these zucchini crisps are the perfect fake-out to fried zucchini because they're baked instead of fried.
We're trying to keep it lightened up around here. Most of the time. I said MOST of the time.
I recently saw an online article that revealed Ellie Krieger's Zucchini Parmesan Crisps as the most saved recipe on the Food Network site. Can you imagine? That's a whole lot of zucchini being made about the world.
And this is where my iPhone quote ties into this recipe. My recipe isn't trying to be hers because it is its own. But it's certainly inspired by it. I mean, how many ways in the world are there to make a simple zucchini crisp, and make it different?
Who am I to faken it?
About the Recipe
Slice your zucchini rounds uniformly so they bake evenly. Baking these at high heat, and with the dip in egg whites, creates a nice crisp crust on both sides of the zucchini.  Depending on the size of your zucchini you may need an extra egg white in addition to the one I call for in the recipe. Have one on hand just in case. I don't use oil on the baking sheet or contrary to Ellie's recipe on the zucchinis. Instead I use a piece of parchment paper to keep the zucchinis from sticking to the pan.
Ellie uses bread crumbs in her recipe but I prefer panko, a Japanese bread crumb that has a crispier texture and provides more crunch. You can easily find them in the Asian aisle at the grocery store.
Freshly ground Parmesan cheese you either grind yourself or purchase fresh your cheese monger's deli case (please don't use that stuff in the can) adds to the crisp texture with a salty bite and I've added fresh thyme leaves to my version with a pinch of cayenne for just a hint of heat. It might be my favorite part of the recipe.
When coating the rounds, use a fork to transfer the zucchini to the panko mixture instead of your fingers and use the same fingers for pressing the mixture into the rounds. If you use the same fingers dipping into the egg whites and then into the mix you'll end up with bobbles of coating on your hand and look like a shaggy version of E.T. (a perfect spot to remind you to call your mom and phone home!)
Like the fried zucchini you'll find at old school burger shacks, I serve these babies with homemade ranch dressing for dipping. Eat them with or without, either way you'll never miss that these aren't fried.
If you make this recipe, please let me know! Leave a comment below or take a photo and tag me on Instagram or Twitter with #foodiecrusheats.
Print
Baked Zucchini Parmesan Crisps
Zucchini gets a crispy turn with panko bread crumbs and Parmesan cheese, spiked with fresh thyme leaves that are baked in the oven instead of fried.
Ingredients
1

pound

zucchini

, (about 3 medium)

1

egg white

⅓

cup

plus 1 tablespoon panko bread crumbs

⅓

cup

plus 1 tablespoon freshly ground Parmesan cheese

4-5

sprigs fresh thyme leaves

, stripped from the stem

¼

teaspoon

kosher salt and freshly ground black pepper

Pinch

of cayenne pepper
Instructions
Preheat the oven to 400 degrees F and line a baking sheet with parchment paper.

Trim the ends of the zucchini and then slice into rounds about ¼ inch thick. Whisk the egg white in a small bowl. Mix the remaining ingredients in another small bowl until combined.

Dip the zucchini rounds into the egg white to coat both sides then using a fork, scoop the zucchini rounds into the panko bread crumb mixture and flip both sides, gently pressing the bread crumbs into the zucchini. Place in rows on the baking sheet and bake for 20-25 minutes or until the tops are golden and crisp.
Bake It, Don't Faken It
There are plenty of times when you can take the quicker and easier route. Why drag out the fry daddy when you can pop these crispy critters in the oven and lighten your load. Following are three more zucchini recipes that are baked instead of traditionally fried.
Baked Zucchini Fries with Pesto Yogurt Dipping Sauce
Whole wheat pastry flour and a 3 ingredient dipping sauce make these fries outshine the potato variety all day long.
Get the recipe | Cookin' Canuck
Crispy Baked Zucchini Chips
A sow and slow cook in the oven makes these zucchini into a crunchy zucchini chip with a bite of smoky paprika.
Get the recipe | A Spicy Perspective
Baked Zucchini Fritters with Ranch Tzatziki
More than a simply chip, these fritters give you a real bite to dip into.
Get the recipe | Kitchen Confidante
Hey, thanks for stopping by, make it a great day and make something good.
As always, thank you for reading and for supporting companies I partner with, which allows me to create more unique content and recipes for you. All opinions are always my own.  
Are you following me on Instagram, Twitter, Facebook and Pinterest? 
Thanks for reading and subscribe to FoodieCrush to have each post delivered straight to your e-mail box.