Eggs just might be one of those miracle ingredients. You know, the kind that can easily morph into breakfast or brunch then slide onto lunch and slither into brinner. Yep, breakfast + dinner = BRINNER! Bring on the mini fritattas.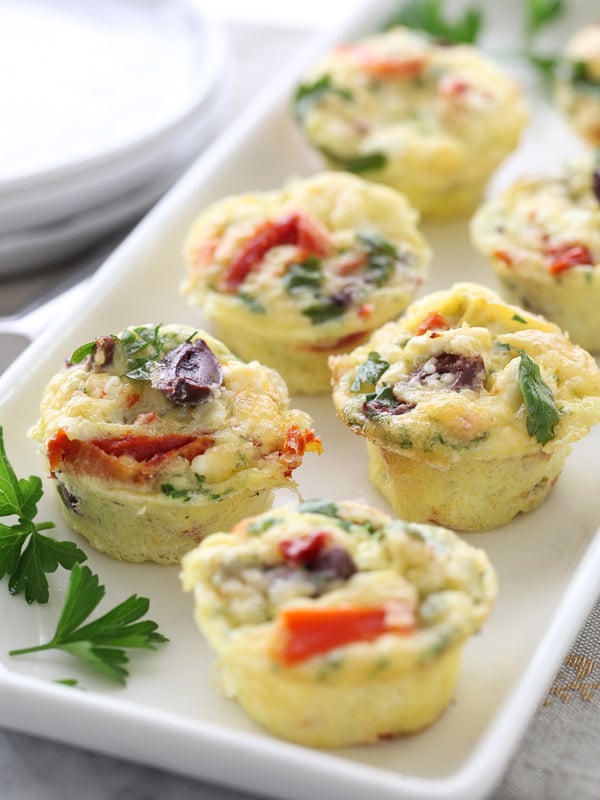 If breakfast + dinner = brinner maybe this recipe should be classified as a Brapp.
Breakfast + appetizer = BRAPP? Or a brappetizer? Or perhaps you prefer breaketizer?
Symantics my friends, merely symantics.
The real deal is that these Mediterranean Mini Fritattas will solve any party need. Party for all? These are your deal. Party for one? Sit down—or stretch out—and enjoy an entire muffin tin full.
Bite size and poppable, these babies are seriously addictive. But that isn't the only reason I'm a fan.
I crave Mediterranean flavors whether its the olive and artichoke flavors melding away in a pasta salad or topping a pizza with tsatziki, this is my kind of eating.
But when I usually cook with this flavor combo I end up with a gluttony of half full bottles of briney ingredients listing in the back of my fridge in anticipation of the next Mediterranean recipe craving to hit. And let's be frank, who wants to spend $30+ on multiple ingredients for a simple meal or app?
After trying a few samples of the DeLallo Salad Savors in salads I had an epiphany. Why not pop those pre-portioned ingredients in a muffin tin with some eggs and let's call this recipe done.
A mini appetizer without a mess of ingredient leftovers. I like that.
A few recipe notes:
While I used the DeLallo Salad Savors in my recipe, some stores aren't yet carrying the brand. Look for them next to the pre-packaged salads. If you can't find them, I've provided the ingredient measurements in the recipe below.
My first go around making this recipe I used a 12-cup mini muffin pan, but the frittatas were just a bit too bite size. Next go around I used a 24-cup mini muffin pan and they were a great 2 bite portion. I use this 24-cup mini muffin tin.
If you're really jonesing for a melty cheese version, go ahead and add a hefty pinch of monterey jack or even a low-fat mozzarella to each of the egg cups. You can omit or keep the feta, it's more for flavor then goo.
While I used marinated veggies, go ahead and use frozen artichoke hearts or those packed in water if you prefer. And feel free to add a little more or less as your heart desires.
Feeling herbacious? Add a few thinly sliced slivers of fresh basil in place of the parsley, or in addition to, and brighten the bites with freshness.
Print
Mediterranean Mini Frittatas
Ingredients
6

large eggs

1/4

cup

milk or half and half

Kosher salt and freshly ground black pepper

¼

cup

artichokes in oil

drained and thinly sliced

⅓

cup

pitted kalamata olives

drained and quartered

¼

cup

bottled sweet red peppers

drained and chopped

½

cup

sun-dried tomatoes in oil

drained and chopped

¼

asiago cheese

shredded

¼

feta cheese

crumbled

¼

cup

Italian flat leaf parsley

chopped
Instructions
Preheat the oven to 375 degrees F.

Put eggs and milk, or half and half, in a blender and mix for 1-2 minutes.

Fill each muffin tin ¾ full with the egg mixture.

If using marinated or packaged flavorings, drain the oil from the vegetables before chopping. Evenly distribute the artichoke slices, kalamata olives, red peppers, sun dried tomatoes and asiago cheese among the muffin tins. Fill the tins to the top with more egg mixture then sprinkle with feta and parsley.

Bake until the egg is set, about 10-12 minutes. The eggs will deflate somewhat once removed from the oven and as they cool.

Run a knife around the edges of the frittatas to loosen them from the muffin cups. Serve immediately or at room temperature.
Notes
*note: To save in prep and rather than buying full size bottled ingredients, I used 1 package DeLallo Sharp Salad Savor Toppings and 1 package DeLallo Zesty Salad Savor Toppings (which equals the amount of ingredients listed above) for all of the flavor additions to the egg base.
This is not a sponsored post, I just think this product is so smart I wanted to share. DeLallo did send me some samples to try and I hope they'll be in the stores soon because they bring all of my favorite flavors together in a snap.
As always, all opinions are my own. Thanks for supporting companies I partner with, which allows me to create more unique content and recipes for you. This post contains affiliate links.
Are you following me on Instagram, Twitter, Facebook and Pinterest? Thanks for reading and  subscribe to FoodieCrush to have each post delivered straight to your e-mail box.