This hot homemade ham, egg and caprese-flavored breakfast can be in yo' belly in just two minutes thanks to a quick cook in the microwave. Yes, this is how you can easily cook eggs in the microwave.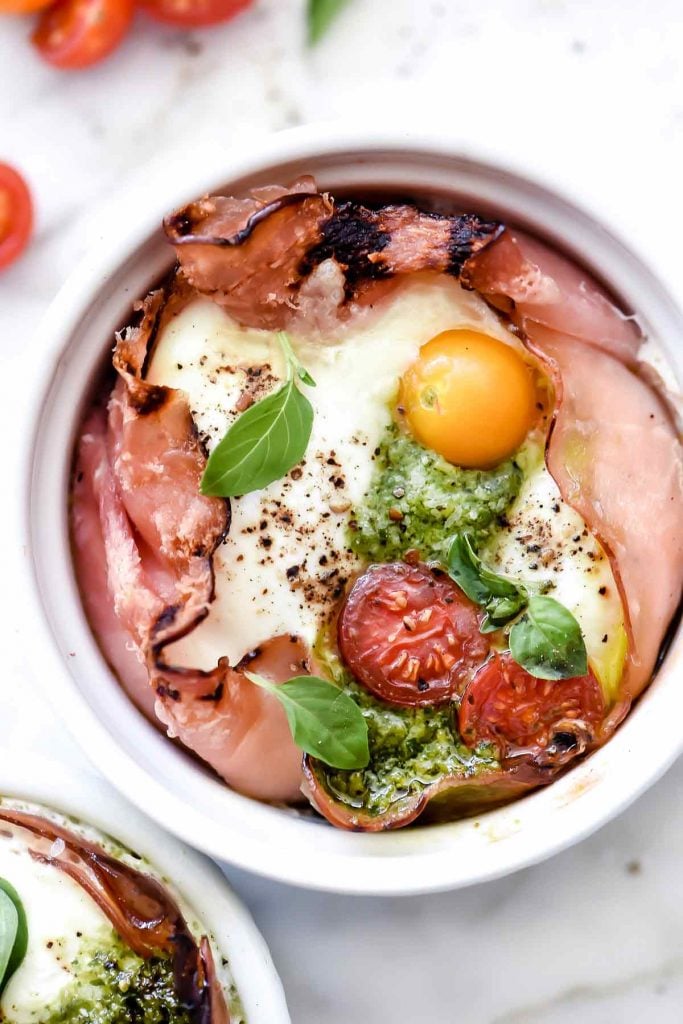 Hi! I'm Heidi and I'll be serving you today. What can I get you?
One of the recent requests here on le bloggity blog is for more easy recipes for quick breakfasts please!
I totally get it. We all know that a good breakfast is the key to setting up your day for success so if you could create a weekend-tasting breakfast in the time it takes to pour a bowl of cereal, I'm betting you'd totally be into this breakfast that fully supports your snooze button needs. (Have you seen my list of 19 healthy breakfasts when you don't have time to eat?!!)
And that's why the microwave is your egg cooking friend.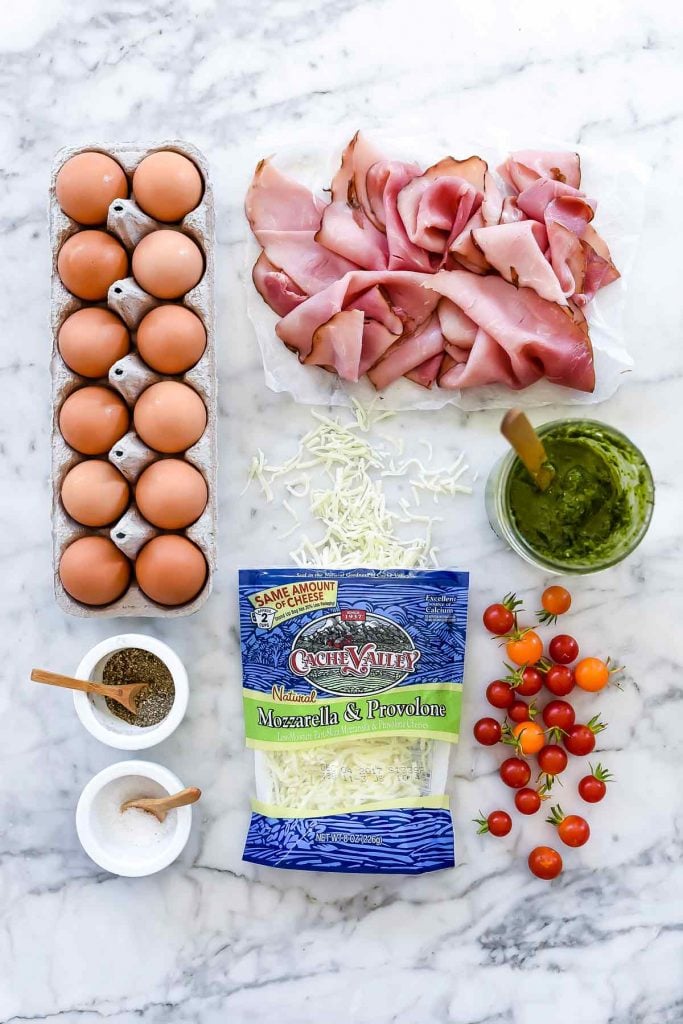 Creating microwave breakfasts isn't anything new around here. Microwave oatmeal is one of our weekly go-tos, and this microwave egg bagel sandwich is an absolute favorite on Pinterest. But lately it's been all about eggs in the microwave for our fastest protein-fueled breakfast on the go.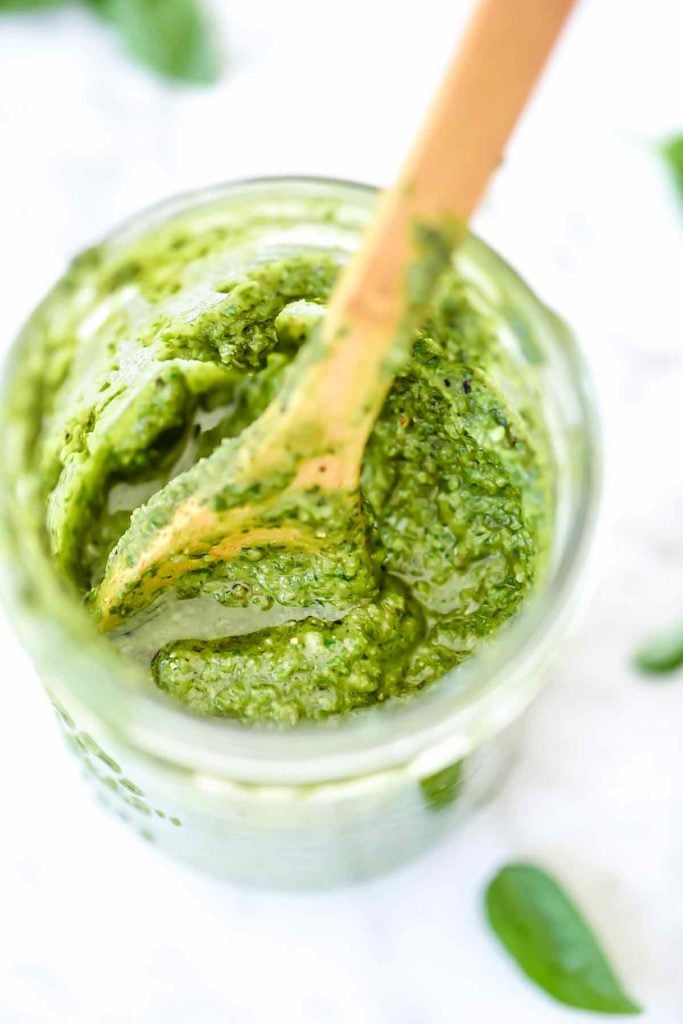 This recipe is more of a suggested list of ingredients than a precise list of measurements to assemble.
I use maple-cured ham that's thinly sliced and then layered in a ramekin or small bowl to create a fluted basket for the eggs and cheese to bake in. You can certainly use other cured flavors of ham if you prefer, but I think the maple lends to the breakfast-y flavor.
I use pre-shredded mozzarella and provolone cheese as another time-saver here. The shredded cheese melts easier and faster than chunks or slices to add a gooey bit to your basket of breakfast cup. You could sub in Parmesan or goat cheese if that's what you have on hand too.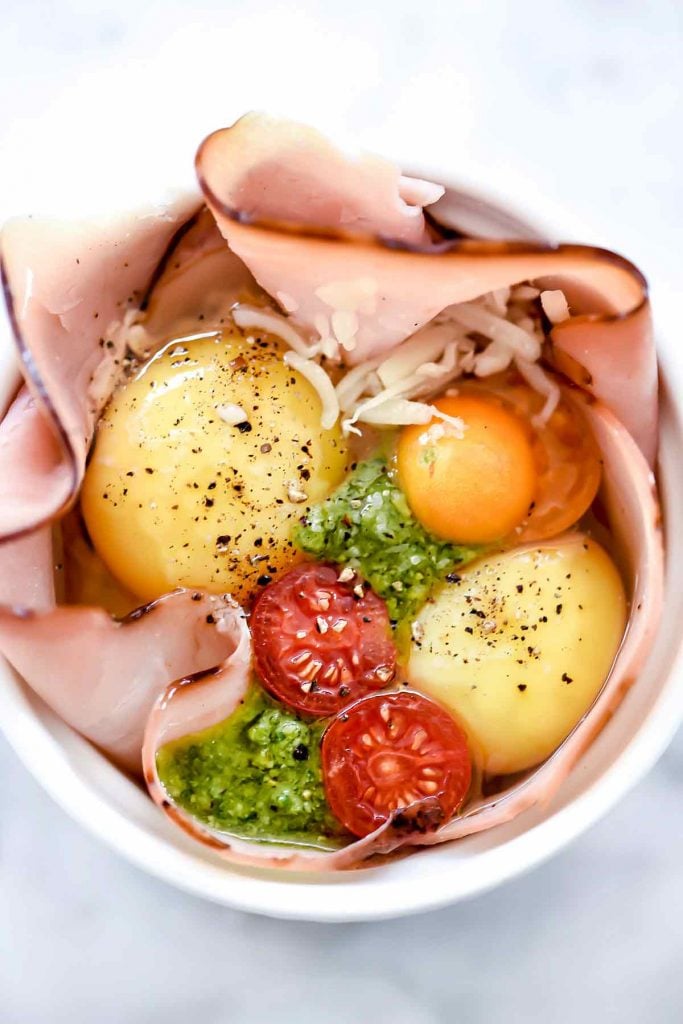 Crack 1 or 2 eggs (your choice) directly over the shredded cheese and then dollop with a bit of pesto. Homemade pesto is my favorite and because its so easy to make, I've made a bunch of it to keep on hand exactly for recipes just like this.
Along with my harvest of fresh basil, my sweet little cherry tomatoes add a burst of sweetness that lends to that caprese bite.
Cooking eggs in the microwave can be a little scary as have been known for popping and splattering. I always use a microwave plate cover (this one is my big ticket $1.79 investment piece) over anything I cook in the microwave to avoid the potential mess.
Sometimes I like these caprese cups on the hard boiled side and sometimes I'm more in the mood for the runnier poached style. The beauty is you can totally cook either style in under 2 minutes.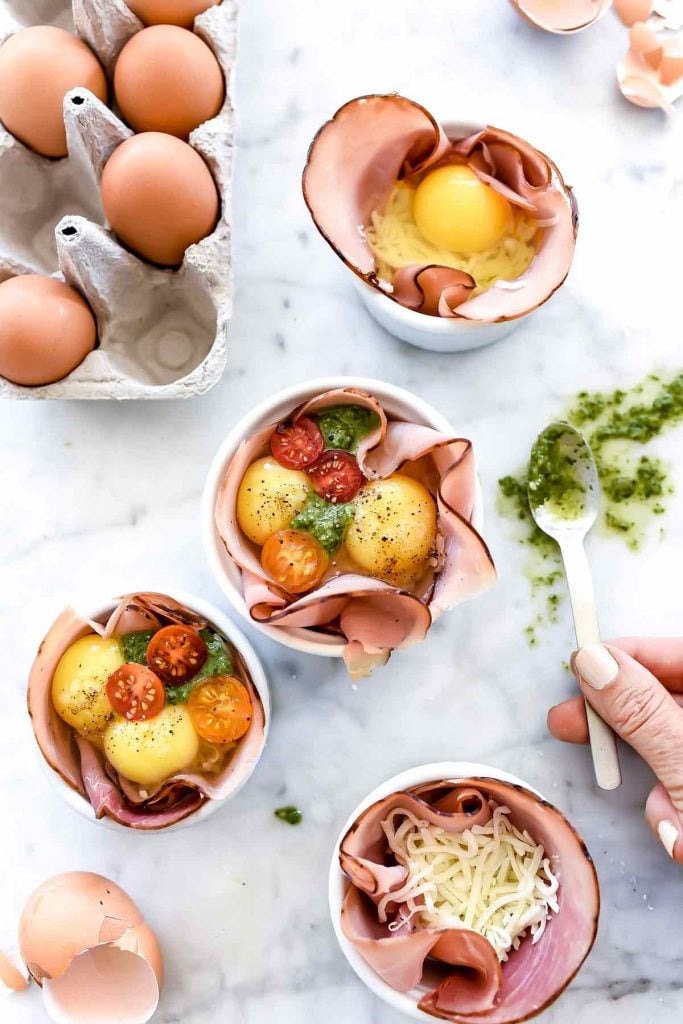 When cooking in the microwave, know that if you cook one egg in a ramekin it will take less time than two, and cooking two or three ramekins of eggs will take longer than just cooking one. You'll want to do some experimenting to determine what your optimal time for cooking these is since all microwaves are different.
Another variable that will vary your cooking time is how shallow or deep your cooking vessel is. I've cooked these in both ramekins and in shallower creme brulée dishes and found the shallower dishes will often cook the egg whites more quickly.
Typically for a single ramekin filled with two eggs I set my microwave for 1 minute 30 seconds for set whites and a still runny yolk and increase my cooking time by 15 second bursts if needed to hit my desired doneness. In the end, the cooking time will totally depend on your preference for how runny or not you like your eggs.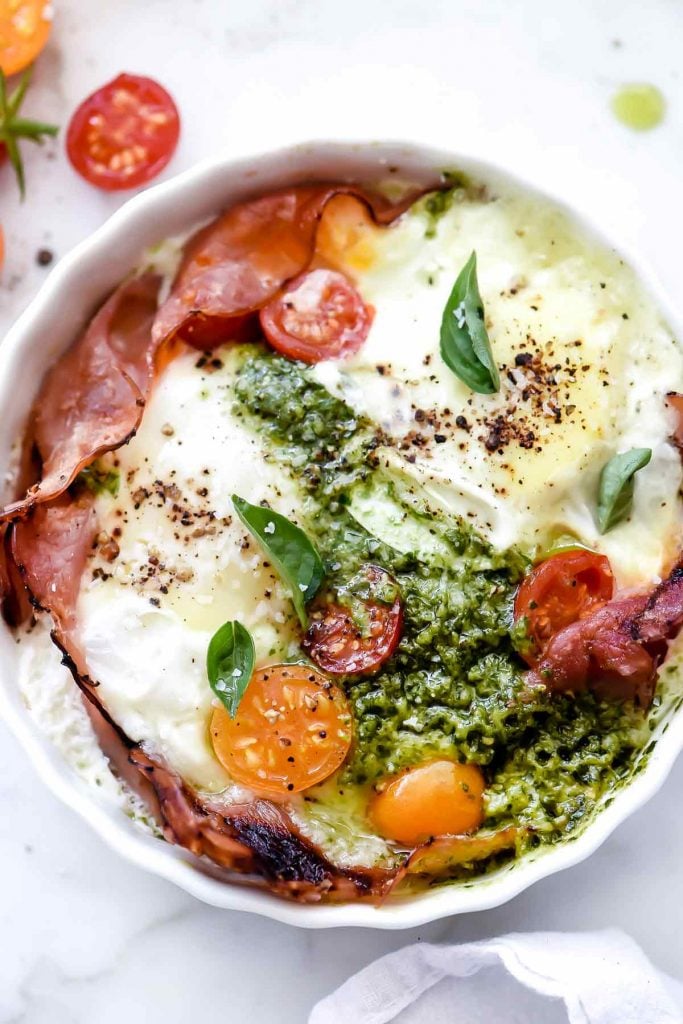 If you make this recipe, please let me know! Bookmark this recipe and leave a comment below, or take a photo and tag me on Instagram with #foodiecrusheats.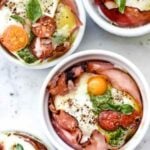 Print
Microwave Egg Caprese Breakfast Cups
Just a spoonful of homemade pesto sauce adds plenty of flavor to these microwave eggs. Cooking time will vary depending on if you cook one or two eggs in the ramekin and how many ramekins you cook at once. And remember, cooking time will vary depending on the wattage of your microwave.
Ingredients
2

slices

thinly sliced ham

Shredded mozzarella or provolone

or a mix of the two

2

eggs

Cherry tomatoes

cut in half

Kosher salt and freshly ground black pepper

Fresh basil leaves if desired
Instructions
Layer the slices of ham on the bottom and up the sides of a ramekin or small bowl pressing into the creases and ruffling the edges then sprinkle with the cheese.

Crack the eggs into the ramekins and add a dollop of pesto over the eggs with a few cherry tomato halves and season with kosher salt and freshly ground black pepper.

Place in the microwave and cover with a microwave plate cover and cook on high for 1 minute and 30 seconds or until the whites are set, adding additional 20 second bursts if needed. All microwaves will cook differently so play around with the amount of time. If cooking more than one set of eggs at a time allow for more cooking time as well. Garnish with fresh basil leaves and more kosher salt and black pepper if desired.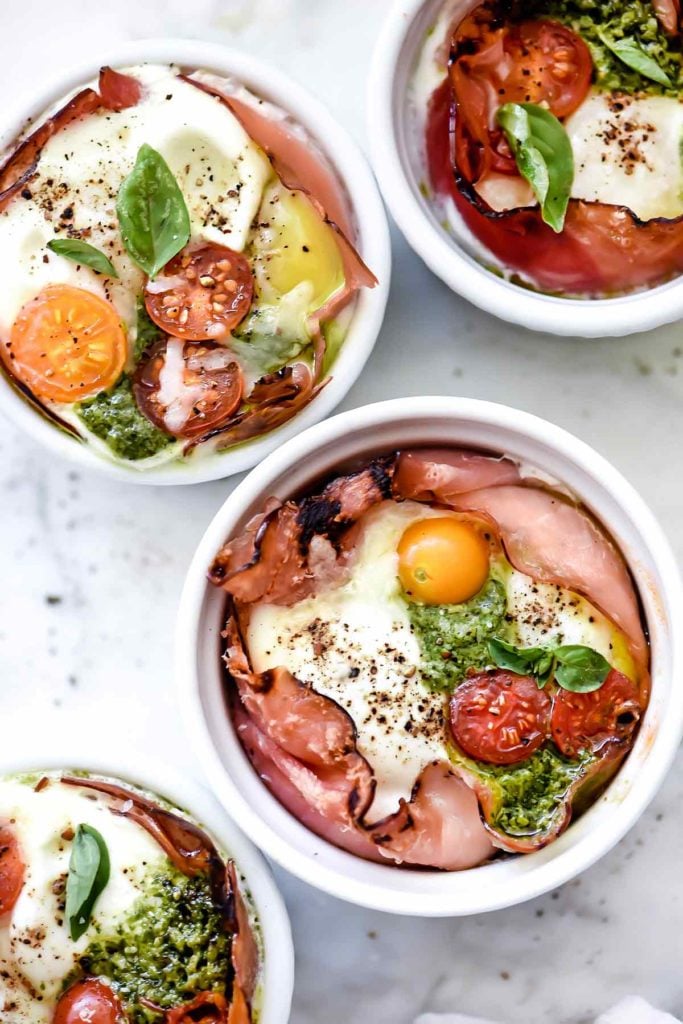 #eatseasonal September
As we have for the past few seasons, Becky of The Vintage Mixer has posted her list of what's in season to eat now and from that list, has amassed a group of us who are posting #eatseasonal recipes today. Some are some are sweet, some are savory and they're all in season now. Hop over to the other bloggers pages to discover some great eats to eat now.
Small Batch Cherry Tomato Jam by Flavor the Moments
Grilled Eggplant with Goat Cheese Polenta and Basil Pesto by Floating Kitchen
Hazelnut Zucchini Bread by Vintage Mixer
Balsamic Sausage Tortellni Bake by JoyFoodSunshine
Baked Enchilada Style Veggie Burritos by She Likes Food
Peach and Tomato Salsa with Pan Seared Tofu by Letty's Kitchen
As always, thank you for reading and for supporting companies I partner with, which allows me to create more unique content and recipes for you. All opinions are always my own.  
Are you following me on Instagram, Twitter, Facebook and Pinterest?
Thanks for reading and subscribe to FoodieCrush to have each post delivered straight to your e-mail box.