This easy to make 5-ingredient Greek yogurt tzatziki sauce recipe is not only great with grilled meats, fish and gyro sandwiches, but makes a terrific, healthy dip for vegetables of every color.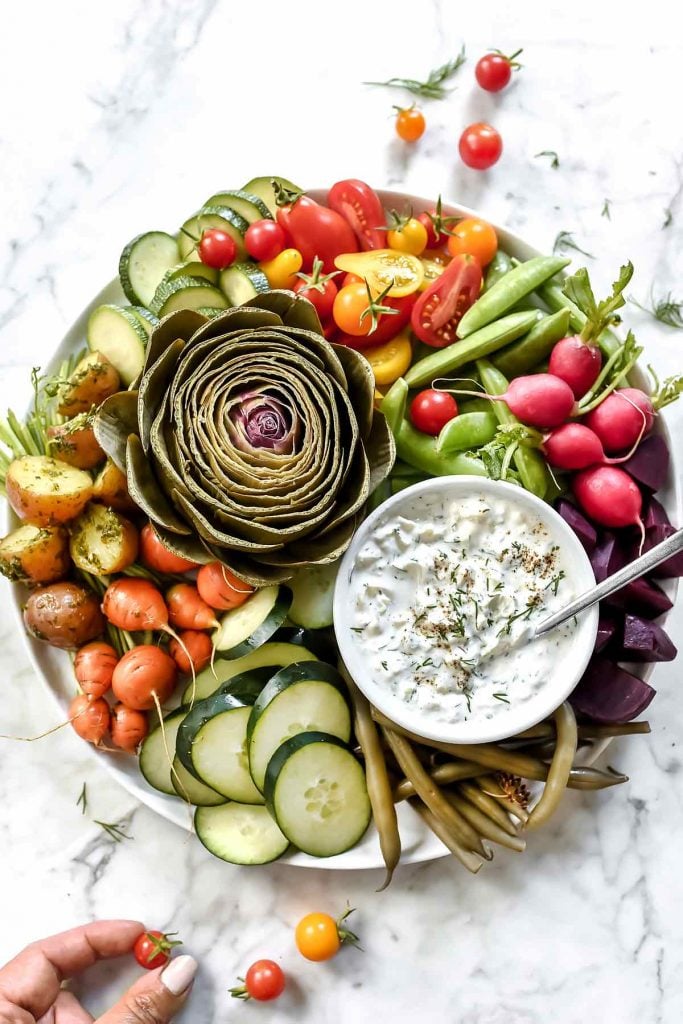 This post is in partnership with Oikos Greek Nonfat Yogurt, who has compensated me to create a recipe using their product. All opinions are my own.
Easy Greek Tzatziki Sauce
Just yesterday, I happily discovered I have something in common with the famous food philosopher Alice Waters. Yep. Me and Alice Waters. It's like we're twins, living the same foodie ways, and it all stems from our refrigerators. Because apparently, she…like me…is a condiment junkie. Okay, so it's a stretch, I know, but hey, when you're 6 degrees of separation from the queen of slow food, you take what you can get.
Condiments are just as important to a dish as the dish itself. They're the flavor builders. The meal toppers. And they're all the things that make my mouth go "ZING!", and that's why tangy Greek yogurt fits really well into the condiment category for me.
Besides being a favorite part of breakfast parfaits or acting as the base to my fave afternoon bowl of fruit and nuts, nonfat yogurt does double duty in so many more ways. It subs for buttermilk to tenderize chicken, it's a lower fat alternative to sour cream or mayo-based sauces for grilled meat and fish, and it's my healthier stand-in for mayonnaise in any classic mayo-mixed sandwich. I even use it on my summer BLT's.
But while yogurt is a great sub for other ingredients, there is one recipe that can not, should never, would totally not be PC to flip the tables on, and that's to replace yogurt in the classic Greek tzatziki sauce.
Along with being a favorite creamy topper for Mediterranean grain bowls, Greek souvlaki, and even pizza, this cucumber sauce recipe also shows off yogurt's double duty prowess as a terrific veg/chip/everything else saucer too.
Why Greek Yogurt Is Good For You
Besides being a great healthy option for achieving that creamy tang, adding Oikos Greek Nonfat Yogurt to your diet is always a good idea because of these healthful yogurt facts:
Greek nonfat yogurt is higher in protein and lower in fat than regular mayonnaise.
According to the 2015 USDA Dietary Guidelines, 64% of Americans don't meet their daily calcium needs. Each 5.3 oz cup of Oikos Nonfat Yogurt supplies 15% of the daily calcium our bodies need, so eating even one yogurt a day becomes a first step to a balanced diet and healthy lifestyle.
Greek yogurt contains active yogurt cultures and the balance and diversity of bacteria in your gut is associate with better health.
Greek yogurt contains less lactose than regular nonfat yogurt, making it helpful for yogurt lovers who are lactose intolerant.
And those are just a few reasons for using Greek yogurt as a base for any dip is a good thing.
Ingredients for Tzatziki Sauce
Homemade tzatziki sauce requires only five ingredients, so making sure those ingredients are high-quality is essential. Tzatziki sauce has always included a thick, tangy Greek yogurt, and in the old days that required straining regular yogurt to create a thicker consistency. Now you can easily pick it up at the grocery store. I used 1 ½ 5.3 ounce containers of Oikos Greek Nonfat Yogurt for this recipe, and snacked on the leftovers.
The other essential must not skip part of this tzatziki plan is in the cucumber phase. You can use any variety of cucumber you prefer, however, an English or Persian cucumber eliminates the need for peeling because they have softer skins and no seeds. If using garden cucumbers, peel the cucumber and scrape out the seeds.
Cucumbers are mainly made of water and when mixed with the yogurt and vinegar will release that water creating the potential for a watery dipping sauce. You may be tempted to simply chop your cucumbers to help solve this dilemma, but that would diminish the fresh cucumber flavor. Instead, grate firm cucumbers, then press in a thin kitchen towel or squeeze the water from the cucumber thanks to the palm of your hand.
In my book, fresh dill is pretty much essential for this sauce. In the directions I suggest 1 rounded tablespoon, but feel free to add more to your liking.
Garlic adds a bit of heat with salt and pepper to balance things out. A bit of acid balances the tang. I use red wine vinegar. If you'd prefer, lemon juice can be substituted.
How to Make Tzatziki Sauce
Start by grating the cucumber. Once grated, gather the cucumber on a kitchen towel and press the water out as best you can.
Once the water has been pressed out, add the grated cucumber to a bowl and stir in the yogurt, garlic, red wine vinegar, fresh dill, kosher salt and freshly ground black pepper. Et voila, you've made Greek cucumber sauce!
How Long Does Tzatziki Last?
Homemade tzatziki sauce will last up to 3 days in the fridge. Note that some separation may occur, so give the sauce a good stir before serving.
How to Assemble a Vegetable Platter
I used the finished Greek tzatziki sauce as a dip for fresh veggies, creating a veggie tray that's totally healthy and nutritious and just as pleasing to the eye as to the eater. Here are a few tips to create a great veggie tray.
If time is an issue or you're feeding a smaller crowd, my secret is to stock up on the already cut veggies from the salad bar. You'll find you'll get a whole lot more variety. Or, check the pre-packaged section of your produce aisle for pre-cut vegetables.
Choose different colors and shapes of veggies and arrange them so the same colors don't sit next to one another. Instead, place them opposite one another. When working with odd numbers of the same type, position them as you would see on a clock at 10:00, 2:00 and 6:00.
Serve miniature versions of the vegetable instead of cutting them up, like baby carrots, small radishes, cherry tomatoes and even baby corn. Keep some of the stems too, for visual interest and to show off their freshness.
Pickled or marinated veggies add a unique bite to any veggie platter. Consider adding any of these:
Pickled beets
Green beans
Marinated mushrooms
Pickled cucumbers
Pepperoncini or other pickles peppers
Olives
Not all veggies need to be served raw. Consider these still fresh veggie options:
Par-boil new potatoes and slather them in pesto.
Add a steamed or grilled artichoke to give weight to the platter.
Give broccoli a quick steam and a spritz of sesame oil with salt to give an Asian flair.
Tips for Making Tzatziki Sauce
To tell if a cucumber is firm or not, press the ends of the cucumber with your finger. If there's no give, the cucumber is still firm and will give a crisp bite. If it's soft, the cucumber is too ripe and will be mushy. You want a firm cucumber for this Greek yogurt dip.
Note that fresh herbs are a must in this recipe. Dried dill won't give you the same flavor or texture.
After mixing together the cucumber sauce, let it chill in the fridge for 30 minutes before serving. This gives the flavors time to come together.
Ways to Eat Tzatziki Sauce
Sure it makes a delicious dip for veggies, but tzatziki is the creamy favorite of these Mediterranean-inspired dishes too.
If you make this recipe, please let me know! Bookmark this recipe and leave a comment below, or take a photo and tag me on Instagram with #foodiecrusheats.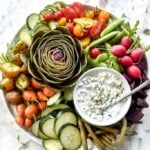 Print
Healthy Greek Yogurt Tzatziki Sauce
This easy to make 5-ingredient Greek yogurt tzatziki sauce recipe is not only great with grilled meats, fish and gyro sandwiches, but makes a terrific, healthy dip for vegetables of every color. 
Ingredients
½

cucumber

, halved with skin and seeds removed

¾

cup

Dannon® Oikos® Greek Plain Nonfat Yogurt

2

cloves

garlic

, pressed or minced

1

tablespoon

red wine vinegar

1

tablespoon

fresh dill

, minced

Pinch

of kosher salt and freshly ground black pepper
Instructions
Prepare the tzatziki sauce by grating the cucumber. Gather the cucumber together and place in a paper towel and press the water out of the shredded cucumber and place in a medium size bowl.

Add the yogurt, garlic, red wine vinegar, fresh dill, kosher salt and freshly ground black pepper and mix well.

Cover and refrigerate for 30 minutes or up to 3 days.
Nutrition
Serving:
1
g
|
Calories:
30
kcal
|
Carbohydrates:
3
g
|
Protein:
4
g
|
Fat:
1
g
|
Saturated Fat:
1
g
|
Cholesterol:
2
mg
|
Sodium:
15
mg
|
Potassium:
104
mg
|
Fiber:
1
g
|
Sugar:
2
g
|
Vitamin A:
27
IU
|
Vitamin C:
2
mg
|
Calcium:
49
mg
|
Iron:
1
mg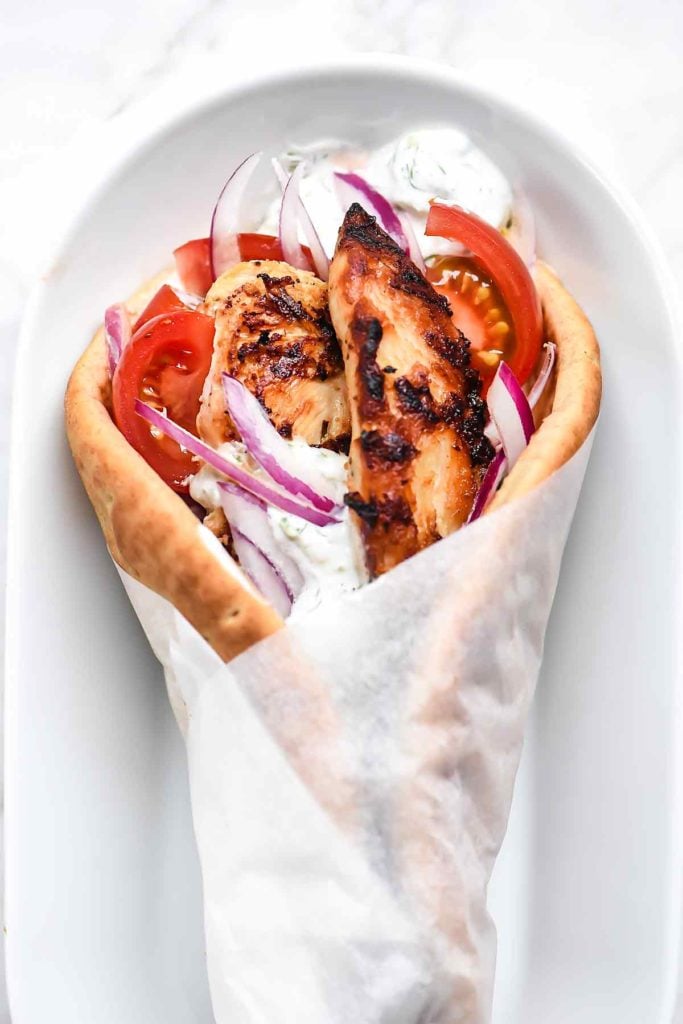 More Greek Recipes You'll Love
Craving more life balance, less stress, and better health? Check out my Nourished Planner, the daily planner to help create simplicity and under-schedule your life.
We send good emails. Subscribe to FoodieCrush and have each post plus exclusive content only for our subscribers delivered straight to your e-mail box.
Follow me on Instagram, Facebook, Pinterest and Twitter for more FoodieCrush inspiration.
This post is in partnership with Dannon Oikos. As always, thank you for reading and supporting companies I partner with, which allows me to create more unique content and recipes for you. There are affiliate links in this post of which I receive a small commission. All opinions are always my own.