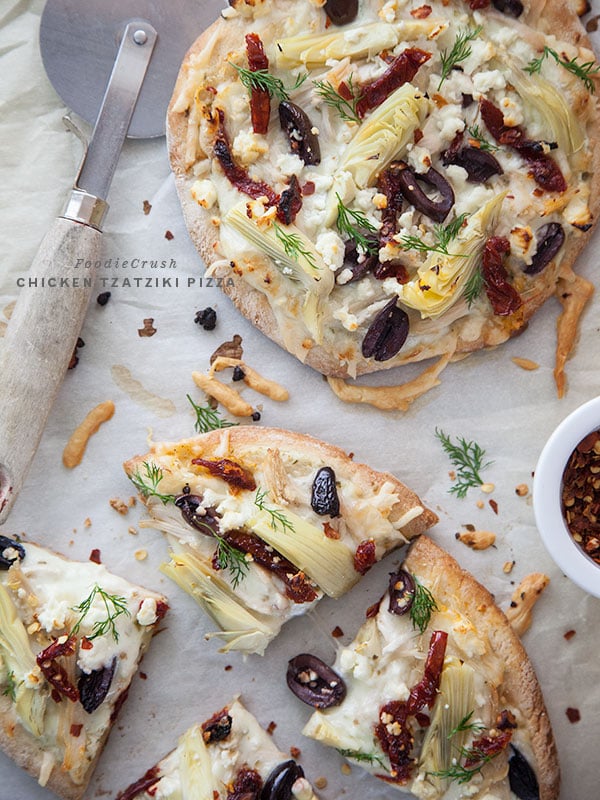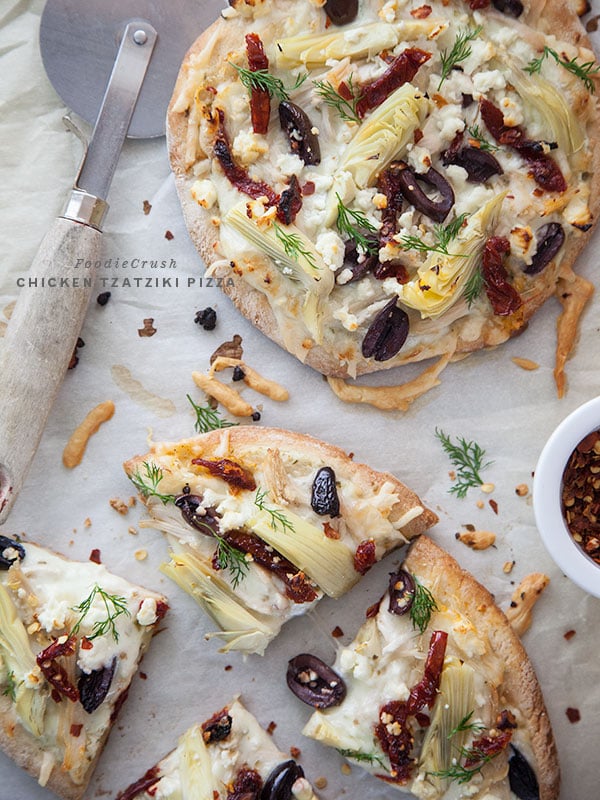 I'm always keeping an eye out for a nugget of inspiration to create a new recipe, whether it's from a local restaurant, a TV show, old family favorites or from definitely from friends.
So when my intern and I were working last week, talking shop about design, food and our never ending to-do list, we realized it was time for lunch. Over lunch is when she shared an idea for a recipe that her friend had mentioned to her, and she was having some major cravings.
Chicken Tzatziki Pizza.
I thought it was a brilliant idea since I could incorporate my favorite pizza topping: my beloved artichoke hearts. And of course, melty cheese.
I love pizza, and while I really like making my own dough for grilled pizza, sometimes my love for a quick and easy spin wins out, like my Pumpkin and Fried Sage Flatbread which uses flatbread in dough's place.
Since this is a greek inspired pizza, a thick pita bread crust was pretty much a no-brainer. And how simple, right?
Topping the pitas with a slather of garlic infused tzatziki gives simple, whole ingredients a lush flavor-filled kick. Kalamata olives, artichoke hearts, sun dried tomatoes and spunky feta cheese fulfill its Greek goddess destiny. And please, please don't  forget the gooey mozzarella.
I just know once intern Annie sees this she's going to request it for lunch next week. I think I can do that.
Print
Chicken Tzatziki Pizza
Ingredients
For Tzatziki Sauce
1

cup

plain greek yogurt

½

cup

sour cream

2

cloves

garlic

1

cucumber

peeled, cut in quarters and seeded

1

tablespoon

lemon juice

1

tablespoon

olive oil

2

tablespoons

fresh dill

kosher salt
For Pizza
4

pieces

Greek flatbread or pita breads

Tzatziki sauce

2

cups

shredded mozzarella cheese

1

cup

shredded chicken breast

½

cup

sliced kalamata olives

⅓

cup

sliced sun-dried tomatoes

1

cup

quartered artichoke hearts packed in water

drained

⅓

cup

feta cheese

oregano

kosher salt

fresh dill for garnish

red chili pepper flakes for garnish
Instructions
To Prepare Tzatziki Sauce
Add garlic, cucumber and dill to a the bowl of a food processor fit with a metal blade and chop ingredients. Add yogurt, sour cream, lemon juice and dill and pulse to blend. Add salt to taste. Refrigerate for one hour then serve.
To Prepare Pizza
Preheat oven to 450 degrees F.

Place pita breads domed side down on a baking sheet covered with parchment paper. Slather each bread with 1-2 tablespoons of tzatziki, then top each with with about ⅓ to ½ cup mozzarella cheese. Layer chicken breast, olives, tomatoes and artichoke hearts on top of the mozzarella then top with sprinkling of feta cheese and a sprinkle of oregano.

Place in oven and bake for 10-12 minutes or until cheese is melted and feta cheese starts to turn golden. Remove, garnish with fresh dill sprigs, red chili flakes and more feta if desired, cut into quarters and serve.
There's a myriad of other tastees to top this delicious sauce upon and these food bloggers have put their stamp on Tzatziki.
In my opinion burgers always need a saucey-sauce, but when Sonia gives a burger a fresh, healthy spin in The Healthy Foodie's Quinoa Burger and Tzatziki Sauce, she shares a chunky topper that's a true show-stopper.
Carolyn puts this creamy cucumber sauce straight to the top of the comfort food ladder with All Day I Dream About Food's Feta-Stuffed Turkey Meatload with Tzatziki Sauce.
Kita pays homage to Kevin's recipe  when she broadens her horizons in Pass the Sushi's Lamb Grilled Cheese Sandwich with Tzaziki.
Paola melds flavorful and heart-healthy salmon with hearty bread and a glaze of tzatziki for #gnom-gnom's Salmon 'n Tzatziki (Ultimate) Sandwich.
Thanks for reading and please keep in touch. Subscribe to FoodieCrush and follow me on Twitter, Facebook, Pinterest, Instagram and check out FoodieCrush magazine.