This tender and juicy oven roasted turkey gets a little heat thanks to a basting of spiced up, buttery buffalo hot sauce and is a refreshing deviation from the traditional Thanksgiving turkey.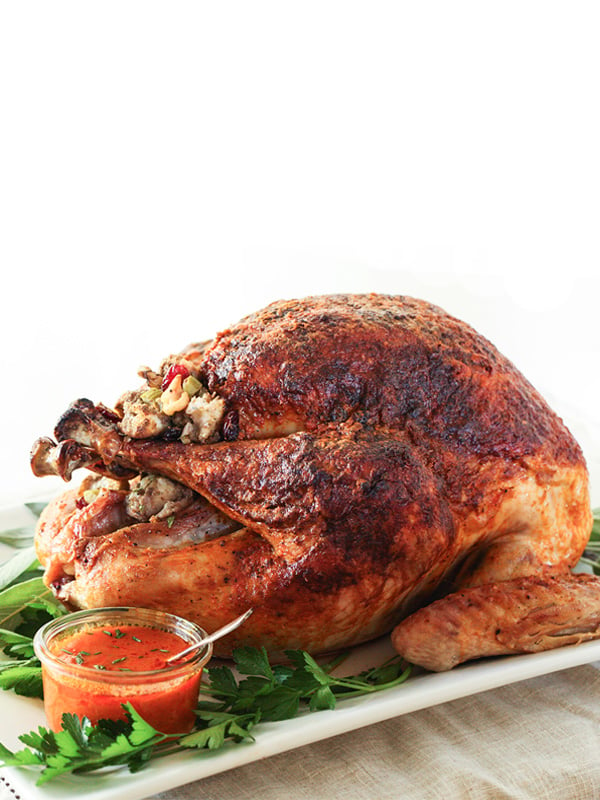 The Best Turkey Recipe for Non-Traditionalists
After this bird shows up to the table, Thanksgiving may never be the same.
Most people who know me, know that I am not what most would consider a traditionalist. Strike that. I do have some traditionalist tendencies, so I guess I'd consider myself a progressively wavering traditionalist. I'm a little stuck in my ways but always open to trying something new.
Take Thanksgiving for example. It's the ultimate traditional holiday. Back in the day the family always gathered 'round to reconnect for that one must-meet time of year. The kids watched the Macy's Day parade. The women cooked. The men watched football. We all snuck swipes of whipped cream from the freshly made pumpkin pies. Then we joined hands, said thanks, and we ate. Then we said we were full. And then we ate again.
And then we put a whole wrench in the traditional monkeyworks and swapped out roles so that now the guys and gals cook together and the ladies are the first to fist pump the SF 49ers as they roll over those Seattle Seahawks in this year's turkey day's big game (fingers crossed!). And then we join hands and we say thanks. And we eat. And then we complain about how stuffed we are. And then we eat again.
Just another reason to celebrate tradition with a twist. Like this Buffalo sauce basted oven roasted turkey. Yep, that's definitely bucking with tradition.
Now this is where I show my non-traditional ways. Normally on my T-day holiday table I'm all about having the same turkey, the same stuffing and the same pumpkin pie for dessert.
Unless I'm in Turks and Caicos, in THE definitive aquarium "touch tank", eating freshly made conch salad from conchs I just moments ago snorkeled down and caught with my bare hands, baked fresh lobster and of course, Doritos, on the back of a fishing boat for my Thanksgiving dinner.
Aaaaand, because turkeys on an island cost $82.04.
But that was so last year.
This year when the peeps at Go Bold With Butter asked me to come up with a few Thanksgiving recipes that tweaked—not twerked—with tradition, I had a little ammunition from last year's tradition change about to inspire some serious creating. And this Buffalo Roasted Turkey, well, it put a whole new spin on my way of talking turkey.
By basting the skin with the buttery hot sauce (I used Frank's Hot Sauce) the skin gave a great balance of spiciness, but not overwhelmingly so. It was perfect to get a sliver of skin with each slice of turkey breast for that added flavor. I found myself dunking the meat into the sauce anyway, because who can resist?
What's in This Buffalo Oven Roasted Turkey?
I know every food blogger says this, but this really is the BEST turkey recipe in the world. It's so different from your average oven roasted turkey, but somehow it still works with all the regular sides.
Here's what you'll need to make the best roasted turkey with an addicting buffalo sauce:
12- to 14-pound turkey
Butter
Kosher salt and pepper
Aromatics (i.e. onion quarters, celery stalks, carrots, etc.)
Hot sauce
If you were wondering how to season a turkey for Thanksgiving, wonder no more. The buffalo sauce does all the work for you, and the aromatics stuffed inside the bird flavor it from the inside out.
How to Roast a Turkey
If you've never roasted a whole turkey before, don't panic. It's really not as bad as you'd think.
First, place the turkey on a rack inside a roasting pan. Then, work some butter underneath the turkey skin (this keeps the meat moist and flavorful). Season generously with salt and pepper, then stuff with aromatics if desired.
I usually stuff my turkeys (there I go again, being a traditionalist) but I decided to give this buffalo oven roasted turkey more flavor from the inside by adding aromatics. I bucked my own trend! Use onions, carrots, celery, turnips, oranges or lemons and lots of fresh herbs to add flavor and moisture to the bird.
Add chicken broth or water to the roasting pan and use it to baste the turkey as it cooks. The drippings that release from the turkey will flavor the basting mixture. Think of basting as recycling all of the delicious flavors.
After the oven roasted turkey has been in the oven for about 2 hours, whip up the buffalo sauce and baste the turkey liberally with it. Return the turkey to the oven for 30 minutes, then baste again with the buffalo sauce. Pop it back into the oven one last time until cooked through.
How Long to Roast a Turkey
If using a 12- to 14-pound turkey, you'll need to roast it for about 3 hours total. The turkey first gets roasted at 500ºF for 30 minutes, then the heat is lowered to 350ºF and roasted for another 30 minutes.
At this point, you should tent the turkey with foil and let it roast for another 30 minutes before basting it in its juices. Roast for 30 minutes again, then baste with the buffalo sauce. After another 30 minutes in the oven, the oven roasted turkey is done.
What Hot Sauce Should I Use?
For that classic buffalo sauce flavor, you'll want to use Frank's Hot Sauce. If you're not a Frank's fan, sub your favorite hot sauce.
How to Reheat Turkey
If you wind up with leftovers of this buffalo oven roasted turkey (lucky you!), you'll want to reheat them in a 350ºF oven. Place the turkey in a baking dish and drizzle in a little broth to prevent the bird from drying out. Cover with foil and pop into the oven for 20 to 30 minutes, or until warmed through.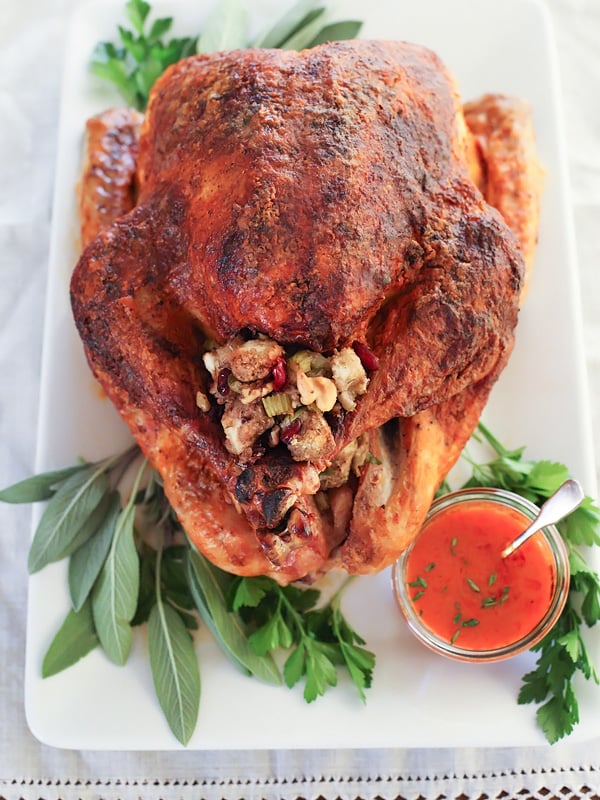 Tips for Making the Best Roasted Turkey
Normally I'm all about brining my bird. It adds a lot of juiciness and moisture to the meat that doesn't always come from a straightforward baking. This time around I didn't and I must say I didn't miss it. If you're looking to brine, you can follow this recipe and omit the Tabasco sauce (or keep it in for even more heat in your bird) and increase the water and salt proportions so it covers your turkey as it brines, depending on its size.
My sister gave me this roasting pan a few years ago for Christmas and I love, love, love it. The rack is really heavy duty so even when I put a 20-pound bird in it, it holds up just fine. It also doubles as a deep dish lasagna pan for mega servings and parties.
If you do decide to stuff your bird before baking, be sure to stuff the cavity loosely and add extra cooking time. The stuffing needs to register 165 degrees F before it is done and so does the turkey. All ovens heat at different temps so be diligent about checking your bird at least 1/2 hour before you think it should be done according to the directions.
Have a question about roasting a turkey? I found that this guide of 21 turkey baking tips had a lot of sage advice. Sage! DOH!
More Thanksgiving Turkey Recipes You'll Love
If you make this recipe, please let me know! Bookmark this recipe and leave a comment below, or take a photo and tag me on Instagram with #foodiecrusheats.
Print
Buffalo Oven Roasted Turkey
This tender and juicy oven roasted turkey gets a little heat thanks to a basting of spiced up, buttery buffalo hot sauce and is a refreshing deviation from the traditional Thanksgiving turkey.
Ingredients
1-

12 to 14-pound turkey

giblets and neck removed; bird rinsed and patted dry, at room temperature

12

tablespoons

butter

softened

Kosher salt and freshly ground black pepper

Aromatics

, such as onion quarters, celery stalks, carrots, and fresh herbs such as rosemary, thyme or parsley

1

cup

hot sauce

(such as Frank's Red Hot)
Instructions
Preheat oven to 500°F.

Place turkey (breast side up) on rack placed inside a

roasting pan

. Pry your fingers in between the skin and meat of the turkey and work 3 tablespoons of butter under skin on breast and legs. Rub 1 additional tablespoon butter on the outside of the skin. Season with kosher salt and freshly ground black pepper. Tuck wing tips under body and stuff the cavity of turkey with aromatics if desired. Tie legs together with kitchen twine.

Place the turkey into the preheated oven and pour 1 1/2 cups water into the roasting pan. Roast for 30 minutes.

Lower the heat to 350°F and roast for 30 more minutes. Butter 1 side of a large piece of aluminum foil and tent the turkey breast with the foil, butter side down. Rotate the turkey and baste with juice in the pan every 30 minutes, or for about 1 hour.

Melt the remaining 8 tablespoons butter in small sauté pan and whisk in the hot sauce. Use a large spoon to baste the turkey liberally with the sauce and roast for another 30 minutes. Baste again and return to oven for 30 minutes more or until instant read thermometer reads 165°F when inserted into the inner thigh.

Total cooking time should be about 3 hours depending on your oven.

Transfer to a carving board and tent loosely with foil for 30 minutes before carving. Serve with additional sauce if desired.
Nutrition
Calories:
405
kcal
|
Carbohydrates:
1
g
|
Protein:
47
g
|
Fat:
24
g
|
Saturated Fat:
10
g
|
Cholesterol:
185
mg
|
Sodium:
869
mg
|
Potassium:
513
mg
|
Fiber:
1
g
|
Sugar:
1
g
|
Vitamin A:
502
IU
|
Vitamin C:
15
mg
|
Calcium:
29
mg
|
Iron:
2
mg
Thanksgiving Sides to Round Out the Feast
Sure, the turkey may be the star of your Thanksgiving table, but it still needs a supporting cast of awesome sides, and of course a sweet note to end on.
Craving more life balance, less stress, and better health? Check out my Nourished Planner, the daily planner to help create simplicity and under-schedule your life.
We send good emails. Subscribe to FoodieCrush and have each post plus exclusive content only for our subscribers delivered straight to your e-mail box.
Follow me on Instagram, Facebook, Pinterest and Twitter for more FoodieCrush inspiration.
This recipe was created as part of my partnership with Go Bold With Butter. As always, thank you for reading and supporting companies I partner with, which allows me to create more unique content and recipes for you. There may be affiliate links in this post of which I receive a small commission. All opinions are always my own
SaveSave
SaveSaveSaveSaveSaveSaveSaveSave