I've converted my favorite way to use up Thanksgiving turkey leftovers from a baked pot pie to a totally comforting slurp able soup.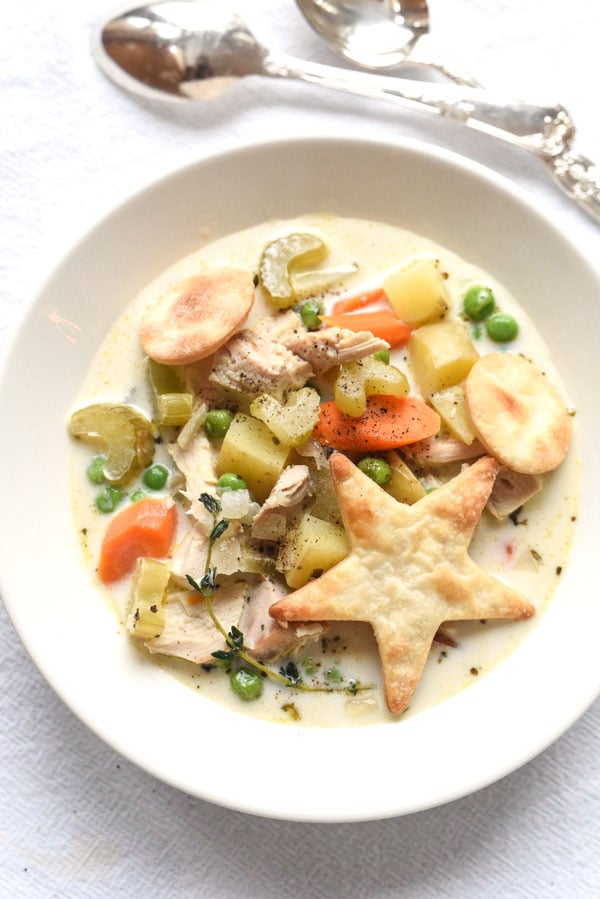 I asked. You answered. And here is what we have to show for it.
Winner, winner, chicken dinnnnnnnn…HOLD THAT THOUGHT. Move over chicken, because THIS is dinner.
A week or so ago I had 5 quarts of freshly brewed turkey stock in need of a recipe to belong to. Plus, I wanted to give you a new recipe to use up that leftover turkey that most likely you'll have on hand like I did when I made this glorious guy.
So as I am prone to do, I took to Instagram and asked you what you'd like to see made with it.
The requests were all winners. From spicy turkey chowder with lots of veggies in a bread bowl to a turkey risotto to turkey and dumplings, and more.
But one request hit home because it combines my favorite birthday dinner recipe with the slurpable, bread dipping, request of my daughter. She could eat soup morning, noon and night. And does.
Hello world! Meet your new favorite comfort food: Turkey Pot Pie Soup.
My husband may not admit it now, but before he tasted this soup he was a bit of naysayer at the idea.
"That sounds weird. Why don't you just make a turkey pot pie instead?"
Well, honey, darling, love of my life, because we already HAVE a turkey pot pie recipe on the blog and I need new fodder to keep the troops happy.
"Oh. Okay. It'll probably be good then."
And he is right. Just like I was from the start *wink*. It is good.
All the flavors of my favorite comfort food translate perfectly to this brothy dinner, with potatoes, carrots, onion, celery and peas. I've even added a nod to my fave pot pie's crusty base by creating pie crust toppers in whatever shape suits your fancy.
I chose stars and little rounds. I'm festive that way.
About the Recipe
The traditional pot pie flavors of onion, carrots, potatoes and celery are all represented in this pie. Be sure to cut your veggies all about the same size so each spoonful is proportioned just right.
For a pot pie, I like to chop my turkey into cubes rather than shred with forks. It just makes it that much more "pot pie-ish" to me in resembling those old frozen Swanson pot pies I had when I was a kid. I had leftovers after I made this turkey (the most flavorful I think I've yet to make) or if you don't have leftovers, here's my favorite way to bake a simple turkey breast solo. Sidenote: They're so dang easy, why don't we all bake turkey more often??
The broth is a combo of turkey stock and half and half with a bit of wine (this is my favorite for drinking, so it's often used in my cooking) cooked into the floured and browned veggie mix for just a bit of a kicked up flavor. If you don't like cooking with alcohol, you can skip this step.
The flavor builder that helps this soup most resemble my pot pie mouth memory is the addition of fresh thyme leaves and dried marjoram. The marjoram gives it just the right earthy, poultry-enhanced flavor I was looking for. Don't miss adding this herb. It's essential for replicating the pot pie flavors.
Refrigerator pie crust comes in for the save by delivering a fun presentation addition and a handy accessory for dipping into the soup. Be sure to watch how long you bake your cut pie dough discs because they can turn on you in a minute and be burned to a crisp (like I did here!).
If you make this recipe, please let me know! Leave a comment below or take a photo and tag me on Instagram with #foodiecrusheats.  
Print
Turkey Pot Pie Soup
I've converted my favorite way to use up leftover turkey from a baked pot pie to a totally comforting slurpable soup.
Ingredients
2

tablespoons

butter

1

tablespoon

canola oil

4

ribs celery

chopped (about 2 cups)

1

yellow onion

chopped (about 1 1/2 cups)

1/2

cup

white wine

4

sprigs fresh thyme

3

tablespoons

all purpose flour

1/2

teaspoon

kosher salt

1/2

teaspoon

freshly ground black pepper

6

cups

turkey or chicken stock

1 quart + 2 cups

1

pint

half and half

reserving 1 tablespoon

4

cups

chopped turkey meat

4-5

carrots

chopped (about 2 cups)

4

white potatoes

skinned and chopped into 1/2 inch cubes

1

cup

frozen peas

1

teaspoon

marjoram

1

package refrigerator pie dough

Flour for dusting pie dough
Instructions
In a large dutch oven or heavy bottom stock pot, melt the butter with the canola oil over medium heat. Cook the celery and onion until beginning to become soft, about 4-5 minutes, stirring occasionally. Add the white wine and thyme sprigs and cook until the wine reduces into the vegetables. Add the flour to a small bowl with 3/4 to 1 cup of the turkey stock and whisk until combined. Add the flour mixture to the vegetables and cook for 4-5 minutes, stirring often. Season with kosher salt and freshly ground black pepper. Whisk in the rest of the turkey stock and half and half, whisking so no clumps appear. Add the turkey meat, carrots, potatoes, frozen peas and marjoram. Cook for 20 minutes or until potatoes and carrots are fork tender.

Meanwhile, preheat your oven to 400 degrees F. Roll out the refrigerator pie crust and dust lightly with flour. Cut out the pie crust into discs or shapes and place on a baking sheet lined with parchment paper. Brush the tops with the reserved 1 tablespoon of milk and bake for 5 minutes.

Serve the soup topped with the baked pie dough discs.
More Turkey Leftover Recipes to be Thankful For
Turkey is one of the most versatile ingredients to make the most of your leftovers. And as usual, they quantity is usually plentiful. Here are 10 ideas to put your leftovers to work.
Roasted Turkey Potato Chip BLAT
I don't think we need to do any 'splainin' for this bad boy.
Get the recipe | How Sweet It Is
BBQ Pulled Turkey Pizza with Fiery Pineapple Salsa
Anything doused in bbq sauce and rolled in dough gets high marks on my list.
Get the recipe | The Endless Meal
Easy Leftover Turkey, Mushroom, and Brie Puff Pastries
Puff pastry makes this a super easy pull-together meal or app.
Get the recipe | An Edible Mosaic
Turkey Black Bean Enchiladas
I will agree with this: Flour tortillas in enchiladas are the way to go.
Get the recipe | Simply Recipes
Creamy Turkey Gnocchi Soup
Gnocchi is my everything = this soup is my everything.
Get the recipe | Back to Her Roots
Easy Turkey Tetrazzini
This is one of my most favorite ways to use up turkey. Note to self: Share this recipe soon!
Get the recipe | Reluctant Entertainer
Creamy Lemon and Leftover Turkey Tagliatelle
This leftover recipe clocks in at about 10 bucks for the whole meal deal. $$bonus.
Get the recipe | Cooking for Keeps
Easy Turkey Pho
We are HUGE pho-phans so this easy recipe might be getting a workout.
Get the recipe | Pinch of Yum
Leftover Turkey Stuffing Sandwiches
The only thing I'd have to add is a slather of cranberry sauce.
Get the recipe | Dine and Dish
Turkey Avocado Flatbread
Get the recipe | Chelsea's Messy Apron
If that big turkey dinner didn't fill you up, I hope these recipes will.
Thanks for stopping by and please, get into the kitchen and cook something good.
As always, thank you for reading and for supporting companies I partner with, which allows me to create more unique content and recipes for you. All opinions are always my own.
Are you following me on Instagram, Twitter, Facebook and Pinterest?  Thanks for reading and subscribe to FoodieCrush to have each post delivered straight to your e-mail box.