Kale, Brussels sprouts, broccoli, quinoa, and salmon are just a few of the ingredients in this superfood salad that packs a nutritious punch in just one bowl.
Superfood Salad with Homemade Poppy Seed Dressing
Again this year I'm happy to share that I'm partnering with Blue Diamond AlmondBreeze to share healthful recipes made with almond milk. Today we're adding Almond Breeze's new Almondmilk Cashewmilk Blend to the recipe mix for a creamy, healthy dressing to one of my standard lunchtime salads.
This however, is no normal salad. It is simply packed, and I mean PACKED with a bounty of superfoods that should make any normal human being feel, well, superhuman.
In a previous version of my professional life, I designed natural health magazines. Each month I designed the pages of those magazines where the article's authors explained the merits of things from shark liver oil to CLA, from GLA to SAM-e, from whey protein to spirulina and all the vitamins, minerals and healthy alternatives to what is standardly subscribed, or ignored, by mainstream medicine.
We talked a LOT about eating well for good health. It's a philosophy I've adopted in my own life And in my family's. And it's a philosophy I'm happy to share here on FoodieCrush, too.
What's in the Superfood Salad?
This salad is chock-full, I say, I say, CHOCK FULL of superfoods. Whether you believe the science behind superfoods or not, eating healthy, whole foods is only going to help your diet and well-being in the long run.
So why not give them a go?
Superfoods are foods that are packed with naturally occurring nutrients and large doses of antioxidants, polyphenols, vitamins, and minerals. These foods have been shown to reduce the risk of chronic disease, improve brain power, help fight against aging and in general keep those that adopt this healthy eating style…healthier.
Today's salad starts with a base of superfoods I find in a packaged sweet kale, brussels sprouts, cabbage and broccoli salad mix I buy weekly at my local Kroger store. Each of the veggies in the mix packs a mega dose of vitamin C and beta carotene. The salad mix comes with dried cranberries (shown to improve urinary tract health and reduce high blood pressure) and pumpkin seeds (pepitas) for a high count in the protein department.
I added leftover salmon from my sheet pan salmon dinner recipe for my protein choice for the day. Salmon is one of the most well-known protein-sourced superfoods around and is high in omega-3 fatty acids, vitamins and minerals. Salmon has been shown to improve cardio vascular health, increase metabolism and even reduce inflammation. Plus it's just darn tasty.
For another layer of protein, I added cooked quinoa to my superfood super charged salad. Naturally gluten-free, quinoa is a high-protein, low-calorie, fat-free addition to the salad that adds a tasty, grain-like bite.
High in vitamin C, blueberries are a popular antioxidant shown to pack a nutritional punch in their sweet little balls of blue. Studies show blueberries are anti-inflammatories and can lower your risk of heart disease.
Chockfull I tell you!
What's in the Homemade Poppy Seed Dressing?
My weekly salad mix that is the base of this salad comes with a packaged poppyseed dressing included, but I'm too often suspicious of creamy dressings and their hidden calorie counts. And what makes them creamy anyway? What am I not aware of? I prefer to make my own dressing for my lunch-crunch-fest.
For my homemade poppyseed dressing, I use original Almond Breeze AlmondMilk CashewMilk for my creamy base. Since it comes in at only 60 calories per cup, this cashew milk adds just 15 calories for the ¼ cup I use in my poppyseed dressing. I added some light mayonnaise that added an additional 30 calories and 2 grams of fat so overall, I feel pretty good about drizzling this dressing.
Almonds are a superfood as well. They are high in protein and are the most nutritionally dense nut around. Almonds have been shown to reduce cholesterol and may contribute to lowering "bad" cholesterol (LDL).
I worked and reworked this dressing to match the flavor of the packaged poppyseed dressing. While my salad dressing is just a bit thinner in consistency because it doesn't include any oil (and therefore thinner on the thighs, too) its flavor was spot on. In fact, my man said he liked my version even better than the packaged one. And he didn't just say that so I'd quit making homemade poppyseed dressing over and over so he could take over the kitchen to make dinner.
Go ahead. Try it. And see for yourself when you agree with him.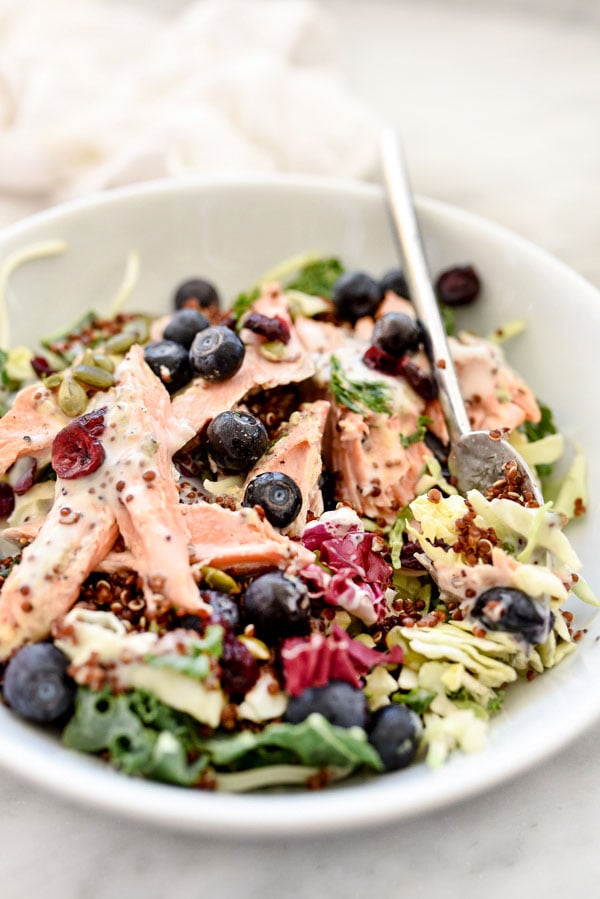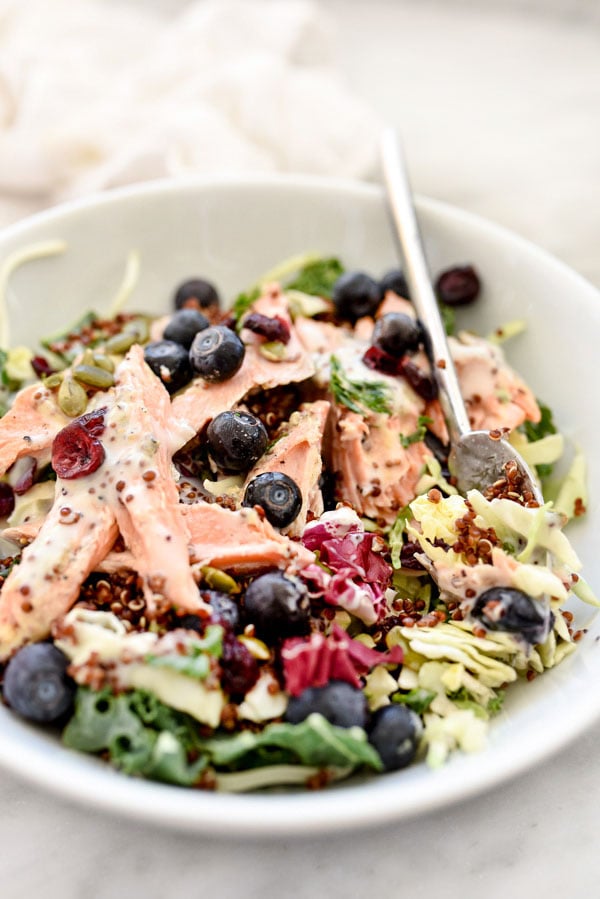 Tips for Making Superfood Salad
As with any healthy salad recipe, you're welcome to mix and match the ingredients in this superfood salad. Swap out the blueberries for diced strawberries, the kale mix for baby spinach leaves, and so on.
The homemade poppy seed dressing can be made in advance and enjoyed all week long. It'll keep for up to a week, but note that you may need to shake it to redistribute the ingredients.
If you're vegetarian, simply omit the salmon. You can add extra quinoa to amp up the protein.
More Healthy Salad Recipes You'll Love
If you try this recipe, please let me know! Leave a comment below, or take a photo and tag it on Instagram with #foodiecrusheats
Print
Superfood Salad with Poppy Seed Dressing
Kale, Brussels sprouts, broccoli, quinoa, and salmon are just a few of the ingredients in this superfood salad that packs a nutritious punch in just one bowl.
Ingredients
For the Salad:
3

cups

sweet kale salad mix

4

ounces

cooked king salmon

⅓

cup

quinoa

¼

cup

fresh blueberries

2

tablespoons

dried cranberries

2

tablespoons

pepitas
For the Poppy Seed Dressing:
¼

cup

regular Almond Breeze AlmondMilk CashewMilk

2

tablespoons

light mayonnaise

1

tablespoon

honey

1

teaspoon

dijon mustard

1

teaspoon

white vinegar

1

teaspoon

poppy seeds

¼

teaspoon

onion powder
Instructions
Mix the salad ingredients in a bowl.

In a small jar with a fitted lid, add the poppy seed dressing ingredients, top with the lid screwed on tightly and shake well to emulsify. Drizzle over the salad and serve.
Nutrition
Serving:
1
g
|
Calories:
615
kcal
|
Carbohydrates:
80
g
|
Protein:
33
g
|
Fat:
19
g
|
Saturated Fat:
3
g
|
Cholesterol:
67
mg
|
Sodium:
392
mg
|
Potassium:
1081
mg
|
Fiber:
6
g
|
Sugar:
32
g
|
Vitamin A:
1363
IU
|
Vitamin C:
31
mg
|
Calcium:
99
mg
|
Iron:
5
mg
More Healthy Meals to Make Anytime
Have a great day, and make something good.

Craving more life balance, less stress, and better health? Check out my Nourished Planner, the daily planner to help create simplicity and under-schedule your life.
We send good emails. Subscribe to FoodieCrush and have each post plus exclusive content only for our subscribers delivered straight to your e-mail box.
Follow me on Instagram, Facebook, Pinterest and Twitter for more FoodieCrush inspiration.
This post is part of a partnered series with Blue Diamond Almond Breeze Almondmilk Cashewmilk Blend. As always, thank you for reading and supporting companies I partner with, which allows me to create more unique content and recipes for you. There may be affiliate links in this post of which I receive a small commission. All opinions are always my own.