Summer doesn't get any cooler than ice cream sandwiches made of chocolate chip cookies with oatmeal, nuts, and potato chips (!) sandwiching cool colors of ice cream for an easy dessert that'll chill everyone out.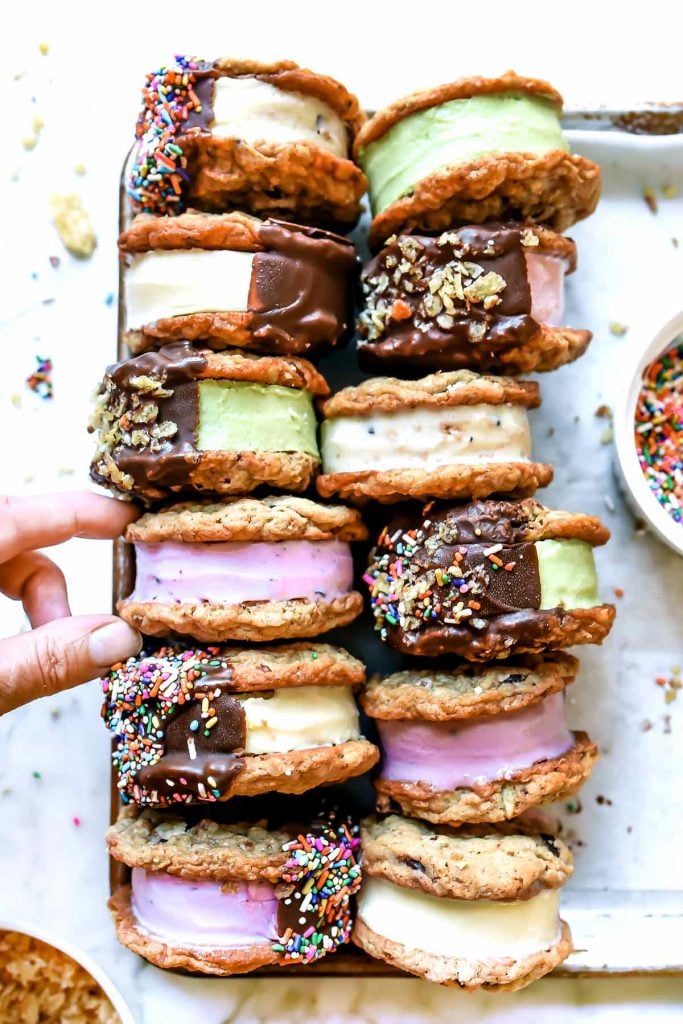 This post is brought to you by Kettle Brand Potato Chips
Other than the words, "Wake up honey, it looks like Santa came!" and "Surprise! We got a puppy!", there may be no better music to a child's ears than the distant sing-song chimes of the ice cream truck rolling closer and closer to home on a hot summer day.
Oh my. The memories. Like Pavlov's dog, those chimes would send us kids into a total frenzy, immediately dropping whatever we were doing to race for home screaming, "The ice cream truck is coming! The ice cream truck is coming!" and then hurriedly scavenge or beg for funds to before the ice cream man rolled on by.
I don't know about you, but I bet our ice cream man got some sort of secret pleasure taunting us little kids with the possibility we just wouldn't get.there.in.time.
But as it always does, times change. I don't think I've heard the song of an ice cream truck come by any of our homes in years. But that's no reason to stop me from getting my chill on, in fact, it's simply motivation to share a new kind of ice cream memory with my daughter. And naturally, they start with chocolate chip cookies.
But these cookies are no ordinary cookies. They do have all the same ingredients as my mom's Oatmeal Chocolate Chip Cookies, but with one more very special secret ingredient: Potato chips. You may wonder why would I add potato chips to a cookie, but I have to tell you, the thick cut Kettle Brand potato chips add a crispy, salty crunch to these cookies in the best of ways, and a salty crunch always goes well with chocolate in my book.
So when my husband tried these ice cream sandwiches he even made the bold declaration, "This is the best thing you've ever made." Now…let's take a look at the circumstances when he made that statement –> He had just eaten a garlic-infused dinner about an hour before, and if anyone knows my man, he has a serious late-night sweet tooth, so he may have been a tad partial to the timing of his partaking.
So yes! These ice cream sandwiches ARE really, really good. But the best thing I've ever made? I'll let you be the judge.
About the Recipe
When Kettle Brand Potato Chips asked me to create a recipe using potato chips in an ice cream sandwich, I didn't have to think too far afield of adapting my favorite chocolate chip cookie recipe and studding it with potato chips. In fact, I had already photographed this recipe when I saw that I'm not the only one who thinks potato chip chocolate chip cookies are what's right with the world now.
But, I did have to consider just how many cookies I'd really need to make for just a few ice cream sandwiches. I cut down my mom's original oatmeal chocolate chip recipe while referring to a basic recipe from my grandma's 1953 edition of The Joy of Cooking because I simply didn't need 3 dozen cookies for ice cream sandwiches. I tested the new recipe with potato chips added four times to get it just right, and oddly, I didn't hear any complaints from my taste testers at any time during the process :)
I use my wooden rolling pin to crush the chips that are sealed in a freezer bag. Depending on how fine or how chunky you prefer your bite to be will be the factor with how finely you crush. I made them both ways and in the end I think the more finely crushed chips just edged out the coarser chip, only because it spread the potato chip flavor more through the cookie.
Kettle Brand Chips are really the only potato chip I would use for baking like this because they're a very sturdy chip and won't break down into a gooey mess. Let the chocolate chips do that job for these cookies. Also, I used the Sea Salt flavor because, hello, sea salt + chocolate = true love always.
Tips for Making Homemade Ice Cream Sandwiches
Homemade ice cream sandwiches really are one of the simplest desserts to make, but there are a few rules to abide by.
Try to make your cookies uniform in size. I used a 2-inch cookie scoop (#24 scoop) to mold my dough. Once they came out of the oven and while still hot, I used a knife to push them into the roundest shape I could if they had spread in odd directions.
A thinner cookie makes a better ice cream sandwich. You don't want your cookie to over power your ice cream and remember, you still need to be able to fit the whole thing in our salivating mouth.
Freeze your cookies before assembling. Along with frozen ice cream, freeze your cookies too. This will make them firmer to work with given this cookie recipe is a softer, gooey cookie.
Pints of ice cream make ice cream layers just the right size. You could always use homemade ice cream or ice cream scooped from a container, but the secret to portioning out the ice cream just right is slicing store-bought pints of ice cream into 1-inch thick rounds and sandwiching them between the cookies. Let the ice cream thaw just a bit and then run the back of a small, metal spoon where the ice cream and cookies meet to fill in the gaps. Then, quickly get them into the freezer to harden for a few hours, or eat them straight away, right then and there.
Smudge wanted to decorate these cookies with sprinkles—as all teenagers are prone to do—and I was looking for layering on even more of a potato chip crunch, so we made our own chocolate shell sauce for dipping and decorating our ice cream sandwiches in such gloriously imperfect ways, they'd put any ice cream cookie sandwich from a truck to shame.
If you make this recipe, please let me know! Leave a ⭐️⭐️⭐️⭐️⭐️ rating on this recipe below and leave a comment, take a photo and tag me on Instagram with #foodiecrusheats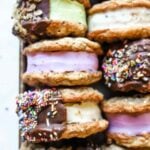 Print
Potato Chip Cookie Ice Cream Sandwiches Recipe
Thin, chewy, homemade chocolate chip cookies spiked with oatmeal, nuts and potato chips make the perfect vehicle for creamy, chilly ice cream in these totally flavorful ice cream sandwiches.
Ingredients
½

cup

salted butter

, melted and slightly cooled

6

tablespoons

granulated white sugar

6

tablespoons

light brown sugar

1

egg

½

teaspoon

pure vanilla extract

1

cup

all-purpose flour

½

teaspoon

kosher salt

½

teaspoon

baking soda

1

cup

semi-sweet chocolate chips

1

cup

Kettle Brand Potato Chips

, crushed (about 2 ounces) - I used the Sea Salt flavor

½

cup

old-fashioned oats

½

cup

chopped pecans

3-4

pints

ice cream

Decorate with chocolate hard shell

, ½ cup chocolate chips melted with 2 tablespoons of coconut oil, sprinkles, mini chocolate chips, or nuts, and more crushed potato chips)
Instructions
Preheat the oven to 350°F.

Add the melted and slightly cooled butter, white, and brown sugars to a stand mixer affixed with the paddle attachment and mix on high until light and creamy, about 5 minutes. Add the egg and vanilla extract and beat for another minute. Add the flour, salt, and baking soda and pulse to mix until the flour is incorporated. Add the chocolate chips, ¾ cup of the potato chips, oatmeal and the pecans and pulse to mix.

Top a baking sheet with parchment paper and scoop 2-inch scoops of cookie batter onto the baking sheet and bake for 8-10 minutes or until the edges are lightly browned. The cookies will still be a bit soft in the middle but will set as they cool. Remove from the oven and use a knife to gently nudge and shape into round circles, allow to cool for 5 minutes on the cookie sheet then transfer to a baking rack. Repeat until the cookies are all baked. Once the cookies are cool, freeze for 2 hours or up to 3 days.

To prepare the sandwiches, take the cookies and the ice cream from the freezer and match the cookies into like sizes. Use a serrated knife to cut 1 to 1 ½ -inch slices of ice cream going straight through the paper cup, or, if your ice cream has pulled away from the sides of the cup, remove it from the cup and make the slices. Peel away the paper from the ice cream slices and sandwich between the cookies. Decorate if desired and freeze for 2 hours or up to 5 days.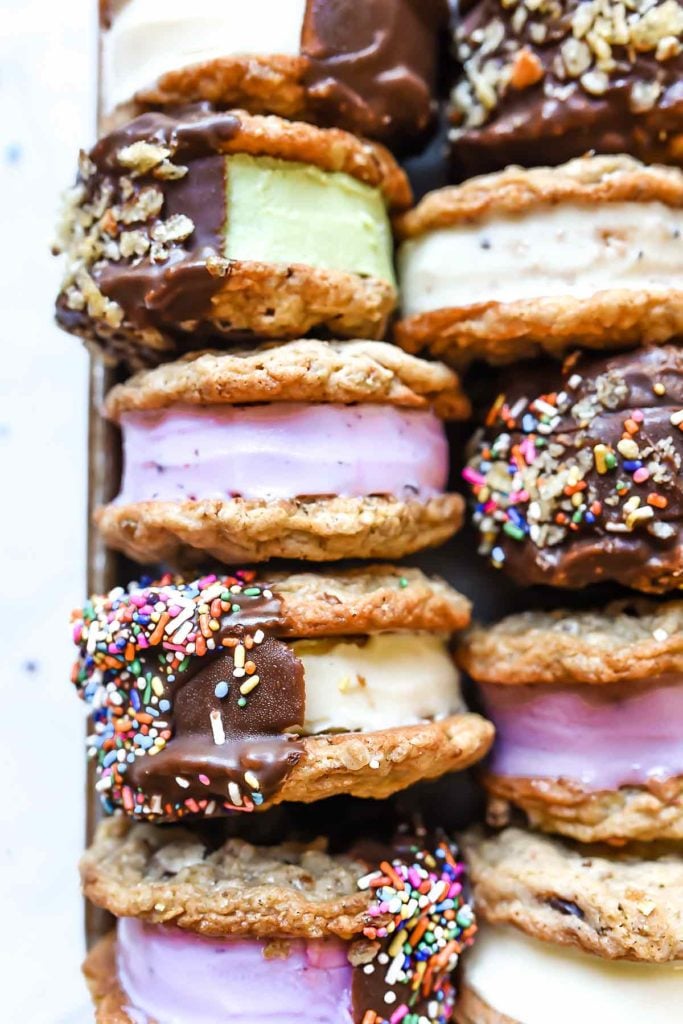 We send good emails. Subscribe to FoodieCrush and have each post plus exclusive content only for our subscribers delivered straight to your e-mail box.
Follow me on Instagram, Facebook, Pinterest and Twitter for more FoodieCrush inspiration.
As always, thank you for reading and supporting companies I partner with, which allows me to create more unique content and recipes for you. There are affiliate links in this post of which I receive a small commission. All opinions are always my own.