A crunchy potato chip crust turns macaroni and cheese recipe into a hand held appetizer version of everyone's favorite cheesy comfort food.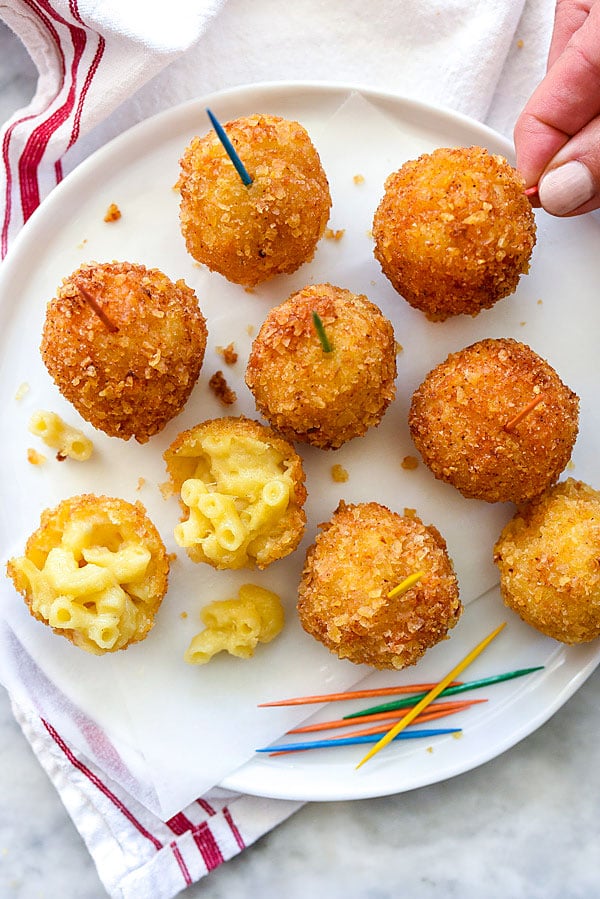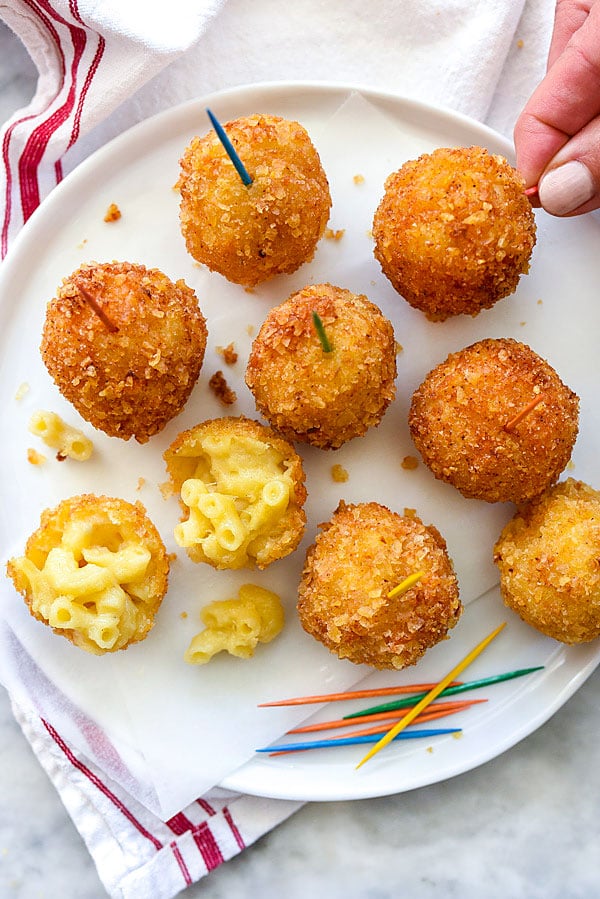 This post is in partnership with Kettle Brand Potato Chips
I know I've said it here on the blog before, but this recipe proves it bears repeating: My guy deserves a hand clap emoji 👏 👏 👏 or 372 for being my secret weapon in the kitchen.
You know how they say the way to a man's heart is through his belly? My husband's journey usually starts when I put a food challenge in his ear that leads to a craving in his belly, and he is off to the recipe-creating races. And that makes this lady's heart beat-beat-beat-heart-beat with luuuuv.
We're quite the team.
This recipe is no different. Fried Mac and Cheese Balls. Coated in potato chips? Yes sir. This is finger food at its best.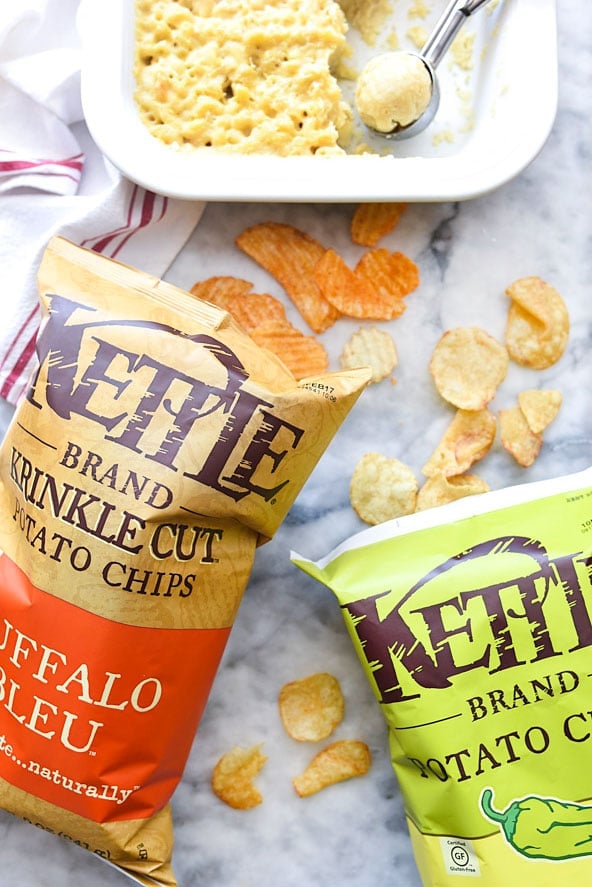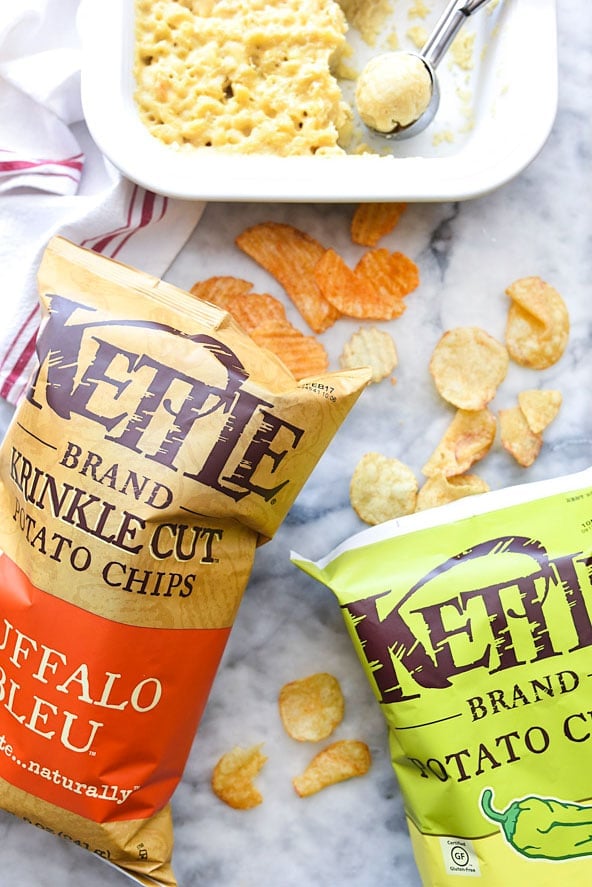 About the Recipe
With tailgate season in full gear and the holidays bearing down upon us, it's that time of year to show off some unique skills in the kitchen. To think outside of the box and straight from the bag.
The key to these crispy pasta cheese bombs is creating a crispy exterior to play foil to the creamy center. To get that extra crunchy shell, my husband keyed in on using Kettle Brand potato chips as the ultimate crunchy coating. They work really, really well for this recipe because they're thicker and more substantial than other potato chips or bread crumbs, creating just the right crumb coat.
With this recipe, you can pick and choose any one of the many flavors of Kettle Brand potato chips to coat the mac 'n cheese, but we narrowed it down to the Buffalo Bleu and Pepperoncini flavored chips to pair well with the cheesy pasta.
No surprise here, we were right no point.
To get the crunchy cheese ball party started, he made my recipe for The Best Homemade Mac 'n Cheese, minus the bread crumb topping, and refrigerated it overnight so the macaroni and cheese would solidify and the balls would hold together while frying. He used a 1 ½-inch scoop like this one to make cheese balls and compacted them well, forming a nice round ball.
When preparing the potato chips, he recommends crushing the chips finely with a rolling pin to get the most coverage when dredging. Then, he simply dipped the rounded cheese balls into the egg wash, then into the crushed chips, and into the 350 degree F bubbling canola oil they went, to cook for 3 minutes and 30 seconds. Or 4 minutes if you like them a little more brown. He used a candy thermometer like this one to gauge his temperature and keep it steady.
When frying the balls, don't overcrowd the pot or you'll lower the temperature too much and the balls won't get as crispy. Also, don't use too big of a pot or you'll need more oil and it will take longer to reheat the oil. We like this 4-quart pot for recipes like this.
Lastly, drain on paper towels and serve immediately. We delivered some to our neighbors, and even snacked on them later on the day too, and I'm here to say, they were still amazing even when at room temperature, too.
While these crunchy macaroni and cheese balls taste terrific without any dipping sauce, we both found ourselves shaking a dash or 32 of vinegary hot sauce on the hot little balls.
Why mess up such a good thing?
Because we're always game in adding a little more fire to our already happy hearts.
If You Liked This Recipe, You'll Like These:
If you make this recipe, please let me know! Leave a comment below or take a photo and tag me on Instagram with #foodiecrusheats.
Print
Fried Mac and Cheese Balls Recipe
A crunchy potato chip crust turns macaroni and cheese into a hand held appetizer version of everyone's favorite cheesy comfort food.
Ingredients
1

recipe baked macaroni and cheese or a 9 X 13 pan of your favorite recipe

chilled and refrigerated overnight

2 8.5

ounce

Kettle Brand Potato Chips

any flavor

2-3

eggs

6

cups

canola or peanut oil
Instructions
Make the macaroni and cheese and refrigerate overnight.

Use a 1 ½-inch scoop or spoon out about 2 tablespoons macaroni and cheese and shape into 2-inch rounded balls, compressing lightly.

Place about 2 cups of each flavor of potato chips into their own gallon freezer bags and seal. Gently roll a rolling pin over the chips to crush into small flakes. Add more chips to the freezer bag and crush as long as it's manageable.

Pour the crushed chips into a shallow bowl or plate. In another shallow bowl, whisk the two eggs until smooth. Dip the rounded balls into the whisked egg then roll in the potato chips, firmly pressing the chips into the macaroni balls to create a solid crust. Repeat until you have about 10-12 balls.

Heat the oil in a deep 4-quart pot until the oil registers 350 degrees F on a candy or deep fry thermometer. Fry 6 cheese balls at a time for about 3 minutes 30 seconds or until golden. Drain on paper towels and serve immediately.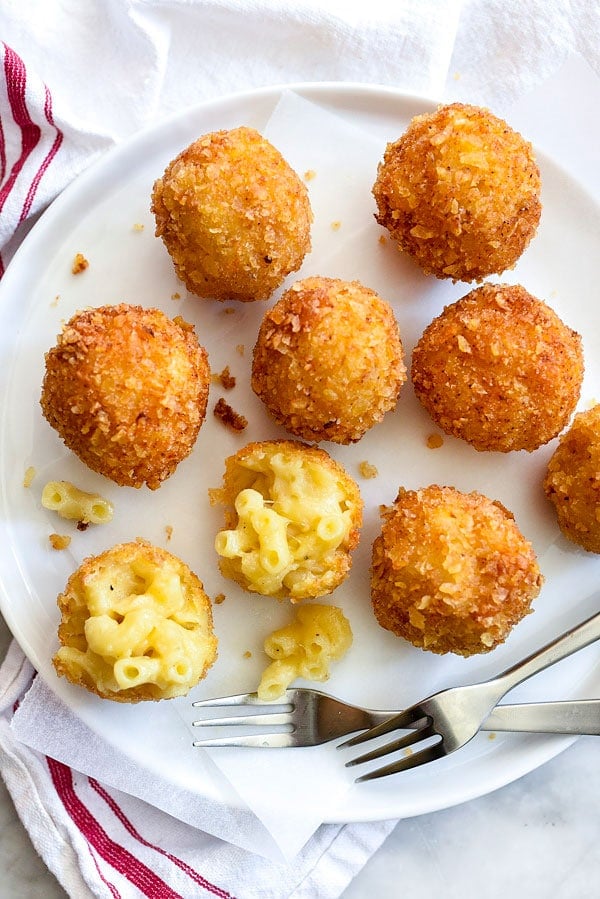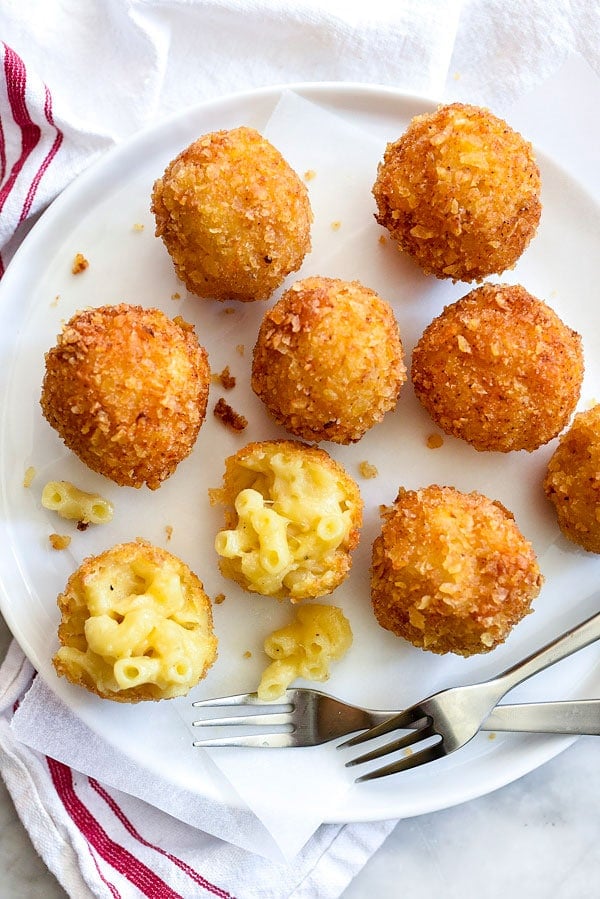 Hey, thanks for stopping by, make it a great day and make something good.
This post is sponsored by Kettle Brand. As always, thank you for reading and for supporting companies I partner with, which allows me to create more unique content and recipes for you. All opinions are always my own.  
Are you following me on Instagram, Twitter, Facebook and Pinterest? 
Thanks for reading and subscribe to FoodieCrush to have each post delivered straight to your e-mail box.