In this maple glazed salmon, a spicy sweet rub tops salmon fillets that are broiled then drizzled with maple syrup to create a caramelized crust for a healthy, easy dinner ready in under 10 minutes.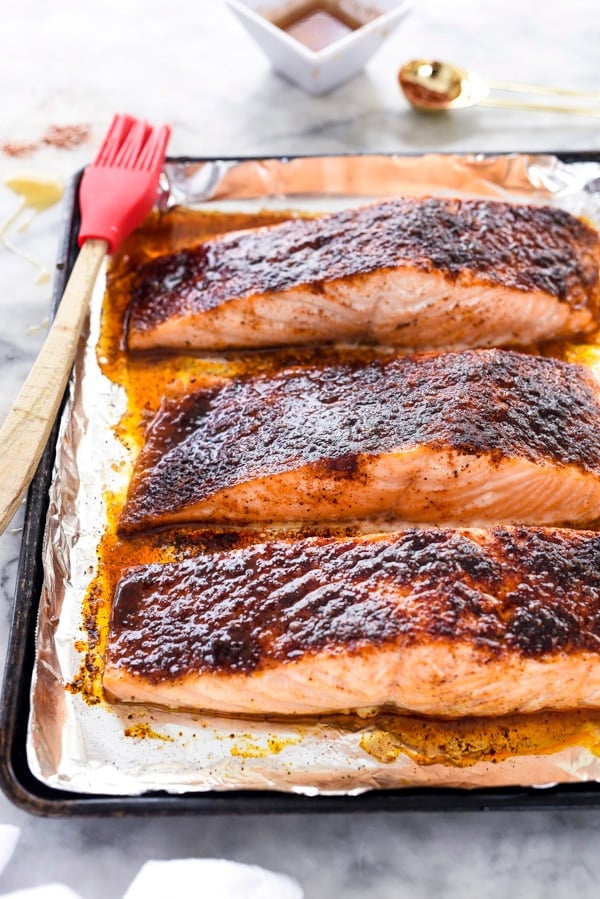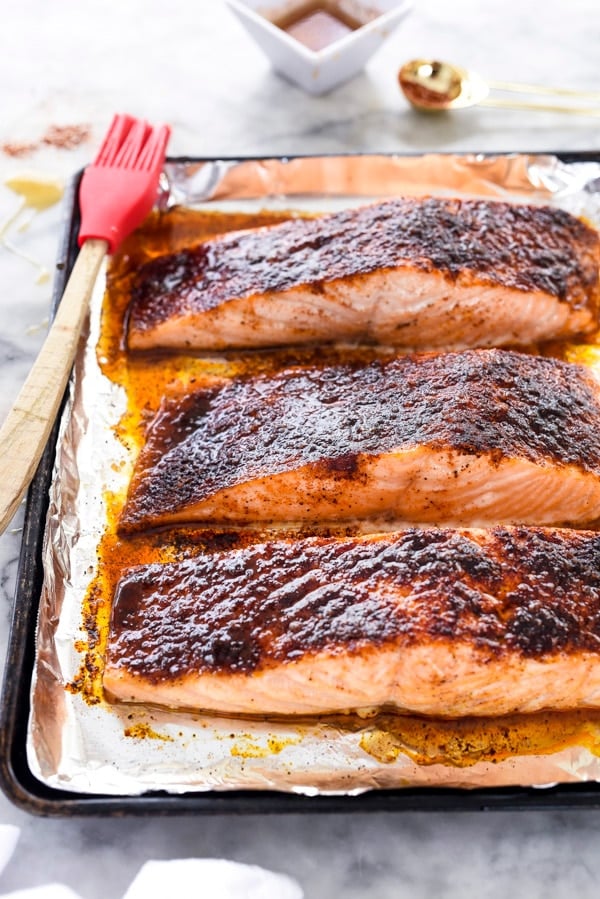 Featuring a lifestyle that's a little bit healthy with a whole lot of clean eating, we've been smitten with the pint-sized Boston blogger Lexi Kornblum of Lexi's Clean Kitchen ever since we enjoyed a girls weekend in her hometown of Boston, MA where we were immediately drawn to her her ambition, passion and throaty, deep-voiced laughter that puts Scarlett Johansson to shame.
For Lexi, what started out as a spur of the moment Instagram account to document the changes she made in her diet to combat chronic health issues has evolved into a full-fledged blog where we can't get enough of her healthy, beautifully photographed, and approachable recipes that work for everyone in the family (try her Slow Cooker Thai Curry Chicken), and it's looking good that you'll feel the same.
"I truly believe in the power of food," Lexi writes in her new cookbook. And that motto shines bright on each and every page with recipes just like this fast to the table 10 minute maple salmon you'll find at the end of this post.
Lexi hasn't always been a clean eating devotee, but when she started having some health issues in 2012, she was forced to make some adjustments.
"I noticed a change in my gut, my energy, and my skin," she recalls. Lexi started incorporating changes in her diet, hoping the issues would resolve themselves. "The hardest part of making these changes was feeling like I couldn't eat the foods I loved, and that's why I started developing recipes and sharing them with the world!"
Having to shift her own diet inspired Lexi to write a cookbook so she could help others experiencing similar issues. Her first book, Lexi's Clean Kitchen: 150 Delicious Paleo-Friendly Recipes to Nourish Your Life, came out in November 2016, and we were lucky enough to get an early sneak peek!
It's chock-full of gorgeous photography and mouthwatering healthy eats. In addition to a wide range of recipes, the book also includes a pantry guide, an equipment guide, cheat sheet guides, and meal plan templates.
"I wanted to provide others with a practical approach to clean eating that won't deprive people of their favorite foods. When I had to change my diet and eliminate foods, I began cooking this way, and realized that there were so many people who were looking for healthy alternatives, allergen friendly swaps of their favorite foods, and overall just simple and delicious meals."
Lexi's favorite recipes from the book are her Homemade Mayo, Avocado Toast, Fluffy Pancakes and Waffles, Sesame Seared Ahi Tuna Salad with Ginger Dressing, and Slow Cooker Beef Barbacoa.
Is your stomach growling yet?
And now, my List of 10 Q's for Lexi's A's
1. Describe your recipes in 3 words:
Creative, approachable, and seasonal!
2. If you could be one blogger other than yourself, who would you be?
Ooooh that's a hard one, since I have so many inspiring blogger friends! I love my girl Andie. She is all about family, having work/life balance, and she is super motivated, so genuine, beyond caring, and so talented!
3. Which 3 blogs do you follow/are obsessed with/can't live a day without?
Tastyyummies,com, Paleomg.com, and Thehealthymaven.com.
4. What is the one kitchen tool you could never give up?
Right now, my slow cooker!
5. What dish are you obsessed with mastering that you just can't get quite right?
 Paleo-Friendly Meringue cookies without real sugar!
6. What did you have for dinner last night?
The Chicken in Mushroom Sauce from my book (page 172), some roasted kabocha squash, and a gluten-free pasta dish!
7. What's one secret talent outside of the kitchen nobody knows about you?
I'm a painter! Or used to be, I don't paint much lately though. I studied fine arts in school — specifically painting, digital media, and art history! I taught Elementary Art for 3 years before blogging full-time.
8. You're happiest when cooking/eating:
Pizza ;)
9. The one secret to your success is?
Oooooh man, just one? Maybe a really good sea salt. I love Himalayan sea salt and a good coarse sea salt.
10. What would your advice be to someone who is looking to make the jump into a clean, paleo-friendly diet?
It's not an all or nothing approach! I always tell people not to think of it as a diet, and truly a lifestyle. It's really about making healthier choices, and being more informed. Swapping out processed foods for real foods. Omit a few things from your diet, and see how you feel. Then go from there! Work on swapping out ingredients in your pantry. And remember, life is about balance, don't drive yourself crazy!
Thank you Lexi for being our foodie crush and congratulations on your new cookbook. Now, let's dive into the recipe.
What's in Maple Glazed Salmon?
This super simple salmon recipe from Lexi's Clean Kitchen is one you'll be digging into time and time again. It's simple enough for fast family dinners, but so stunningly tasty you'll be eager to share it for special occasions too.
We start things off with skinless salmon fillets. Of course you could serve with the skin intact too, it's all a matter of preference with this dish.
I prefer wild caught salmon for it's more robust flavor and can usually find it readily available just about year round at my grocer's seafood counter. You can also use flash frozen salmon that will yield just about as tasty of results as fresh.
The salmon is sprinkled with a mixture of kosher salt, raw sugar, paprika and chile powder. Lexi's original recipe calls for coconut sugar or granulated maple sugar to keep it on the super healthy side. Because I didn't have either of those ingredients on hand, I used raw brown sugar that hasn't been stripped of any color or flavor, giving it a natural taste with a hint of molasses.
The spice recipe calls for paprika, but the second time I made this salmon (because seriously, it IS so good) I had run out. So I subbed in Smoked Paprika and it was still lip-smacking delicious.
How to Make Maple Salmon in the Oven
This maple syrup salmon couldn't be any easier! You'll first need to preheat your oven to broil, then spray an aluminum foil-lined baking tray with cooking spray.
Mix up the sugar, salt, and spices in a small bowl, then sprinkle generously over the salmon fillets. Pop the salmon under the broiler for 6 to 9 minutes, depending on how thick your fillets are.
After the fish gets a short broil in the oven, a drizzle of maple syrup sweetens all of those spicy salty bits. Return the maple-glazed salmon to the oven and broil until the maple syrup is bubbling and has formed a crust.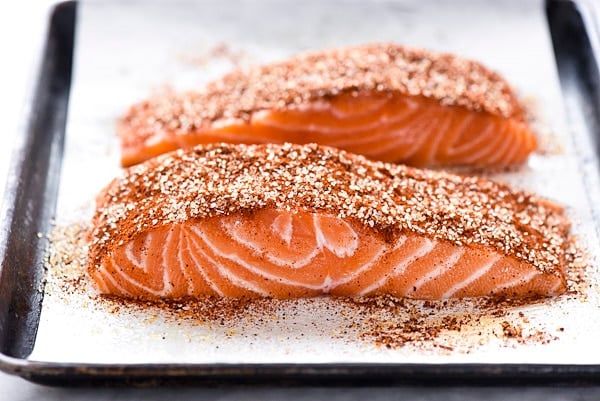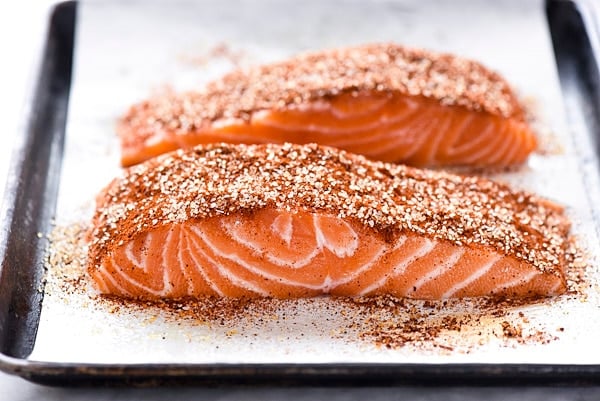 Can I Eat Salmon Skin?
Absolutely! If you buy salmon fillets with the skin intact, leave it on and bake the salmon skin-side down. The skin has lots of flavor and is seriously delicious.
Can I Make This Maple Salmon in Advance?
I don't recommend making this maple-glazed salmon and reheating it later. In general, seafood doesn't reheat well. However, you could definitely make a batch of this maple salmon in the oven and enjoy it cold throughout the week on sandwiches, in wraps, or on salads!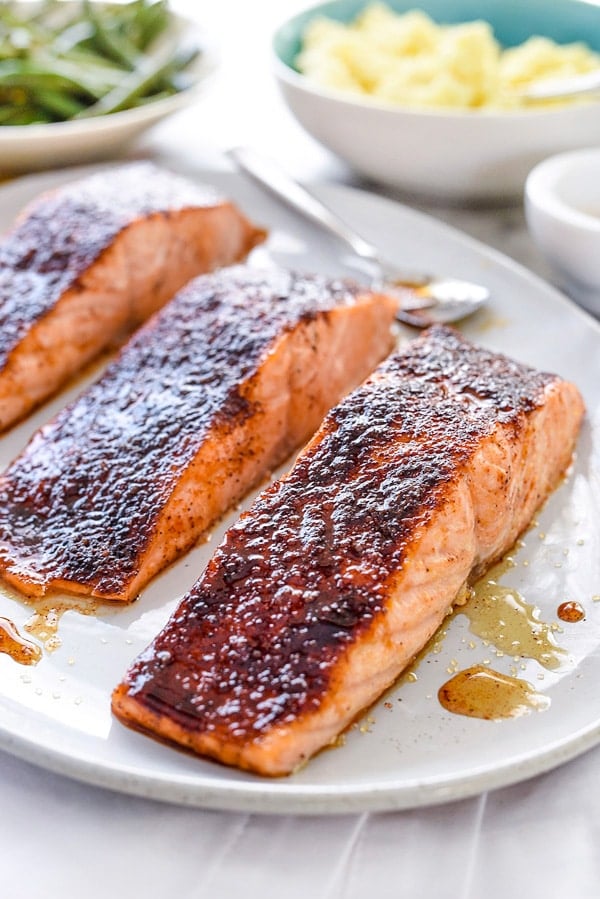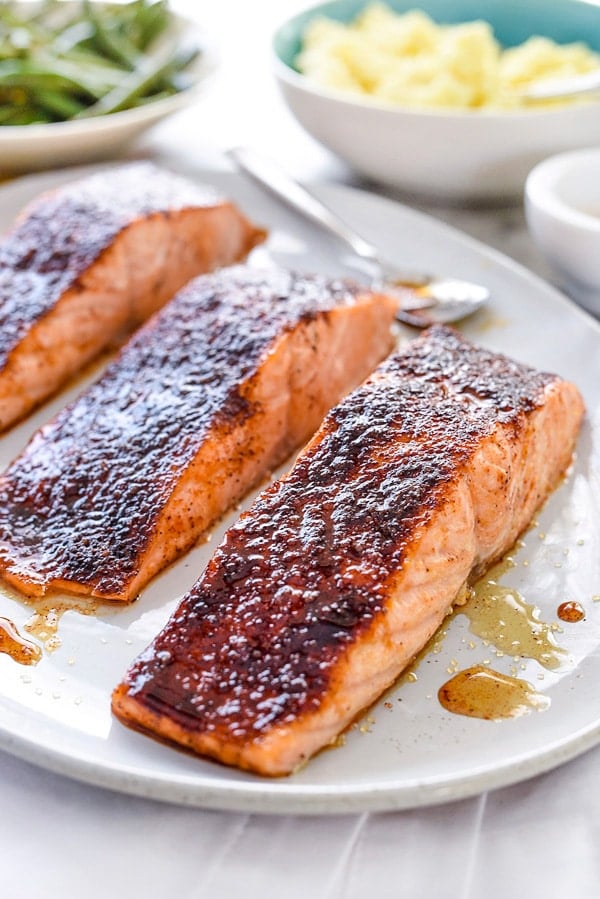 Tips for the Best Maple-Glazed Salmon
One thing to note…because like I said, I've made this recipe more than once…broiling the salmon for the recommended 7 to 9 minutes will give you a very dark crust, looking almost burnt. But that's where the flavor comes in. The first time I cooked this I didn't let it cook as long and pulled it before the crust could develop so the texture was more of a glaze.
The second time I cooked this dish, I went for the longer time and enjoyed a wonderfully crusty, spicy but sweet caramelized crust that yes, was dark, but oh so good!
I would suggest you check your cooking time at 6 minutes and then check every minute as it cooks to get the preferred crust. The quick cooking time results in a very moist, tender flake of fish. This my friends, is a keeper, and we have Lexi to thank for all of it.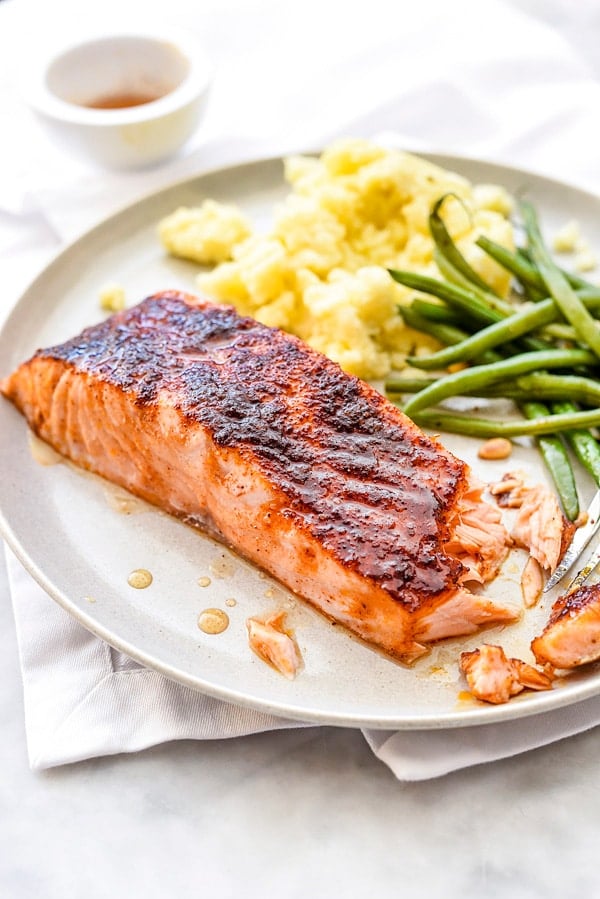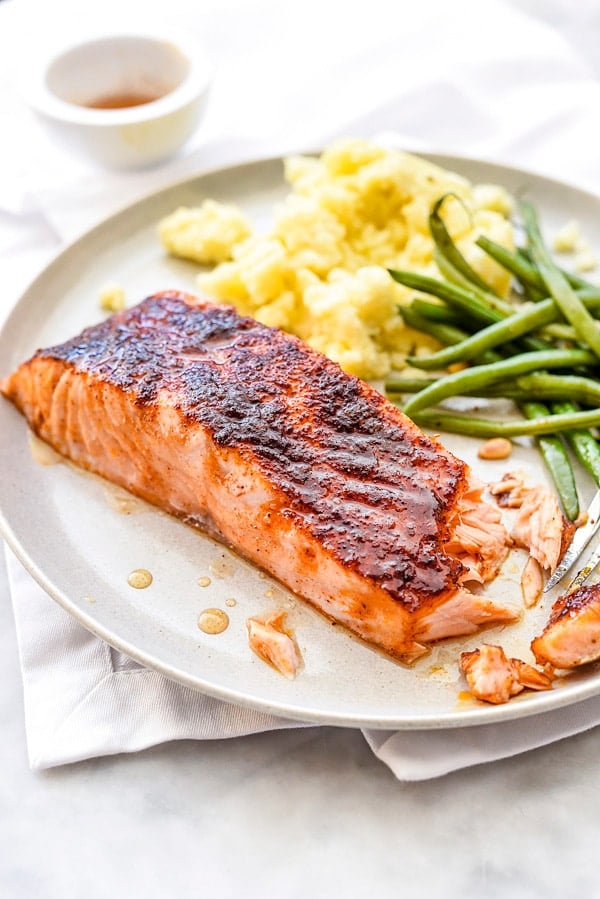 More Easy Salmon Recipes You'll Love
If you make this recipe, please let me know! Leave a comment below or take a photo and tag me on Instagram with #foodiecrusheats and #lexiscleaneatingcookbook.
Print
10-Minute Maple-Crusted Salmon Recipe
A spicy sweet rub tops salmon fillets that are broiled then drizzled with maple syrup to create a caramelized crust for a dinner ready in under 10 minutes.
Ingredients
1

tablespoon

chili powder

1

tablespoon

paprika

2

teaspoons

raw brown sugar

½

teaspoon

kosher salt

1 ½

pounds

skinless salmon fillets

cut into 4 portions

3

tablespoons

pure maple syrup
Instructions
Preheat your oven to broil. Line a rimmed baking sheet with aluminum foil and spray with cooking spray.

In a small bowl, mix together the chili powder, paprika, sugar, and salt

Generously sprinkle the chili powder mixture evenly over the tops of the salmon fillets.

Place the salmon on the prepared baking sheet and broil for 6-9 minutes, depending on how thick your fillets are and how crispy you prefer the crust.*

Remove the salmon from the oven and brush the maple syrup over the tops to coat the spice rub. Return to the oven and broil for an additional 1-2 minutes until the maple syrup is bubbling and has formed a crust. Serve immediately.
Notes
*I would suggest you check your cooking time at 6 minutes and then check every minute as it cooks to get the preferred crust.
Nutrition
Calories:
300.21
kcal
|
Carbohydrates:
14.01
g
|
Protein:
34.27
g
|
Fat:
11.29
g
|
Saturated Fat:
1.75
g
|
Cholesterol:
93.55
mg
|
Sodium:
401.43
mg
|
Potassium:
946.13
mg
|
Fiber:
1.3
g
|
Sugar:
11.25
g
|
Vitamin A:
1522.99
IU
|
Calcium:
47.37
mg
|
Iron:
2.08
mg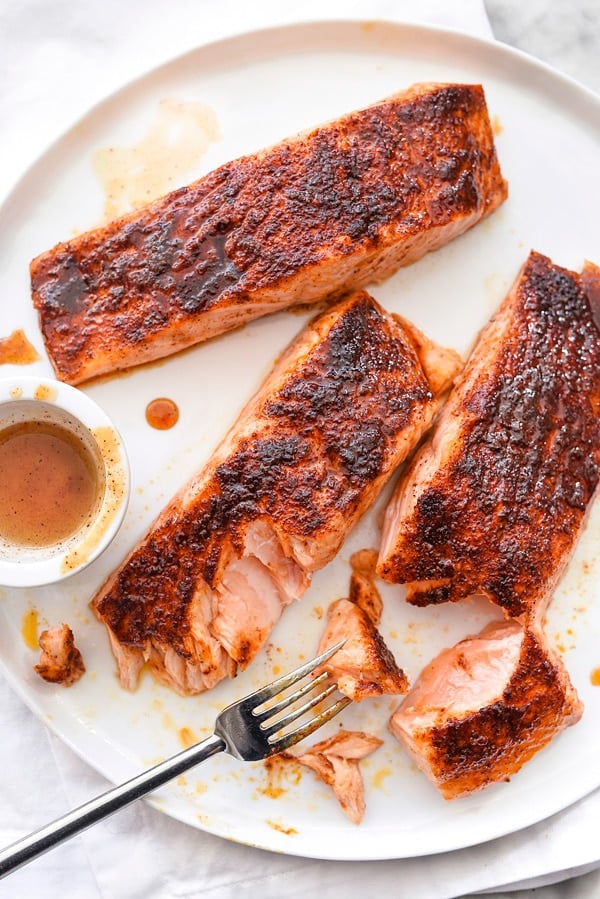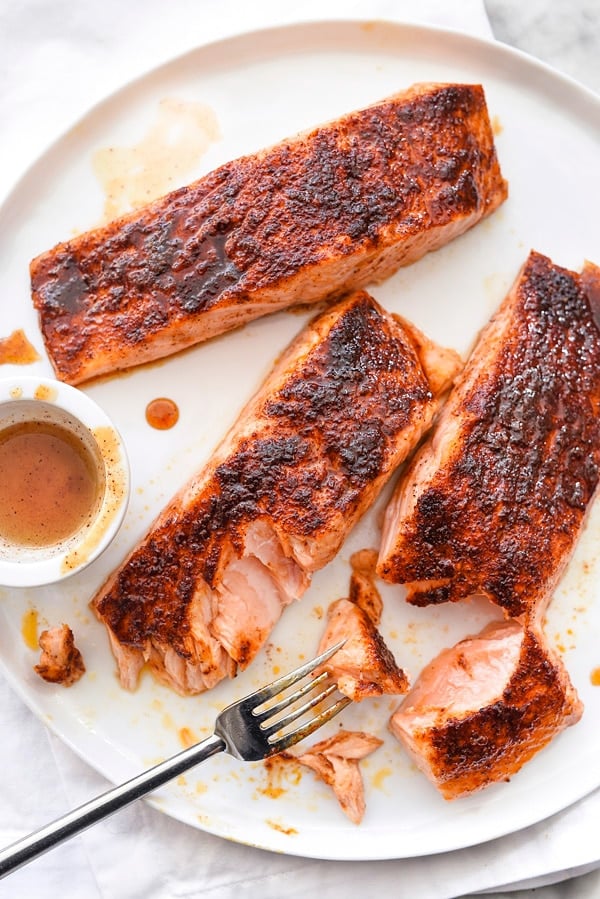 More Seafood Recipes to Try
Visit Lexi and her blog at Lexi's Clean Kitchen.
Purchase Lexi's Clean Kitchen: 150 Delicious Paleo-Friendly Recipes to Nourish Your Life here.
This post was compiled by Heidi and FoodieCrush contributor Hayley Putnam. Follow Hayley and her foodie tastes and other flights of fancy on Pinterest and Instagram.
Craving more life balance, less stress, and better health? Check out my Nourished Planner, the daily planner to help create simplicity and under-schedule your life.
We send good emails. Subscribe to FoodieCrush and have each post plus exclusive content only for our subscribers delivered straight to your e-mail box.
Follow me on Instagram, Facebook, Pinterest and Twitter for more FoodieCrush inspiration.
As always, thank you for reading and supporting companies I partner with, which allows me to create more unique content and recipes for you. There may be affiliate links in this post of which I receive a small commission. All opinions are always my own.