This recipe for the classic Chinese sweet and sour pork is made healthier thanks to lean pork that's sautéed instead of deep-fried, and a naturally sweetened honey balsamic stir-fry sauce.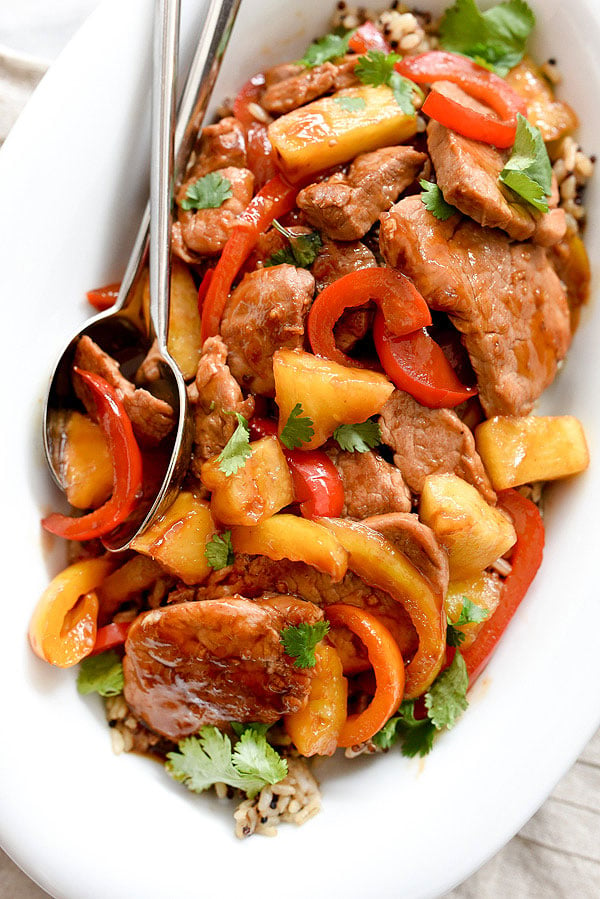 Chinese Sweet and Sour Pork Recipe
Emilie Raffa finds inspiration of all kinds, all around her. In colors, textures, sounds, people, and travel.
Even in the form of a Hawaiian shirt. "The other day, I saw a complete stranger in a tropical t-shirt and suddenly, I was inspired to make a key lime pie (I ended up buying one at Trader Joe's)!"
Like Emilie, we find inspiration everywhere we look, but we're particularly inspired by her blog, The Clever Carrot. We're captivated by her vivid images and charismatic charm, which pull us in with each post we read.
Her aesthetic is natural and unfussy, and her recipes (like this Healthier Sweet and Sour Pork from her new cookbook and shared at the bottom of this post) are seasonal, colorful, healthy, and creative.
But it isn't just her great recipes and photography that lure us to her blog and her debut cookbook.
It's her witty banter and totally engaging writing style that keep us coming back for each and every post. To discover what her young boys have gotten themselves into. Or to send her a virtual high five when her dad stops by to surprise her with the new issue of Oprah magazine where her recipes are featured (!).
In fact, it's the combination of all of these reasons that Emilie was featured here on FoodieCrush as one of our 5 Food Blogs I'm Following Now. We may not be Oprah (cars for evvvvveryone!) but we do share her great taste!
When Emilie let us know she would be publishing a cookbook, we were elated, knowing if her book would be anything like her blog, we were in for a real treat.
And let's make this clear. This cookbook isn't just a listing of recipes. It's smart. It's a huge help in meal planning because it teaches how to use the precious time we have in the kitchen wisely. It truly delivers on strategies and tips and 100% lives up to it's name,  The Clever Cookbook: Get-Ahead Strategies and Timesaving Tips for Stress-Free Home Cooking.
If I were ever to publish a cookbook, it's everything I would want my cookbook to be. But I don't even need to think about that now. I have Emilie's cookbook to save my day.
Writing a cookbook has always been a dream of Emilie's, but one she didn't actually think would come into fruition.
"The idea of writing a traditional 30 page proposal sounded incredibly daunting, so I avoided the whole thing. But eventually, I got lucky! After some serious thought (Is now the right time? Will people even buy my book?) I decided to go for it! It was the best decision I ever made."
Emilie credits her family as the driving force behind her inspiration for this book. "When my boys were really small, I struggled to get dinner on the table (sounds so cliche, doesn't it?)! Oftentimes, I was so tired I would just eat cereal and go to bed. And for goodness sake, I went to culinary school! I knew I could do better than that. So, I pulled up my boot straps, took everything I ever learned, and came up with an arsenal of realistic tips, tricks, and shortcuts. I wanted to create an approachable resource for busy home cooks. I figured if it worked for me, it could  help others, too."
Emilie admits that writing this book was not a cakewalk. "I'm going to keep it real, okay? Writing your own cookbook is sheer insanity! The thing is, when you're responsible for every single aspect: cooking, cleaning, photography, writing, styling, etc. finding balance is tricky. Some days my photography was on point whereas other days I couldn't even type a single sentence! On the flip side, the most rewarding aspect was to see my work in print, touch the pages, see the colors… it's a wild experience. And totally worth it."
Her favorite recipe in the book is for her Cauliflower Bolognese. "It's a modern adaptation of a dish my Grandfather used to make. If he were still alive, I know he would be proud. It's delicious."
And Now, the List of 10 Q's for Emilie
1. Describe your blog in 3 words:
Upbeat, realistic, sincere.
2. If you could be one blogger other than yourself, who would you be?
Oooo, this is fun! I would be Mimi Thorisson from 'Manger.' First of all, she looks glamorous in every single picture I've ever seen (right now, as I'm typing this, I'm still in the same t-shirt I wore yesterday). Also, I would love to live in a French chateau surrounded by gorgeous scenery, markets, champagne, and tons of French bread, obviously. I can almost hear the accordions…
3. Which 3 blogs do you follow/are obsessed with/can't live a day without?
1.) Alexandra's Kitchen. She's down to earth, her food looks delicious, and she needs to invite me over for dinner.
2. ) FoodieCrush. I'm not just saying that because you're interviewing me. You keep it real, and I like that.
3.) Inspired Edibles. Kelly is an excellent writer and healthy home cook. She was one of the very first friends l made in the blogosphere. I'm always inspired when I visit her blog.
4. What is the one kitchen tool you could never give up?
Tongs! Oh, my goodness tongs! How can anyone cook without tongs?! I even use them to stir soup…
5. What dish are you obsessed with mastering that you just can't get quite right?
Sourdough bread. It's incredibly difficult to master because you are working with a live culture to naturally leaven your dough (I'm a total bread nerd, by the way). Sometimes it works, sometimes it doesn't. But at least you can eat/feed the squirrels your mistakes.
6. What did you have for dinner last night?
Grilled rib-eye steak, homemade fries, and a crisp romaine salad with pickled jalapeños and shaved parmesan! And yes, it was just as good as it sounds. PS- we don't normally eat like this every night, but my husband cooked us dinner, and when he cooks, it's like fireworks!
7. What's one secret talent outside of the kitchen nobody knows about you?
Singing.
8. You're happiest when cooking/eating:
I'm happiest when baking bread. I'm happiest when eating bread.
9. The one secret to your success is?
Following my intuition. Period. I think every decision I've ever made, whether it's blog, book, or family-related has come from my gut. That's not to say I've been 100% correct every time, but it starts and ends there.
Also, and this is my intuition speaking, don't follow the crowd. Create your own path. March to the beat of your own drum- even if you have two left feet. There are millions of people out there trying to be someone, but no one can ever be you.
10. What's next for you? Do you see another cookbook in your future?
Disneyworld! Just kidding. I'm actually working on a few ideas… I would love to write another book… collaborate with a few artists… but we'll just have to wait and see :).
Thank you Emilie for sharing a bit of you and for being one of our favorite foodie crushes!
And now, let's dig into your Healthier Sweet and Sour Pork recipe.
A Healthier Sweet and Sour Pork Recipe
There are many recipes that are begging me to be made from The Clever Cookbook. In fact, if I tagged each one with my handy dandy post-it notes, I'd have as many post-it notes as recipe pages.
So choosing which recipe to share here wasn't easy and more than a little intimidating when trying to keep up with the photo standards of Emilie's book. She's one of my favorite photographers so I tried to just not think about outdoing her, but instead just tried to serve the recipe justice.
Because this recipe is a GREAT one.
I chose a recipe that represents how The Clever Cookbook is set up. Within its pages you won't find the traditional cookbook formula of appetizers, soups and salads, main dishes, and desserts with an appendix at the end. Instead, this cookbook shows cooks how to cook efficiently, by cooking a master batch or blend and using it in more than just one way. It's efficient, cost-effective and a system you'll wonder why you didn't adopt earlier.
Each chapter is broken down into themes of showcasing a cooking method to use throughout the book and in multiple recipes.
For instance…"Chapter 6/Process This", featuring recipes like No-Peel Butternut Squash Soup, or "Chapter 4/Homemade Spice Blends", featuring two master spice blends to flavor recipes like Sheet Pan Fish & Chips or Dad's Quick Greek Fajita Flatbreads.
I told you guys, this book is your new sous chef.
What's in This Sweet and Sour Pork?
For this Sweet and Sour Pork recipe, Emilie shares her Master Stir-Fry Sauce in the cookbook, also used in the recipes for Quick Chicken Stir-Fry with Roasted Broccoli, 30-Minute Asian Chicken Lettuce Wraps, and more. The best part is you can double or triple stir fry sauce recipe, then save it for another recipe later in the week but I bet it will last longer than her suggested 2 weeks of refrigerated shelf life in the dregs of my refrigerator.
Emilie titled this recipe "healthier," because in her words, "If you're looking for neon red sauce, this isn't it. If you're looking for nuggets of deep-fried pork, this isn't that either." Two of the exact reasons I was drawn to the recipe.
Instead, this Chinese sweet and sour pork uses sliced, lean, pork tenderloin sliced thin so it takes just minutes to brown and is then tossed together with the sautéed peppers and the master sauce to cook down and flavor.
How to Make Sweet and Sour Pork
Simply combine the master stir-fry sauce with the additional ingredients needed to make the Chinese sweet and sour sauce.
Then, sear the thinly sliced pork on both sides and set aside before sautéing the veggies in the same pan. Add the homemade sweet and sour sauce to the pan and let the mixture bubble away until thickened before returning the pork to the pan.
Garnish with cilantro and serve alongside rice and / or steamed veggies.
Should I Use Fresh or Canned Pineapple?
The sweet bite of fresh pineapple is a staple in the classic Chinese takeout version and we didn't skip it here. You can use canned pineapple if you want to, but if you do, please choose pineapple packed in its own juices rather than sugar-syrupy sauce. Let's keep this dish on the healthier side!
Emilie reminds readers to drain the juice and use the fruit only, otherwise the sauce will be too watery.
Can I Prep This Recipe in Advance?
This healthier Chinese sweet and sour pork is best enjoyed immediately, but you can definitely slice the veggies and whisk together the master stir-fry sauce ahead of time. The master stir-fry sauce will last up to 2 weeks in the fridge.
Tips for Making Sweet and Sour Pork
While Emilie's recipe calls for just red bell pepper, I had a few leftover colors of the pepper rainbow in my fridge after making my Shrimp in Thai Coconut Sauce recipe. Feel free to use any color of sweet bell pepper you have handy, or what is in your price range. I would avoid green bell peppers simply because they don't have that sweet bite.
The only other change I made to this recipe was I used 2 garlic cloves instead of one, because I just always use two instead of one and I don't know why.
A side note: I totally agree with Emilie's use of grated or pressed ginger instead of minced. Same with ginger. In pressing or grating, the ingredients seem to meld into the sauce easier, avoiding bites of chunks of either. Look! We're soul sisters!
Yes, this dish is garnished with cilantro, but if you just can't get over it's taste, simply leave it out or use chopped parsley instead.
More Easy Asian Recipes to Make
If you try this recipe, please let me know! Leave a comment below, or take a photo and tag it on Instagram with #foodiecrusheats and #theclevercookbook.
Print
Healthier Sweet and Sour Pork Recipe
This version of the classic Chinese takeout dish is made healthier thanks to sautéed lean pork tenderloin instead of deep-fried, and a master stir fry sauce sweetened with balsamic vinegar and honey.
Ingredients
For the Sweet and Sour Sauce:
1

cup

Master Sti- Fry Sauce

(recipe below)

1

tablespoon

balsamic vinegar

1/4

cup

ketchup

1/4

cup

honey
For the master stir-fry sauce:
1/3

cup

soy sauce

(or tamari for gluten-free)

1

cup

chicken stock

2

tablespoons

honey

3

teaspoons

cornstarch

**(see note below)
For the pork:
1

pound

pork tenderloin

trimmed

1

tablespoon

vegetable oil

2

cloves

garlic

pressed or grated

1

2-inch piece of ginger

peeled and grated

1/2

red bell pepper

seeded and cut into strips

1/2

orange bell pepper

seeded and cut into strips

1/2

yellow bell pepper

seeded and cut into strips

1

heaving cup fresh pineapple

cut into bite-size pieces

Fresh cilantro leaves

Brown rice for serving

optional
Instructions
Make the Master Stir-Fry Sauce:
Add all of the ingredients to a bowl or jar with a lid. Whisk well for the honey and cornstarch to thoroughly dissolve or shake well if using a jar with a lid.
Make the Sweet and Sour Pork:
Thinly slice the pork tenderloin into 1/4-inch rounds.

For the sweet and sour sauce, add your Master Stir-Fry Sauce (shake it up first), balsamic vinegar, ketchup and honey to a large bowl. Whisk well to dissolve.

In a large 10-inch skillet, warm the vegetable oil over medium heat. Add the pork, and sear about 2-3 minutes on each side. Work in batches to avoid overcrowding the pan. Set the pork aside.

Add the garlic, ginger and sliced bell peppers. Sauté for about 2-3 minutes to soften the peppers.

Shake the sweet and sour sauce and then pour into the pan. Bring the mixture to a boil, and simmer for 1-2 minutes to thicken the sauce. Add the pork back along with the pineapple. Cook for about 1 minute to allow the flavors to mingle.

Add your sweet and sour pork to a large serving bowl or platter. Garnish with cilantro leaves. Serve with brown rice if desired.
Notes
The master stir fry sauce can be refrigerated for up to 2 weeks. Customize the sauce with ginger, sesame oil, lemongrass or chile flakes to use in other recipes as desired.
**Note: Over time the cornstarch will settle to the bottom of the jar. Just give it a shake or a quick whisk before using.
Nutrition
Serving:
1
g
|
Calories:
452
kcal
|
Carbohydrates:
69
g
|
Protein:
29
g
|
Fat:
9
g
|
Saturated Fat:
4
g
|
Cholesterol:
76
mg
|
Sodium:
1367
mg
|
Potassium:
949
mg
|
Fiber:
4
g
|
Sugar:
55
g
|
Vitamin A:
1169
IU
|
Vitamin C:
175
mg
|
Calcium:
43
mg
|
Iron:
3
mg
More Healthy Pork Recipes You'll Love
Visit Emilie and her blog at The Clever Carrot. Purchase her book The Clever Cookbook: Get-Ahead Strategies and Time-Saving Tips for Stress-Free Home Cooking here.
Thank you all for stopping by and visiting, and cheers to getting into the kitchen and making something good.
This post was compiled by Heidi and FoodieCrush contributor Hayley Putnam. Follow Hayley and her foodie tastes and other flights of fancy on Pinterest and Instagram.
Craving more life balance, less stress, and better health? Check out my Nourished Planner, the daily planner to help create simplicity and under-schedule your life.
We send good emails. Subscribe to FoodieCrush and have each post plus exclusive content only for our subscribers delivered straight to your e-mail box.
Follow me on Instagram, Facebook, Pinterest and Twitter for more FoodieCrush inspiration.
As always, thank you for reading and supporting companies I partner with, which allows me to create more unique content and recipes for you. There may be affiliate links in this post of which I receive a small commission. All opinions are always my own.