The steakhouse favorite gets a potluck makeover to become this easy baked potato salad recipe loaded with bacon, cheese, and scallions in a sour cream and mayo dressing.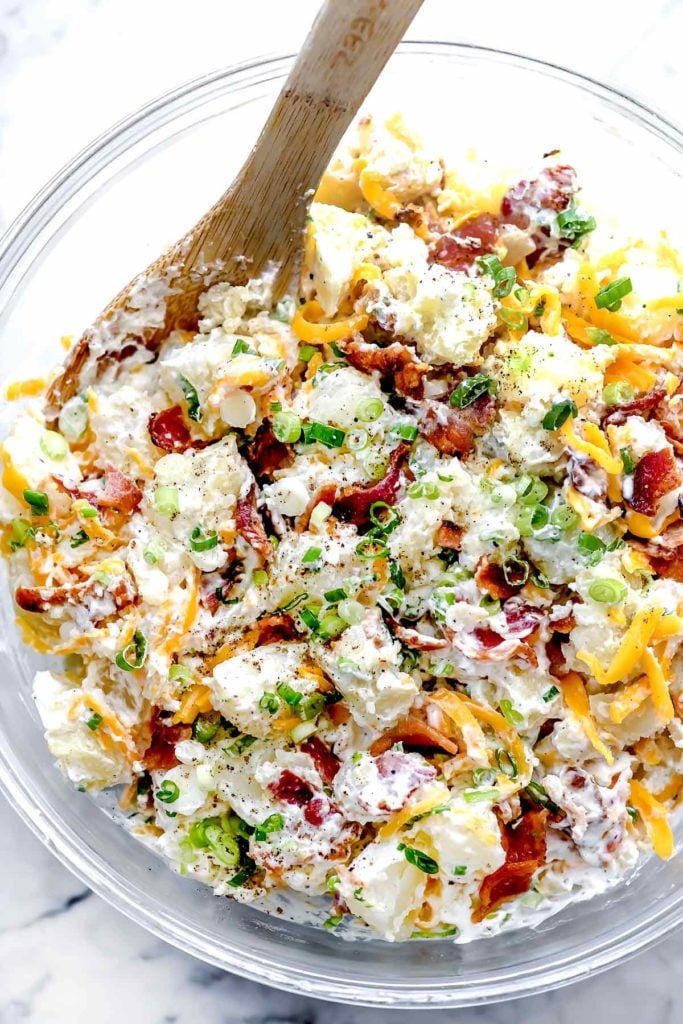 Loaded Baked Potato Salad
Sometimes I crave a break from the norm, and need a change in standard operating procedure, or want to shake things up a bit. Like 99.95% of every single person I know, I can get into a rut. A funk. A little too much of doing things the same way just because that's the way I've always done them. Especially when it comes to cooking.
Come summer, my family loves potato salads, with my grandma's recipe for the BEST potato salad setting the gold standard for all. However, making hers on the regular has never stopped my mind and my mouth from coming up with new versions to try. I first published this recipe in 2013, so after making it for my own dinner table over the years, I finally gave it a little spit shine with some new pics and tips. It definitely deserves the love.
This loaded baked potato salad is a play on the classic steakhouse favorite loaded baked potato, with the method-making very familiar too, minus the potato skin jackets.
Baking the russet potatoes for this recipe creates a lighter, fluffier consistency than boiled, and a lightened potato base to easily absorb the creamy mayo and sour cream. Naturally, since this IS a loaded potato salad, it simply wouldn't be complete without a dump of bacon, a smattering of cheddar cheese, and a kiss of onion.
This recipe is sure to break any standard potato salad out of its own sort of rut.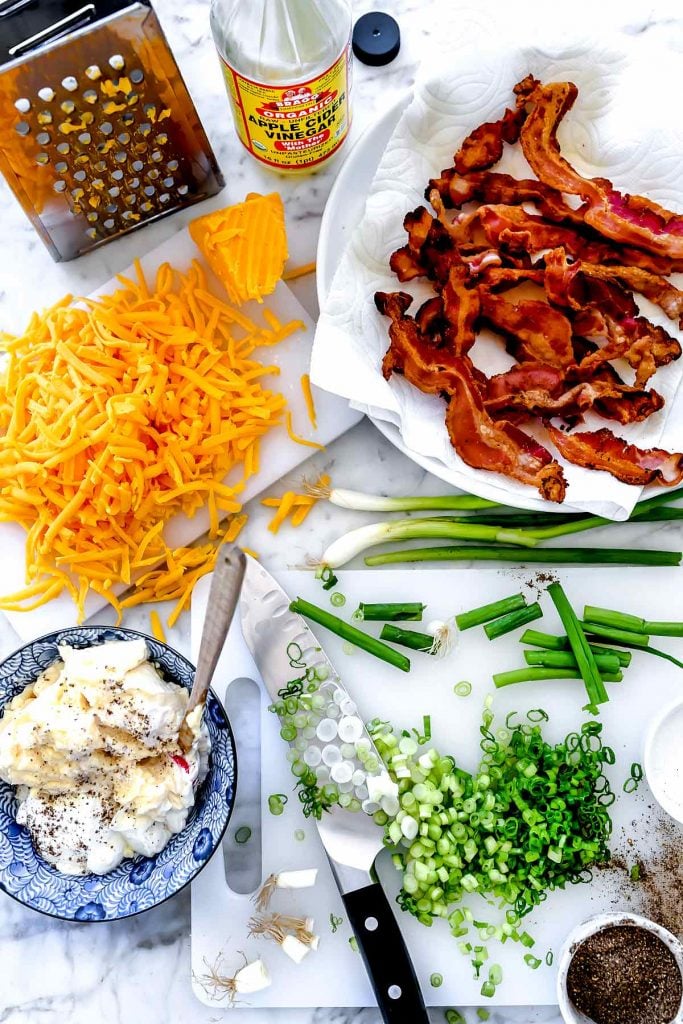 What's Needed for Loaded Potato Salad?
Like every steakhouse loaded baked potato, the accompaniments are what make this recipe. Here, I've taken the standard classics and tossed them together for a twist on two classics.
The ingredients for this cheesy bacon potato salad are simple:
Russet potatoes
Olive oil
Apple cider vinegar
Mayonnaise
Sour cream
Kosher salt and pepper
Bacon
Green onions
Shredded cheddar cheese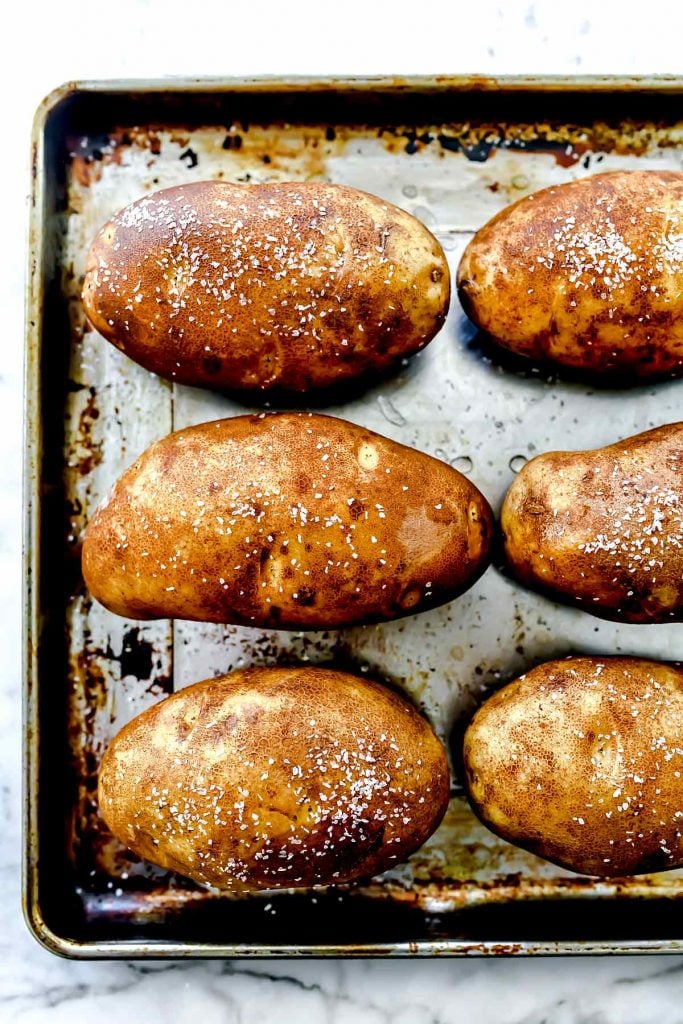 How to Make Baked Potatoes for Potato Salad
Deemed by time and tradition, boiling potatoes for potato salad is the usual route taken. From the get go, that's where this potato salad recipe swerves in a different direction.
Use russet potatoes for baking. Instead of the waxier white potatoes, Yukon golds, or baby red potatoes, this recipe calls for starchier russet potatoes. Typically reserved for baked potatoes, russets are fluffier and lighter in this salad, and break down into creamy layers rather than chunks.
Do I have to wrap the baked potatoes in foil? Because foil traps in heat while cooking, potato skins wrapped in foil steams and softens, and holds the heat in longer when serving as a side dish for dinner. Baking the potatoes without foil creates a tougher jacket, but since we are discarding the skin anyway, I make it easy on myself and skip the foil.
Here's how to make baked potatoes the easy way:
Preheat the oven to 400°F.
Poke the potatoes 4-5 times with the tines of a fork for the heat to escape while cooking, and won't explode in the oven.
Lightly oil the potato skins and sprinkle with kosher salt.
Bake for 50-60 minutes or until a cake tester or skewer inserts easily through the potato.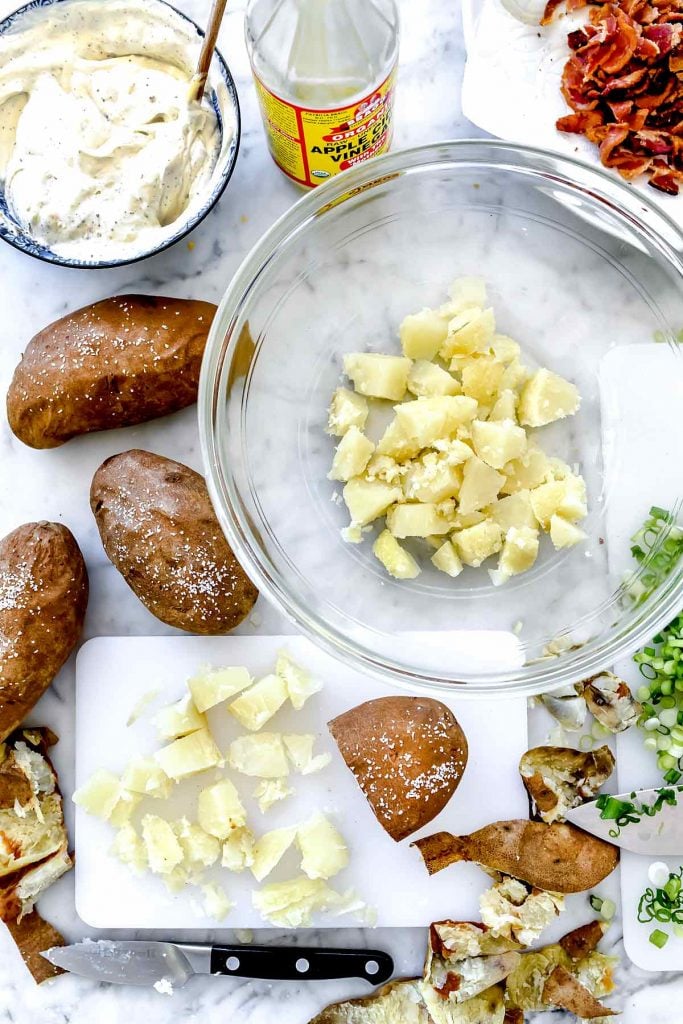 How to Make Loaded Potato Salad
Cook the bacon low and slow. This recipe calls for 12 ounces of bacon for bacon bits in just about every bite. If that's too much bacon for you, feel free to reduce the amount. I used to cut the bacon into chunks before cooking it, but because it had the tendency to get too crispy that way, now I cook it in strips and crumble it afterward. Start the strips of bacon in a cold skillet over medium heat, and take your time cooking it so it doesn't burn. To avoid flare ups, render the bacon grease from the pan as it accumulates.
Slice the green onion—all of it. For the most onion flavor, use both the greens and the whites of the green onion and save a little for garnishing the top after it's mixed.
Prep the potatoes. Bake the potatoes until fork tender as mentioned above. When cool enough to handle, skin the potatoes. If not wrapped in foil, the outer skin will be tough and peel away in thick layers. Or, cut the potatoes in half and use a spoon to scoop out the potato insides, then dice into 1-inch chunks. It's likely the starchier russets will crumble and shag, and that's okay! Scoop out all of the potato and place in the bowl.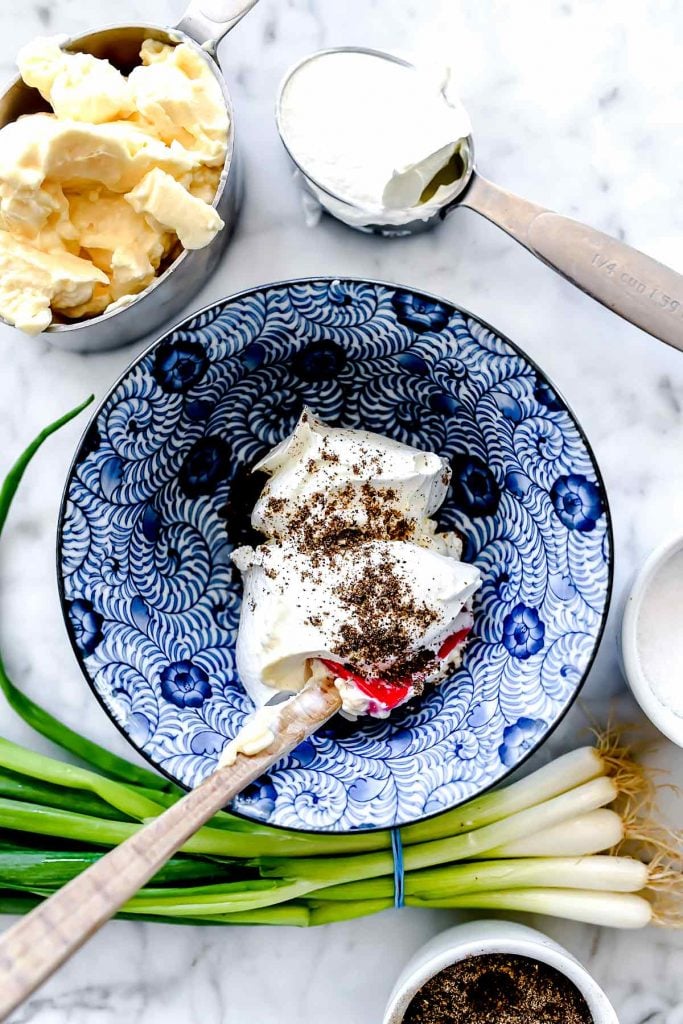 The Baked Potato Salad Dressing
Sprinkle the warm potatoes with apple cider vinegar. As I do in all of my potato salads, I add a few hearty splashes of vinegar to the cooked potatoes for a subtle flavor punch. Add the vinegar while the potatoes are still warm, and allow 10-15 minutes for them to rest and absorb the vinegar's zing while they cool.
Mix the dressing. Echoing the flavors of a classic steakhouse baked potato, salad dressing uses mayonnaise for its creaminess and sour cream for tang. Since the vinegar has already been drizzled over the warm potatoes, kosher salt and pepper are the only additional seasonings needed.
Let the salad chill. I like to let my loaded potato salad chill in the fridge for at least 3 hours for the flavors to come together before serving it.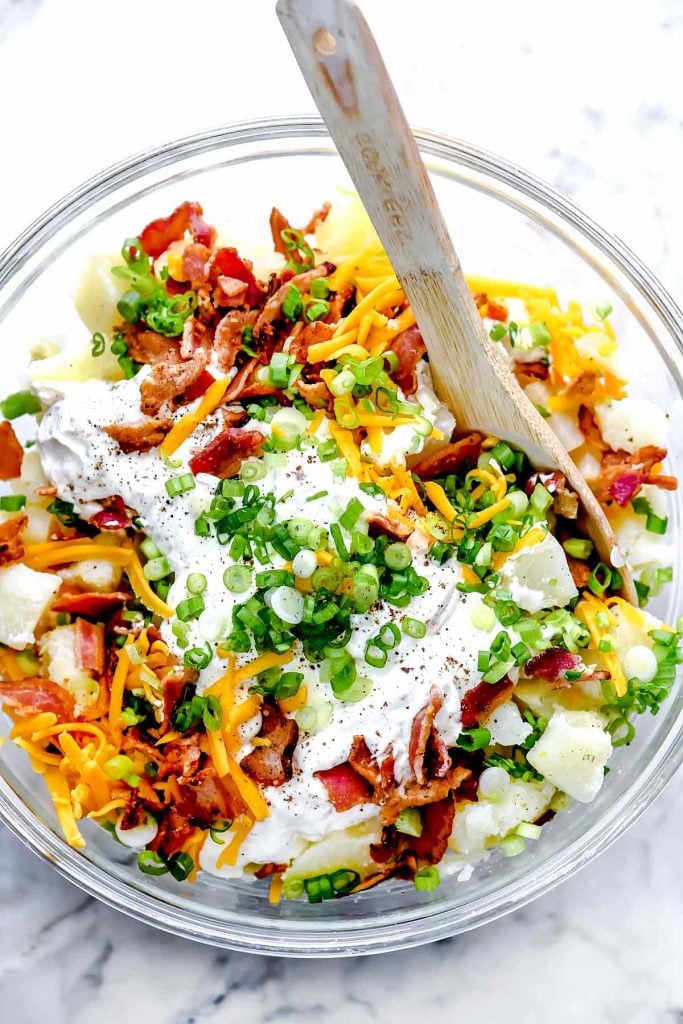 More Tips for Making Baked Potato Salad
Allow at least 15 minutes for the cider vinegar to soak into the warm potatoes. The warmer the potato, the more quickly the vinegar will absorb. Don't skip this step, it adds a great pop to the salad.
Don't want the whole house to smell like bacon? Cook yours in the oven instead. Once the potatoes have finished cooking, place the bacon on a lined baking tray and cook at 400°F F for about 15 minutes or until your desired crispness.
Sub in chives. If you're going for that true, steakhouse baked potato taste, feel free to substitute chives for the green onions.
Sub yogurt for sour cream. I use natural sour cream in this recipe, but if you're looking to cut calories, substitute non-fat Greek yogurt for that added tang.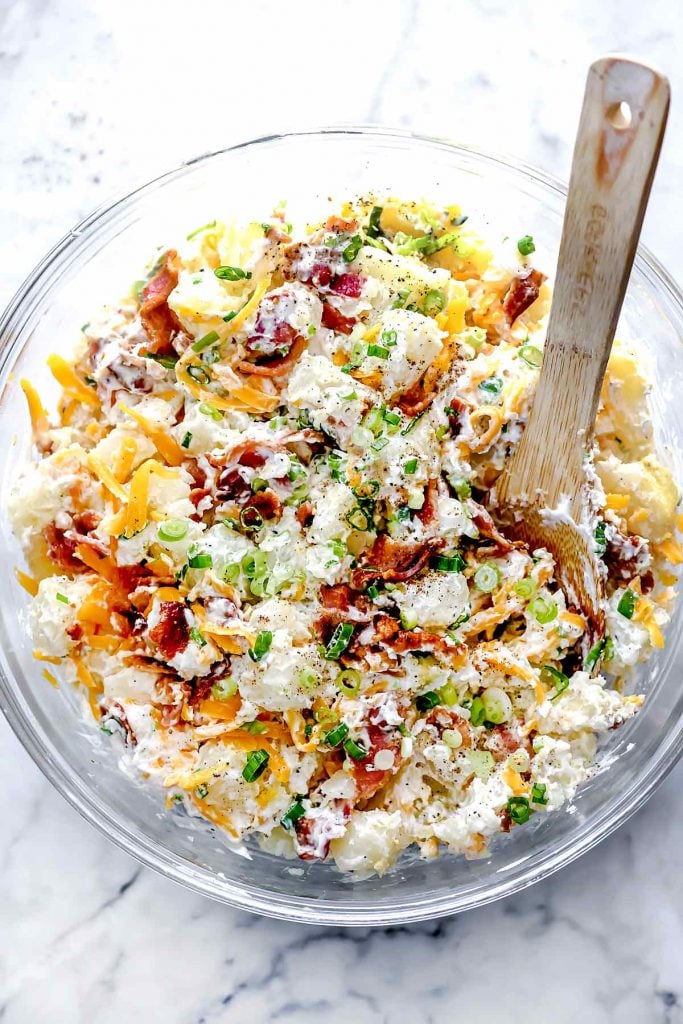 More Potato Salad Recipes You'll Love
If you make this recipe, please let me know! Leave a 
star rating on this recipe below and leave a comment, take a photo and tag me on Instagram with #foodiecrusheats.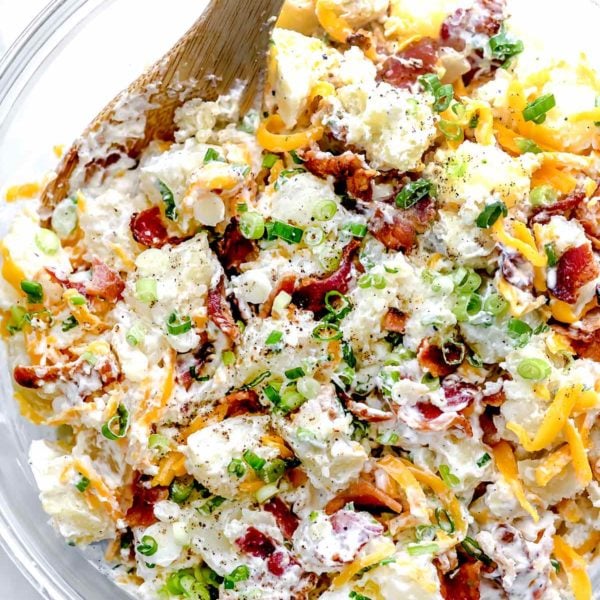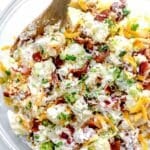 Print
Loaded Baked Potato Salad
The steakhouse favorite gets a potluck makeover to become this easy baked potato salad recipe loaded with bacon, cheese, and scallions in a sour cream and mayo dressing.
Ingredients
4

pounds

russet potatoes

1-2

tablespoons

olive oil

3

tablespoons

apple cider vinegar

1

cup

mayonnaise

¾

cup

sour cream

, or Greek yogurt

1

teaspoon

kosher salt

1

teaspoon

freshly ground black pepper

12

ounces

bacon

, cooked, cooled and chopped

6

green onions

, chopped

1 ½

cups

medium cheddar cheese

, shredded
Instructions
Preheat the oven to 400° F.

Place cleaned potatoes on a baking sheet and pierce 4-5 times with a fork. Lightly coat with olive oil, sprinkle with kosher salt, and cook for 50-60 minutes or until easily pierced with a cake tester or skewer. Remove from the oven and let cool for 5 minutes. When cool enough to handle, peel the potatoes and cut into 1-inch chunks, discarding the potato jackets. The potato flesh may crumble and get shaggy, and that's okay—transfer it all to a large mixing bowl. While still warm, sprinkle the potatoes with the apple cider vinegar and rest for 15-30 minutes or until the potatoes are cooled.

Meanwhile, cook the bacon in a large skillet or in the oven, drain, and let cool. Crumble into bite-size pieces.

In a small bowl, mix the mayonnaise and sour cream. Season with the kosher salt and pepper.

When the potatoes are cool, pour the mayonnaise mix over the potatoes with the crumbled bacon, green onion, and cheddar cheese. Gently fold the ingredients together. Season with more salt and pepper to taste. Refrigerate for 3 hours up to overnight before serving. Store in the refrigerator for up to 4 days.
Notes
Don't want the whole house to smell like bacon? Cook yours in the oven instead. Once the potatoes have finished cooking, place the bacon on a lined baking tray and cook at 400° F for about 15 minutes or until your desired crispness.
Nutrition
Serving:
1
g
|
Calories:
463
kcal
|
Carbohydrates:
29
g
|
Protein:
11
g
|
Fat:
34
g
|
Saturated Fat:
11
g
|
Cholesterol:
49
mg
|
Sodium:
608
mg
|
Potassium:
741
mg
|
Fiber:
2
g
|
Sugar:
2
g
|
Vitamin A:
314
IU
|
Vitamin C:
10
mg
|
Calcium:
145
mg
|
Iron:
2
mg

More Classic Cookout Side Dishes to Try
We send good emails. Subscribe to FoodieCrush and have each post plus exclusive content only for our subscribers delivered straight to your e-mail box.
Follow me on Instagram, Facebook, Pinterest and Twitter for more FoodieCrush inspiration.
As always, thank you for reading and supporting companies I partner with, which allows me to create more unique content and recipes for you. There are affiliate links in this post of which I receive a small commission. All opinions are always my own.