Just the thought of this recipe for BBQ Baked Beans makes the top of my mouth hurt. Because willpower and baking beans simply do not mix.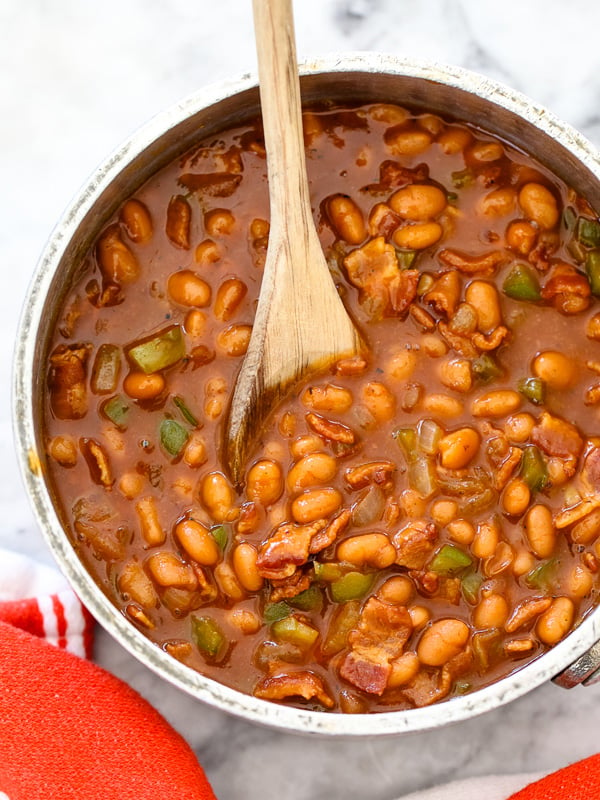 This is my mom's baked beans recipe and with it comes a flood of summer memories. Of coming home after a full, hot day swimming, swimming, swimming and diving and flipping and flirting at the pool. Then finally home to the coolness of the air conditioned house where my mom often had these babies on the stove, percolating their way towards dinner.
It took just one step through the door and me and my swimsuit soaked shorts were making a beeline for the stove. There was always a wooden spoon sitting to the side, laced with the dried sauce from my mom's stirring of the baked beans. One lick and that set off the need for more.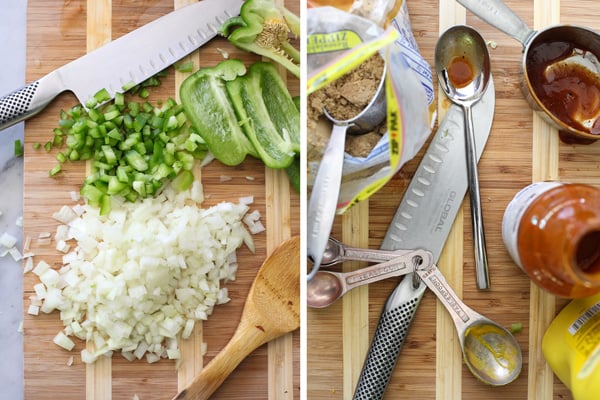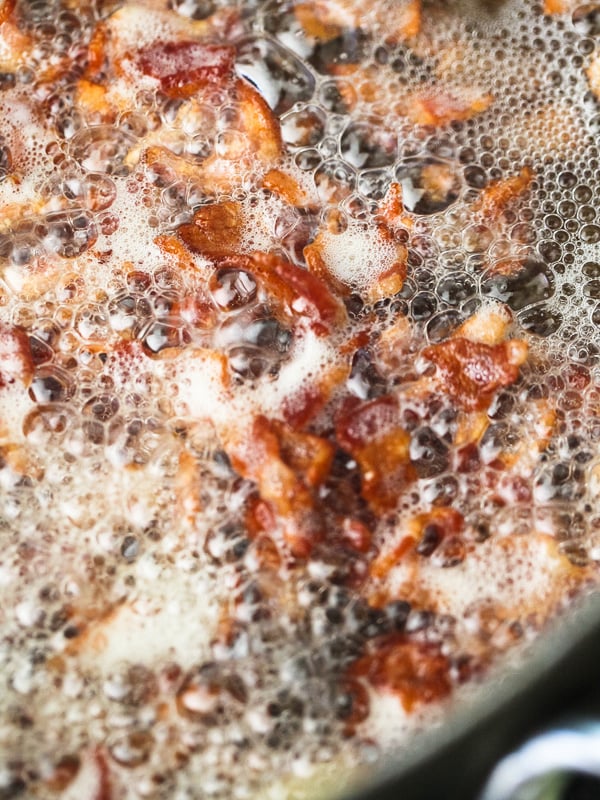 That pot of beans were just begging me to take a bite. Just onnnnnne bite with a little morsel of each ingredient's goodness. A few  beans, onion and okay, green pepper too. I suppose it wouldn't kill a teenager. And of course, a few extra sliced of barbeque sauce soaked bacon. That was always my favorite part. Because, I mean, bacon.
Those beans were bubbling hot. Literally bubbling. And I'd blow, and blow and debate on how long I could hold out for that first bite. And inevitably, I couldn't take it one. second. longer. and I'd take the baked bean plunge and spoon that barbequed bite into my mouth. And ALWAYS, ALWAYS, ALWAYS end up with a scorched roof of my mouth that would quickly blister and leave totally raw.
Which made for a challenging second bite.
But you can bet your barbequed baked bean dollar, I was always up for the task.
About the recipe:
This recipe makes enough to serve a group and makes a great take along dish for a summer get together. If you're preparing for a smaller crowd and don't want leftovers, you must be crazy. Because they're the best part and eating them cold out of the refrigerator the next day is almost even better than the first day. But in case you still want less, cut the recipe in half, everything divides pretty easily but use 2 tablespoons of the brown sugar.
I use a 1 pound package of bacon in this recipe because to me, those bacon bites are the best part! Feel free to use less if you'd prefer.
I use canned pork & beans for this recipe because that's what my mom has always done. My mother in law said her mother in law used to use Great Northern beans in her recipe. You can certainly experiment and mix and match. I think I'll give it a try next time.
Even though it's mixed in and cooked down, I still use a high quality barbeque sauce in this recipe since it's the main flavor builder. And I go the easy route and buy it from the store instead of making homemade. This time around I used Stubb's. I tend to choose a regular barbeque sauce instead of mesquite or honey flavors because of the extra mustard and brown sugar I add in.
The yellow mustard adds a vinegar tang to the dish. If you're not a fan of tang, or vinegar, or mustard, start off with 1 teaspoon instead of 1 tablespoon, and build your flavor from there.
The Best BBQ Baked Beans
Ingredients
1

pound

bacon

sliced

1

green bell pepper

seeded and diced

1

medium yellow onion

diced

1 3-

pound

53 ounce can pork & beans

1

cup

barbeque sauce

1/3

cup

brown sugar

1

tablespoon

mustard
Instructions
Bring a dutch oven or large pot to medium high heat and add the sliced bacon. Cook for about 10-12 minutes, stirring occasionally, until bacon begins to crisp. Drain the bacon slices on a plate lined with a paper towel, and reserve 2 tablespoons of the bacon drippings in the pan, discard the rest.

Add the green bell pepper and onion to the bacon drippings and cook for 5 minutes or until the vegetables soften, stirring often. Add the pork & beans, barbeque sauce, brown sugar and mustard and stir to combine. Bring to a boil then reduce to simmer, cover with a lid and cook for 1 hour. Stir occasionally so the beans don't stick to the bottom of the pan. Serve warm or at room temperature.
5 More  Bean Recipes to Love
Baked beans can be pretty basic, and are more often than not a staple at every backyard BBQ. While my version is obviously my favorite, these other options are looking pretttttttty fine.
Spicy Baked Black Beans with Vegetables
This veg-heavy baked bean goes well beyond a traditional side dish and could easily be served up as a main meal.
Recipe here.
Slow Cooker Maple Bourbon Baked Beans
This recipe featuring bourbon and maple spiked pinto beans may not be the quickest baked bean recipe on the list but it's the perfect reason to keep that slow cooker ready and available during summer months.
Recipe here. 
Southern Baked Beans Recipe
Thick and rich and full of Southern pride and molasses, these beans are topped with fat pieces of bacon for just another layer of to die for goodness.
Recipe here. 
Pineapple Bacon Baked Beans
Pineapple caramelized in bacon fat! Why didn't I think of that? Sweet, tangy and baked all in one bite.
Recipe here.
Chipotle Barbeque Baked Beans with Tempeh
I LOVE chipotle and this vegan version adds more bite with tempeh, and comfort thanks to a slow and delicious bake in the oven.
Recipe here. 
As always, thank you for reading and supporting companies I partner with, which allows me to create more unique content and recipes for you. This post may contain affiliate links. As always, all opinions are my own.  
Are you following me on Instagram, Twitter, Facebook and Pinterest? Thanks for reading and  subscribe to FoodieCrush to have each post delivered straight to your e-mail box.
SIGN UP FOR FREE!
THANK YOU FOR VISITING FOODIECRUSH.COM

Subscribe to the FoodieCrush email newsletter and have every new post plus exclusive content delivered straight to your email box,
FOR FREE!