Get a healthy start on your week by creating lunches that won't derail your best eating intentions. These 31 recipes will keep you on track!
Happy New Year, friends!
Now that we've eaten too many cookies, drunk too much champagne, and thrown caution to the wind with our diets (because #holidays), 2018 is upon us and The Ghost of Christmas Future has awarded us a fresh slate. But that doesn't mean we have to trade in our culinary vices for full force diet deprivation ala Sugar-Free-Paleo-Whole30-latest-diet-trend-to-jump-onto. Though if you are, more power to you.
For me, January is never about diet repentance or deprivation, but always about finding balance. It's about enjoying comfort food like chicken pot pie or lasagna while also embracing more salads that don't always require "detox" in the name.
Lunch is a good place to start, because it's all too often the "chopped liver" of our three daily meals, and sometimes we skip it or eat a protein bar and call it good. Breakfast may get credited as the most important meal of the day, but lunch is a close runner-up and is the fuel needed to power through the day so we don't succumb to the dreaded afternoon slump where we just want to face plant into our desks.
And so here are 31 virtuous (but still totally yummy) lunch recipes to motivate you through the new-you month of January.
To see all of this year's 31 Days Series, check them out here:
31 Days of Healthy Comfort Food Recipes to Make in January
28 Days of Lighter Pasta Recipes to Make in February
31 Days of Weeknight Chicken Dinners to Make in March
30 Days of Healthier Salads that Make a Meal in April
31 Days of Sheet Pan Dinners to Make in May
30 Days of Easy Grilling Recipes to Make in June
31 Summer Slow Cooker Recipes to Make in July
31 Days of Summer Produce Recipes to Make in August
30 Dinners to Make When There's No Time to Cook in September
31 Instant Pot Dinner Recipes to Make in October
30 Easy Comfort Food Casseroles to Make in November
31 Instant Pot & Slow Cooker Holiday Dishes to Make in December
Here's how to make meal planning your month of meals a snap.
First, download this free printable weekly meal planner/to-do list to fill in, tape to the fridge, take to the grocery store, or use for reference next year when you can't remember what the heck were your fave recipes from this one.
And then sign up for your free weekly meal plan and prep list here.
You get the idea. Now get cooking!
FoodieCrush
Bold Thai flavors like coconut, ginger, and lemongrass lend mega flavor to this light and crunchy salad, and fresh mint, cilantro, and lime make it pop.
Chelsea's Messy Apron
You won't miss the carnitas in these filling taco bowls made with roasted sweet potato, and don't even get us started on that hot sauce and lime crema that gets drizzled on top!
Gimme Some Oven
10 minutes is all you need to prep these delicious chicken bowls, and you have lunch taken care of for the week! Use whatever veggies you have, and toss them with a garlicky honey-lemon-soy sauce that you'll want to pour on everything! Serve with rice or quinoa, and actually look forward to your lunch again.
Pinch of Yum
These heavenly, healthy bowls are like the ultimate Greek salad (on steroids). Start with a bed of kale or spinach and top it with quinoa, cucumbers, red onion, olives, pepperoncini, feta, avocado, and hummus, drizzle with lemon juice, and top with the most addictive roasted red pepper sauce. As Jesse Katsopolis would say, "have mercy!"
Little Spice Jar
These lemon roasted salmon bowls with broccolini and sweet potatoes are worthy of a meal at one of your favorite restaurants, and all you need is 15 minutes of prep!
Life Made Sweeter
This takeout favorite is made lighter in this easy recipe that's made in the slow cooker.
The Fauxmartha
This chopped salad is full of awesome Tex-Mex flavors, healthy veggies, and a homemade Ranch dressing that's to die for.
My Kitchen Love
BLTs are the anthem of summer, as far as sandwiches are concerned, but who says you can't enjoy them all year-round, or as a salad? This one is made extra hearty thanks to brown rice, and it gets topped with the creamiest avocado lime dressing.
FoodieCrush
Inspired by the famous salad at La Scala, in Beverly Hills, this Italian chopped salad, loaded with salami, roasted red peppers, chickpeas, and parm is the stuff power lunch dreams are made of.
Sweet Peas and Saffron
These low-carb lettuce wraps couldn't be simpler. Lean ground turkey gets cooked up with onions, carrots, and red curry, and then tossed with peanut sauce and scooped up on a crunchy bed of Romaine lettuce.
40 Aprons
This riff on a Greek sampler has all of the staples: baked chicken, tabbouleh made with cauliflower rice (genius), hummus, kalamata olives, and a creamy, refreshing tzatziki sauce. We could totally eat this one every day.
Ambitious Kitchen
These healthy sandwiches are packed with flavor, and they're also a breeze to make — simply bake your chicken and make your pesto in advance and you're good to go!
How Sweet Eats
Two words: Roasted chickpeas. Those alone are reason enough to make these easy pitas. Make your own whole wheat pita ahead of time if you want, but you can totally use store-bought. Just swoosh your favorite hummus on one, sprinkle with garlicky, paprika-roasted chickpeas, and top with tomatoes, feta, a pinch of fresh herbs, and you've got yourself one stellar, healthy vegetarian lunch.
My Food Story
Satisfy your takeout cravings and have lunch taken care of all week with these nutritious and easy meal prep boxes (which only require 10 minutes of prep)!
FoodieCrush
Garlic and herb-loaded cream cheese + all the green veggies makes this sandwich a winner. PB&J what?
Gimme Some Oven
Skip the lines at Chipotle, save your dough, and make these healthier, yummier burrito bowls instead (and use as much guac as your heart desires)!
Eating Bird Food
These vegan bowls are super delicious and satisfying, whether you're a vegan, vegetarian, or carnivore!
Shared Appetite
Take a vacay from your standard old tuna routine and channel the Mediterranean with these light wraps, featuring a zesty Israeli salad and refreshing tzatziki.
Joyful Healthy Eats
You can still have all of the creamy goodness and flavor you love about chicken salad, without the calorie-laden mayo. This version is lightened up with a lemony, mustardy Greek yogurt, and is studded with grapes, pecans, and green onions, without the usual side of guilt.
Skinnytaste
Hard boiled eggs and protein-packed lentils make this super easy vegetarian bowl incredibly hearty, and cilantro, creamy avocado, lemon juice, and hot sauce deliver a zesty punch of flavor.
Destination Delish
Lunch meal prep couldn't be easier when all you need is 20 minutes and some good tupperware! These tasty bowls feature ground beef cooked in a sweet sesame soy sauce, with brown rice and crisp cucumbers.
FoodieCrush
Sheet pan roasted chicken breasts, butternut squash and red onion is served with black beans, brown rice and guacamole, making this a healthy and easy lunch you can throw together pretty quickly.
Alexandra's Kitchen
There's nothing more satisfying than remembering you have homemade leftover soup for lunch. Make this ultra comforting cabbage soup (which makes a TON of leftovers) on a Sunday, and sail through your week!
Food Faith Fitness
These easy make-ahead bowls with cauliflower rice and a healthier take on peanut sauce are full of protein and not full of carbs, so you can start the new year off on the right foot!
How Sweet Eats
These super healthy Greek-flavored lettuce cups come together in just 30 minutes, which means you'll probably wanna make them on a weekly basis. Also, the avocado tzatziki is a total game changer.
Table for Two
This tuna salad is a refreshing departure from the classic standby. Studded with red onions, kalamata olives, sundried tomatoes, feta, and great northern beans, it's singing with vibrant Mediterranean flavors, and is completely mayo-free!
Simply Delicious
This chicken and broccoli noodle salad is bursting with flavor from honey, soy, and sesame, and is totally delicious eaten hot or cold.
She Likes Food
Slay your work week with this protein-packed power salad, studded with almonds, dried cranberries, sweet potatoes, garbanzo beans, avocado, onion, and the creamiest lemon tahini dressing.
Vanilla and Bean
Crunchy rainbow veggies, cashews and noodles all gets tossed in a sesame-ginger dressing that'll have you sneaking into the fridge for forkfuls in this fresh salad that comes together in minutes.
Gimme Some Oven
A lightened-up cheese sauce makes this classic favorite comforting but nutritious at the same time, and these bowls are a breeze to make!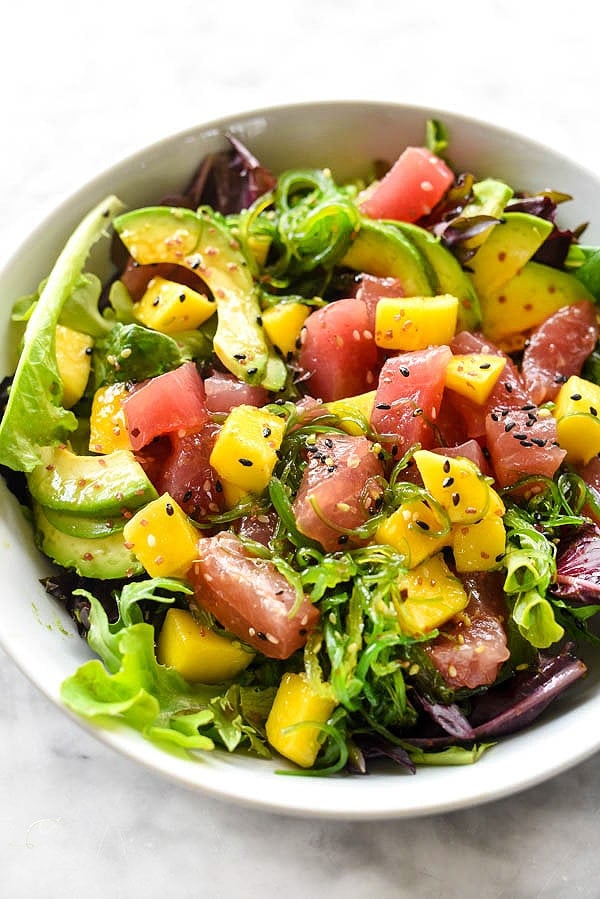 FoodieCrush
You don't have to be a knife-ninja or sushi expert to make a killer poke bowl, and this recipe is proof.  Fresh Ahi tuna, mango, and avocado lie on a bed of spring greens that are tossed with the easiest 3-ingredient dressing, making for a colorful and flavorful salad you won't be able to get enough of.


THIS RECIPE ROUND-UP WAS CURATED  AND WRITTEN BY FOODIECRUSH CONTRIBUTOR HAYLEY PUTNAM OF SEVEN DAY WEEKEND. FOLLOW HER FOODIE TASTES AND OTHER FLIGHTS OF FANCY ON PINTEREST AND INSTAGRAM.

Thanks for stopping by and visiting FoodieCrush. Have something to say? I'd love to hear from you. Let me know in the comments below.
As always, thank you for reading and supporting companies I partner with, which allows me to create more unique content and recipes for you. All opinions are always my own.  
Are you following me on Instagram,  Twitter, Facebook and Pinterest? 
Thanks for reading and subscribe to FoodieCrush to have each post delivered straight to your e-mail box.
SaveSaveSaveSave
SaveSave
SaveSaveSaveSave
SaveSave
SaveSave
SaveSave
SaveSaveSaveSave
SaveSaveSaveSaveSaveSave
SaveSave
SaveSave
SaveSaveSaveSave
SaveSaveSaveSave
SaveSaveSaveSaveSaveSaveSaveSaveSaveSaveSaveSaveSaveSave
SaveSaveSaveSaveSaveSave