Yep, you read that right! These baked hamburgers are a breeze to make and come together in about 15 minutes. You'll definitely want seconds!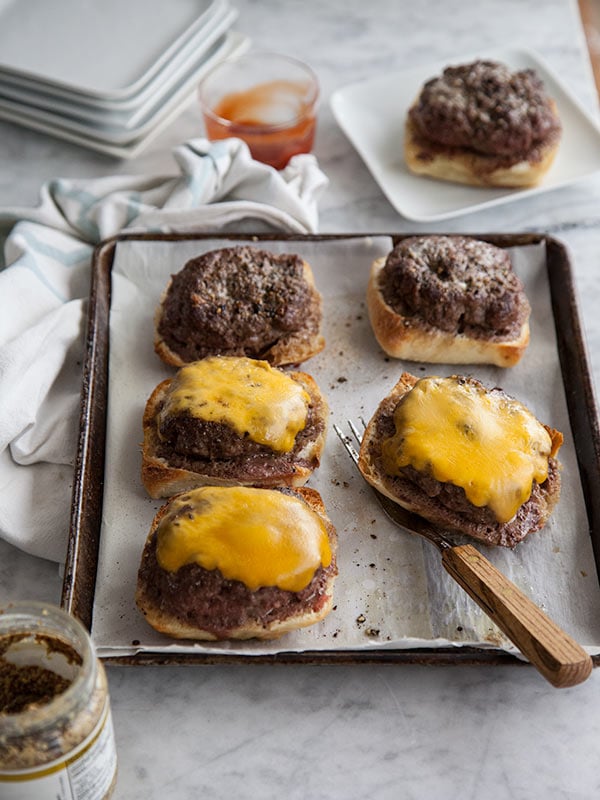 Hamburgers in the Oven
With The Super Bowl blowing up television screens and beer kegs nationwide, there will be plenty of eyeballs glued to the screen. Will they be watching the game? Shhushing fellow T.V. watchers during the commercials? Or anxiously awaiting to judge the lip syncing skills of Beyonce? You go girl.
Sure that's all part of the fun, but for wayyyyy more of us it's all about the food. Americana at its gluttonous best with antacids and Ibuprofen on stand-by, ready to remedy too much revelry when the San Francisco 49ers come home with the ring. That's right. My team is coming home with the big V.
The recipe for Daddy's Hamburgers is an homage to the 49ers in a way. My grandparents immigrated to San Francisco, the only place they lived besides communist Germany, and it's where my dad was born and raised until he came to Utah to play college basketball and, much to my mom's distress, stayed because of the great hunting in Utah and Idaho. SF is in my family's blood, it's one of my favorite cities, and the niners were always a special connection with my dad, the ultimate T.V. sports fan.
Watching 49er games with D was a ritual, not in a weird get dressed in a jersey way—which my husband has done for each game this season—but in a let's get behind this team and show we care way. Somehow I married a niner's fan, it was where we took our first trip together, and it's now Smudge's favorite team too. What a surprise, she's such a daddy's girl.
These baked burgers are my dad's specialty, one that when I called him to get the recipe, he had made just the night before! When my dad cooks, he is very precise, making even cuts of cheese squares to top basic hamburgers with french rolls or ciabatta. We still call them hamburgers even though they're topped with cheese, because that's how my dad has always done it.
It all looks way too simple to taste as delicious as it does. The secret is the pat of butter atop each oven baked hamburger that melt down into the burger meat co-mingling with Worcestershire sauce to create a juicy, lickable drip down each side of your cheering for the 49er's game face. (Please win. Please win.)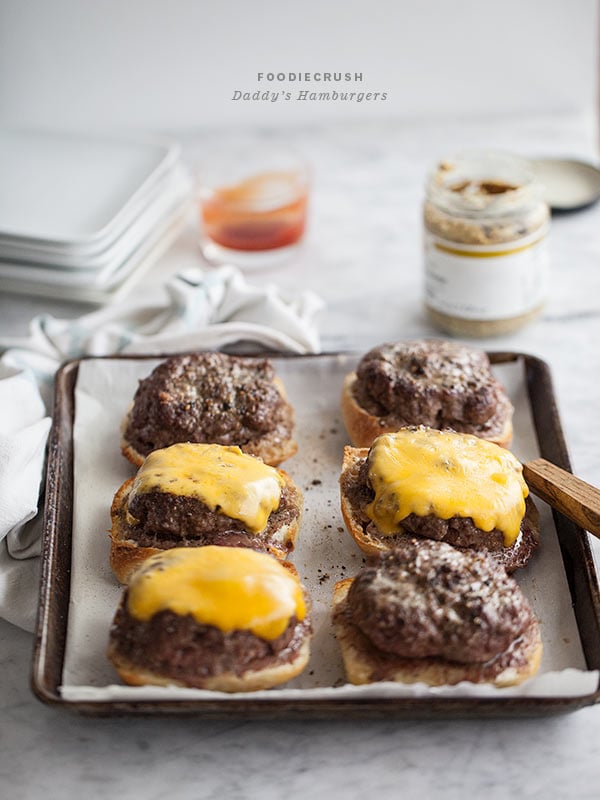 What's in These Baked Hamburgers?
These oven baked burgers are about as easy as it gets, and that's why I love them. There are no fancy mix-ins to add to the burger meat, and we keep the toppings simple. Why mess with a good thing, right?
For these baked hamburgers, you'll need:
Lean ground beef
Sourdough or ciabatta rolls
Worcestershire sauce
Garlic salt
Ground black pepper
Butter
Cheddar cheese
How to Cook Burgers in the Oven
Cooking burgers in the oven might sound strange, but it results in the juiciest burgers every single time. Before starting on the baked burgers, preheat the oven to broil and set the rack in the middle of the oven.
Divide the ground beef into eight portions and form each into a patty. Place the rolls face up on a baking sheet and top each with a burger patty.
Score the top of each burger, then drizzle Worcestershire sauce on top. Place a pat of butter onto each patty and season with garlic salt and pepper.
Broil the burgers for roughly 10 minutes, then top with a slice of cheese and return to the oven until it melts. Garnish with your favorite burger toppings and dig in.
Can I Make These Into Turkey Burgers?
You might be able to, but I've only ever made these baked hamburgers with ground beef. If you do try to make these baked burgers as turkey burgers, you MUST cook the meat all the way through. You can eat ground beef medium-rare, but it's unsafe to eat undercooked poultry.
Can I Add Spices to the Burger Patties?
Of course! My dad has always made his baked burgers using plain ground beef, so I've just never mixed spices into the burger patties before. But you can certainly mix in finely diced onion, jalapeño, various spices, and more.
Tips for Making Baked Hamburgers
These are open-faced baked burgers, so you shouldn't have any top buns left over. Four rolls are cut in half to make eight burgers, so everything will be used up.
When choosing a roll for these burgers, make sure to get one that's fairly sturdy. The burgers release a fair bit of juice while they bake, so you need a hearty roll underneath the patties. I think regular hamburger buns would be too soft for this recipe, but ciabatta or sourdough is perfect.
If you prefer your baked hamburgers to be more well done, simply leave them in the oven for a couple extra minutes before topping them with cheese.
More Homemade Burgers You'll Love
If you make this recipe, please let me know! Leave a comment below or take a photo and tag me on Instagram or Twitter with #foodiecrusheats. 
Daddy's Baked Hamburgers
Yep, you read that right! These baked hamburgers are a breeze to make and come together in about 15 minutes. You'll definitely want seconds!
Ingredients
1

pound

85% lean ground beef

4

small sourdough rolls or ciabatta

sliced

2

tablespoons

Worcestershire sauce

2

teaspoons

garlic salt

freshly ground black pepper

8

tablespoons

butter

divided

8

slices

medium Cheddar cheese
Instructions
Preheat oven to broil and place baking rack in middle of oven. Prepare a baking sheet with foil.

Divide ground beef into 8 equal portions. Place rolls face up on baking sheet and form a patty of hamburger on each roll.

Score the top of the burger patty, criss-crossing twice. Drizzle Worcestershire sauce on each patty then season each with garlic salt and pepper. Top each patty with a tablespoon pat of butter.

Place in the oven and broil for 10 minutes for medium rare. Add a slice of cheese to each burger and cook for 2 minutes more. Remove from oven and serve immediately.*
Recipe Notes
*If you prefer your baked hamburgers to be more well done, simply leave them in the oven for a couple extra minutes before topping them with cheese. 
Nutrition Facts
Daddy's Baked Hamburgers
Amount Per Serving
Calories 403
Calories from Fat 261
% Daily Value*
Fat 29g45%
Cholesterol 98mg33%
Sodium 1071mg47%
Potassium 229mg7%
Carbohydrates 14g5%
Protein 20g40%
Vitamin A 630IU13%
Vitamin C 1mg1%
Calcium 218mg22%
Iron 2mg11%
* Percent Daily Values are based on a 2000 calorie diet.
Friday Faves
Time to dig into a pile of napkins, turn down the T.V. during the game and turn it up during the commercials, and take in some Friday Faves.
1. In honor of the 49er's and my husband, you too need his new favorite hat, supporting and bringing awareness to breast cancer. What guy doesn't look good in pink?
2. If hats aren't your thing, then whilst planning your own football fashion forward wardrobe be sure to think about the day's menu. Luckily you'll need to look no further than Jessica's totally comprehensive football friendly list of recipes. There's only 135 to choose froml. Now what's the spread on that?
3. This week's blog crush: Natasha immediately put me under her spell with the mere words, "I topped each custard with four fluffy kisses of Swiss meringue, which I lightly torched to toasty. For a little crunch, I added hazelnut brittle, which has an intensely nutty flavor." Oh is that all? If only I had a nugget of mixing like that. And then I scrolled through her photos. And then I got a lump in my throat thanks to my stomach doing back flips because it was so excited. Jump over to her blog, quick.
4. It seems like the discussion of blogger's financial incentives for creating sponsored blog posts has been showing up everywhere I look lately. Dianne took a stab at exploring the topic of sponsored posts with Lori  who shares her successful recipe for working with brands. While I could have made practically an entire blog post from my possibly too enthusiastically lengthy comment, I appreciate Dianne giving us all the opportunity to continue the conversation. What do you think of sponsored posts, giveaways and advertising overall on blogs?
5. I also downloaded the 30/30 app this week in hopes it will keep me focused on focusing and not going down the rabbit hole of social media discoveries. What do you do to keep focused. I'm up for any advice please!
6. Have you seen The Super Bowl Puppy Predictions and the puppy cam? Puppy breath and spoiler alert: They're WRONG I TELL YOU!
7. People ask me all the time what do I miss about living in Los Angeles. My typical answer is: the cheap ethnic food of every flavor, especially ramen; my nightly walks through the Venice canals with my dogs; and the friends I met and miss. But what about the shopping? Sure I had my favorite boutiques, but Rodeo Drive is not something I miss. But, AHA! I forgot about the Warehouse sale, where twice a year women of all shapes and sizes would strip down to their skivvies in makeshift aisles in a hangar at the Santa Monica airport  to try on designer duds at super discounted prices. My father in law went with us once and thought he'd become Jed Clampatt and struck oil watching all the those botoxed beauties in the buff. I got the BEST shoes there every year, several of which I still wear daily. Shoes are the one thing you never cheap out on in a wardrobe. And now the Warehouse Sale will be available all year long, 365. I can't wait to go shoe shopping.
8. Our final Super Bowl homage goes to wings. Did someone mention wings? Thanks to Lenny & Denise for they're spicy, sweet, buffaloed, sticky, barbequed win round-up. I'm in.
Happy Superbowl everybody, and may the best Harbaugh win.
Craving more life balance, less stress, and better health? Check out my Nourished Planner, the daily planner to help create simplicity and under-schedule your life.
We send good emails. Subscribe to FoodieCrush and have each post plus exclusive content only for our subscribers delivered straight to your e-mail box.
Follow me on Instagram, Facebook, Pinterest and Twitter for more FoodieCrush inspiration.
As always, thank you for reading and supporting companies I partner with, which allows me to create more unique content and recipes for you. There may be affiliate links in this post of which I receive a small commission. All opinions are always my own.
SIGN UP FOR FREE!
THANK YOU FOR VISITING FOODIECRUSH.COM

Subscribe to the FoodieCrush email newsletter and have every new post plus exclusive content delivered straight to your email box,
FOR FREE!