Today is a big day in the world of cheese lovers. It's National Grilled Cheese Sandwich Day. Two snaps and let's celebrate.
I know. They make food holidays out of the oddest of food themes: Bologna Day (October 24). Fruit cocktail day (May 13). Bicarbonate of soda day (December 30). What?
But for pretty much every food lover everywhere, Grilled Cheese Day is officially one to break bread for. I mean, it's cheese. And I've made it my goal to share a cheesy fave every GCDay since I started this bloggity blog back in 2011. So let's dig into this melty onion, cheesy favorite between two slices of sourdough bread.
Who needs brothy soup anyway?
Today's recipe is one I've had on my list of grilled cheese sandwiches to share for, oh, say, 4 years? It's one of those grilled cheese sandwiches that will still pass as an official grilled cheese sandwich without the sidebar—or side eye—of being labeled as simply a layered sandwich with melted cheese.
That's because the jammy caramelized onions melt perfectly into the melty gruyere cheese. As all grilled cheese sandwiches should. French onion soup is probably my family's favorite soup, next to matzo ball for my Smudge.
The caramelized onions start with any type of onion you want, or may have on hand. Yellow onions. Sweet Maui onions. Red onions. The only onion that won't work are green onions. Just too wimpy, you know?
Low and slow is the name of this caramelized onion game. You want the onions to cook slowly to caramelize, stirring just every so often so the onions become bronzed and jammy. A little bit of kosher salt over the onions helps release the moisture from the onions so they soften as they cook. This process takes time, at least one hour over low heat. It's the key to the game.
Gruyere cheese is the standard melty cheese when it comes to French Onion Soup, and because I'm not one to deviate from tradition, it's what I'm using here. Gruyere is an aged cheese that has a bit of a bite, but melts and has a great, melty cheese pull. However, if you crave a milder melty cheese, Swiss or provolone could be a worthy substitution.
Sure you could use a bread other than French bread, but why would you? It is French Onion afterall.
If you make this recipe, please let me know! Leave a comment below or take a photo and tag me on Instagram with #foodiecrusheats.
Print
French Onion Grilled Cheese Sandwich
Caramelized onions and melty gruyere cheese between toasted french bread make an amazing grilled cheese sandwich with all of the flavors of everyone's favorite soup.
Ingredients
2

large onions

, (yellow, sweet, or red, choose whatever you like)

5

tablespoons

butter

, divided

1

tablespoon

canola oil

1

teaspoon

kosher salt

2

sprigs fresh thyme sprigs

3

tablespoons

water or wine

, white or red, whatever is on hand

1

teaspoon

bouillon soup base

, optional

8

slices

sourdough bread

4

ounces

gruyere cheese

, grated, about 1 cup
Instructions
Peel and slice the onions into large slices. In a large skillet over medium heat, melt 1 tablespoon of butter with the canola oil. Add the onion slices, sprinkle with the salt, and reduce the heat to low and cover with a lid. Add the thyme sprigs. Stir every 15 minutes or so, raising the heat if the onions seem to be taking a long time, but watch to be sure they don't burn.Add the wine or water and the bouillon soup base, mixing into the onions, cooking to become even more jammy as they cook. Remove from heat when cooked down.

Spread ½ tablespoon of butter on one side of the silces of bred, then stack buttered sides together. Layer the slices of bread with the cheese, then the caramelized onions, and more cheese. Top with another slice of bread, buttered side up. Repeat with the additional slices of bread.

Place bread buttered side down in a fry pan over medium heat. Cover with a lid and let cook for 3-4 minutes or until golden.

Reduce the heat to medium-low and flip sandwich to the other side and cook for 2-3 minutes or until bread is toasty golden and cheese has melted. The second side will cook faster than the first so watch carefully.

Cut in half and enjoy hot.
More Grilled Cheese Recipes to Try
I've been a sharing grilled cheese sandwiches since the early days here on the blog. Here are a few that are your favorites too.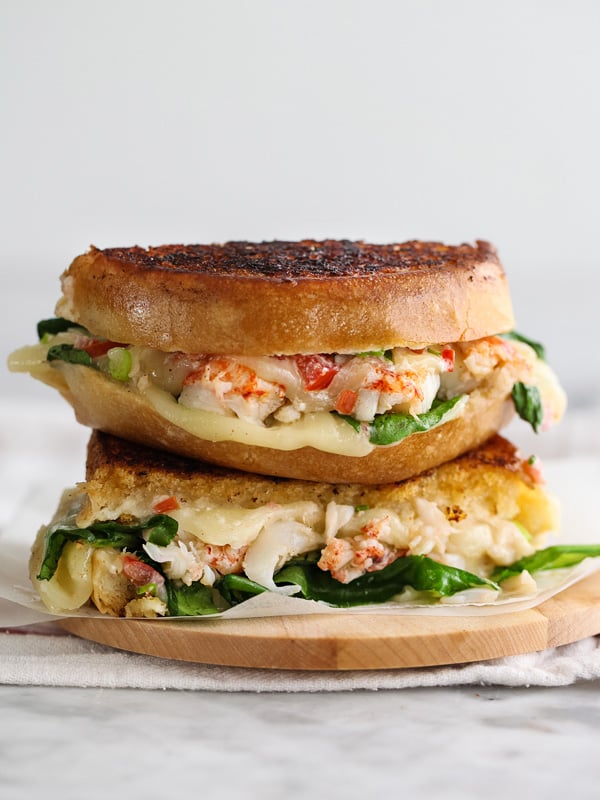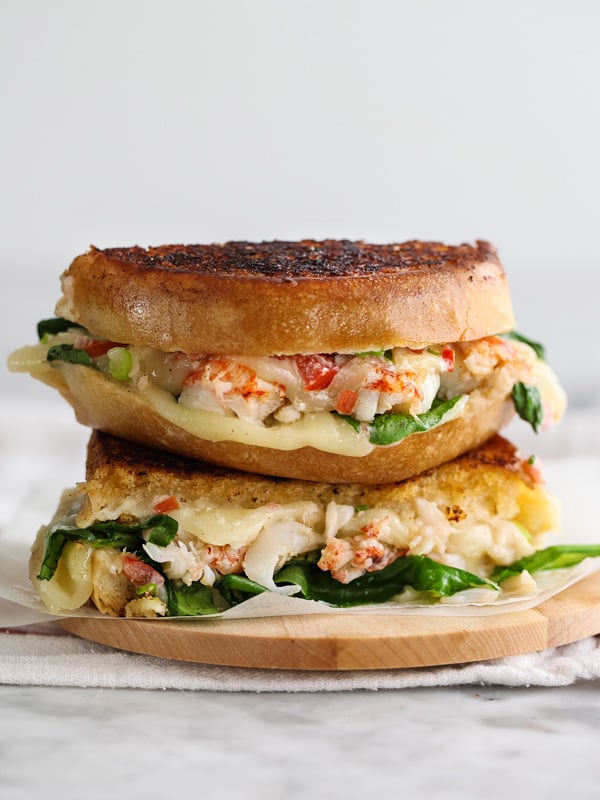 Lobster Grilled Cheese Sandwich
Jalapeño Popper Grilled Cheese Sandwich
Raspberry with Chocolate and Almonds Grilled Cheese Sandwich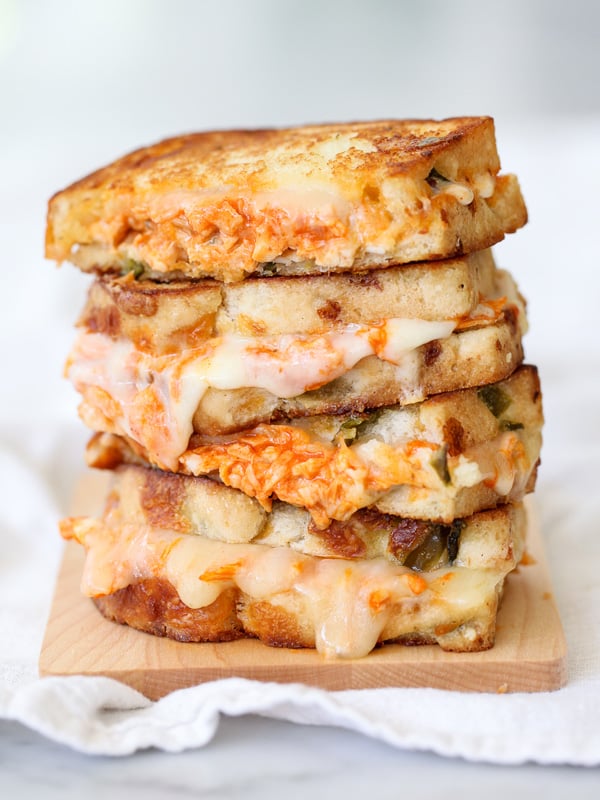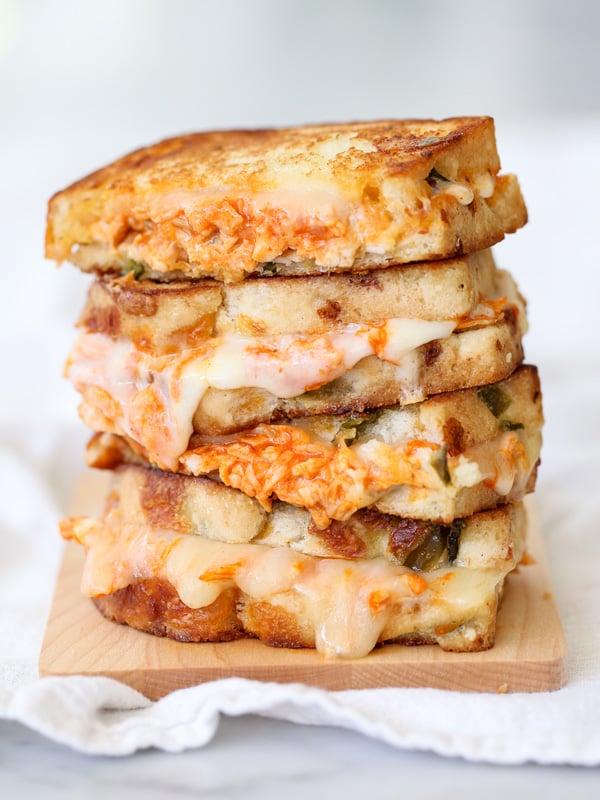 Buffalo Chicken Grilled Cheese Sandwich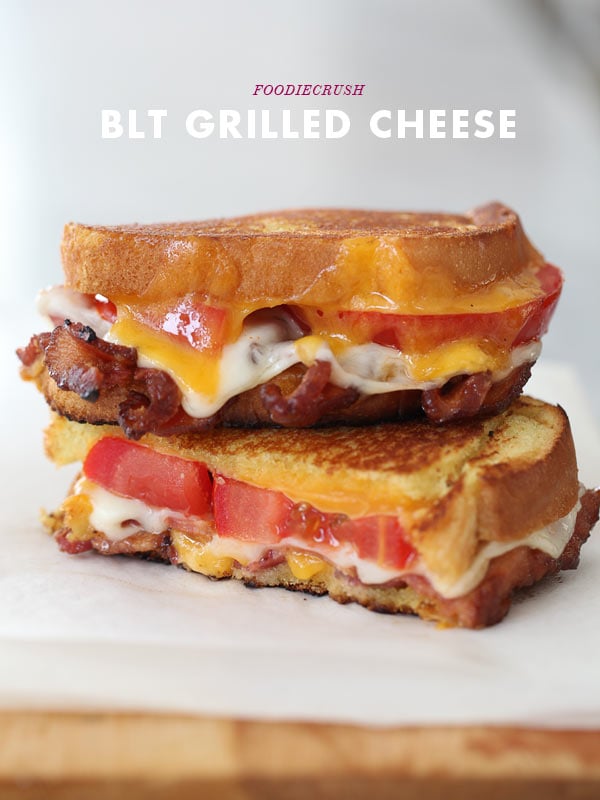 Crab and Avocado Grilled Cheese Sandwich
Spinach and Artichoke Grilled Cheese Sandwich 
Strawberry Bruschetta Grilled Cheese Sandwich
Spicy Smashed Avocado with Asparagus and Dill Havarti Grilled Cheese Sandwich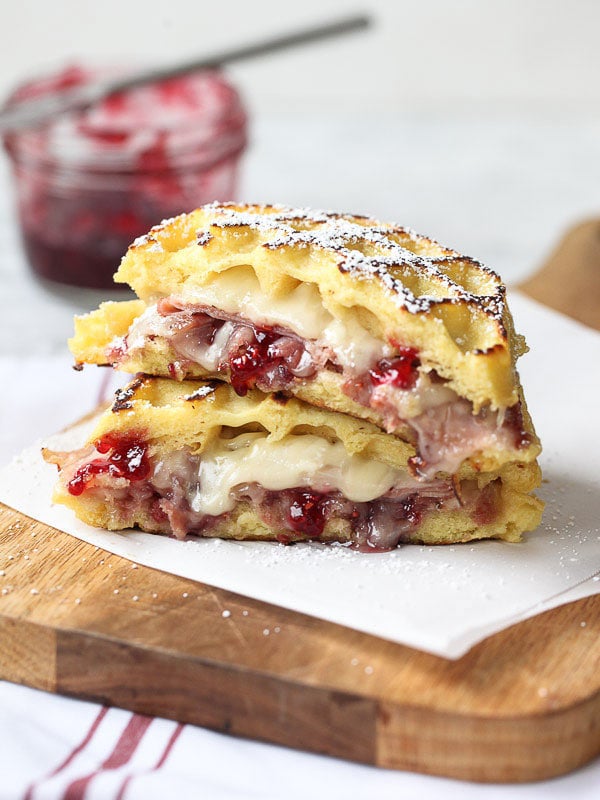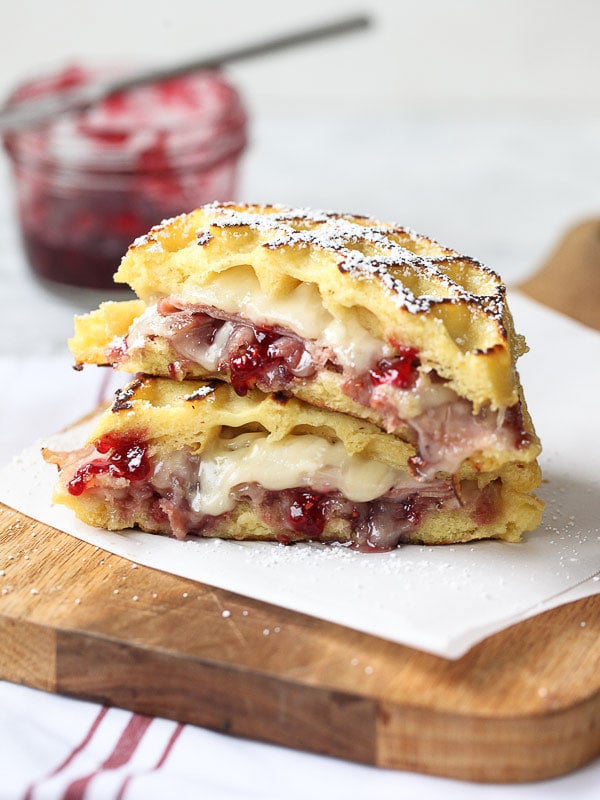 Monte Cristo Waffle Grilled Cheese Sandwich 
As always, thank you for reading and for supporting companies I partner with, which allows me to create more unique content and recipes for you. All opinions are always my own.
Are you following me on Instagram, Twitter, Facebook and Pinterest? 
Thanks for reading and subscribe to FoodieCrush to have each post delivered straight to your e-mail box.