It was that sock that sat right in the middle of the floor for over a week. And her flip-flops that were haphazardly strewn about the living room along with a pile of papers and markers and other 8 year old stuff. And the pile of yet to be cleaned paint brushes sitting on the counter after my husband deposited them, left to languish next to the pile of clean towels that never seemed to get put away.
The little annoyances that last week gave me prickly heat every time I saw them, melted to the background after several national events reminded me that life as we know it can change in an instant.
I'm just grateful I get to once again have this gentle nudge to not take "stuff" so seriously. It is, afterall, just stuff.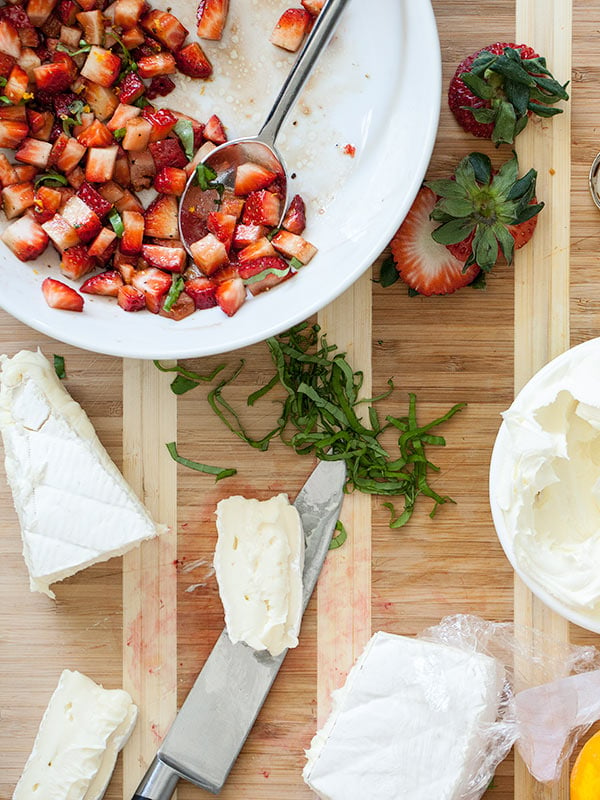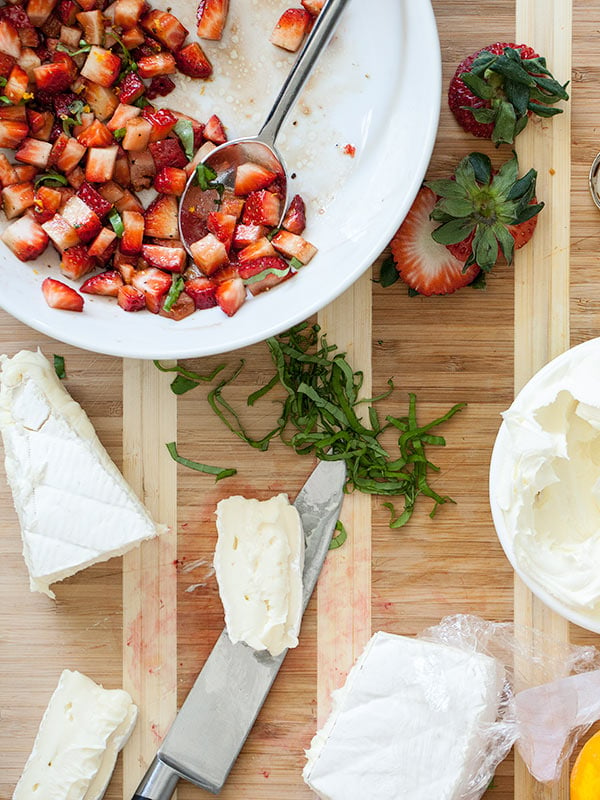 As I show you my favorite recipes or share the latest shoes I covet, I don't want to be insensitive—or on the flip side too melancholy—to events beyond our control. I think it's important to remember that while we're all affected by national circumstances, and while saddened or frustrated by them, we must also learn something from them. So I'm working on learning to turn a blind eye to MY issues with what gets my dander up, and be thankful I have loved ones to contribute to my self-induced peeves.
Yesterday I asked Facebook what you were craving to continue my Grilled Cheese Month Friday recipes: Savory or sweet? While the savory side seemed to weigh in pretty heavy, there were a fair number of you in the sweet camp as well. So I made a compromise: Let's do a savory AND sweet grilled cheese this week. And here she is.
I present…Strawberry Bruschetta Grilled Cheese.
You've seen fruit bruschettas before (I made one for Maria's baby shower) and you're seen strawberry grilled cheese sandwiches. So what's different about this one? Here's the difference: A little olive oil, a little aged balsamic, plenty of fresh basil melted into soft, creamy brie—with just a touch of a bite—on thinly sliced baguette and toasted just right.
You can see how the melt factor can sort of get away from you with that sandwich on the middle, oozing effusively. Oh, it tastes good.
If you aren't a fan of brie, or are looking for something sweeter for a breakfast griller, substitute the brie for mascarpone or provolone. Or a combo of the two.
So there you have it. A little sweet for some of you, a little savory for most of you. And a flavorfilled grilled cheese for me. It's going to be a great weekend, I can tell.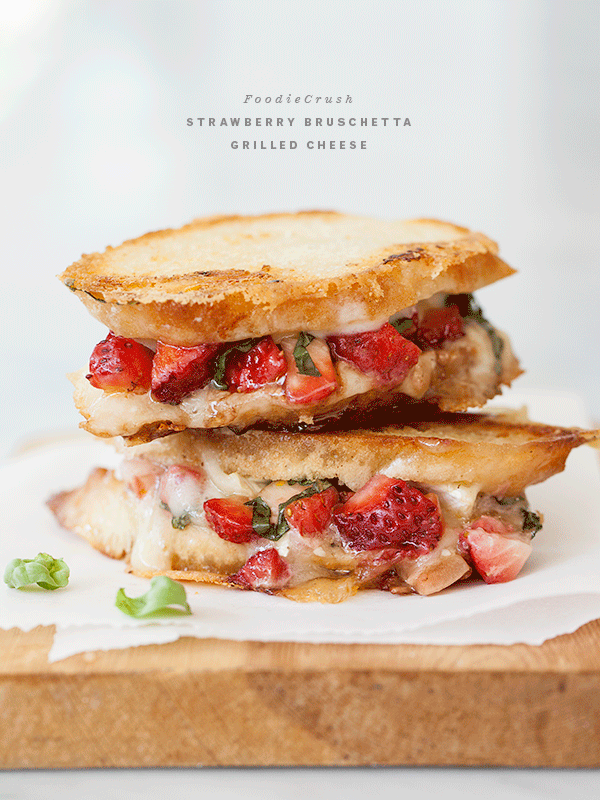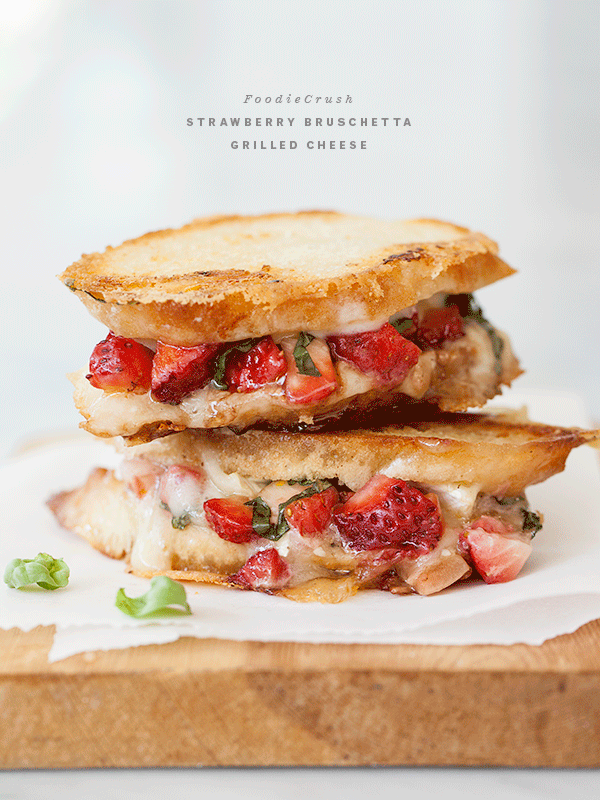 Print
Strawberry Bruschetta Grilled Cheese
Ingredients
8

thinly sliced pieces of sourdough baguette

4

tablespoons

butter

4

large strawberries

chopped (about 1 cup)

4

large basil leaves

slivered

1

teaspoon

extra virgin olive oil

½

teaspoon

balsamic vinegar

¼

teaspoon

lemon zest

kosher salt and pepper

8

ounces

brie cheese
Instructions
Spread butter on one side of each slice of bread, then flip the bread buttered side down and repeat with the other 6 slices.

Add the chopped strawberries to a small bowl, sprinkle with the basil leaves and dress with the extra virgin olive and balsamic vinegar. Mix gently then top with lemon zest and season with kosher salt and freshly ground black pepper.

Slice the brie and spread on unbuttered sides of the bread. Spoon a generous amount of the strawberry mixture on 4 pieces of the brie topped bread.

Place the strawberry stacked bread, buttered side down, in a non-stick fry pan over medium-high heat and top with the other slice of buttered bread. Cover with lid and let cook for 3-4 minutes or until golden.

Reduce heat to medium and flip sandwich to the other side and cook for 2-3 minutes or until bread is toasty golden and the cheese has melted. The second side will cook faster than the first so watch carefully. Repeat process with the other sandwich ingredients to make the rest of the grilled cheese sandwiches. Enjoy hot.
Happy Friday Faves everyone. I'll be coaching Smudge's soccer game, digging up some dirt in the yard (fingers crossed) and getting a jump on next week's to-do list since I'll be heading to Temecula for The Traveling Big Summer Potluck. Will you be there too? 
If you missed yesterday's giveaway, here's the link to enter. Good luck!

[youtube=http://youtu.be/WJiCUdLBxuI&w=600&h=400]

1. After a week of senseless tragedies and senate decisions influenced by the lure of money rather than by the wants of the people they represent, I for one could use a little more happy. Thanks to Amy's share yesterday via Twitter, this has done the trick. Hey, I sing 80's songs in the car too, so why do they sound so much better than me? Oh, and yes, he's playing the keyboards on his iPad. Nice. * New band crush *
2. If I said it once I'll say it again, I'm a sucker for packaging. Almost as much as I'm a sucker for good pickles. Luckily Yee-Haw Pickles have both things in common. And they're local. And I now have 3 bottles in my fridge. And I'm a happy pickle-eater.
3. I had my first experience with the Clarisonic when I had a facial at Tucson's Ritz Carlton Spa where we celebrated my mom's birthday. I came out my facial with the skin of a 3 year old. Okay, add 35, or maybe more, years to that and we'll be good. The Clarisonic was a revelation, and lucky me I now have one of my own, and hellllooo, it comes in orange!. As a product hoarder, I've decided their cleansing gel is my new fave. With this kind of glowing skin people might start to think I'm pregnant. I'm not.
4. Spring has sprung which means food blogger award season. Take a look at a round up of bloggers who have excelled in their craft and are now nominated for the coveted Saveur.com Best Food Blog Awards. Voting ends tonight so don't wait don't waste another minute to uncover some fabulous new food discoveries of your own and make sure you cast a ballot in their favor. It is an honor to be nominated indeed. Winners announced Tuesday, April 23.
5. I'm getting into doing more video (stay tuned next Tuesday for my newest attempt) and so I love catching up on blogs with video added to their site in fun ways. Aube of Kitchen Vignettes does it exceptionally well. Which is probably why she is the Savuer.com 2012 winner of Best Video Blog and is nominated again this year. I could spend all day being teleported to her kitchen.
6. Are you inspired by these excellent food blogger nominees and would like to start a food blog of your own? Follow the advice of my friend and one of last year's Best Cooking Blog award nominees, Kathryn of Cookies and Kate, who shares her tips and tricks of how to create your own food blog. Just do it, there's plenty of bites to go around.
 7. I often need to send and receive contracts and their are so many options out there. I was recently delivered one from Hello Sign and I quickly became a convert for my own biz. Simple and easy while looking good all at the same time.
8. My shopping habits are either feast or famine and right now I am acting like I may not have another meal because the feast is in full force. These Stuart Weitzman Mach 1 loafers (hibiscus and orange–full speed ahead ladies) are next on my hit list. Maybe after I win the lottery.  
9. The Grilled Cheese Academy's Recipe Showdown 2013 is still in full swing. With so many great prizes you owe it to yourself to enter. In case you are in need of inspiration for what ingredients to pull together to make the ultimate grilled cheese, check out Allison's book, 150 Best Grilled Cheese Sandwiches, a comprehensive Ode to curd between two slices of bread.
10. It works in the kitchen. It works in the garden. I think this apron from Food 52 will work on me.
Tweet of the Week: "We are living in a world where lemonade is made from artificial flavors and furniture polish is made from real lemons." ~ Alfred E. Newman via @exceptionalfood
Keep your lemons real. Have a great weekend.
Thanks for reading and please keep in touch by subscribing to FoodieCrush and follow me on Twitter, Facebook, Pinterest. This site includes affiliate shopping links of which I receive a small percentage of sales to allow me to create new and special content like this for my readers, so thank you for your support. All opinions are my own.