It was that sock that sat right in the middle of the floor for over a week. And her flip-flops that were haphazardly strewn about the living room along with a pile of papers and markers and other 8-year-old stuff. And the pile of yet to be cleaned paint brushes sitting on the counter after my husband deposited them, left to languish next to the pile of clean towels that never seemed to get put away.
The little annoyances that last week gave me prickly heat every time I saw them, melted to the background after several national events reminded me that life as we know it can change in an instant.
I'm just grateful I get to once again have this gentle nudge to not take "stuff" so seriously. It is, afterall, just stuff.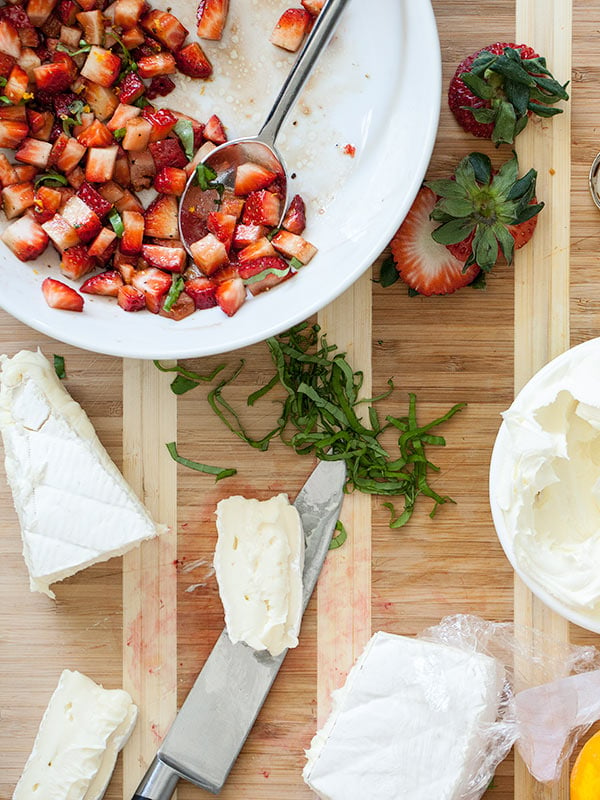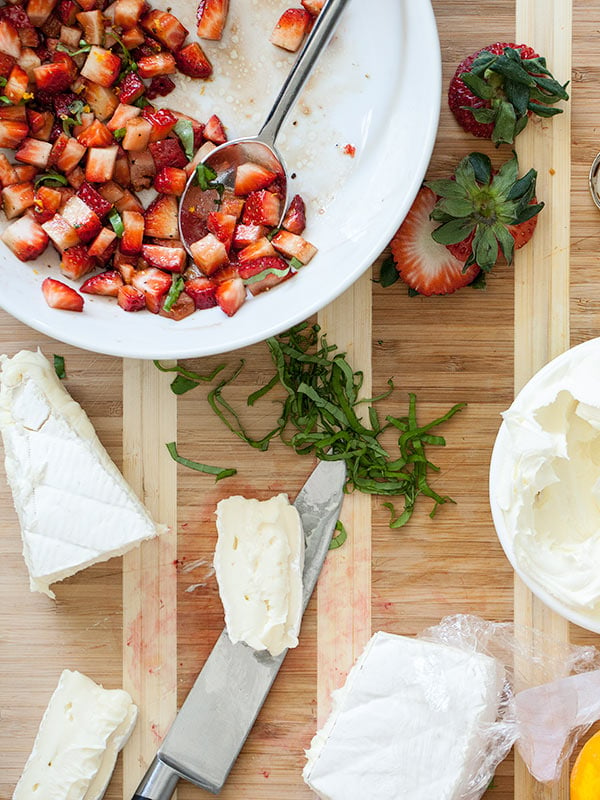 As I show you my favorite recipes or share the latest shoes I covet, I don't want to be insensitive—or on the flip side too melancholy—to events beyond our control. I think it's important to remember that while we're all affected by national circumstances, and while saddened or frustrated by them, we must also learn something from them. So I'm working on learning to turn a blind eye to MY issues with what gets my dander up and be thankful I have loved ones to contribute to my self-induced peeves.
Yesterday I asked Facebook what you were craving to continue my Grilled Cheese Month Friday recipes: Savory or sweet? While the savory side seemed to weigh in pretty heavy, a fair number of you were in the sweet camp as well. So I made a compromise: Let's do a savory AND sweet grilled cheese this week. And here she is.
I present…Strawberry Bruschetta Grilled Cheese.
You've seen fruit bruschettas before (I made one for Maria's baby shower) and you've seen strawberry grilled cheese sandwiches. So what's different about this one? Here's the difference: A little olive oil, a little aged balsamic, plenty of fresh basil melted into soft, creamy brie—with just a touch of a bite—on a thinly sliced baguette and toasted just right.
You can see how the melt factor can sort of get away from you with that sandwich in the middle, oozing effusively. Oh, it tastes good.
If you aren't a fan of brie or are looking for something sweeter for a breakfast griller, substitute the brie for mascarpone or provolone. Or a combo of the two.
So there you have it. A little sweet for some of you, a little savory for most of you. And a flavor-filled grilled cheese for me. It's going to be a great weekend, I can tell.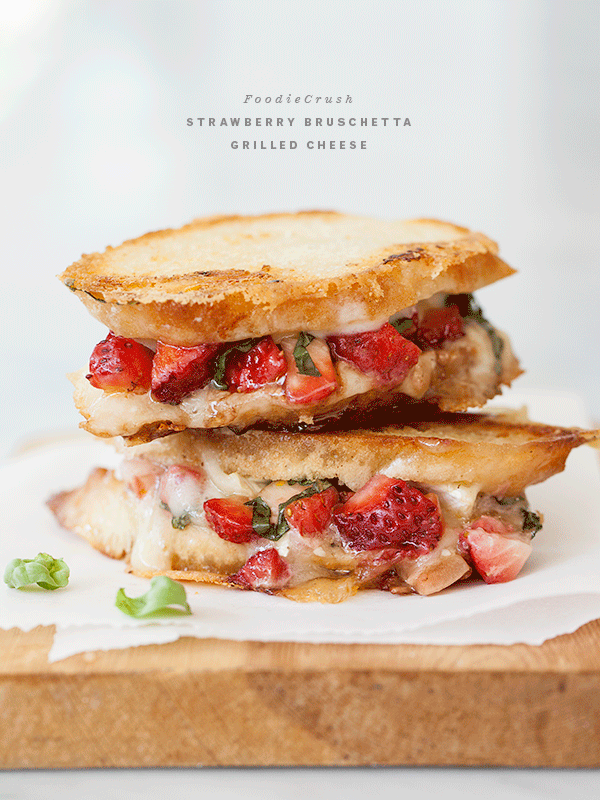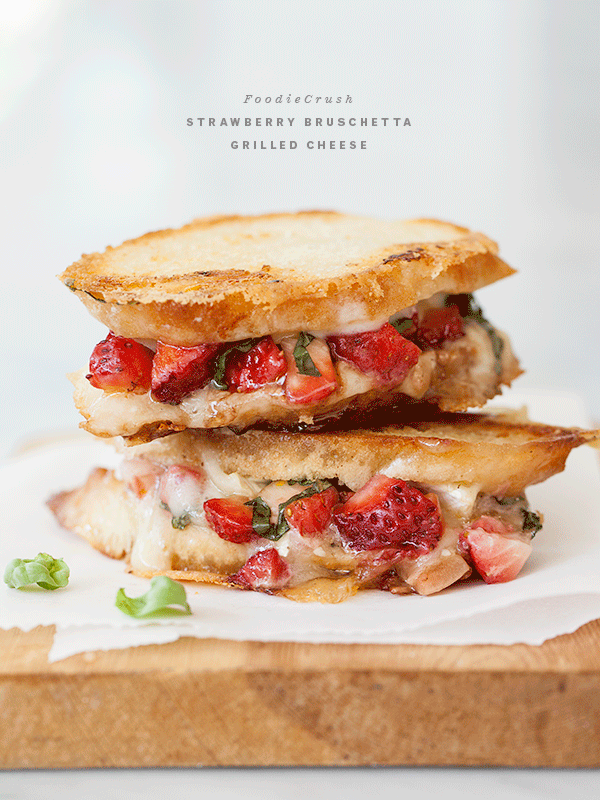 Print
Strawberry Bruschetta Grilled Cheese
Ingredients
8

thinly sliced pieces of sourdough baguette

4

tablespoons

butter

4

large strawberries

chopped (about 1 cup)

4

large basil leaves

slivered

1

teaspoon

extra virgin olive oil

½

teaspoon

balsamic vinegar

¼

teaspoon

lemon zest

kosher salt and pepper

8

ounces

brie cheese
Instructions
Spread butter on one side of each slice of bread, then flip the bread buttered side down and repeat with the other 6 slices.

Add the chopped strawberries to a small bowl, sprinkle with the basil leaves and dress with the extra virgin olive and balsamic vinegar. Mix gently then top with lemon zest and season with kosher salt and freshly ground black pepper.

Slice the brie and spread on unbuttered sides of the bread. Spoon a generous amount of the strawberry mixture on 4 pieces of the brie topped bread.

Place the strawberry stacked bread, buttered side down, in a non-stick fry pan over medium-high heat and top with the other slice of buttered bread. Cover with lid and let cook for 3-4 minutes or until golden.

Reduce heat to medium and flip sandwich to the other side and cook for 2-3 minutes or until bread is toasty golden and the cheese has melted. The second side will cook faster than the first so watch carefully. Repeat process with the other sandwich ingredients to make the rest of the grilled cheese sandwiches. Enjoy hot.
Thanks for reading and please keep in touch by subscribing to FoodieCrush and follow me on Twitter, Facebook, Pinterest. This site includes affiliate shopping links of which I receive a small percentage of sales to allow me to create new and special content like this for my readers, so thank you for your support. All opinions are my own.