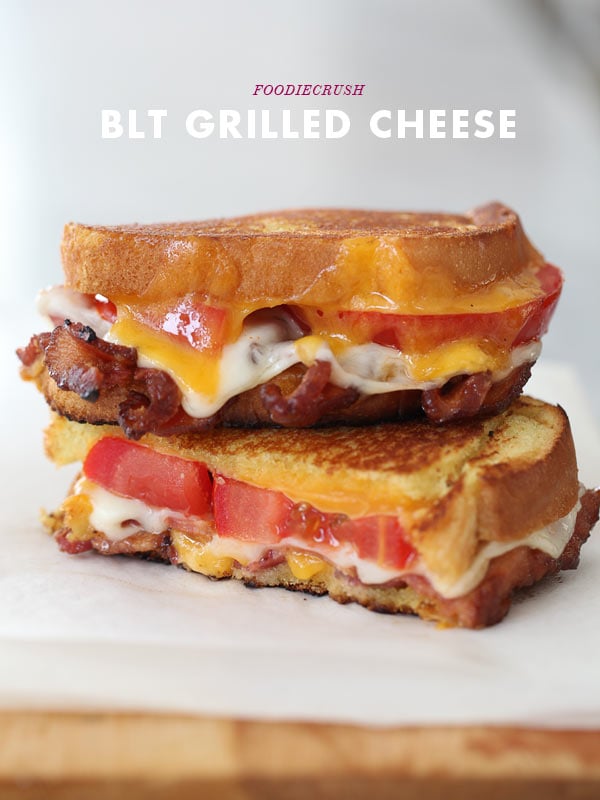 No it's not over yet. You may have thought after last week's post of Pasta with Marinated Tomatoes Plus 55 Fresh and Tasty Tomato Recipes, you may have thought I had exhausted the coffers.
Au contraire, mon frere. Tomatoes are still taking over my life. And I'm darn happy to say so.
Smudge isn't much a fan of the fresh 'mater. I cannot fathom why, because home grown are sweeter than any cookie or donut she slyly suggests I buy for her on each and every grocery store outing.
Why are kids like that? But she'll happily and eagerly eat my Homemade Heirloom Tomato Soup. Like most kids she loves ketchup and tomato sauce too.
So what's the big deal with fresh tomatoes lady?
Well honey, I have a secret weapon: Cloak it in a coating of cheese. And to make it even more compelling: layer smokey bacon on top. And dip it into that soup.
The new BLT: B is for bacon, L is for lacy swiss and T is for tomato. Hee, hee. She'll never know she's been duped.
I was scouting out Pinterest and came across a few ways others have shown their love for BLTs.
A fashionable bacon look for the whole family (and just like when we played the characters of The Sound of Music as kids and the littlest one got to be Greta, look who gets to be the tomato.)
Graphic prints of your favorite stackable foods 
And a little somethin' for the kitchen and your favorite bacon bakers
But for now, I'm pretty satisfied with my BLT Grilled Cheese sandwich, minus the crocheted hot pads.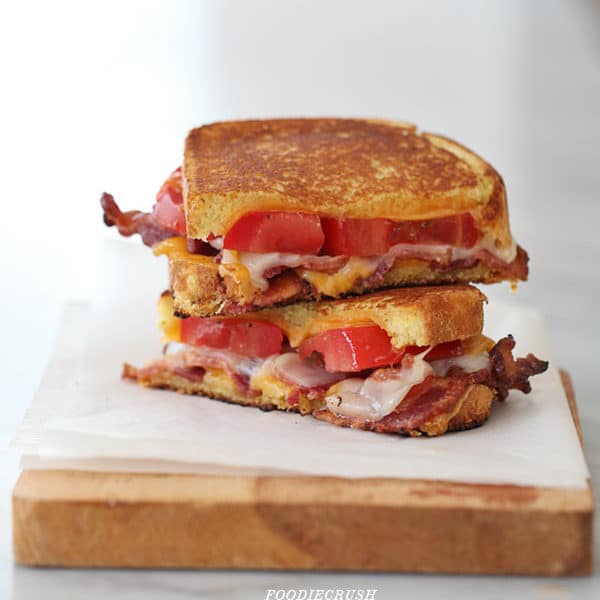 Print
BLT Grilled Cheese Sandwich
Ingredients
2

slices

egg bread

4

slices

cheddar cheese

1-2

slices

lacy swiss

4

slices

cooked bacon

2

slices

tomato

1

tablespoon

butter
Instructions
Spread butter on one side of each slice of bread, then stack buttered sides together. Layer 2 slices cheddar on top of bread stack, then bacon slices, then lacy swiss cheese, then tomato and finally the remaining slices of cheese. Place bread buttered side down in a fry pan over medium-high heat. Cover with lid and let cook for 3-4 minutes or until golden.

Reduce heat to medium and flip sandwich to other side and cook for 2-3 minutes or until bread is toasty golden and cheese has melted. The second side will cook faster than the first so watch carefully.

Cut in half and enjoy with homemade tomato soup!
There are so many inspiring recipe makers out there. Check out these curveballs on the classic BLT sandwich.
Who put my BLT Grilled Cheese Sand in a bowl? Karen may have created the most brilliant marriage of ingredients in a soup ever. Meet Soup Addict's BLT Soup.
Linda may just get the ingenious prize with Salty Seattle's award-winning (in my book) Bacon Ice Cream with Lettuce Sorbet and Tomato Gelato P.S. Shahouganuts! There's bourbon in them there bacon ice cream!
Sandy adds one of my favorite fruits (yes fruit) creamy avo to Everyday Southwest's Tuscan BLT Guacamole Bites. How many can I pop in my mouth…let's count.
Allison's secret crunchy kick is what makes Some the Wiser's BLT Pasta with Garlic Toast Bread Crumbs that much more unique in this bacon round-up. And noodles. Gooood noodles.
One of the best additions to the Classic BLT I've seen yet: the simple yet golden fried egg with Chili Ranch Sauce. GET OUT! Get it from the communal bloggers at Eat Show & Tell.
Mommie Cooks Southwest BLT Crostini are totally going on my game day menu. And Julie scores with the spicy kick! Bwaaa haaa haa.
Hunky chunks of delicious goodness fill the bowl of Joy's BLT Corn Salad Wraps ala the simplicity of Joy the Baker. 
Katie gives the BLT a gluten-free spin: Oh mama, Chaos in the Kitchen's BLT Salad with Avocado and Blue Cheese Dressing. Please and thank you.
Marla knows how to get the kids to eat it. Put it on a stick with Family Fresh Cooking's BLT Kebabs.
And since tomato plants never seem to exhaust their supply before the first frost, Kevin gives us the perfect reason to pluck your plants clean with Closet Cooking's Fried Green Tomato BLT.
Related Recipes
BLT Panzanella 
Grilled & Stuffed Tomatoes
Turkey and White Cheddar with Caramelized Onion and Grape Grilled Cheese
Sweet Pear and Rosemary Honey with Havarti Grilled Cheese
Honey Smoked Ham with Fig Spread Grilled Cheese
Thanks for reading and please keep in touch. Subscribe to Foodie Crush and follow me on Twitter, Facebook and Pinterest and check out Foodie Crush magazine and Cookie Cravings cookbook.