If you hadn't noticed, I sort of have a thing for cheese, especially grilled cheese. Yes, I even have a Pinterest board dedicated to the grilling of the cheese.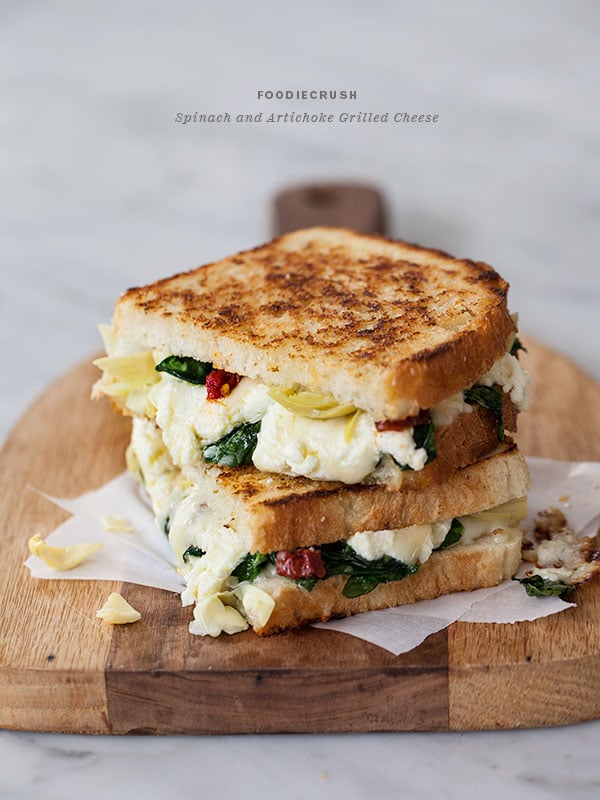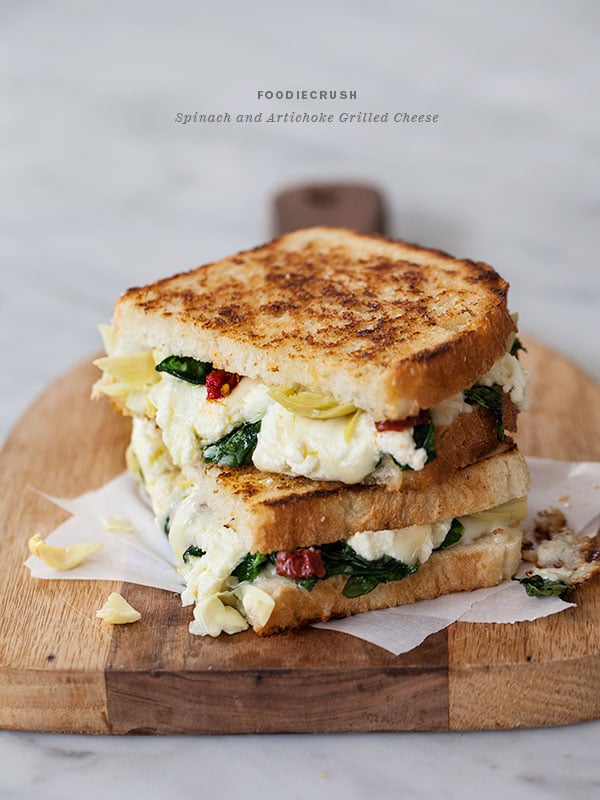 I think it stems from some of my first cooking experiences as a kid, when one of my standy-by lunchtime masterpieces was a melted cheese sandwich, forever inking the taste of melty cheddar cheese and white bread into my tastebud memory bank. And it's now become a favorite of my Smudge too. How could it not?
Last year I celebrated Grilled Cheese month by creating a new grilled cheese recipe to share each week during the month of April. With so much melted goodness to be had they're still some of my favorite posts.
[ 1 ]  Turkey and White Cheddar with Caramelized Onion and Grape Grilled Cheese  [ 2 ] Honey Smoked Ham with Fig Spread Grilled Cheese  [ 3 ]  Sweet Pear and Rosemary Honey with Havarti Grilled Cheese  [ 4 ] Truffled Mushroom with Prosciutto and Tallegio Grilled Cheese
I hope you like them too because it's time to break out the cheese grater and warm up the sandwich flipper because we're doing it again this year. My mind just can't quit thinking of some of my favorite ingredients to melt together.
And here's a reason yours should get churning too.
My friends at Wisconsin Cheese and I are announcing Grilled Cheese Academy's 2013 Recipe Showdown, where aspiring cheese heads can put their creative talents to the test to compete for the title to be crowned the queen—or king—of the grilled cheese sandwich for an entire year.
And lucky me, I will be one of the contest judges stuffing my face with amazing creations. Is there a crown? Possibly. A sash? I'll make you one. But I do know there will definitely be prizes ($5,000 in value to the grand prize winner plus more!) bragging rights and some serious cheese cred.
All you have to do is create and enter your best grilled cheese sensation. Oh, TWIST MY ARM! Oh wait, I can't enter since I'm a judge. Well then people, don't let me down and please cook me a sandwich to make me and your mama proud.
Now about those prizes…
Last year's Gold Prize Winner, Ally Phillips, created The Bewitching (shown above), a melted griller featuring Wisconsin Gouda and Provolone with fresh blackberries, peppery greens and bacon. I think you can compete with that.
The contest runs now through May 12, 2013, giving you one month to conceive your new winning cheese baby and enter it at the Grilled Cheese Academy website.
Here's what you could win when you do:
Gold Skillet Award will go to 1 Winner

$4,000 Gourmet Kitchenware including:

10-piece Copper Core Cookware Set
7-piece Knife Block Set
10-piece Cast Iron Cookware Set

$1,000 MasterCard Gift Card
Wisconsin Cheese Basket
Inclusion in the 2013 Grilled Cheese Academy Recipe Book
Silver Spatula Award will go 2 Winners
$500 Williams-Sonoma Gift Card
Wisconsin Cheese Basket
Inclusion in the 2013 Grilled Cheese Academy Recipe Book
Bronze Butter Knife Award will go to 8 Winners
$100 Williams-Sonoma Gift Card
Wisconsin Cheese Basket
A few tips to help you along the way:
The first step is to conceive a recipe that is mouth watering and unique. A layer of cheddar between two slices of white bread is great when you're an 8 year old cook (like I was) and will always be a classic but won't win you any grand prizes. Dream up something wild, something new, give it a unique name to match its creative ingredients and you're well on your way to wow.
The second step is creating unique and complimentary flavor combinations—sweet, savory, spicy, whatever your imagination conjures up—using Wisconsin Cheese made from cow milk. You'll be judged on how well Wisconsin Cheese was incorporated in the sandwich so save the goat cheese for another day. 
While the flavor will be of utmost importance, the last step to influence the judging is the look of your sandwich. A decent photo and nice presentation always helps and I know you can take that step to the bank too.
For a the complete list of rules, types of cheeses as well as tips and sample sandwich flavor combos, visit the Grilled Cheese Academy.
And now, how about the recipe for this Spinach and Artichoke Grilled Cheese?
The inspiration for this recipe came from the flavor combination I always choose for pizza night, when I sometimes stray from the flat disk to create a stuffed calzone instead.
I loooove the multiple cheeses—ricotta, mozzarella and parmesan—and the sautéed, garlicky spinach with artichoke hearts (my favorite!) and when sandwiched between 2 slices of crispy sourdough, it's almost enough for me to give up pizza dough all together. Well, maybe. I think I'll keep them both in my back pocket for now.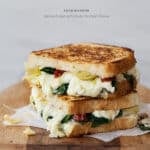 Print
Spinach and Artichoke Grilled Cheese Sandwich
Ingredients
2

tablespoons

olive oil

divided

2

cloves

garlic

sliced thinly

1

cup

fresh spinach

chopped roughly

4-6

canned artichoke hearts in water

drained and sliced

½

cup

sun dried tomatoes

chopped

⅓

cup

ricotta cheese

⅓

cup

grated parmesan cheese

8

ounces

mozzarella fresca

fresh mozzarella, grated

4

slices

sourdough bread

4

tablespoons

butter
Instructions
Add 1 tablespoon of olive oil to a small saucepan and heat over medium heat then add 1 clove of the sliced garlic and cook for 5-7 minutes, lowering the heat so the garlic doesn't burn but just steeps in the garlic oil and becomes fragrant. Remove from heat and set aside to cool.

In a small bowl mix the ricotta cheese and parmesan cheese and mix. Add the cooled garlic olive oil and mix in.

Sauté the remaining garlic slices in the remaining tablespoon of olive oil for 1 minute over medium high heat. Add the chopped spinach and artichoke hearts, season with kosher salt and cook for about 4 minutes or until spinach begins to wilt. Remove from heat and cover with a lid to keep warm.

Spread butter on one side of each slice of bread, then stack the two buttered sides together and repeat with the other 2 slices. Sprinkle the bread with a handful of the grated fresh mozzarella, then a layer of the spinach and artichoke hearts and half of the sun dried tomatoes. Add half of the ricotta cheese mixture and top with additional mozzarella cheese.

Place bread, buttered side down, in a non-stick fry pan over medium-high heat. Cover with lid and let cook for 3-4 minutes or until golden.

Reduce heat to medium and flip sandwich to the other side and cook for 2-3 minutes or until bread is toasty golden and the cheese has melted. The second side will cook faster than the first so watch carefully. Slice in half and enjoy hot.
Next week I'll be back to regularly formatted Friday Faves with another grand grilled cheese. Have a fantastic weekend!
Thanks for reading and please keep in touch by subscribing to FoodieCrush and follow me on Twitter, Facebook, Pinterest. This site includes affiliate shopping links of which I receive a small percentage of sales to allow me to create new and special content like this for my readers, so thank you for your support. All opinions are my own.