Forget the cans of Manwich sloppy joe sauce, because my mom's homemade sloppy joes recipe is just as easy to make and sixty-four (or more) times as good, especially knowing there's a generous helping of vegetables inside this homemade, ground hamburger-ed, comfort food, beef-ey sandwich. 
Remember the days when licking your plate was encouraged? They still are. And your fingers, and your chin too. I originally published this recipe in the earlier days of le FoodieCrush blog, and after making it time and time again, I felt it was time for a little refresh. It's totally worthy. One of my favorite dinners as a kid was always Sloppy Joes, and the memories of stealing tastes of this burger/veggie mixture as it simmered on the stove still renders the same take-a-bite-then-burn-the-top-of-my-mouth-oh-no-it's-now-become-a-blister result today as I hear the subliminal retort of my mom echo in my adult ear to "leave it alone or there'll be nothing left for the rest of us to eat." Guilty as charged. But, sorry mom, I still can't help myself. And if you're a fan of easy recipes and you make this one, my mom will tell you it's okay that you taste-test your way through the making of it, too. And I'm here to attest, the top-of-the-mouth-blisters are totally worth it.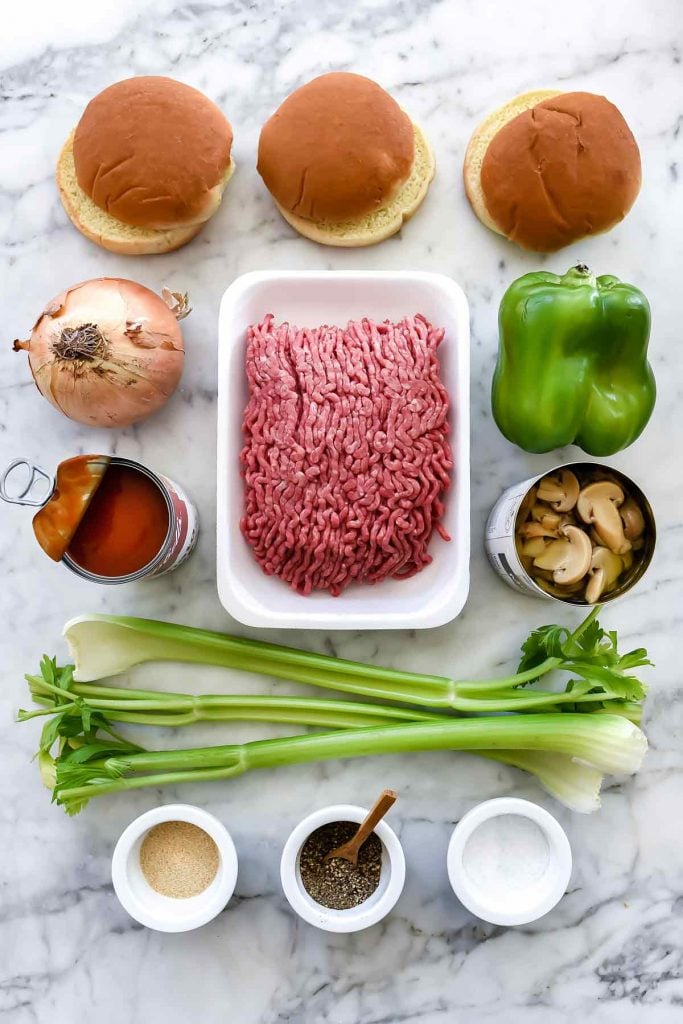 Homemade Sloppy Joes Ingredients
The homemade sloppy joe sauce and sandwiches come together in no time and require very few ingredients. Here's what you'll need to make this easy sloppy joe recipe:
Ground beef
Yellow onion
Celery
Green pepper
Canned mushrooms
Condensed tomato soup
Garlic powder
Kosher salt and pepper
Hamburger buns
Cheddar cheese
Regarding the mushrooms…I always double the amount, no matter what the recipe calls for, and in this recipe, it's always canned mushrooms. Sure you could use fresh, but mom always used canned, so for this recipe I used two cans of mushrooms instead of one. They're my favorite part. But maybe the ingredient that lends the simplest and integral flavor for this sloppiest of the joe recipes is a can of good-old memory-making-from-the-days-of-our-youth Campbell's condensed tomato soup. It's just the right balance of tomato flavor with a bit of sweetness to bridge all the flavors together.
What's the Best Meat for Sloppy Joes?
The classic sloppy joe recipe always begins with simple but far from basic ground beef, aka the hamburger. Keeping a pound or two of the 85% lean 15% fat beefy ground sirloin or chuck blend in the freezer makes this simple dinnertime staple an easy one to make for any weeknight meal.
How to Make Sloppy Joes
This truly is the best sloppy joe recipe — it comes together so quickly! Simply brown the ground beef in a skillet, then stir in the chopped veggies and cook until they're softened. Then, add the remaining ingredients to the pan and let the mixture simmer for a good 15 minutes so the flavors can come together. Once the homemade sloppy joe filling is done, you're ready to dish it up. Choose a soft, delicious bun for these sandwiches because they deserve the best. I typically toast mine, sometimes buttered, sometimes sprinkled with garlic salt, sometimes not, but nearly always with a dollop of shredded cheddar cheese to be melted upon. Warming the bun matches the warmth of the burger mix, because who wants to bite into a cold bun only to be greeted with hot burger joe deliciousness? Match your temps, friends. My favorite way to serve is with a hearty serving of pickles and potato chips—no, not on the side, but right on the sandwich. That's what makes this sandwich this kids' dream-dinner all over again.
How to Make Sloppy Joes for 30 People or More
Because this easy sloppy joe recipe is loaded with ground beef plus an equal amount of veggies, one pound of ground beef is enough to make 8-10 sloppy joe sandwiches. To make this recipe for a party, tailgate, or easy dinner with family or friends, plan on 1 pound of ground beef per 8 sandwiches, equaling 4 pounds of ground beef plus four times the amount of vegetables and cans of tomato soup. You will need to increase the amount if you anticipate people eating more than one sandwich or you plan on filling them extra full.

Can I Add in Other Veggies?
This recipe calls for sautéed onions, bell pepper, and mushrooms. But you could always sneak in more diced or minced veggies or beans, that likely, nobody would really notice, such as:
Butternut squash
Zucchini
Yellow squash
Eggplant
Lentils or white beans
Chopped cabbage
Chopped leafy greens such as spinach or kale
Can I Use Another Type of Ground Meat?
If ground beef isn't your deal, you can always consider using instead:
My mom's recipe for sloppy joes always went above and beyond just the meat…for her, and for me, it's all about the addition of the same ratio of vegetables to beef, if not more.
My Favorite Sloppy Joe Sides
  If you make this recipe, please let me know! Leave a ⭐️⭐️⭐️⭐️⭐️ rating on this recipe below and leave a comment, take a photo and tag me on Instagram with #foodiecrusheats.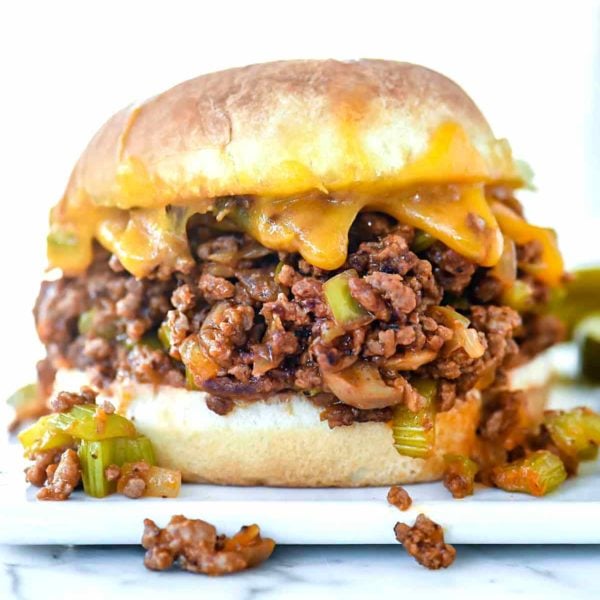 Print
One-Pot Homemade Sloppy Joes
This family favorite homemade sloppy joe recipe is easy for weeknight dinners. If you have extra meat left over, serve over pasta noodles, in taco shells, or as a meaty salad over hearty romaine lettuce for yet another quick dinner option.
Ingredients
1

pound

ground beef

, 85% lean 15% fat

1

medium yellow onion

, chopped

2-3

ribs celery

, chopped

½

green pepper

, chopped

1 15-

ounce

can mushrooms

, drained

1 10.75-

ounce

can of condensed tomato soup

2

teaspoons

garlic powder

1

teaspoons

kosher salt

¾

teaspoons

freshly ground black pepper

8

Hamburger buns or other favorite soft bun like brioche

Grated cheddar cheese
Instructions
In a deep sided skillet over medium-high heat, cook the ground beef, breaking into small pieces, until browned, about 5 minutes. Stir in the onion, green pepper, and celery and cook until tender, 4-5 minutes, stirring occasionally,

Add the remaining ingredients and simmer for 10-15 minutes or until you've taste-tested so many bites you've developed blisters on the roof of your mouth.

Toast buns and melt cheese on one side of the buns. Load the sloppy joe mix onto the buns and serve with pickles and potato chips.
Nutrition
Calories:
315
kcal
|
Carbohydrates:
33
g
|
Protein:
16
g
|
Fat:
13
g
|
Saturated Fat:
5
g
|
Cholesterol:
40
mg
|
Sodium:
944
mg
|
Potassium:
557
mg
|
Fiber:
3
g
|
Sugar:
8
g
|
Vitamin A:
191
IU
|
Vitamin C:
13
mg
|
Calcium:
99
mg
|
Iron:
3
mg
More Sandwich Recipe Ideas
For more ideas of what to make with a simple pound of ground beef, check out this list of 20 hamburger recipes here.
We send good emails. Subscribe to FoodieCrush and have each post plus exclusive content only for our subscribers delivered straight to your e-mail box.
Follow me on Instagram, Facebook, Pinterest, and Twitter for more FoodieCrush inspiration.
As always, thank you for reading and supporting companies I partner with, which allows me to create more unique content and recipes for you. There may be affiliate links in this post of which I receive a small commission. All opinions are always my own.