Caramelized onions add a whole lot of flavor with very few ingredients and even less effort, so long as you know the secrets. Here's how to caramelize onions.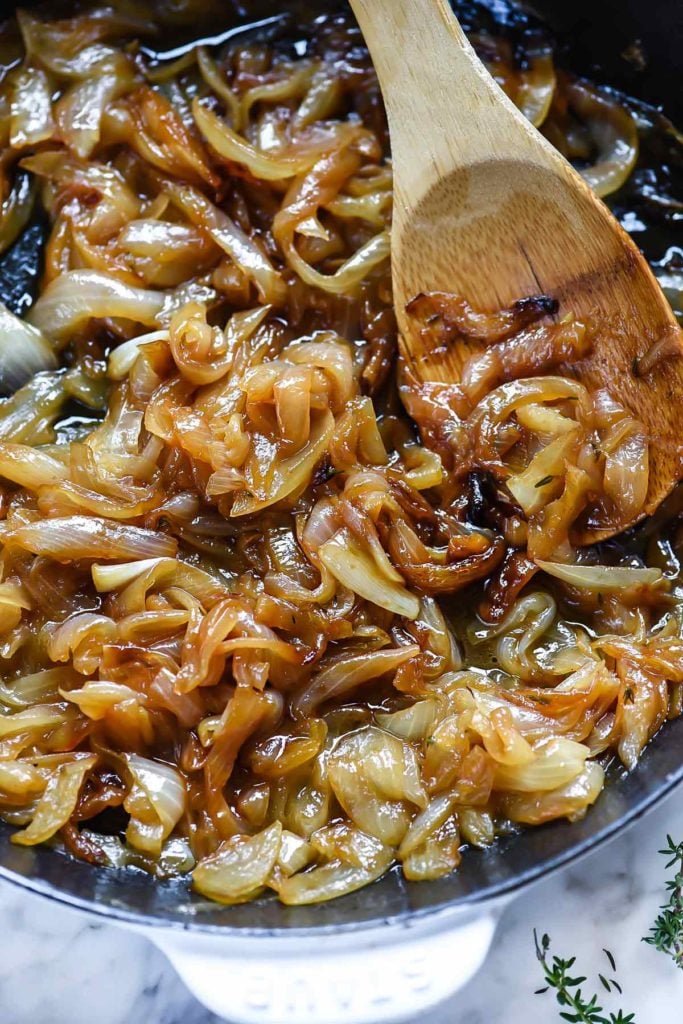 The Best Caramelized Onions Recipe
Chopped onion is the foundation to oh-so many recipes. But as everyone knows, raw and sometimes even sautéed onions can be intense or overpowering.
But when sliced onions are cooked low and slow in a bit of butter and oil, they become savory bites of sweet candy that are nearly jam-like, transforming everything from burgers to pizza to pastas, and definitely chips in dips, with their deep, rich, and nutty sweetness.
Don't even get me started on soup. French Onion Soup without caramelized onions would simply be tepid broth, and who's craving that?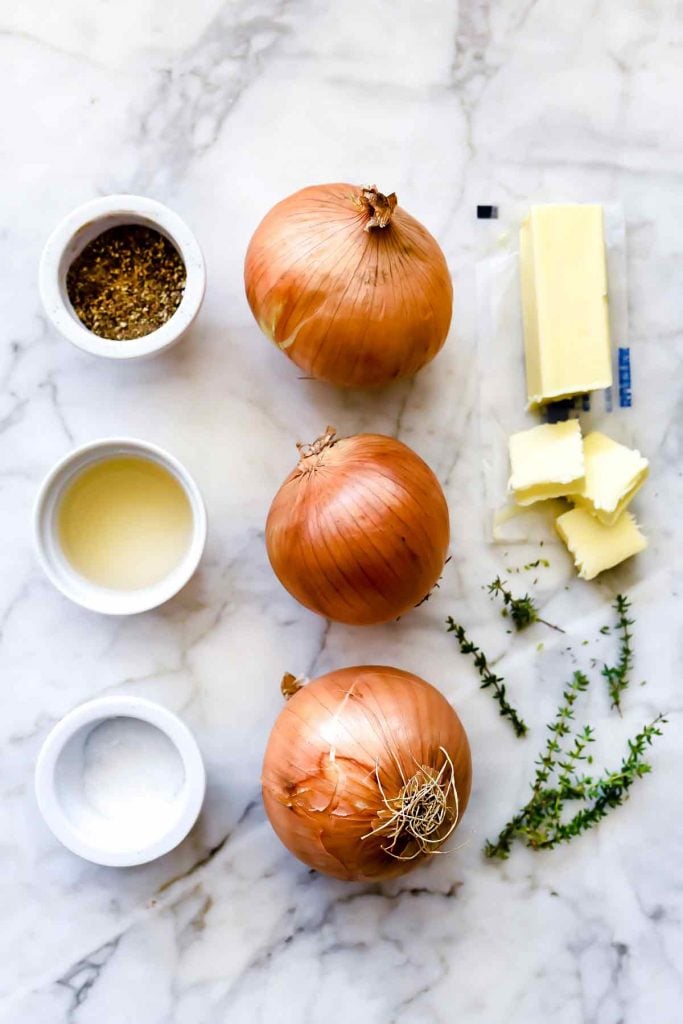 Caramelized Onions Ingredients
It's not necessarily the ingredients that make caramelized onions a success, it's time and patience. Low and slow is the name of this caramelized onion game. Like all simple recipes, the fewer the ingredients, the more important it is to do it right because there's no cover to mask mistakes.
To make this caramelized onion recipe, all you need is:
Butter
Canola oil
Onions
Kosher salt
Fresh thyme
White balsamic vinegar (optional)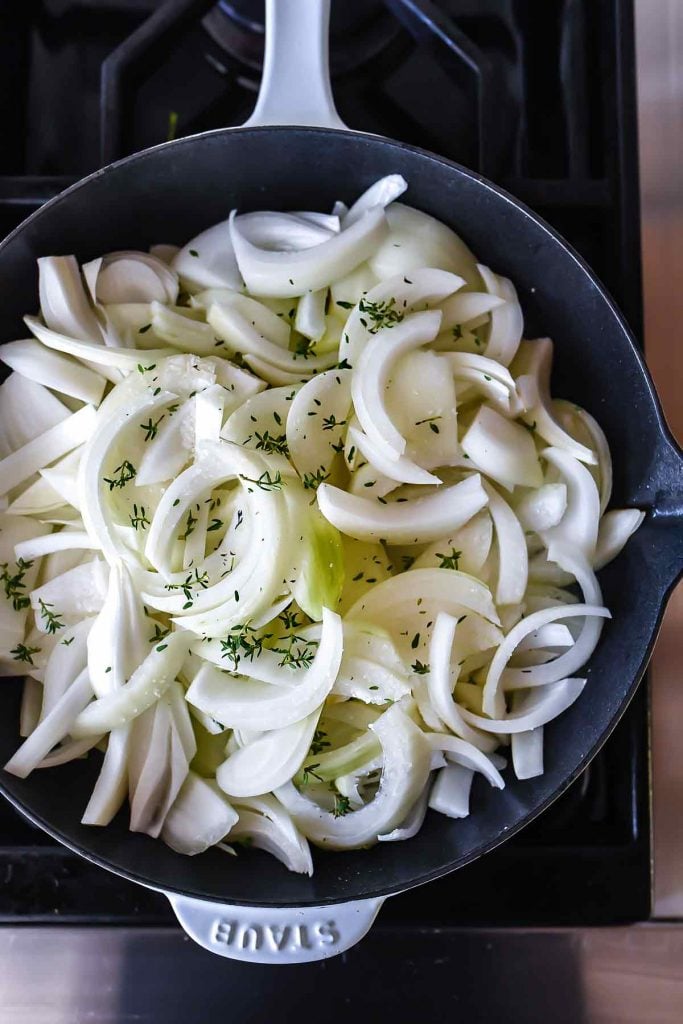 How to Caramelize Onions
Slice the onions in half from stem to stem, then slice into half moons. You'll have a whole lot of onion at the start, but as it cooks, those onions melt down considerably.
I use a cast iron skillet or a heavy bottom skillet so the onions deepen and darken and create little bits of fond (the buttery sugar remnants) on the bottom of the pan that are periodically stirred into the whole goodness.
Oil, either vegetable, olive, or canola, is added with butter, melting together to create a higher smoke point so the onions slowly brown but don't burn.
Kosher salt is always my go-to and helps draw out the moisture as the onions so they soften as they cook. I add the salt at the beginning of the process.
I add fresh thyme to my onions because I love the herbal flavor it imparts. It's really the perfect partner for the caramelized flavor.
Mom, Are We There Yet? How Long Does It Take to Cook Caramelized Onions?
You want the onions to cook slowly to release their sugars and caramelize, stirring just every so often so the onions become bronzed and jammy. Sure, this process takes time—at least one hour over medium-low heat—but this isn't a dish you have to sit and babysit the entire time. In fact allowing the onions to gel together without stirring deepens their flavor.
The onions are done once they've reached their bronzed beauty look. I feel they're a success when I have deep and dark strands entwined with lighter plump strands holding all that onion essence. Once you've made these a few times you'll discover your favorite way too.
Short On Time? How to Caramelize Onions Quickly
If your craving doesn't jive with the hands on the clock and those onions need to be done in a hurry, take this shortcut route. They're not quite as good as the low and slow method, but they'll do in a pinch.
What Are the Best Onions for Caramelized Onions?
I typically use yellow onions for this recipe, but sweet Maui onions and even red onions each work well too.
Can I Use Regular Salt Instead of Kosher?
Yes, but you'll need to add less salt than the caramelized onion recipe calls for. Table salt has smaller grains than kosher salt, so if you added the full teaspoon the recipe calls for your caramelized onions would wind up tasting far too salty.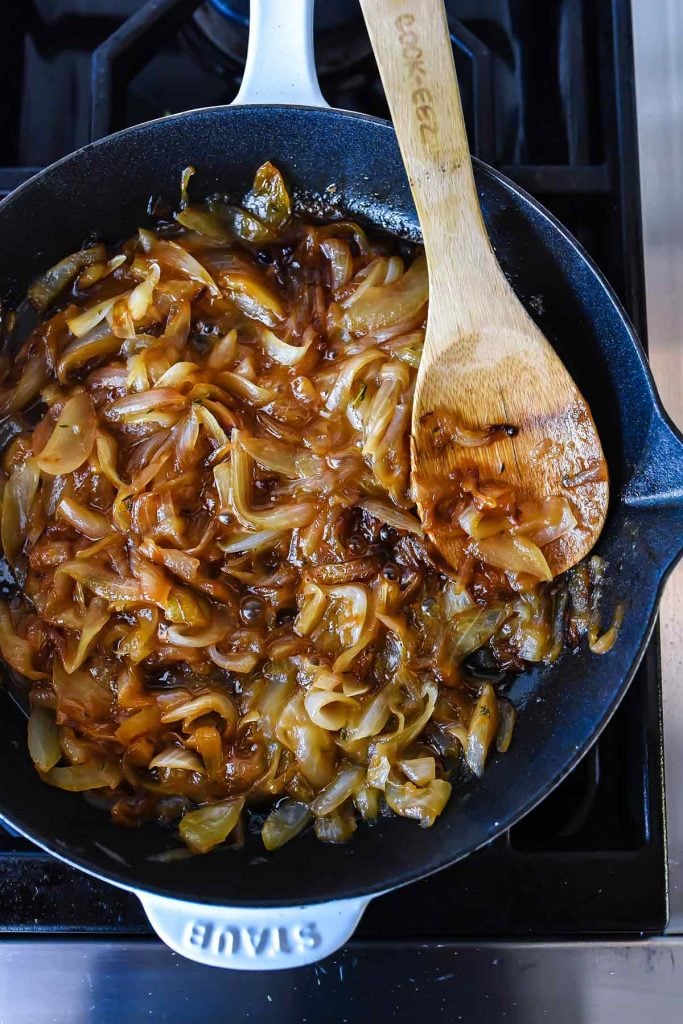 Tips for Making the Best Caramelized Onions
Be sure to slice the onions quite thinly. If the onions are too thick, they won't caramelize properly.
Also note that you can't use dried thyme in this recipe, only fresh. Fresh thyme is less potent than dried and will soften up as it cooks.
If the onions look like they're on the verge of burning or get dry, add a little water or stock to loosen them and rehydrate. Some recipes suggest adding a splash of vinegar to brighten the process, and sometimes I do and sometimes I don't. It's your call.
More Caramelized Onion Recipes You'll Love
If you make this recipe, please let me know! Bookmark this recipe and leave a comment below, or take a photo and tag me on Instagram with #foodiecrusheats.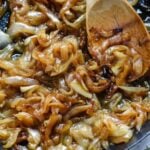 Print
How to Make Caramelized Onions
Caramelized onions add a whole lot of flavor with very few ingredients and even less effort, so long as you know the secrets. Here's how to caramelize onions.
Ingredients
2

tablespoons

butter

1

tablespoon

canola oil

3

large

yellow onions

, peeled, halved and thinly sliced

1

teaspoon

kosher salt

3

sprigs

fresh thyme

(leaves only)

1

tablespoon

white balsamic vinegar

(optional)
Instructions
Melt the butter with the canola oil in a large cast iron or heavy bottomed skillet over medium high heat.

Add the onions and sprinkle with the kosher salt and fresh thyme leaves. Cook the onions for 5 minutes or until they start to soften, stirring so they don't crisp or brown in spots.

Reduce the heat to medium-low, cover with a lid, and continue to cook, stirring the onions every 10-15 minutes or so. The onions will reduce and become more golden and jammy as they cook, giving off a rich nutty aroma. If the onions look like they're beginning to burn or crisp, stir in a splash of water or broth and scrape the caramelized fond from the bottom of the pan for the onions to absorb. Add the vinegar if desired in the last 10 minutes of cooking.

Continue to cook up to 1 hour or so for a deep, rich caramelized flavor. Serve immediately or refrigerate for up to one week.
Notes
Caramelized onions take time for the flavor to develop but not a whole lot of hand-holding. Allow the onions to cook undisturbed in between stirring times for the caramelization to happen naturally.
Nutrition
Serving:
1
g
|
Calories:
522
kcal
|
Carbohydrates:
46
g
|
Protein:
5
g
|
Fat:
37
g
|
Saturated Fat:
16
g
|
Cholesterol:
60
mg
|
Sodium:
2547
mg
|
Potassium:
657
mg
|
Fiber:
8
g
|
Sugar:
21
g
|
Vitamin A:
842
IU
|
Vitamin C:
38
mg
|
Calcium:
116
mg
|
Iron:
1
mg
Recipes That Are Even Better With Caramelized Onions
We send good emails. Subscribe to FoodieCrush and have each post plus exclusive content only for our subscribers delivered straight to your e-mail box.
Craving more life balance, less stress, and better health? Check out my Nourished Planner, the daily planner to help create simplicity and under-schedule your life.
Follow me on Instagram, Facebook, Pinterest and Twitter for more FoodieCrush inspiration.
As always, thank you for reading and supporting companies I partner with, which allows me to create more unique content and recipes for you. All opinions are always my own.