Simmered in beer with onions that become sweet and caramelized, this bratwurst recipe is a familiar German meal with a Wisconsin twist for the best reason to cheer at tailgates or clink cheers for Oktoberfest.
Hello, my name is Heidi. A classic German name, right? I even fit the demographic, with blue eyes and blonde hair—thanks more to my colorist than my genes as I've gotten older. But I can still claim it, right? Please say yes. Please.
Growing up, dishes from my youth like Weinerschnitzel and rouladen and often displaced the classic American favorites like pot roast and roast chicken or Liverwurst and pickles instead of peanut butter and jelly. German food is in my DNA.
So when fall festivities like football tailgates and Oktoberfest roll around, I'm happy to belly up to classic the cornerstone of nearly every German-American picnic or Superbowl game day: classic German bratwurst sausages with onions with a Wisconsin spin.
Our friend Tim hails from Wisconsin, a state with a bevy of German descendants. Who like beer. And football. And sausage. Years ago, Tim cooked his famous bratwurst for a Superbowl party at our house. Stewed in beer with sliced onions and then loaded onto soft rolls with my favorite grainy mustard, this style of bratwurst sandwich quickly became my favorite.

Bratwurst vs Sausage
Germans love their sausages, and bratwurst is just one of the many in the list.
So what's the difference between a regular sausage and bratwurst? Sausage can be made from dried sausage, smoked sausage, and fresh sausage with many countries having their own version. Bratwurst are fresh rather than smoked or dried.
What's in a bratwurst? Bratwurst is a fresh sausage of pork and veal, flavored with seasonings like caraway, coriander, and or nutmeg. Different regions of Germany have different flavorings with other popular sausages like garlicky knackwurst being one of my dad's favorites.
Sheboygan-style bratwursts are a popular version of sausage with plenty of onion that hails from Wisconsin, and is one of my favorite ways to make my brats.
Bratwurst Ingredients
I love brats. I love them steamed, grilled, and even boiled. Give me a slather of grainy mustard and a brat on a soft bun and I am good to go.
This bratwurst recipe is based on the Sheboygan-style bratwursts cooked with sliced onion in a beer broth.
The main ingredients you need for bratwurst and onions are:
Bratwurst sausages: First and foremost, choose a good quality bratwurst. If you can, get them freshly made from a butcher or German deli. My favorite in Salt Lake City is Siegfried's Delicatessen.
Onion: I use good old yellow onions. Slice the onions thick so they don't disappear as they cook down to sweeten and caramelize to candy goodness.
Caraway seed: Caraway is one of those spices that tastes distinctly German. Add 1 tablespoon of other spices and herbs if you want to experiment, like:
garlic cloves
fresh ground ginger
mustard seed
coriander seed
Beer or ale: I use a light pale ale or amber ale to flavor this recipe. These types of beer add a malt flavor tht sweetens as it cooks down and flavors both the brats and the onions.
Buns: One of my peeves about hot dogs, sausages and bratwurst is it HAS to be served on a great bun. And please, make it warm too. Choose a plain bun or one flecked with poppyseed or onion flakes if you like.
How to Cook Bratwurst
These bratwurst are steamed in beer and onions, absorbing all the delicious flavor the amber ale beer imparts—and another reason to try my beer steamed shrimp if you haven't yet.
The sliced onion is first cooked down in a little bit of butter then braised in the beer with the brats. As they cook, the onion softens in the beer broth, becoming a little bit jammy and an especially good topping to for the dogs.
Or hit the traditional route and serve sauerkraut as an always classic bratwurst topping.
What to Substitute for Beer
If you don't want to use beer in this recipe, simmer the bratwurst in a non-alcoholic beer, apple juice or apple cider, or try chicken or vegetable stock.
Give These Dogs a Crust
Depending on how you like yours, these bratwurst can be left as is, or given a crisper crust.
To crisp these dogs, toss on a hot grill for a smokey bratwurst crust. Or, finish them with a sear in the pan.
How to Serve Bratwurst
Bratwurst can be served as a sandwich on a bun and topped with mustard, onions, and or sauerkraut, or served as a main meal with German potato salad, sweet and sour cabbage and sauerkraut on the side.
Bratwurst calls for a good German mustard. I like a combination of both yellow German mustard and grainy mustard. This is one dog that is best when deli-style yellow mustard stays in the fridge.
Get ready to gorge, it's time to don your lederhosen, load up your steins, and get your brats on. Prost!
More German Recipes
If you make this recipe, please let me know! Bookmark it then leave a comment below or take a photo and tag me on Instagram with #foodiecrusheats.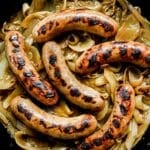 Print
Bratwurst In Beer With Onions
Ingredients
2

tablespoons

butter

1 ½

yellow onions

, sliced

1

tablespoon

caraway seeds

½

teaspoon

kosher salt

6

bratwurst sausages

1

12-ounce

bottle amber ale or nut brown ale

6

buns
Instructions
In a cast iron or heavy bottomed skillet, melt the butter over medium high heat. Add the onion and caraway seeds and cook for 5 minutes or until the onions begin to soften. Season with kosher salt. Nestle the bratwurst in the onions, add the bottle of ale and bring to a low boil. Reduce the heat to a simmer and cook for 30-40 minutes, turning the brats occasionally.

To finish the bratwurst on the stove, transfer the onions and beer broth to a bowl and set aside. Add the brats back to the skillet and increase the heat to medium high. Brown the sausages evenly on all sides, adding a little more butter or oil if needed. Add the onions and beer broth back to the skillet and keep warm.

To finish the bratwurst on the grill, preheat the grill to medium-high heat. Cook the bratwurst sausages on the grill for 2-4 minutes per side or until browned on all sides. Add back to skillet with the onions and beer and keep warm.

Serve on warm buns with onions and coarse, grainy mustard. Add sauerkraut if desired.
Nutrition
Calories:
441
kcal
|
Carbohydrates:
37
g
|
Protein:
15
g
|
Fat:
25
g
|
Saturated Fat:
9
g
|
Cholesterol:
59
mg
|
Sodium:
1079
mg
|
Potassium:
283
mg
|
Fiber:
2
g
|
Sugar:
6
g
|
Vitamin A:
117
IU
|
Vitamin C:
2
mg
|
Calcium:
38
mg
|
Iron:
11
mg
More Sausage Recipe Ideas
We send good emails. Subscribe to FoodieCrush and have each post plus exclusive content only for our subscribers delivered straight to your e-mail box.
Follow me on Instagram, Facebook, Pinterest and Twitter for more FoodieCrush inspiration.
Craving more life balance, less stress, and better health? Check out my Nourished Planner, the daily planner to help create simplicity and under-schedule your life.
As always, thank you for reading and supporting companies I partner with, which allows me to create more unique content and recipes for you. There are affiliate links in this post of which I receive a small commission. All opinions are always my own.