This classic reuben sandwich features homemade corned beef and sauerkraut, melty Swiss, and a rich, creamy Russian dressing, all sandwiched between the best marbled rye bread. Pass the napkins.
It's a sandwich in the classical sense of sandwiches. But it is so much more than that.
It's grilled. It's cheesy. It's crunchy and gooey all at the same time. It begs to be dipped into matzo ball soup, and in our family, it is.
And it's probably the only sandwich I honestly, seriously crave.
I bet you know that feeling. That gut-wrenching, I DON'T CARE IF I'M ON A DIET, mouth-watering-when-you-think-about-it CRAVING!!!. For the love of God, just give me a bite!
And more napkins. Lots more napkins.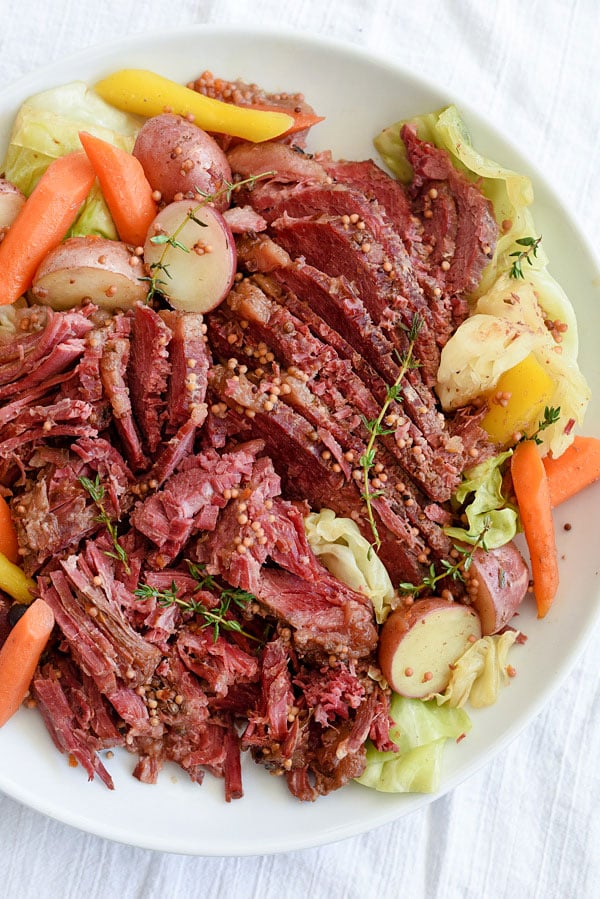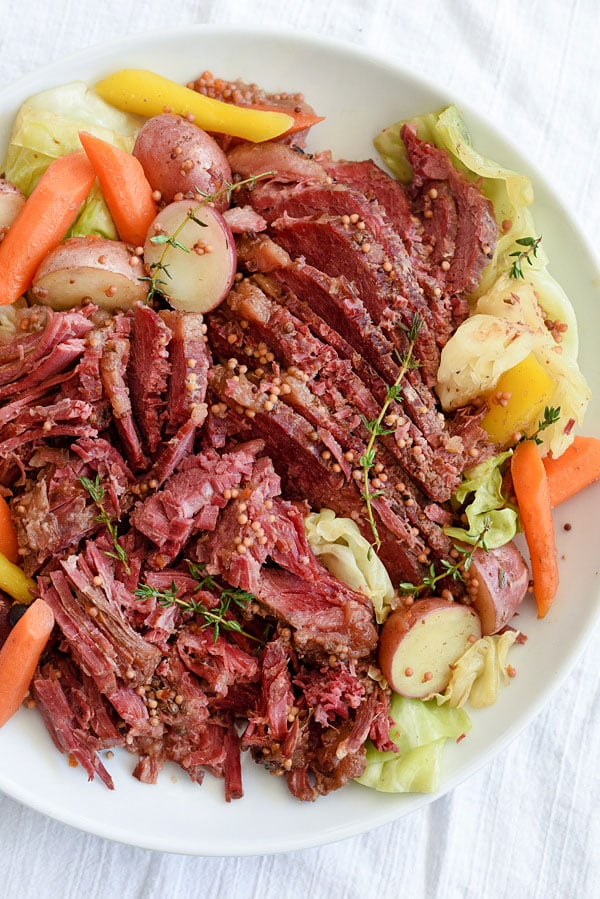 I became a reuben aficionado in 4th grade or so. That's about the time my mom and I started going on shopping dates. We would drive to the big city of Salt Lake to window shop where I'd try to convince her to buy me an iron-on-Farrah Fawcett-emblazoned t-shirt, and she'd try to convince me to wear culottes. Annnnnnd, they're back. Ugh.
After shopping we always made time for lunch. I think that secretly that shopping was just an excuse to lunch. We most always ended up at The Pub, normally for adults only, but because I was with mom, I got in too.
That's where I had my first Reuben. It was life-altering and spoiled me for any other sandwich eclipsing that meaty, sauerkraut bite between two slices of rye bread. Others would solidly stand forever in the shadows of it's sandwich greatness.
So when it comes time for the St. Patrick's Day and the opportunity to break out the slow cooker to make my favorite slow cooker corned beef, I ALWAYS plan on sandwiches after.
Yes, I'll even gyp family members on their serving of corned beef if I see we're running low on leftovers for sandwich fixins'.
They always thank me later.
About the Recipe
To start off this killer sandwich, I always opt for corned beef rather than pastrami. As I mentioned above, I start off with homemade corned beef rather than what you might find at the deli. I simply prefer the meatier chunks instead of thin, shaved slices. If I have extra jus left over from cooking my corned beef, I save it separately and warm the corned beef in the jus to moisten and flavor it before layering it on the bread. Otherwise a quick zap in the microwave works for warming it up for me.
My version of the best reuben is all about the fixins', of which there are few, making it a very simple sandwich to make.
One of the key ingredients is a really good rye bread. It can sometimes be a challenge to find a decent, thick sliced rye bread but if you search out a local bakery, you will hopefully find yourself in luck. The rye seeds with bits of caraway add the unique herby flavor to any reuben. I found my Rye Swirl Pullman bread from our local Stoneground Bakery. I imagine it's more plentiful during March when reubens are in higher demand so it's easier to find.
Next up is the cheese. I used a sliced swiss cheese for this sandwich and put a slice on both the bottom piece of the bread and the top piece of bread. The melted cheese acts as a barrier so your bread won't get soggy if you happen to add a little extra jus or sauerkraut juice. Just sayin' you might.
A homemade Russian dressing ties this sandwich together. I sort of gag at the thought that I used to make this salad dressing for myself at dinner time as a kid and called it Thousand Island dressing, slathering it on iceberg lettuce and cucumbers. So gourmet! These days I save it especially for this sandwich. My secret ingredient is a tablespoon of pickle juice. It adds just the right vinegar kick.
Be sure to drain the sauerkraut well so your sandwich isn't soggy. If you aren't a fan of sauerkraut, try using coleslaw instead. This is my favorite homemade coleslaw recipe.
Remember to butter the outsides of your bread before stacking your sandwich high and butter the outside of the bread so the dents and crevasses of your break align as if they were still in loaf formation.
I use a cast iron skillet and cook my sandwiches over medium low heat, just high enough to melt the cheese and gently toast the bread.
If you make this recipe, please let me know! Leave a 
 rating on this recipe below and leave a comment, take a photo and tag me on Instagram with #foodiecrusheats.
Print
My Favorite Reuben Sandwich Recipe
This classic reuben sandwich features homemade corned beef and sauerkraut, melty Swiss, and a rich, creamy Russian dressing, all sandwiched between the best marbled rye bread. 
Servings
4
makes 2 sandwiches
Ingredients
½

cup

mayonnaise

1

tablespoon

sweet pickle juice

1

teaspoon

sweet pickle relish

1

teaspoon

lemon juice

1

teaspoon

horseradish cream

4

slices

marbled rye bread

3-4

tablespoons

butter

, softened

4

slices

swiss cheese

½

pound

cooked corned beef

, warmed

½

cup

sauerkraut

, drained
Instructions
Mix the mayonnaise, pickle juice, pickle relish, lemon juice and horseradish cream in a small bowl and set aside.

Preheat a frypan on medium to medium-low heat. Butter one side of each of the slices of bread and place the buttered sides together. On one set of bread, lay a slice of swiss cheese on the bread, then top with half of the warmed corned beef, then half of the drained sauerkraut and half of the Russian dressing. Place the sandwich buttered side down in the frypan and top with another slice of cheese and the other side of the bread, buttered side up. Cover with a lid and cook until the cheese melts and the bread is golden. Flip and cook on the other side. Repeat with the makings of the other sandwich.
Nutrition
Calories:
532
kcal
|
Carbohydrates:
18
g
|
Protein:
16
g
|
Fat:
44
g
|
Saturated Fat:
15
g
|
Polyunsaturated Fat:
14
g
|
Monounsaturated Fat:
13
g
|
Trans Fat:
1
g
|
Cholesterol:
81
mg
|
Sodium:
1357
mg
|
Potassium:
278
mg
|
Fiber:
2
g
|
Sugar:
3
g
|
Vitamin A:
442
IU
|
Vitamin C:
19
mg
|
Calcium:
173
mg
|
Iron:
2
mg
We send good emails. Subscribe to FoodieCrush and have each post plus exclusive content only for our subscribers delivered straight to your e-mail box.
Follow me on Instagram, Facebook, Pinterest and Twitter for more FoodieCrush inspiration.
As always, thank you for reading and supporting companies I partner with, which allows me to create more unique content and recipes for you. There may be affiliate links in this post of which I receive a small commission. All opinions are always my own.