Charcuterie boards loaded with all the antipasti snacks have taken over the internet. Here's my tips for how to make your meat and cheese plates Instagram-worthy, along with a special treat for all to share.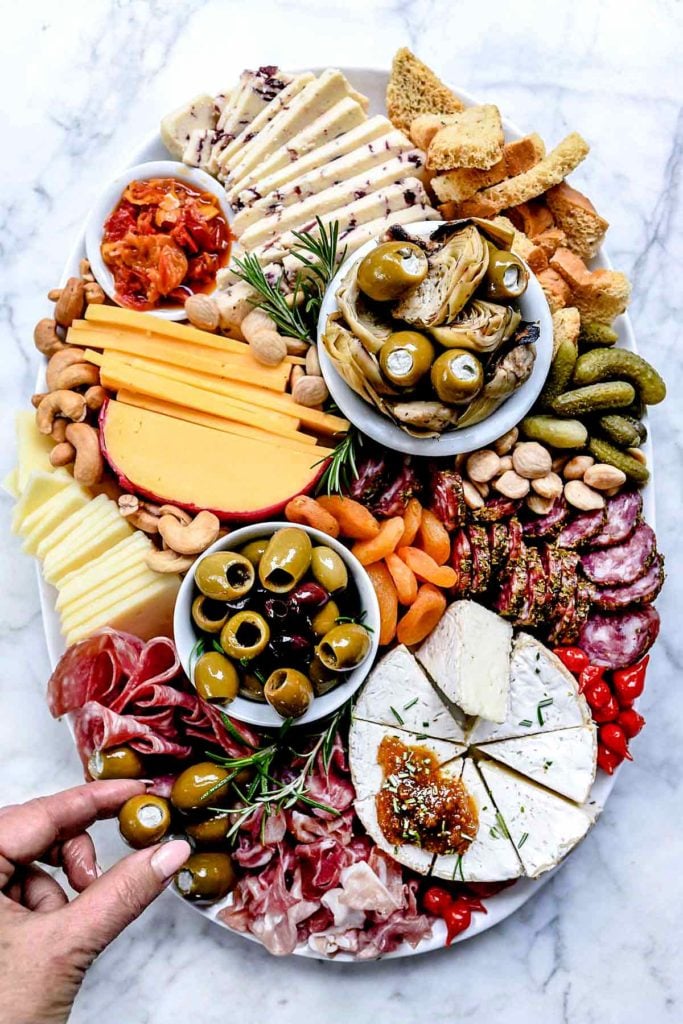 This post is brought to you by DeLallo Foods
'Tis the season for…charcuterie boards taking over the internet.
Whether it's a spur of the moment gathering for cocktails and fellowship, or a full-blown party to deck the halls and the tree, a meat and cheese board is the easiest appetizer to pull together fast, and it's always sure to please.
But how do you make your charcuterie board totally delicious, and at the same time a totally impressive image to show off to all your Instagram friends?
These are my tips for building the best charcuterie meat and cheese board platter that's almost too good to eat. And I do mean, almost…
But first, I have a treat for you!
My FoodieCrush HolidayCrush DeLallo Gift Box
I was honored when DeLallo asked me to curate some of my fave products into my very own FoodieCrush DeLallo meat + cheese + all the goodies gift box for all of the world to enjoy.
And baby, I did.not.skimp!
I followed all my tips to create a loaded gift box that combines all my favorite flavors.
Basically I've done all the work for you. Merry Christmas to all :)
Inside My DeLallo HolidayCrush Gift Box
This gift box is PACKED with deliciousness and follows all my rules for making the best charcuterie board. From briny cornichons and herbaceous olive medleys, to rich, indulgent cheeses and savory charcuterie, this cheese board literally has it all, including:
DeLallo Deli Fresh Pitted Seasoned Olives Jubilee 7 oz.
DeLallo Deli Fresh Blue Cheese Stuffed Olives 7 oz.
DeLallo Deli Fresh Cornichons in Brine 6 oz.
DeLallo Grilled Artichoke Halves 12 oz.
DeLallo Fig Spread 10 oz.
DeLallo Imported Italian Roasted Pepper Bruschetta 7.05 oz.
Sweet & Tangy Pepper Drops 4.3 oz.
DeLallo Sliced Prosciutto Pack 5 oz.
DeLallo Sliced Sweet Sopressata Pack 5 oz.
Italian Herb Dry Cured Sausage 7 oz.
DeLallo Gouda Cheese Wedge 8 oz.
DeLallo Parmesan Cheese Wedge 8 oz.
Crandale Cheese 8 oz
Triple Creme Brie 8 oz.
Rosemary Focaccia Toasts 3.5 oz.
Dried Apricots 6 oz
Roasted & Salted Cashews 4.5 oz
Marcona Almonds
There are enough ingredients to make one massive cheese board, or split it in half for two.
Now if that isn't enough to get the party started, I don't know what will.
My Tips for a Picture Perfect Instagrammable Cheese Board
The ultimate goal of any cheese board is to entice people to eat it. Here are my tips to make your board perfectly pickable and picture perfect.
Pack it tight. If you look at the most favorited cheese boards on Instagram, they are the charcuterie boards that are PACKED with a variety of ingredients. Choose a board or slate you can totally fill to the rims with each and every bite.
Make it a mix of savory, sweet, and sour. Just like any great meal, balancing flavors is key to a good charcuterie board. Savory flavors are often the most dominant, but adding a few sweet ingredients like dried apricots and cranberry-spiked cheeses, and a couple of cornichons and pickled peppers for a puckery bite, gives your board all the right tastes. Also be sure to choose vary your ingredients with hard, soft, crunchy, and smooth.
It's okay to cut the cheese. The number one mistake I see on cheese boards is the host serves a big hunk of hard cheese and then expects guests to chisel it down into manageable bites. In the end, that cheese is the one thing left over. Do the work for them, and slice your hard cheeses into bites they will happily nosh.
Let the big guys go first. Place your biggest ingredients on the board first (like a wheel of soft brie cheese), including anything saucy or liquidy in small bowls or jars. Then, and add the sliced and smaller ingredients around them.
Keep your groups and watch your colors and shapes. Build out your sliced cheeses in fan shapes and use ingredients as borders or dividers from one another. You don't have to be precise or precious, in fact, a little variety adds life to your board. When it comes to colors, choose to create an ombre of color with slow transitions of color, or, place opposite colors next to one another to create variety.
Get saucy with it. Adding small bowls or dollops of fig jam or bruschetta to your board makes it fun to build special bites and layer flavors. Be sure to include small spoons for dipping.
Turn meat into tulips. Rather than laying flat the sliced meats like DeLallo's prosciutto, sliced soprasetta, or Italian herbed sausage, fold into ribbons or tulip shapes and make a statement that's easy to grab.
Give it some crunch. Nuts, crackers, or DeLallo's incredible Focaccia Toasts add a change up in texture and neutral bite to the feasting as well as a visual switch. The smaller nuts are also great for filling in any gaps you may find.
Give it the herbal finish. The only thing I added to this cheese board that wasn't included in my HolidayCrush gift box are a few sprigs of rosemary I keep cut in a jar on my counter. The greenery adds just a bit of fresh punch.
If you make this recipe, please let me know! Bookmark this recipe and leave a comment below, or take a photo and tag me on Instagram with #foodiecrusheats
More Charcuterie Cheese Boards and Platter Ideas to Make Too
Do you have a favorite cheese board idea you love? Tell me all about it in the comments below.
We send good emails. Subscribe to FoodieCrush and have each post plus exclusive content only for our subscribers delivered straight to your e-mail box.
Follow me on Instagram, Facebook, Pinterest and Twitter for more FoodieCrush inspiration.
This post is sponsored by DeLallo Foods. As always, thank you for reading and supporting companies I partner with, which allows me to create more unique content and recipes for you. There are affiliate links in this post of which I receive a small commission. All opinions are always my own.