If you're still debating whether a wrap is really a sandwich or not, you can use this one as proof that either which way the vote comes in, we all agree that healthy, crunchy rainbow wrap lunches are what make the world go 'round.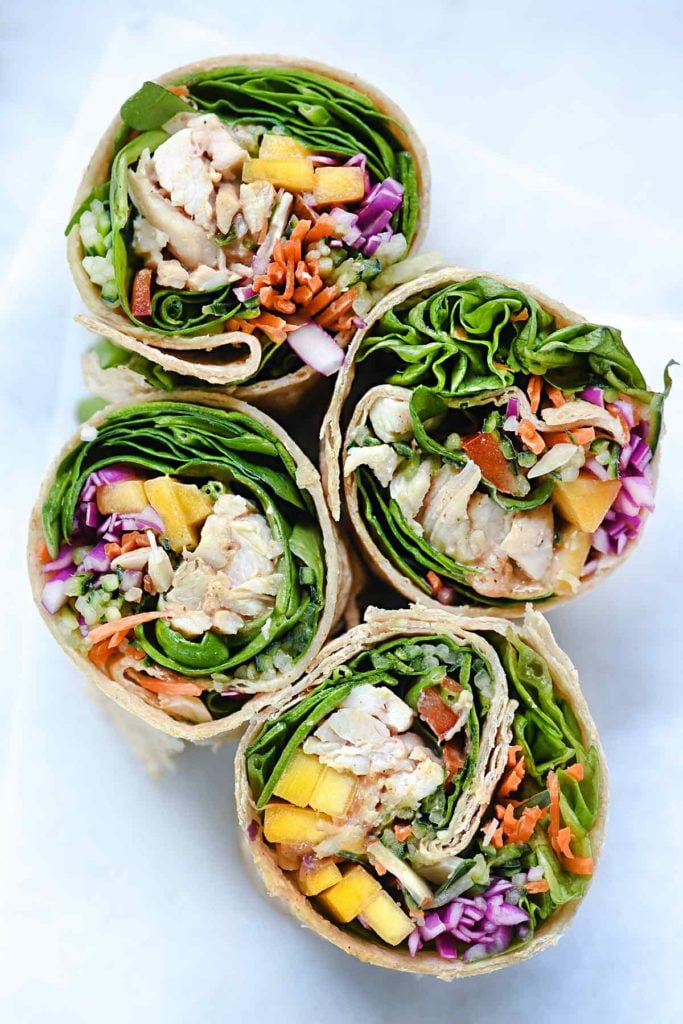 This post is brought to you by Almond Breeze
My daughter is mildly amused with the return to my teenage fascination with rainbows.
Chalk it up to reliving the memories of my eighth grade year as she makes her way through hers. Or it may be thanks to my continuing countdown of the quickly fading days of this age of innocence for my lil' baby. Or maybe it's thanks to the '80s boomerang of denim overalls, scrunchies, boom boxes, Polaroid cameras, casseroles, mom jeans and new remakes of Full House, CHiPs and Roseanne.
🌈 Either/or/and/alloftheabove…ahhh, 8th grade. Best year ever. 🌈
This easy, veg-heavy Thai-flavored lunch wrap represents all the things right with eating the rainbow. You've heard it a hundred times. At least I hope you have: Eating the rainbow is one of the best ways to ensure you're getting all the right nutrients in one fell swoop. And it's just one more reason that eating a healthy wrap for an easy lunch or quick dinner is a good idea.
What's In This Crunchy Veggie Wrap
A more appropriate question might be which veggies AREN'T in this wrap. It's loaded with crunchy flavor from a bunch of different veggies and then sweetened up with sliced mango, sliced chicken breast and flavor drizzled with a Thai-inspired almond butter sauce.
Here's the list of veg (+ 1 fruit) that made my rainbow rock and roll. Or rap and roll? Or more like wrap and roll…Ugh…here's the list:
red : bell pepper
orange : carrots
yellow : ummmm, mango
green : spinach, cucumbers, green onion, leafy lettuce, cilantro
blue : sorry no blueberries here (but they could be good!)
purple : purple cabbage
Of course this is just the starting line up. Add whatever veggies you have a hankering for or that are languishing in the fridge crisper.
Another thing I love about wraps are they're easy to meal prep for the week. At the beginning of the week, simply slice your veggies thin and store in airtight containers to prepare your wraps as your week progresses. I like to use my handheld mandoline or the super cool veggie shredding tool I picked up in Vietnam and that I cannot find ANYWHERE online. It's the little orangey-red tool in the photo above. If you have a source, please let me know because I only have one back-up and I'm not sure when I'll be back to the markets of Hoi An!
To all of those rainbow rolls of veggies I added baked chicken breast I had meal prepped like most every week and drizzled it all with all the flavors of my lightened-up Thai almond master dipping sauce.
Lightened Up Almond Thai Dipping Sauce
I subbed in creamy almond butter for the peanut butter often found in Thai or Vietnamese sauces because almond butter is actually 25% higher in monounsaturated fat than peanut butter, the type of fat linked to a reduction in heart disease and better blood sugar control, compared to the same amount of peanut butter. Every little bit counts.
But where my real nutritional savings came to play was substituting Almond Breeze almondmilk Unsweetened Coconut for full fat coconut milk in this sauce. Almond Breeze almondmilk lends the coconut flavor with just 80 calories in 1 cup and only 7 grams of fat, a far cry from what is found in in regular coconut milk, that averages among brands at 360 calories per cup and 36 grams of fat.
Not that I don't love coconut milk, because I do, but it bears repeating that every little bit counts. Plus, Almond Breeze is available in shelf-stable containers I keep in the pantry for convenience sake. 
How to Fold a Wrap Sandwich
While making a wrap is indeed very easy to do, there definitely is a trick to getting your wrap to stay together and not fall apart at the seams. You'll want to work quickly so you don't lose the filling and so your wrapper doesn't split or break. It's all in the motion of the ocean…
Layer the ingredients on your whole wheat wrap, lavash, or tortilla, in the center of your wrap, concentrating the thicker pieces of chicken somewhere in the middle and drizzle with the sauce.
If you want to show off the fresh edges of your ingredients, fold over just one edge into the middle, or fold both left and right into the middle if you want it more tidy and sturdy ala a burrito.
Then, starting with the edge closest to you, fold over and tuck the bottom portion of the wrap toward the middle, squeeze gently with your fingers into the palms of your hands to make a tight, snug roll, like a sushi master does to a hand roll or a burrito builder to a burrito.
Finish off the wrap by finishing off the rolling.
Slice at a diagonal or into pinwheels and get your lunch bites on.
If you have extra ingredients prepped but don't feel like a wrap one day, turn the ingredients into a salad, or use a rice paper wrap with cellophane noodles to make spring rolls. Or add it all to pasta noodles for a healthy pasta salad.
There's loads you can create once you have the batch cooking basics.
If you make this recipe, please let me know! Bookmark this recipe and leave a comment below, or take a photo and tag me on Instagram with #foodiecrusheats.
Print
Chicken and Mango Rainbow Veggie Wraps
If you're looking for a lower calorie wrap option, pay attention to the calorie counts when choosing your wrap. The larger wraps can have just as many calories as a two pieces of whole wheat seeded bread but not nearly the protein so beware of hidden factors when you go in with good intentions.
Ingredients
For the Almond Dipping Sauce

1

cup

Almond Breeze almondmilk Unsweetened Coconut

¾

cup

smooth almond butter

¼

cup

fish sauce

3

tablespoons

minced or grated fresh ginger

3

tablespoons

brown sugar

2

tablespoons

soy sauce

½ to 1

teaspoon

crushed red pepper

, to taste

For the Wrap

Whole wheat wrap

, tortilla or lavash bread

Choose an assortment of colorful veggies and or fruits like mango or pineapple and cut into ribbons

, spiralize or shred, such as:

bell peppers of any color

, red onion, carrots, spinach, cucumbers, sprouts, leafy lettuce, cilantro, mint or basil, purple cabbage or green cabbage, water chestnuts, snap peas, zucchini, broccoli and more...

⅓

cup

rotisserie chicken

, shredded

sliced almonds or sesame seeds

chopped green onion
Instructions
Place your wrap on a flat surface and layer with the veggies, chicken, and herbs. Drizzle with a few spoonfuls of the almond sauce and garnish with the almonds and green onions. Save the rest of the sauce for another day or another recipe idea.

Fold into a cylinder, cut in half or in pinwheels and serve. Wraps can be made ahead and refrigerated for up to 2 days.
This post is sponsored by Almond Breeze. As always, thank you for reading and supporting companies I partner with, which allows me to create more unique content and recipes for you. All opinions are always my own.
Thanks for reading and subscribe to FoodieCrush to have each post delivered straight to your e-mail box.
Follow me on Instagram, Facebook, Pinterest and Twitter for more FoodieCrush inspiration.