There are several staples in our arsenal of grilling recipes but when the salmon are running, Grilled Salmon Fillet with Cucumber Dill Sauce goes to the top of the list every time.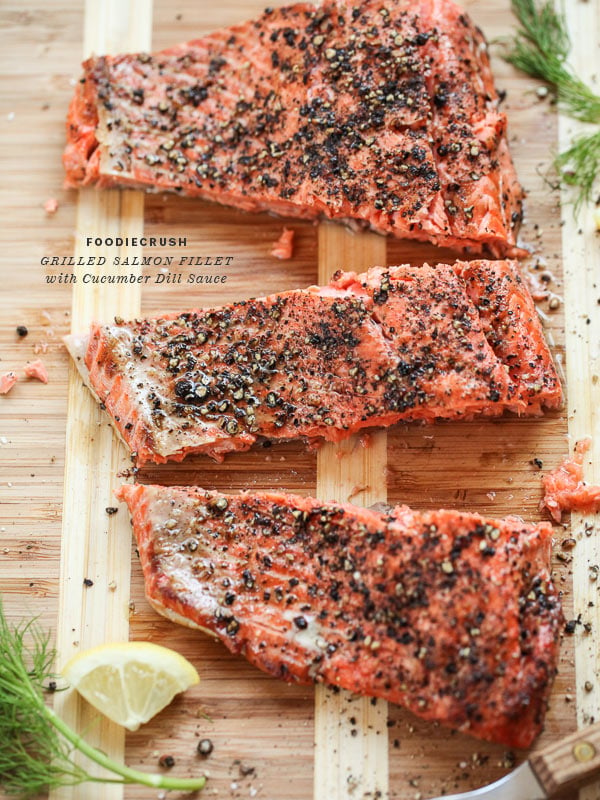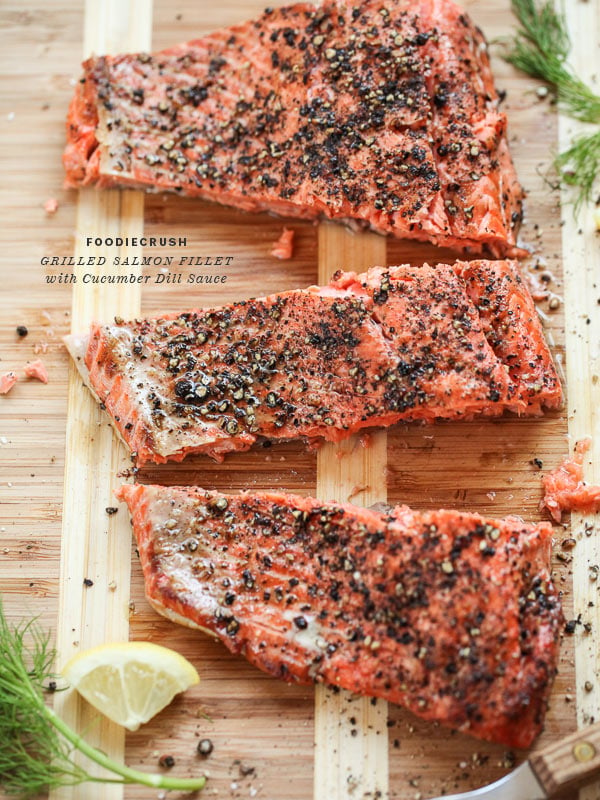 While I'm as guilty as the next Twitter fan when it comes to guffawing about celeb stars new baby names or following the hashtag thread when events are happening around us that will have a much wider affect than my daily instagram of what I had for breakfast, one of the best parts about Twitter is keeping up with my favorite food producers and distributors.
So when I saw a tweet from my local Whole Foods about wild, freshly caught Alaska Sockeye Salmon being sold for one day only for just $12 a pound—half the price I normally see it—I took note. Then I retweeted it to share the good news and promptly cleaned out my freezer so I could stock up.
And that's when I started daydreaming about my favorite grilled salmon fillet recipes and sauces to go with it.
Sure. Most any fish you eat is going to be good for you. Even the farm-raised, sort of pinkish salmon sold at your local discount store is going to be better for your heart health than a lot of things you could eat.
But the flavor? Simply not there. Those finned babies don't have anywhere to swim when they're ganged up in a water pen fighting for air in their H2O farm stall. They don't have the opportunity to exercise and create a meaty inside full of flavor.
But wild salmon that swim in long, cold rivers make for a supremely lush and flavorful—not fishy—protein packed health source ripe with Omega 3's. All of those good things your body craves for heart health, inflammation fighters and helping with cognitive functions.
Wild Sockeye salmon is just plain and simply good for you food.
So why is this fish so pricey and why did it get me so excited about the deal that I tossed my daughter's 3-month-old fudge pops?
Here's why.
See, these salmon are only fished from mid-May to September, with 3 main varieties (Kings, Sockeye and Coho) rolling out in stores at varying times due to limited fishing time on the rivers, instated by the Alaska Fish and Game, restricting commercial fisherman and their catch to help ensure the same number of fish returning the next year and avoid over fishing.
There are plenty of occasions for getting fancy with grilled salmon fillet recipes, but like many things in life, simpler is often…just..better.
Grilled salmon fillet is my husband's domain. He's the one that does all of the prep and has made and remade hundreds of variations on tartar sauce/dill sauce/cucumber sauce.
And that's why this is a real life post, one with worn-out cutting boards, bowls that don't show off the recipes as well as they could, bananas and drying dishes in the background. Not to mention my husband's duct taped finger thanks to a kitchen war wound.
Life ain't always pretty but there comes a time when eating dinner comes first and blogging about it comes last. This is one of those times. But the fish is too dang good not to share with you so I don't think you'll mind.
This is his latest, so far most favorite version of dill sauce, one with a little tweak you might not expect: The addition of just a touch of blue cheese dressing that provides just the right tartness to make a perfect topper for my favorite recipe for grilled salmon.
But if you're not a fan of blue cheese, feel free to leave it out. The simple sauce is delicious with or without it.
Print
Cucumber Dill Sauce
The addition of blue cheese dressing gives this cucumber dill sauce a tart tang that's perfectly paired with a sturdy fish.
Ingredients
½

cup

sour cream

½

cup

olive oil mayonnaise

½

english cucumber

about ½ cup, diced

¼

cup

blue cheese dressing

2

tablespoons

fresh dill

chopped

zest of 1 lemon

1

teaspoon

lemon juice

pinch

of kosher salt
Instructions
Combine all ingredients in a bowl. Refrigerate until ready to serve.
Thanks for reading and please keep in touch by subscribing to FoodieCrush and follow me on Twitter, Facebook and Pinterest. I was not compensated for this post, I just like good, fresh fish. But thanks for supporting my partners which allows me to create new and special content like this for my you. As always, all opinions are my own.