Fresh mango and strawberries mix with avocado, cilantro, red onion and jalapeño in this easy to make, zesty mango salsa that's sweetened with lime and honey.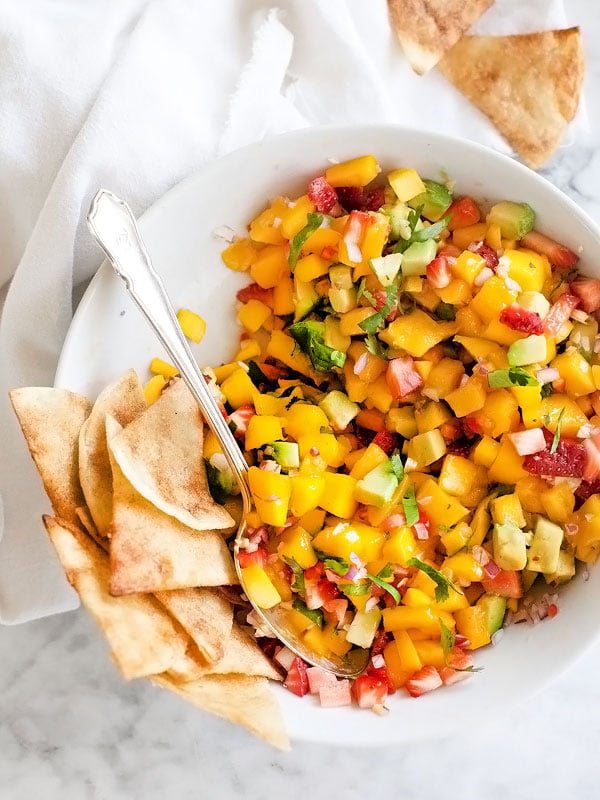 My chicken breasts were crying out for help. "Ka-kah! Help me! Just salt and pepper makes me b-o-r-i-n-g"
Because who craves boring chicken? Me? You? Hardly.
"Wait! I have that mango salsa recipe that would be the perfect topper. Let me go to the bloggity blog and find the recipe!"
Actually, that was me "asking" my husband to go to the blog and find it. And he couldn't.
"But I know it's there." And it was. But not in plain sight. You guys may think that food bloggers have each and every recipe we've created formatted directly into our brains like the hard drives of our computers. That, my friends, is a fallacy.
The more likely scenario is that because we're always dreaming of recipes akin to sugar plums dancing through our heads that we can't remember a dad gum thing.
Hence, the blog! Our recipe diaries! Let's see what we made and how we did it.
When you can find it.
Back to that boring chicken.
I dug on the FoodieCrush bloggity blog. And I looked for mango salsa. And I realized I didn't ever post the recipe solo. On its own. As the starring role in its so deserving award in the Academy Awards Hollywood Walk of Fame MTV Music Awards Golden Globes!
Instead, my mango salsa accompanied my recipe for Dessert Nachos with Mango Strawberry and Avocado Salsa. An award winner in its own right. But one that outshined my mango avocado salsa in the recipe search.
So here it is, my Mango Salsa, hitting the road, flying the coop, looking for its own new home to dip its chips in. I hope it's yours.
What's in Mango Salsa?
This fresh fruit salsa is packed with a little bit of everything. If you're worried the mix of sweet and savory won't work here, well, don't be. Because this stuff is addicting.
For this mango salsa recipe, you'll need:
Mangos
Strawberries
Avocado
Red onion
Garlic
Jalapeño
Cilantro
Lime juice
Honey
If you like a bit of a kick, leave the seeds in the jalapeño. Otherwise, discard them before finely mincing the pepper.
How to Make Mango Salsa
Simply prep the ingredients as instructed in the recipe card below, and then mix everything together in a large bowl. In a separate bowl, whisk together the honey and lime juice and add a little bit of the mixture at a time to the mango avocado salsa until you're happy with the flavor.
If you're making this salsa for guests, I recommend serving it soon after making it as the avocado will begin to brown and the fruit will become slightly mushy over time.
How to Tell if a Mango is Ripe
The key to any good mango salsa is really juicy, ripe mangoes. The best way to tell if a mango is ripe and ready to be sliced is to press it gently with your thumbs. If the mango gives a bit, it's probably ripe (note that the mango shouldn't be super squishy). You can't tell if a mango is ripe or not based solely on the color since different varieties are varying shades.
Which Variety of Mango Should I Use?
It doesn't matter! Use whatever kind of mango is on sale at your local grocery store. As long as the mango is nice and ripe when you make this salsa, it'll taste fab.
Tips for Making Mango Salsa
Since I'm the one at the table who's always craving a plethora of flavors, I added strawberries and avocado to my salsa. If you prefer straight mango, go with 1 more cup of the mango and skip the other fruits.
Fresh lime juice and honey sweeten this salsa, but mixing the two can be a challenge. A quick burst in the microwave will soften the honey so it's easily whiskable.
Mango salsa is great with chips (have you tried cinnamon flavored baked tortilla chips?) but it is a super versatile accompaniment for fish, shrimp, pork, chicken, fried eggs, or plain old melty cheese.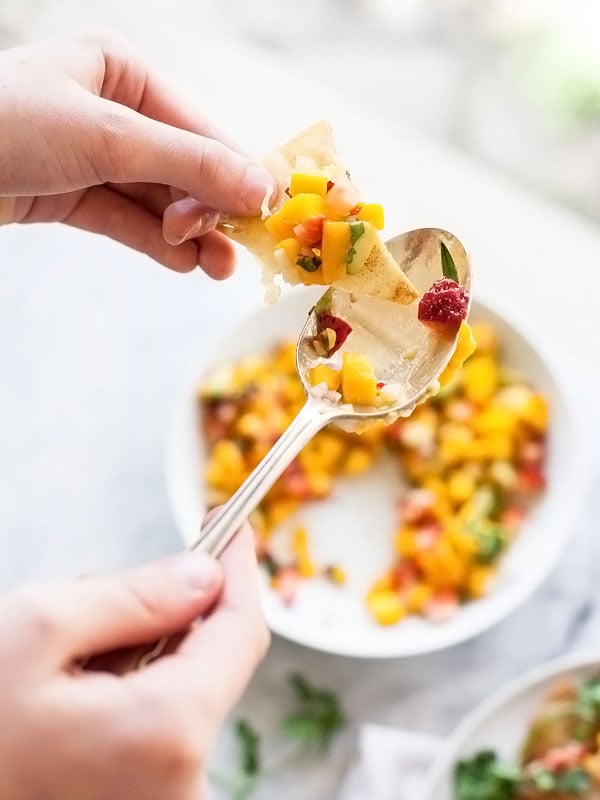 More Homemade Salsa Recipes You'll Love
If you make this recipe, please let me know! Leave a comment below or take a photo and tag me on Instagram or Twitter with #foodiecrusheats.
Print
Mango Salsa Recipe
Fresh mango and strawberries mix with avocado, cilantro, red onion and jalapeño in this easy to make, zesty salsa that's sweetened with lime and honey.
Ingredients
1½

cups

mango*

, cut into a large dice

½

cup

strawberries

, cut into a large dice

½

cup

avocados

, cut into a large dice

⅛

cup

red onion

, minced

1

teaspoon

garlic

, minced

1

red jalapeño

, seeded, deveined and minced

2

tablespoons

cilantro

, slivered

2

limes

, juiced (about ¼ cup)

1

tablespoon

honey
Instructions
Mix all of the ingredients up to the cilantro in a medium size bowl.

Heat the lime juice and honey in the microwave in a microwave save bowl for 15 seconds and then whisk to combine.

After it has cooled, add 2 tablespoons to salsa and gently fold to combine. Add more honey lime juice to taste and garnish with cilantro.
Notes
* If you prefer straight mango, go with 1 more cup of the mango and skip the other fruits.
Nutrition
Calories:
206.92
kcal
|
Carbohydrates:
42.27
g
|
Protein:
2.85
g
|
Fat:
6.26
g
|
Saturated Fat:
0.94
g
|
Sodium:
7.45
mg
|
Potassium:
535.74
mg
|
Fiber:
7.26
g
|
Sugar:
29.49
g
|
Vitamin A:
1520.86
IU
|
Vitamin C:
100.73
mg
|
Calcium:
41.48
mg
|
Iron:
0.95
mg
Recipes to Pair with Mango Salsa
Have a great day friends, and make something good.
Craving more life balance, less stress, and better health? Check out my Nourished Planner, the daily planner to help create simplicity and under-schedule your life.
We send good emails. Subscribe to FoodieCrush and have each post plus exclusive content only for our subscribers delivered straight to your e-mail box.
Follow me on Instagram, Facebook, Pinterest and Twitter for more FoodieCrush inspiration.
As always, thank you for reading and supporting companies I partner with, which allows me to create more unique content and recipes for you. There may be affiliate links in this post of which I receive a small commission. All opinions are always my own.