After an amazingly late summer start thanks to one of the rainiest springs we've had in a long time, my harvest is finally coming on. So being the responsible gardener that I am, I'm now surfing the web for new ways to use the bounty I've spent hundreds of dollars watering, fertilizing and now plucking from their green, lush vines.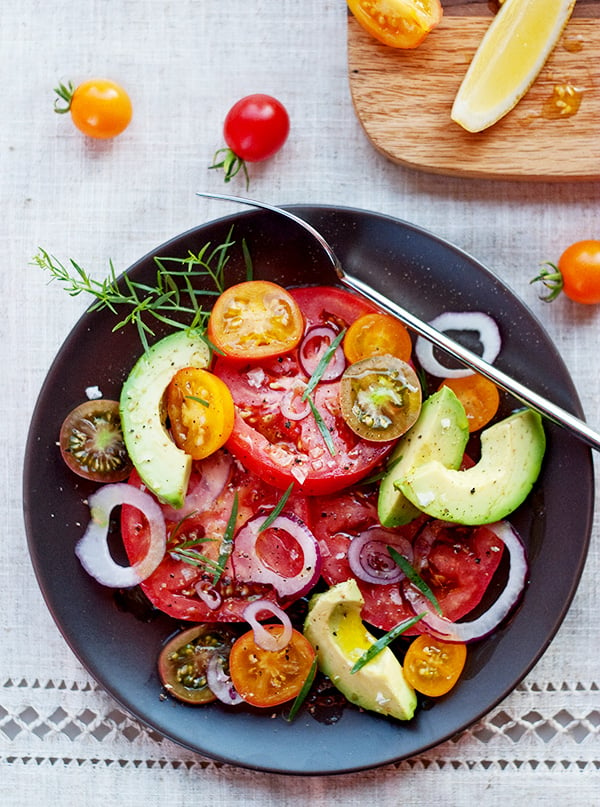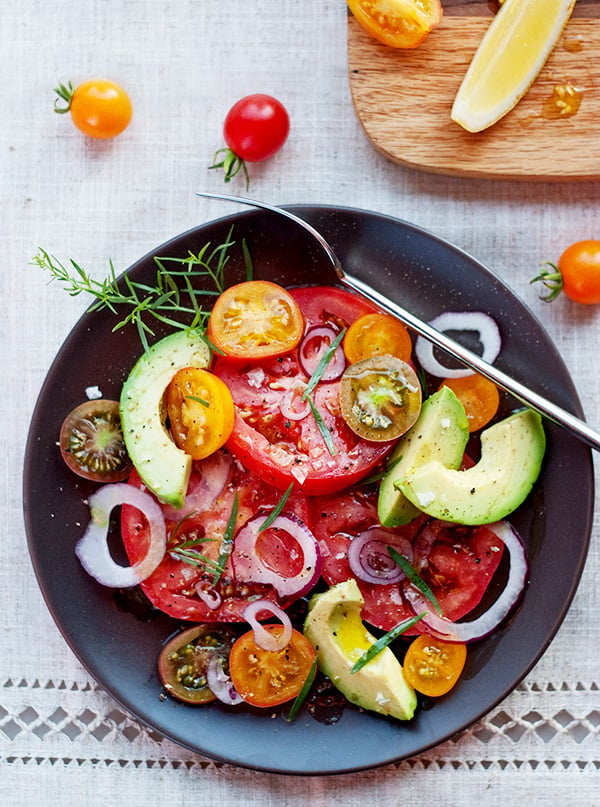 Is it all worth it?
Once I bite into the juicy, warm nectar that has become a home-grown cherry tomato, my response without hesitation is "hell yes."
At this time of year I find it easy to veer toward the tomato recipes that are more caprese-style, studded with basil and balsamic vinegar. But today I'm going off the grid and putting my balsamic in the back seat.
Inspired by an avocado and onion salad my husband and I came to crave from a favorite Cuban restaurant (and that I always asked for tomatoes to be added to), I've embellished their inspiration and made it my own with creamy avocados, onion, homegrown tomatoes and lick-loving licoricey-tarragon—just 'cause I'm an herb-loving kind of girl. Sometimes the salad gets more tomatoes, sometimes more avocado, just depends on what I have on hand. Today, it's pretty lycopene loaded thanks to my heirloom cherry 'mater harvest.
If you make this recipe, please let me know! Leave a comment below or take a photo and tag me on Instagram with #foodiecrusheats.
Print
Avocado, Onion and Tomato Salad
This simple tomato salad is an easy side dish for any dinner or makes a great lunch.
Ingredients
1

large tomato

sliced in thick slices

½

avocado

sliced

2

slices

red onion

I prefer mine nearly shaved

6

cherry tomatoes

halved

sprig of fresh tarragon

1

T

fruity olive oil

the best you can afford

½

teaspoon

champagne vinegar
Instructions
Put tomatoes, avocado and sliced onion on a small plate, sprinkle with tarragon leaves and dress with the olive oil and vinegar. Add kosher or sea salt and some pepper to taste. The olive oil is really the key and main flavor so add more to taste and make sure its good and fruity to complement the freshness of the other ingredients.
My husband gave grilled avos a try, but didn't have much success. But I'm inspired to give it another go thanks to Bree's layering of lots of fresh herbs with spicy arugula, creamy mozzarella and grilled peaches in Bree's Baked Bree's unique Grilled Peach and Avocado Salad. Looks divinely fresh and simple.
Cathy gives a fresh and simple nod to asian flavors, What Would Cathy Eat's Soba Noodle Salad with Avocado and Mango marries the sweet notes of mango with the tartness of rice vinegar and sesame oil to create a mellow fusion of delicious.
With just a few simple ingredients Lena for Coconut and Vanilla has created a completely decadent and deceptively simple Couscous and Avocado Salad recipe studded with mint, honey and the delicious crunch of pine nuts. (o ja! recipes are given in both English and German)
And now off to Mexico we go with Cate's World Kitchen and her healthy, spiced up Black Bean, Quinoa and Avocado Salad, tossed with a freshly homemade tomatillo salsa. She makes it easy to eat right thanks to all the flavor.
Thanks for reading. If you liked this post, please subscribe to foodiecrush and follow me on twitter, Facebook and Pinterest