These 31 recipe ideas for the Instant Pot are perfect for whipping up homemade dinners on the fly this month!
Happy October!
For our tenth installment of our 31 Days Series, we're simplifying with the all-in-one magical unicorn workhorse Instant Pot. If you're a little late to the party, the Instant Pot is the newfangled version of the pressure cooker, and if you don't have one yet, you likely have major appliance envy, because this baby is the Beyoncé of kitchen appliances.
I'm telling you now…there isn't a single appliance I've loved more since I got my Instant Pot last year than this and my friends and family can all vouch for this because I think they're sick of hearing me talk about its virtues. And if you don't believe me, believe Amazon, where it was the #3 best-selling product on 2017's Amazon Prime Day.
But really, it does it all. The thing I love about it most is you can actually sear meats, chicken, vegetables in it before using the slow cooker or pressure cooker function so you get all that good flavor and don't have to dirty any extra pots! It's the true one and done.
It's user-friendly, often cuts our average cooking duration in half, makes perfectly peelable hard boiled eggs!!!!, and it is a powerful force when it comes to weekly meal planning. What's not to be totally smitten with? Things are getting pretty serious and all of our other appliances are getting jealous, but we #cantstopwontstop now.
If you don't have yours yet, here's an affiliate link, but seriously…this isn't a sponsored post, I just love this machine and I don't know anyone else who's bought it who doesn't love it too.
**UPDATED: I JUST received an e-mail that tomorrow, Oct. 2, 2017, you can get the Instant Pot for $30 off — that's just $69!!!! — at the one day sale on Amazon!
Click here to buy the Instant Pot Duo 7-in-1 Multi-Use Programmable Pressure Cooker, 6 Quart (limit of 5 for the sale price on Oct. 2, 2017)
Instant Pot, we love you. Thank you for making our lives eternally easier and our kitchen sink considerably emptier.
To see all of this year's 31 Days Series, check them out here:
31 Days of Healthy Comfort Food Recipes to Make in January
28 Days of Lighter Pasta Recipes to Make in February
31 Days of Weeknight Chicken Dinners to Make in March
30 Days of Healthier Salads that Make a Meal in April
31 Days of Sheet Pan Dinners to Make in May
30 Days of Easy Grilling Recipes to Make in June
31 Summer Slow Cooker Recipes to Make in July
31 Days of Summer Produce Recipes to Make in August
30 Dinners to Make When There's No Time to Cook in September
Here's how to make meal planning your month of meals a snap.
First, download this free printable weekly meal planner/to-do list to fill in, tape to the fridge, take to the grocery store, or use for reference next year when you can't remember what the heck were your fave recipes from this one.
And then sign up for your free weekly meal plan and prep list here.
You get the idea. Now get cooking!
FoodieCrush
This cozy beef stew is precisely the thing we want to warm up with on a chilly autumn night. It's loaded with healthy veggies, and is ready in a mere 40 minutes, so you feel like you're eating something that's been cooking low and slow all day, without actually having to wait all day! Win, win.
Peas & Crayons
You can make this velvety soup in less than 30 minutes, and using pre-cut veggies really makes the prep a breeze.
Simply Recipes
This super flavorful pork gets a kick from a generous spice rub, and is then cooked in fresh pineapple or orange juice until it's fork-tender. It's perfect for tacos, burritos, enchiladas, salad bowls—you name it!
The Butter Half
Everything you want for dinner is accounted for in this effortless and versatile dish that's perfect for kids and adults alike.
Little Spice Jar
Loads of veggies, tender beef, and nutty barley make this hearty soup a fall recipe you'll definitely want in regular rotation.
Lexi's Clean Kitchen
Veggies, protein, and herbs are all added to this incredibly rich and aromatic bone broth, making for a heavenly and healthy bowl of pho guaranteed to both fill and warm you up on the coldest of nights. It's also a killer antidote for a stubborn case of the sniffles!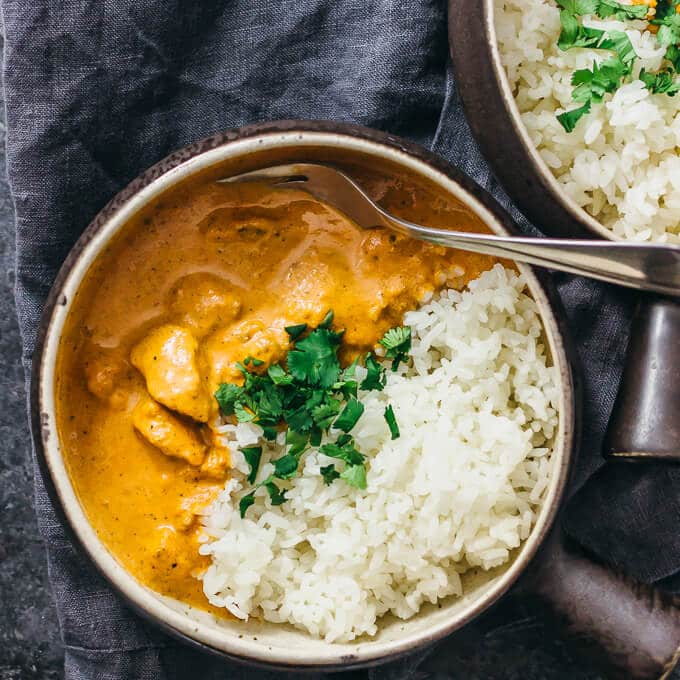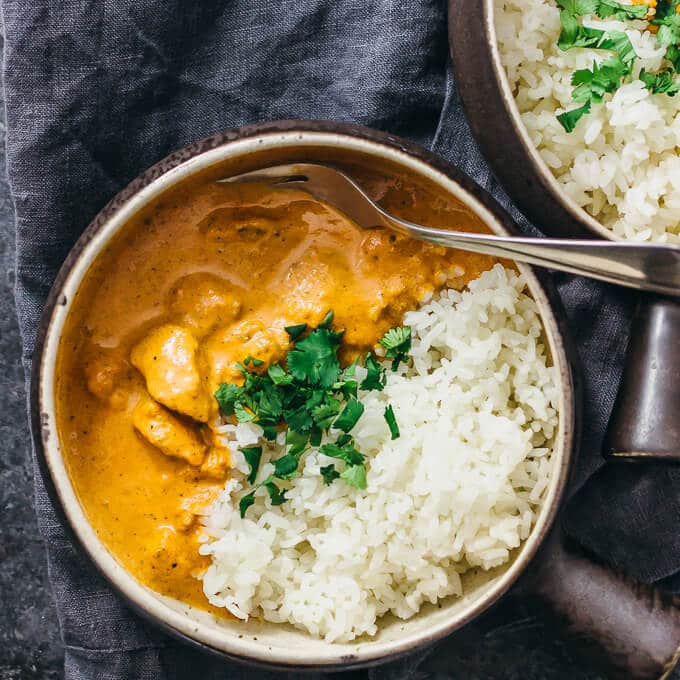 Savory Tooth
This popular Indian dish is lightened-up and made dairy-free, so you can enjoy all of the flavors you love, without worrying about calories. Serve it alongside some basmati or cauliflower rice and naan, and you'll never bother with takeout again!
Skinnytaste
These easy-to-make bowls are healthy, fun to make, and completely customizable with whatever taco or burrito fixins you love, and the cilantro lime quinoa is a game changer!
Gimme Some Oven
Meaty portobello mushrooms sub in for beef in this deceptively delicious, comforting "pot roast" that both vegetarians and carnivores will devour.
Life Made Sweeter
Our weeknights run on one pot meals, and this one covers all the bases (starch, protein, and veggies). Not to mention it's loaded with awesome flavors!
Jelly Toast
Your beloved game day wings get "soupified" in this soul-soothing recipe, and we've gotta say it gives them a run for their money!
Fed and Fit
All you need are a few ingredients to make this irresistible, chipotle-seasoned brisket. Serve with your favorite grain and veggie, or a nice salad, and you'll be in brisket bliss.
Peas & Crayons
Move over, Campbells, this dreamy, creamy tomato soup is everything we want in a tomato soup. And don't even get us started on those totally addictive crispy parmesan chickpeas we can't stop snacking on!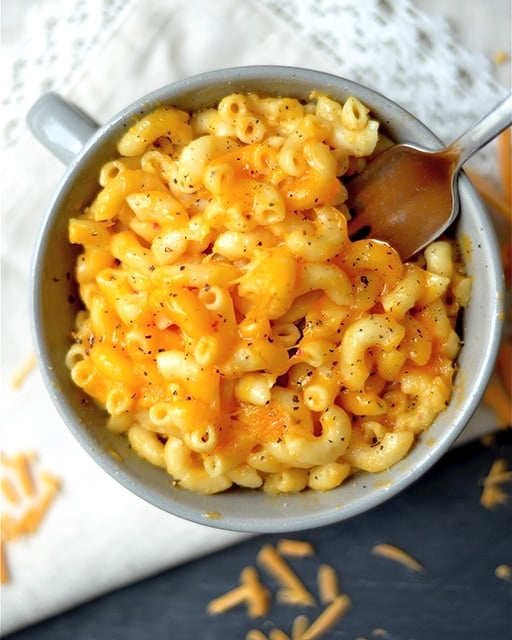 CenterCutCook
Fact: We'll never, ever be too old for mac and cheese, and while we're certainly not above the boxed stuff, this Instant Pot version gives us the best of both worlds—homemade, yet ridiculously easy (and super cheesy).
Cafe Delites
They say Guinness is good for you, and we agree, especially when it's added to a rich, beefy stew like this one! You'll be in comfort food heaven once you try a bite of its rich and savory Guinness-spiked gravy.
Platings and Pairings
Hearty lentils, brown rice, and Southwestern spices tango in this filling vegetarian bowl that gets topped with gooey mozzarella and cheddar cheese. We see you, Meatless Monday.
Kitschen Cat
This yummy soup is made with easy pantry staples, cooks in just 10 minutes, and makes killer leftovers for the week. ¡We'll say Olé to that!
Add a Pinch
Balsamic vinegar lends a tangy, complex flavor boost to this tender and juicy beef, which is the perfect comfort food meal on a brisk fall day.
Pinch of Yum
This spicy and unbelievably creamy soup just has seven ingredients, and is flavored with coconut milk, red curry paste, and peanut butter. Bonus: It's good for you too!
Two Peas and Their Pod
With only four ingredients and just 25 minutes, it just doesn't get simpler than this chicken chile verde. Perfect for tacos, burritos, quesadillas, enchiladas, and salads, it's an easy, slam-dunk dinner you can throw together on even the busiest of nights.
Plated Cravings
Gear up for the big game with this classic beef and bean chili, which you can have on your table in no time.
Boulder Locavore
Chicken soup seems to be one of those magical cure-all recipes, and this recipe is definitely one you'll want to have in your arsenal once cold and flu season rolls around. It gets nice kick from apple cider vinegar, jalapeño, ginger, and plenty of garlic, making for a wonderfully aromatic, soul-warming soup.
Kitchen Treaty
This hearty and healthy vegetarian soup gets its pretty golden hue from anti-inflammatory superstar, turmeric, and it takes just 12 minutes from pot to bowl!
A Calculated Whisk
You'd never believe this traditional Cuban beef dish didn't spend all day cooking. It's loaded with flavor from awesome spices, capers, and pimiento peppers, and happens to be naturally free of gluten and dairy.
FoodieCrush
Cheesy tortellini, leafy kale, Italian sausage, and an herb-infused broth are married together in this cozy soup, and hanks to the Instant Pot's slow cooker function, you can have a bowl on your table in no time.
A Saucy Kitchen
With all of the flavors you love from enchiladas, this cozy, spicy, and filling soup gets some extra protein from fluffy quinoa, and hits all the right notes. Top with your favorite fixings and dinner is served!
Peas & Crayons
You'll feel like you're eating the rainbow when you slurp a spoonful of this hearty tortilla soup. It's packed with healthy veggies, lentils, and seasonings, and is super flavorful whether you're vegetarian or not.
Lexi's Clean Kitchen
Tender, fall-off-the-bone chicken and veggies are cooked in a tangy balsamic-tomato sauce for a healthier version of this Italian favorite that you can serve over pasta, polenta, or rice.

A Pinch of Healthy
This classic New Orleans dish is wonderfully hearty and comforting, and best of all, you don't have to wait forever for your beans to soak, or your rice to cook!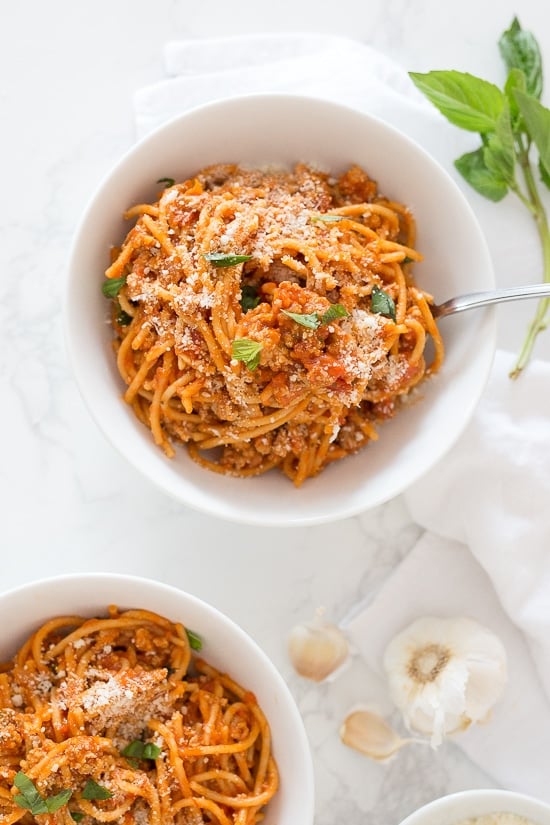 Skinnytaste
Spaghetti is one of those comfort foods we could eat any week, any month of the year. It's a hearty classic that makes great leftovers and is easy, especially thanks to this Instant Pot recipe, which just takes 15 minutes from beginning to end. Best of all? You don't have to wait for water to boil, since your noodles cook directly in the Instant Pot, along with everything else.
Cafe Delites
Chowders tend to be heavy, but this one has a few adjustments that make it lighter, without sacrificing flavor, and it can be done in the slow cooker or the Instant Pot.


This recipe round-up was curated  and written by FoodieCrush contributor Hayley Putnam of Seven Day Weekend. Follow her foodie tastes and other flights of fancy on Pinterest and Instagram.

Thanks for stopping by and visiting FoodieCrush. Have something to say or a recipe round-up request to make your dinnertime meal making easier? I'd love to hear from you. Email me at [email protected] or let me know in the comments below.
As always, thank you for reading and supporting companies I partner with, which allows me to create more unique content and recipes for you. All opinions are always my own.  
Thanks for reading and subscribe to FoodieCrush to have each post delivered straight to your e-mail box.
Craving more life balance, less stress, and better health? Check out my Nourished Planner, the daily planner to help create simplicity and under-schedule your life.
Follow me on Instagram, Facebook, Pinterest and Twitter for more FoodieCrush inspiration.