These 31 easy, healthy recipe ideas for summer produce are what make the living easy this month!

There's nothing quite like biting into that first peach with juice dribbling steadily down your chin. Or the taste of summer's first BLT stacked high with tomatoes still warm from the garden—you know, the one that requires at least five napkins.
Ah summer, there are so many reasons why we love you but your fresh fruits and veg are at the tops of our list.
Fresh seasonal eats are more in demand this month than ever. Thankfully, there's produce aplenty come each and every August, so that seasonal gems easily make their way into all of our meals.
It's time to go seasonal, baby, where meals all about including tender squash, juicy tomatoes, and corn so sweet you could get a toothache. We're stocking up on these seasonal finds like its our job, because just like ever year, this summer bounty won't be around forever.
You get the idea. Now get cooking!
Skinnytaste
This is the quintessential summer pasta, starring three of the most beloved veggies of the season. It's light, simple, and can be tossed together in under 20 minutes, making it weeknight-friendly.
FoodieCrush
Eat the rainbow with these healthy and hearty stuffed peppers. They're loaded up with quinoa, zucchini, and turkey sausage, and make for an excellent family-friendly meal.
Brooklyn Supper
It's summer, and if you're not grilling everything in sight, you should at least be grilling your pizza. Blistered peppers, sweet juicy peaches, creamy ricotta, and fresh herbs are simple toppings that give this beauty life.

Nutmeg Nanny
This recipe is the stuff lazy summer nights are made of. Grab some fresh veggies and lean chicken sausage, wrap them in foil, and toss them on the grill — 20 minutes later, dinner is served!
Healthy Seasonal Recipes
As if the addition of peaches and corn weren't enough to gussy up the ole cobb salad, they're both grilled, making this dish sing with summer flavor.
Kitchen Konfidence
Sometimes summer is just too darn hot to warrant cooking, and that is precisely when you make gazpacho! This one is extra refreshing with the addition of watermelon.
How Sweet It Is
Trying to watch your carbs? You won't miss the pasta in this fresh and colorful bowl, studded with grilled corn, sweet cherry tomatoes, fresh herbs, mozzarella, and buttery shrimp.
Spoon Fork Bacon
If burrata wasn't enough to hook you, then succulent skirt steak and juicy peaches definitely should. Serve them atop a bed of lightly-dressed greens, and you've got the perfect al fresco summer meal.
Food Faith Fitness
Cucumber and watermelon are refreshing counterparts to spicy curry in these bright and healthy bowls.
Little Broken
Who says you can't have chowder in August? This one won't weigh you down either. It's made without flour, and calls for half and half instead of cream.
A Beautiful Plate
Believe it or not, these bowls come together in just a few simple steps. Start with a bed of fiber and protein-packed bulgur (which cooks really quickly by the way). Then throw in some za'atar grilled chicken and some roasted tomatoes, eggplant, and zucchini. Lastly, top with a wonderfully creamy tahini sauce. Eat and repeat, because you'll be craving this one again really soon.
Cookie and Kate
This zesty tomato pesto is a total game-changer, and it gets tossed with strands of spaghetti and zucchini noodles (we'll take any excuse to use the spiralizer)! It's simple, flavorful, light, and delicious — exactly what you want to be eating when it's a billion degrees out.
Bev Cooks
Smoked sausage, charred corn, and jalapeños make this gnocchi perfect for summer. And the toasted Panko-Parmesan crumb mixture on top? Well, let's just say you definitely don't want to skip that step.
Kitchen Confidante
Crisp cucumbers, heirloom tomatoes, and earthy lentils star in this healthy, filling salad. Fresh herbs and salty feta are tossed in for good measure. You could serve this alongside your favorite protein, but it would also be just as lovely on its own.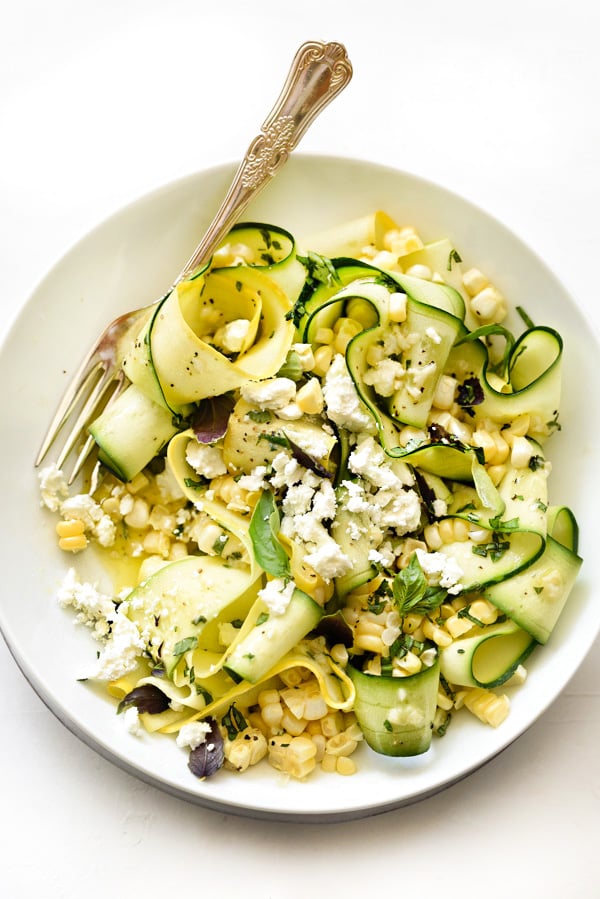 FoodieCrush
This no-cook salad is loaded with sweet kernels of farmers market corn and slivers of the star of summer's bounty: zucchini and yellow squash. It's fresh and light and totally alright.
Shared Appetite
One taste of this arugula pesto and you may never want to make it the traditional way again. Toss it with some spaghetti, asparagus, fresh corn, squash, and zucchini, and you've got the perfect summer pasta. Bonus? This dish comes together in just 20 minutes.
FoodieCrush
This lovely salad is loaded with all of our favorite summer goodies, and the creamy apricot poppyseed dressing will be your new obsession.
Lexi's Clean Kitchen
A virtuous one-pan dinner with minimal chopping, that comes together in less than 30 minutes? This meal is a weeknight dinner score!
Sprouted Kitchen
Mac and cheese gets a sophisticated summer makeover with this roasted zucchini-studded pasta bake.

Alexandra Cooks
This chilled soup is the ultimate refreshing quencher on a sweltering day. It's spiked with fresh dill, and topped with a spicy tomato salsa, and we can't think of a better way to do dinner when it's just too hot to cook.

iFOODreal
It may be vegetarian, but this healthy dish will stick to your ribs. It's loaded up with lots of great spices and veggies, and is cheap and easy to make.
Green Kitchen Stories
This gorgeous pasta dish celebrates the juicy jewels of summer — ruby tomatoes and golden peaches. Some fresh mozzarella, briny capers, pine nuts, basil, and arugula don't hurt either.

FoodieCrush
Shrimp scampi gets a healthier makeover in this summery dish, where whole wheat linguini and zucchini noodles tango with lemon-garlic shrimp, chili flakes, and parmesan cheese.
With Food and Love
Plump sungold tomatoes, bell pepper, and sweet corn are the base of this refreshing soup. An even more refreshing cucumber salad is the perfect complement.
Savory Nothings
This 30-minute pasta dish is full of pantry staples, and bursting with flavor thanks to briny capers, olives, and anchovies. Zesty sun-dried tomatoes and balsamic-marinated cherry tomatoes, and fresh oregano chime in, making the most sublime (and easy) summer sauce.

GimmeDelicious
Fool your brain into thinking you're eating pasta with these clever little roll-ups. They're vegetarian, low-carb, gluten-free, and fun to make!
Sugar et al
This stunning salad screams "summer," and it may look complicated, but it's actually incredibly easy. Spicy marinated chicken, fresh cherry tomatoes, arugula, red onion, and grilled peaches all get tossed with a light and tangy yogurt dressing.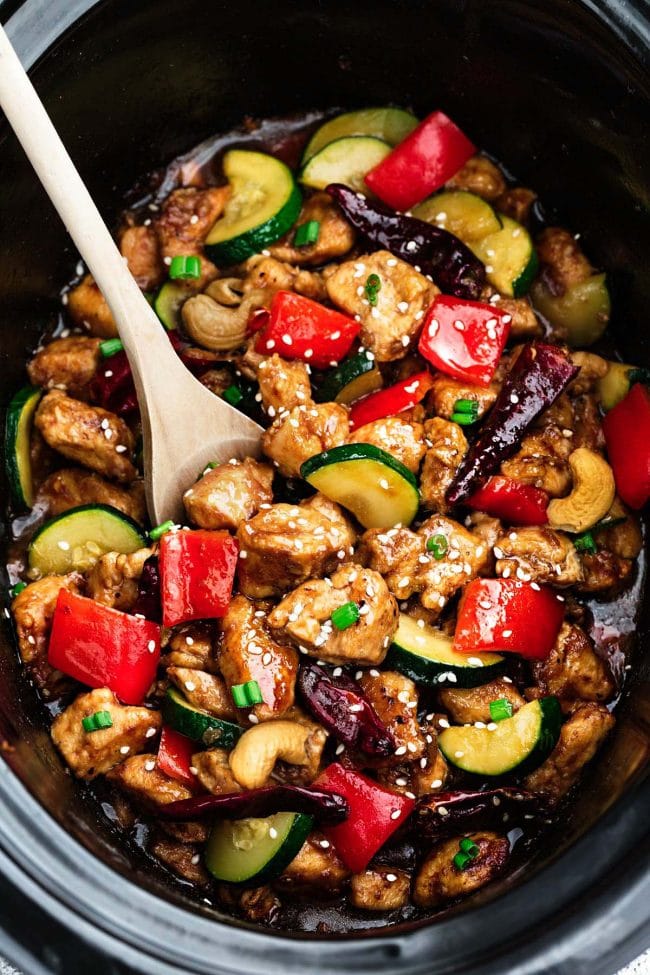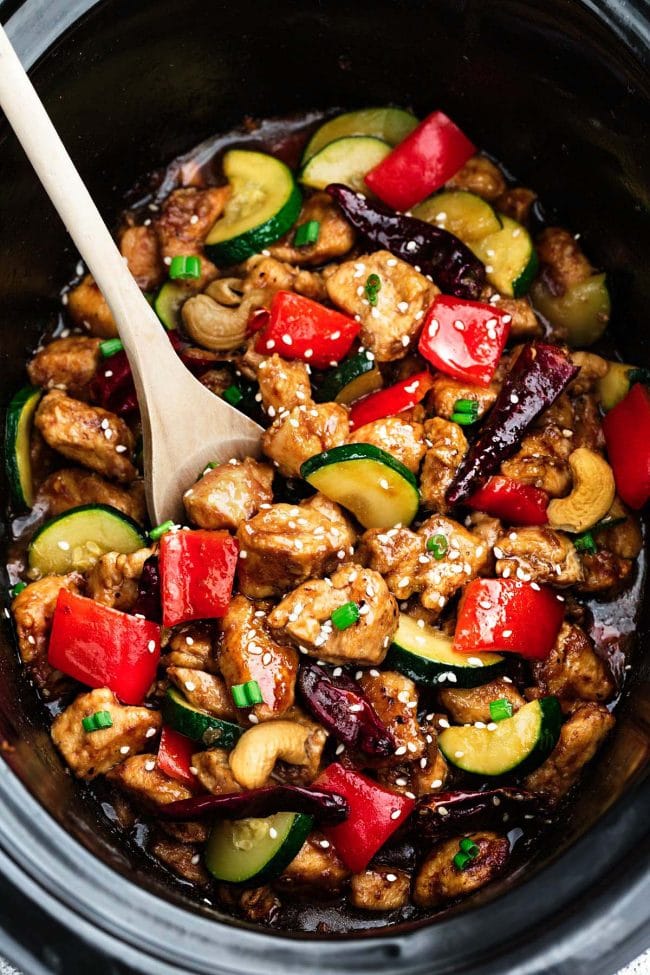 The Recipe Critic
Slow cookers are so often used during the winter, but they're actually the perfect thing to use during the peak of summer, when the last thing you wanna do is turn on your stove. This takeout favorite is not only super easy, but it's made much lighter, and is full of good-for-you summer veggies.
Fork Knife Swoon
Grain bowls are still all the rage, no matter the season. This one is studded with corn, feta, zucchini, squash, and fresh herbs, and is the perfect dish to enjoy during late summer. It's easy to put together, healthy, satisfying, and versatile too — you can add in some protein or extra veggies if you like.
Natasha's Kitchen
There's nothing like a good BLT sandwich. This salad is equally yummy, but far less messy. It's simple, the bacon is cooked in the oven (so you won't feel too guilty), and it boasts creamy dressing that's to die for.
FoodieCrush
Upon first glance, this chipotle and lime-scented soup looks fancy schmancy, but it's actually incredibly simple. Oh, and thanks to the almond milk, it's easy on the waistline!
Thanks for stopping by and visiting FoodieCrush. Have something to say or a recipe round-up request to make your dinnertime meal making easier? I'd love to hear from you. Email me at [email protected] or let me know in the comments below.
We send good emails. Subscribe to FoodieCrush and have each post plus exclusive content only for our subscribers delivered straight to your e-mail box.
Follow me on Instagram, Facebook, Pinterest and Twitter for more FoodieCrush inspiration.
As always, thank you for reading and supporting companies I partner with, which allows me to create more unique content and recipes for you. There are affiliate links in this post of which I receive a small commission. All opinions are always my own.