These 31 fast to pull together slow cooker recipe ideas for chicken, meat, seafood, and vegetables are the secret to easy summer cooking.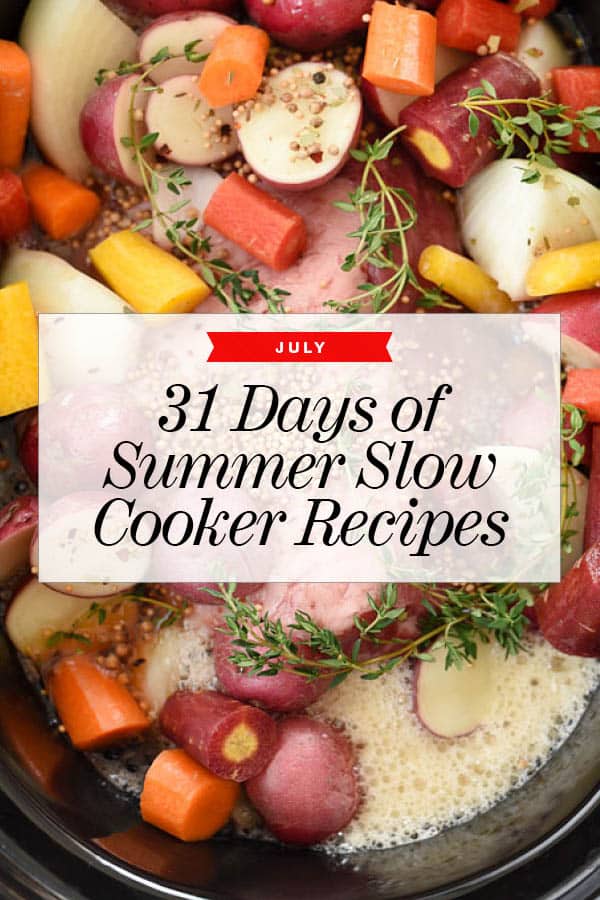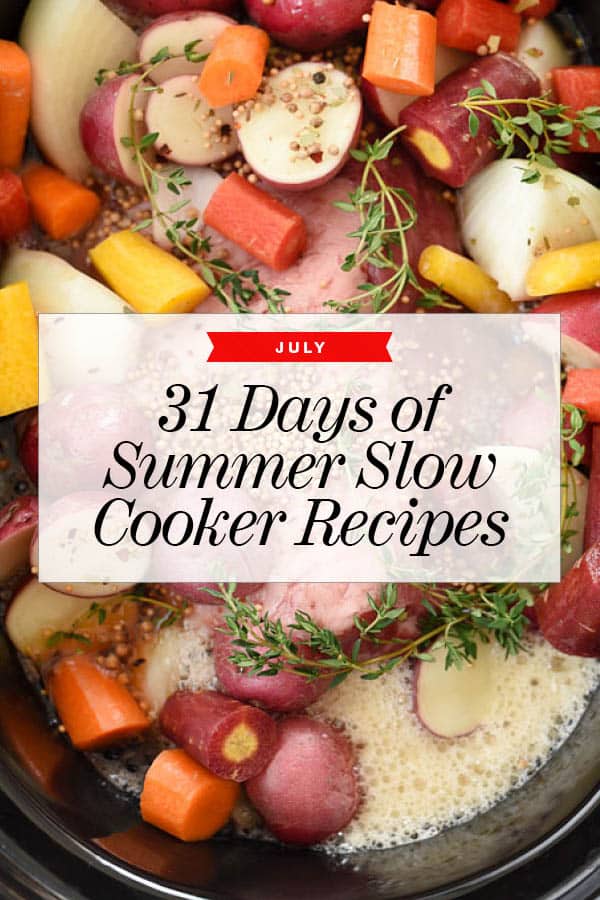 For many of us, pulling out the slow cooker for cozy, warming, winter meals is as natural a thing to do as heating up the grill for summer burgers, brats, chicken and fish.
Ah, but alas! You may be missing out on one of the most advantageous qualities of the beloved slow cooker, the fact that this kitchen appliance can actually be your secret weapon in summer, too.
This list of 31 days of recipes is the reason you should pull your Crock Pot, Instant Pot (there's a new 9-in-1 model!) or slow cooker out of hibernation and get it cookin' for you. (affiliate links)
So pack up the sunscreen and head to the pool or out for a hike, because just like in winter, summer is the perfect season to put your slow cooker to work for you.
To see all of this year's 31 Days Series, check them out here:
31 Days of Healthy Comfort Food Recipes to Make in January
28 Days of Lighter Pasta Recipes to Make in February
31 Days of Weeknight Chicken Dinners to Make in March
30 Days of Healthier Salads that Make a Meal in April
31 Days of Sheet Pan Dinners to Make in May
30 Days of Easy Grilling Recipes to Make in June
Here's how to make meal planning your month of meals a snap.
First, download this free printable weekly meal planner/to-do list to fill in, tape to the fridge, take to the grocery store, or use for reference next year when you can't remember what the heck were your fave recipes from this one.
And then sign up for your free weekly meal plan and prep list here.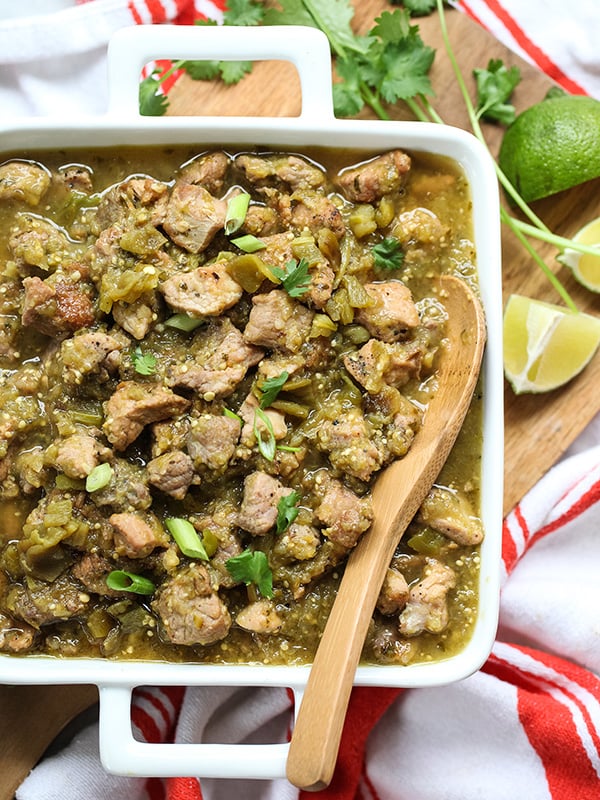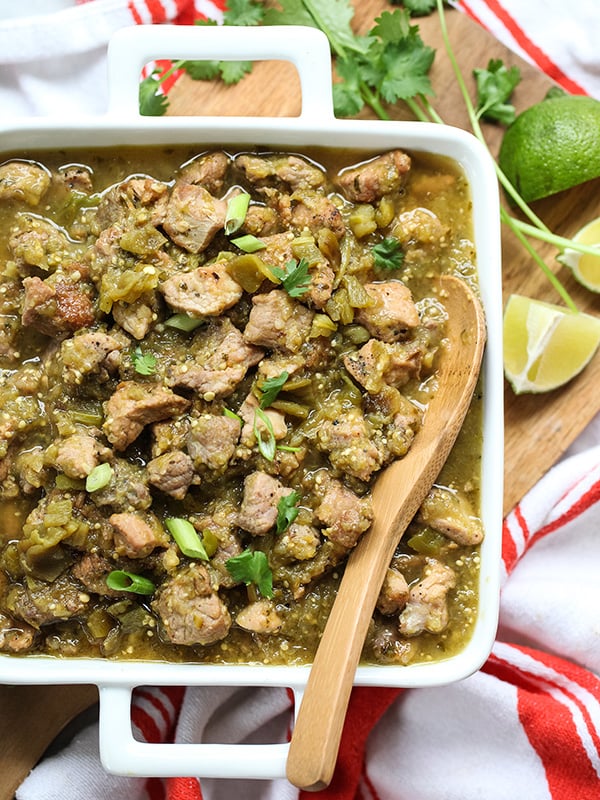 FoodieCrush
This recipe is simple. No herbs, no broth and no need for corn starch for thickening and it's all made in the slow cooker. It all starts in the oven with a roast of fresh tomatillos, chiles, onions and garlic for a slow cooked bite of Mexican heaven.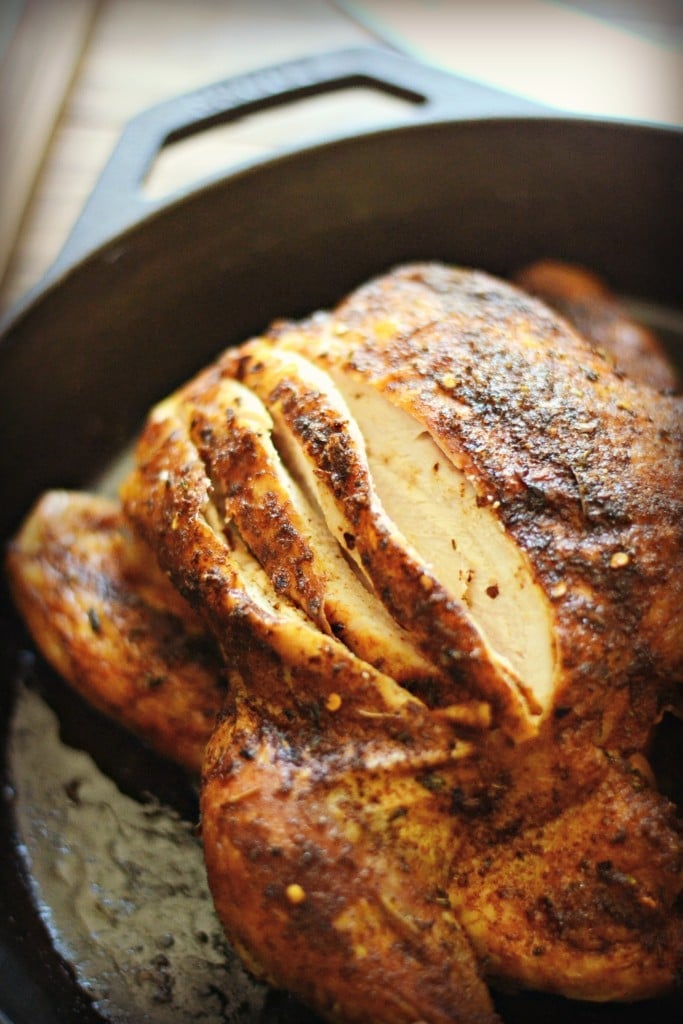 Sarcastic Cooking
This is one of those ultimately easy dinner recipes that takes a summer staple and plops it in the crock pot for a super delicious, juicy chicken thanks to a whole lot of herbs, some garlic, and a bit of lemon and that is it.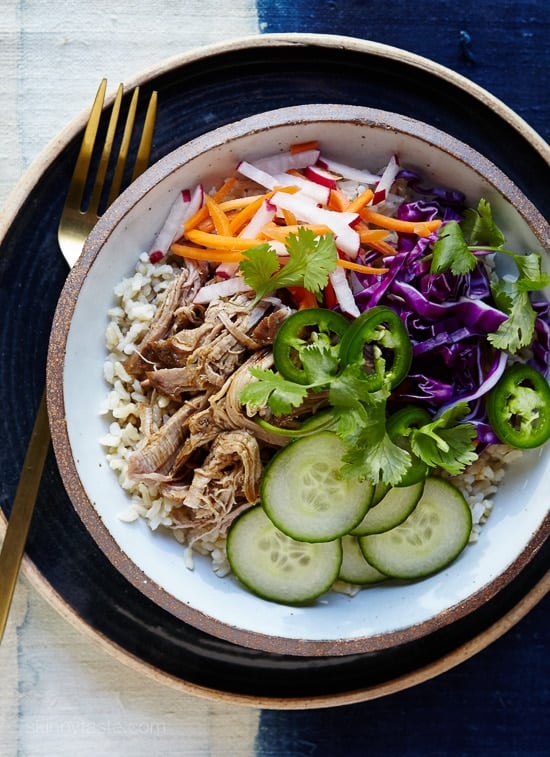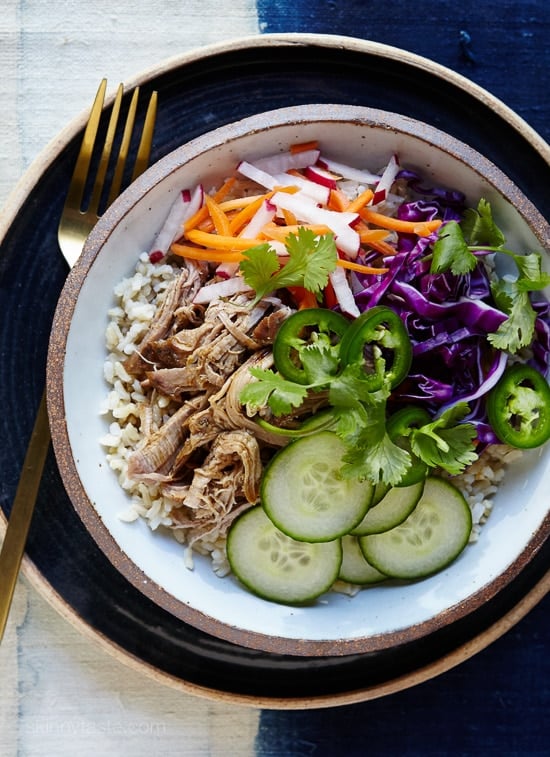 Skinnytaste
This recipe keeps all the classic fresh Vietnamese flavors but scraps the bread in favor brown rice (or use any grain) in a slim remake with the tender meat made in the slow cooker.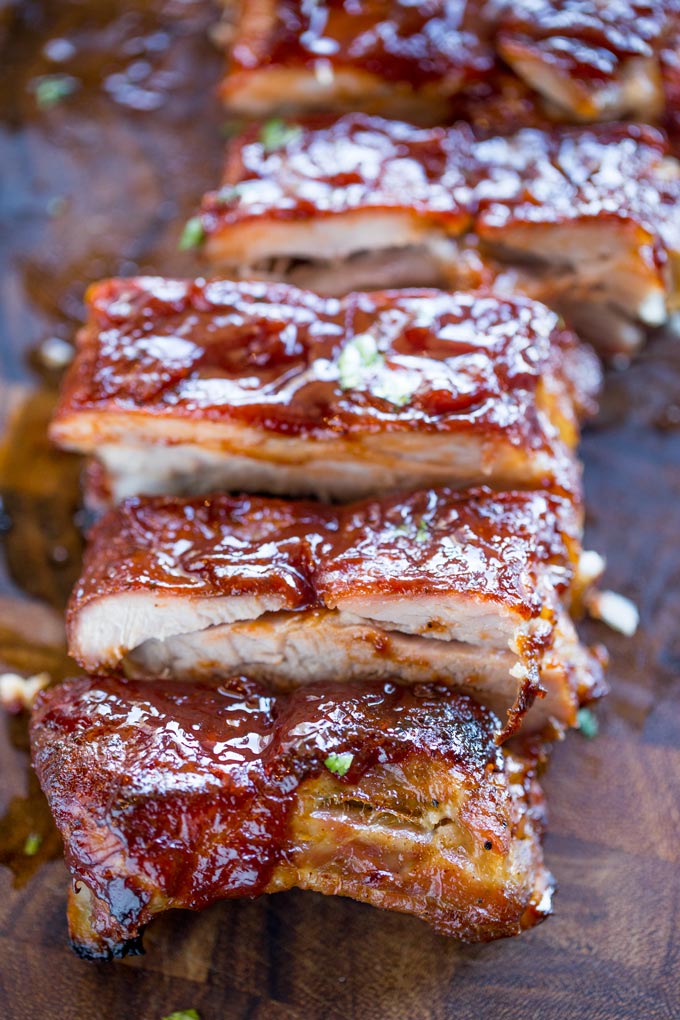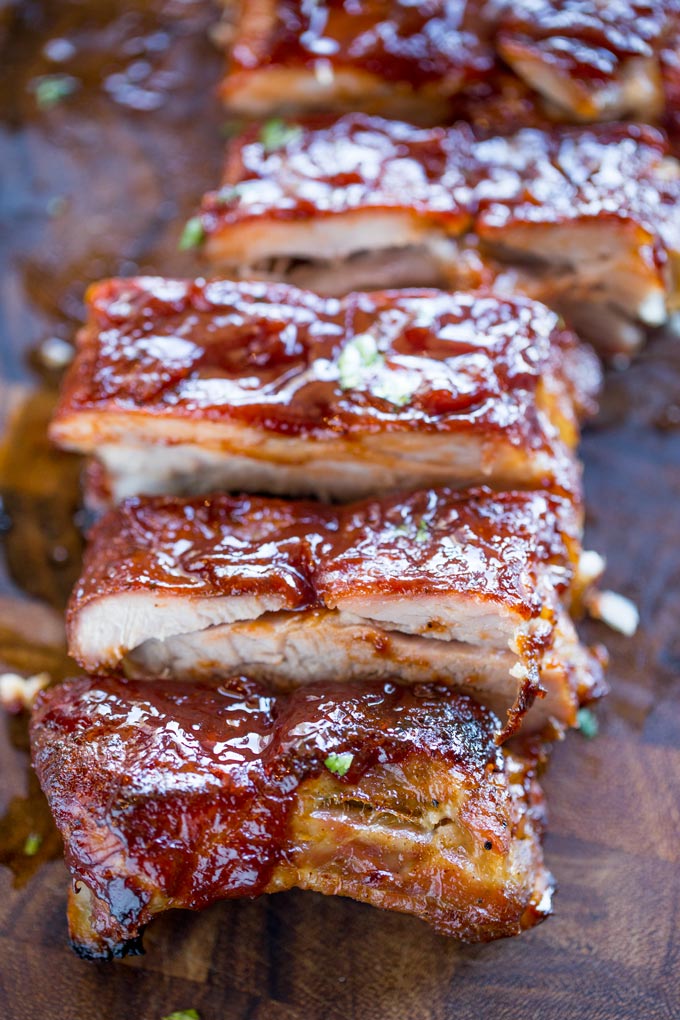 Dinner Then Dessert
These ribs cook in the slow cooker without the bbq sauce making them juicy and fall off the bone, with the sauce then added just before broiling for a caramelized rib everyone will lick their fingers for.
Running to the Kitchen
Summer meal prep doesn't get easier than this flavorful bowl with slow cooked Mexican beef over a black bean and cilantro rice blend that can be eaten all week long.
How Sweet It Is
Fresh cherries make this chipotle sauced pulled pork sandwich the only thing you'll want to stuff between those fluffy brioche buns.
Shugary Sweets
BBQ chicken that falls off the bone has the slow cooker to thank for this summer time classic.
Ambitious Kitchen
Tender slow cooked chicken in a peanut butter flavored sauce tops high-protein purple rice for a healthy meal that will stick with you all day long.
FoodieCrush
This soup lets it Italian flavors shine, with plenty of girth to fill up growling stomachs with a little extra flavor bump with a dollop of creamy herb-enhanced cheese that decadently melts right in.
Inspiralized
Summer zucchini gets a spiralized twirl for a healthy and totally flavorful meal that's one of my favorite ways to soak up mama mia's bolognese.
Baked by Rachel
Fresh corn cut from the cob easily subs for canned to make this simple chicken and corn soup, add jalapeño if you're craving a spicy slurp.
Carlsbad Cravings
A great BBQ chicken recipe can be the base for so many other meals. Shred it up and load it on.
Pinch of Yum
Peppers of every color of the rainbow are the base to this healthified protein-loaded meal that puts healthy eating at the top of this crock-pot recipe list.
Lexi's Clean Kitchen
The mango salsa brightens up this slow cooked, low carb chicken wrap situation, with every tender shredded chicken bite.
FoodieCrush
My favorite reuben sandwich gets its start from slow cooked corned beef in a bath of beer with a topping of sauerkraut and melty swiss cheese for one of the tenderest reubens you'll ever sink your teeth into.
Honey and Birch
Chipotle peppers in adobo sauce are where this slow cooker Mexican flavored chicken gets its start, but the grand finalé lettuce cups has us wrapped around it's finger.

365 Days of Slow Cooking
This pork bowl comes out of the crock pot fork tender with a chili garlic and secret ingredient sauce that's added to shredded cabbage, quinoa, diced green onions and finally topped with a drizzle of sriracha to make a beautiful and delicious summer meal.
July 18: Crock Pot Cuban Pork Tacos with Fried Plantains
Cotter Crunch
Gluten-free and full of flavor, the simple marinade makes this crock pot cuban meal totally bananas.
Perry's Plate
Whole 30-approved, Instant Pot-ready, this pulled pork recipe is ready for one big Asian-inspired salad bowl or paleo-friendly tortilla.
Kalyn's Kitchen
An all-in-one bowl of summer, this slow cooker green chile dinner gets a creamy topping of everyone's favorite: avocado!
Relutctant Entertainer
This is proof positive you CAN make a great fish in the crockpot, Just add a splash of wine and set it and forget it.
Melanie Makes
Oregano and garlic rub down the pork shoulder that then stews in the crock for 8 hours that pulls apart and pairs with all the classic gyro flavors for a bowl that'll leave you screaming, "Opa!"
Cafe Delites
Traditionally, the secret to carnitas is frying the meat in lard, but this recipe kicks that fat to the curb and uses a marinade in the slow cooker to create that classic carnitas flavor instead.
Kitchen Confidante
What makes this slow cooked sandwich special is Its fusion of flavors, the influence of French and Vietnamese, and the gorgeous toppings that transform it from plain Jane bread and pork to something spectacular.
Gimme Some Oven
Pineapple is the secret ingredient that makes these slow cooked pork tacos an always beloved favorite.
Chocolate Moosey
Chuck roast is a great meat for the slow cooker, where the slow cooking time breaks down the fat to make a juicy and delicious bite every single time.
Girl Carnivore
They may not possess a smoke ring or have that charbroiled flavor, but with a sauce as good as this, you'll never miss the fire.
Boulder Locavore
This easy recipe takes about 5 minutes to pull together for the slow cooking of the flank steak, with fresh flavors that are ready to eat, no fork required.
Food Faith Fitness
When dinner is this veg-heavy, this healthy, and made in the slow cooker, you know even before the first bite that it's a delicious winner.

Slow Cooker Gourmet
Shrimp, clams, crab, and so many other options from the ocean, this is one stew you are definitely going to want to "sea."
Dessert for Two
What do you know? The slow cooker cooks the creme brûlée even more evenly than the oven–finishing off this month of recipes with the sweetest bite.
Thanks for stopping by and visiting FoodieCrush. Have something to say or a recipe round-up request to make your dinnertime meal making easier? I'd love to hear from you. Email me at [email protected] or let me know in the comments below.
As always, thank you for reading and supporting companies I partner with, which allows me to create more unique content and recipes for you. All opinions are always my own.  
Are you following me on Instagram,  Twitter, Facebook and Pinterest? 
Thanks for reading and subscribe to FoodieCrush to have each post delivered straight to your e-mail box.