Sign me up for this list of 30 days of soups, stews, and chilis on repeat to warm up this body of mine and soothe my ever-loving seasonal soul all month long.
I know, I know–wintery weather blows in just about every 365 days from right about today, yet I'm never quite ready to give up on the gorgeous warmth of Indian summers and the fall leaves a-falling. I love me a snowy white winter, but fall has my heart.
While winter doesn't officially begin until Christmas is nearly here, the change in weather and my freezing cold feet—now clad in fuzzy socks and boots— is the sure-fire signal for me to start craving the heartiest of rib-sticking comfort food.
This list of 30 soups, stews, and chilis are sure to warm us up and fill us up, but not fill us OUT, because each of these recipes are made with healthy, real good, real foods.
So what are you waiting for? Grab a spoon and dig in!
FoodieCrush
I've been making this slow cooker, fall-moves-into-winter-friendly dish since 2013 and it's become one of the most popular recipes on the blog, and should definitely deserve a seat on one of my not-a-meal-plan flexible meal plan menus.
Culinary Hill
This easy recipe lets you luxuriate in all the flavor of lasagna, without the messy layering and dirty dishes. Make it your own with any type of pasta, and your favorite mix of veggies, but don't forget the cheese!
Kim's Cravings
This simple white chili is high-protein, fiber rich, and gets even better the next day. Kim includes (optional) gelatin in her recipe for an extra nourishing boost.
FoodieCrush
Hit me with your best shot…of roasted garlic and tortellinis. This super simple recipe comes together in minutes with a little help from my favorite canned tomatoes and just 3 other ingredients.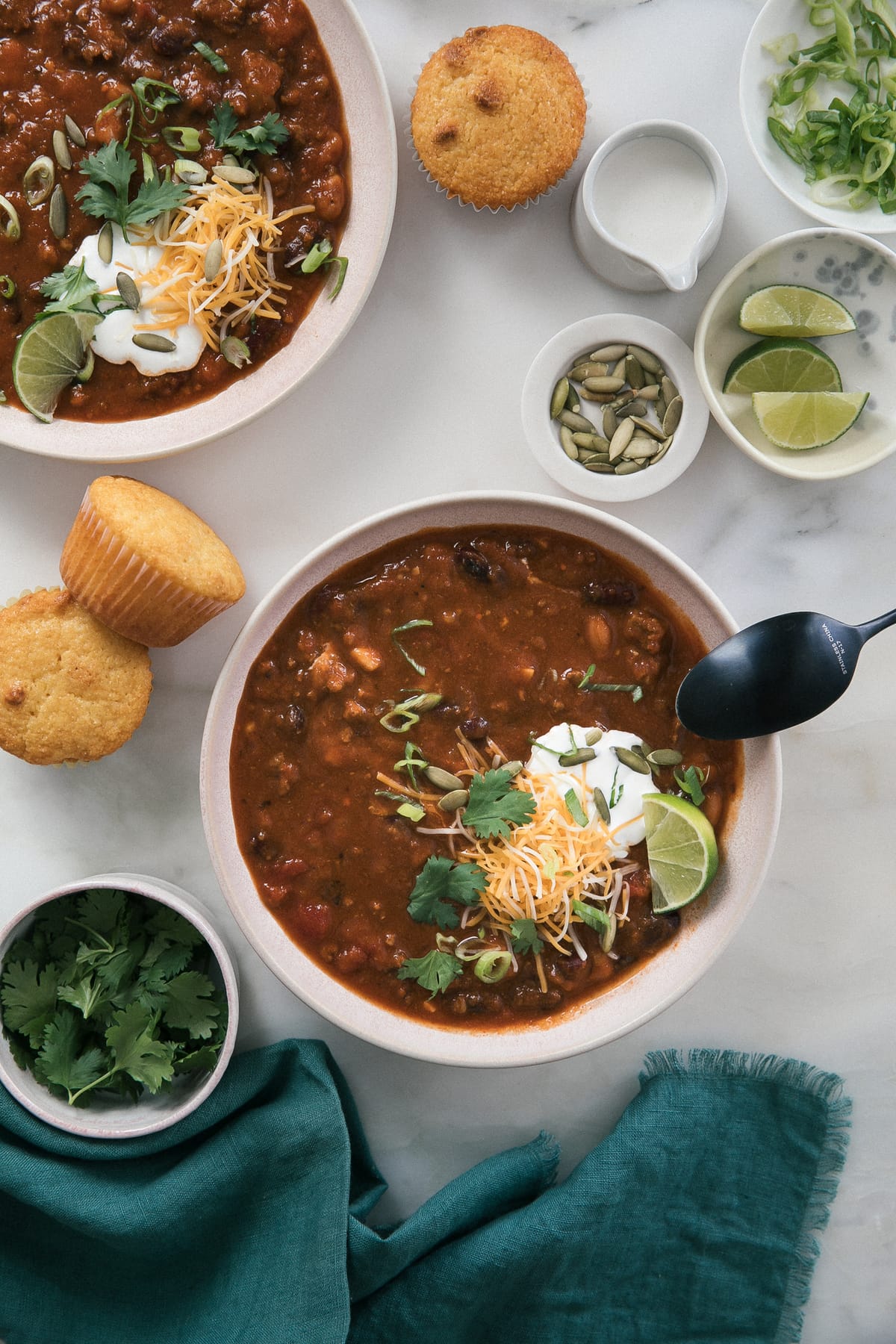 A Cozy Kitchen
Enjoy a different type of pumpkin spice in this warming recipe. Pureed pumpkin adds a velvety smoothness to this ground beef chili spiked with smokey paprika, cumin and chili powder.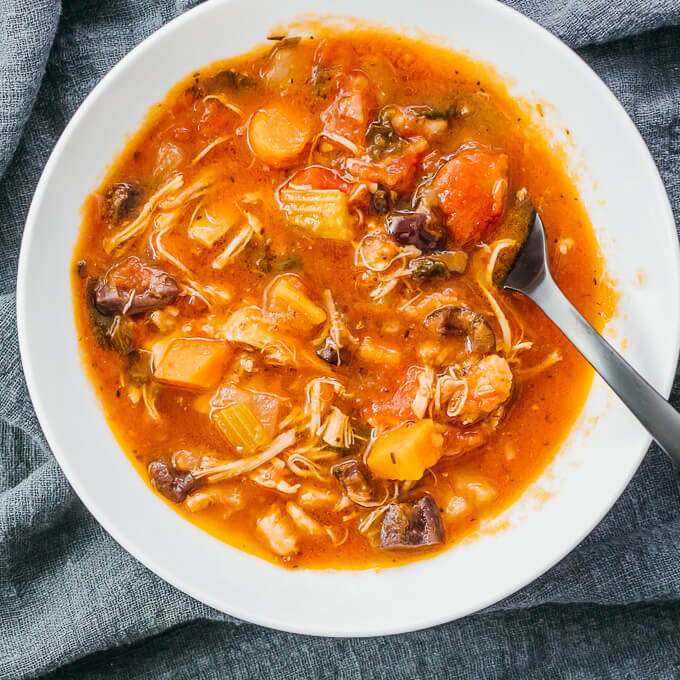 Savory Tooth
Tender shredded chicken, a blend of Italian spices, and the unique bite of Kalamata olives blend together beautifully for a low carb and keto-friendly stew that can be made in under an hour start-to-finish.
FoodieCrush
This versatile soup can be tailored to any taste or season, but is especially appealing just as the weather starts to turn. Use hearty whole wheat or gluten free pasta for a filling dish full of veggies and fiber.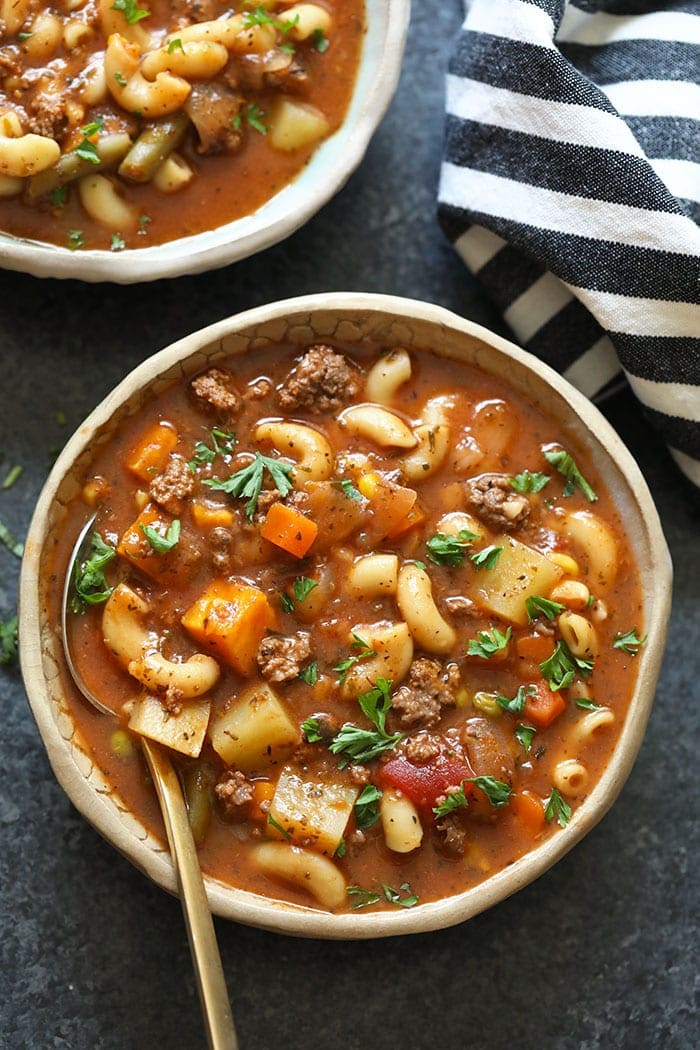 Fit Foodie Finds
Get your meat and potatoes fix with this satisfying soup, made ultra filling with lean ground meat, beans and veggies.
A Couple Cooks
Chunky mango, zesty lime, and quinoa put a new spin on standard chili. Pro tip: if you can't find fresh mangoes this time of year, look in the frozen foods section at your local grocer for (bonus) pre-cut pieces.
Skinnytaste
Have you cooked with leeks before? I promise it's worth it to discover these flavor-boosting root veggies–especially when paired with potatoes and a rich chicken stock base.
FoodieCrush
Comforting and creamy, you'll never guess this classic soup has been lightened up. Pureed potatoes and chicken stock replace traditional heavy cream for a decadent dish that will have even the most stringent broccoli skeptics asking for more.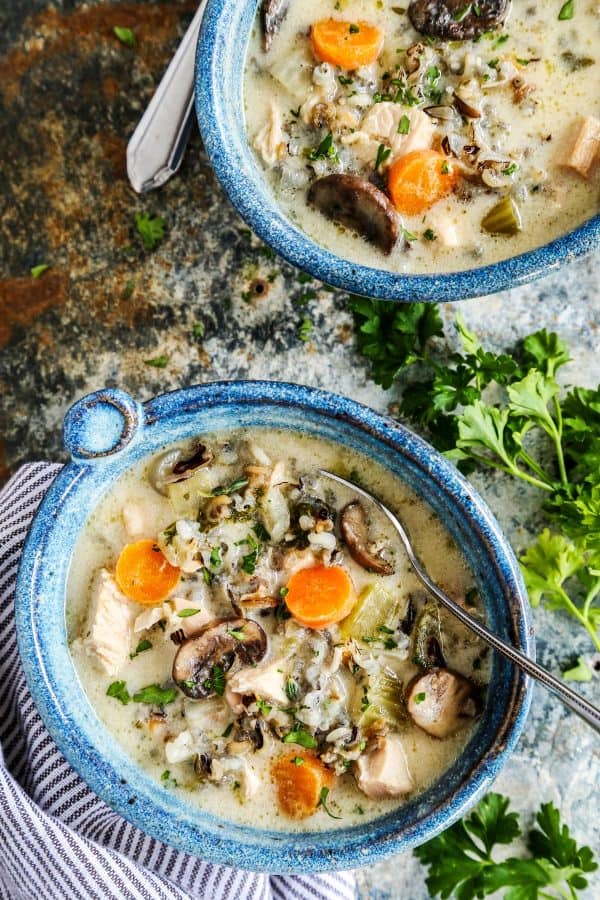 A Farmgirl's Dabbles
Life hack: use any pre-cooked poultry you have on hand to whip up this soul-soothing recipe. Toothsome wild rice, carrots, and mushrooms add a special touch to a new fall favorite. Check out my creamy Instant Pot version here.
Cooking Classy
Mix up some Mediterranean-style magic with this healthy, hearty, and packed with fiber soup, made with chewy whole grains, creamy white beans, and sturdy kale.
All the Healthy Things
This no-fuss recipe is an ideal addition to your autumn menu rotation. Stir it over the stovetop or toss everything into your slow cooker for a simple meal, made exotic with the unexpected taste of coconut milk.
The Modern Proper
Rich tomatoes, fresh herbs, and fancy fried cheese make this the perfect soup to treat yourself at lunch, or wow your family a dinner. Frying up the goat cheese takes a little extra effort, but is SO worth it! Substitute grilled cheese to make it kid-friendly.
FoodieCrush
Crispy jalapeños and crunchy homemade tortilla chips are the perfect toppers for a warm bowl of this mildly spiced broth full of black beans, corn, tomatoes and chicken.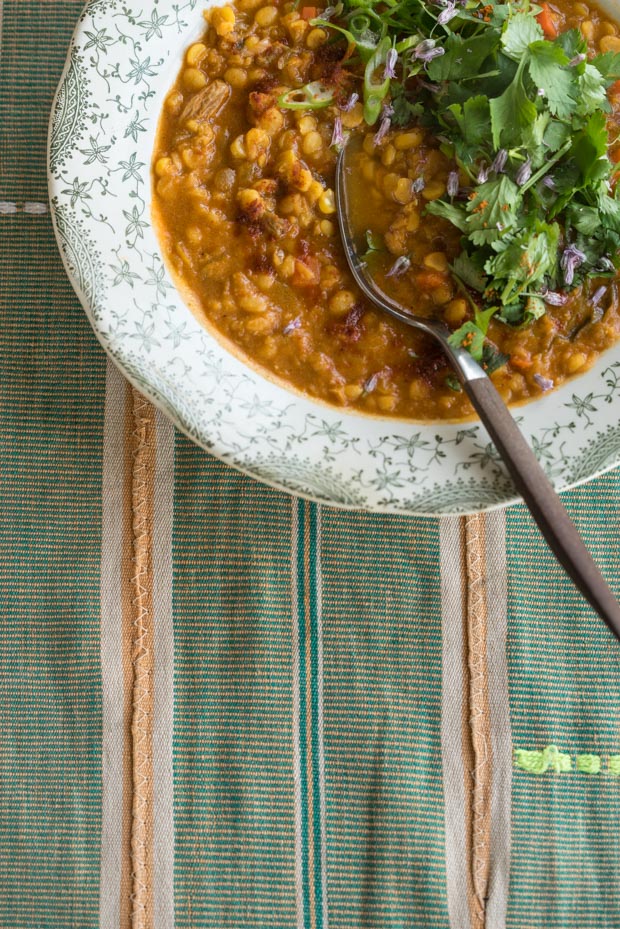 101 Cookbooks
Turn it up for your tastebuds with this curry-flavored vegetarian soup. Lentils, golden raisins, tomato paste, and coconut lend accessibility to this adventurous recipe.
A Spicy Perspective
A variety of sliced and sauteed mushrooms add rich flavor to a silky broth studded with satisfying chunks of chicken.   Add side of my Easy Broccoli with Feta Cheese to round out this low-carb meal.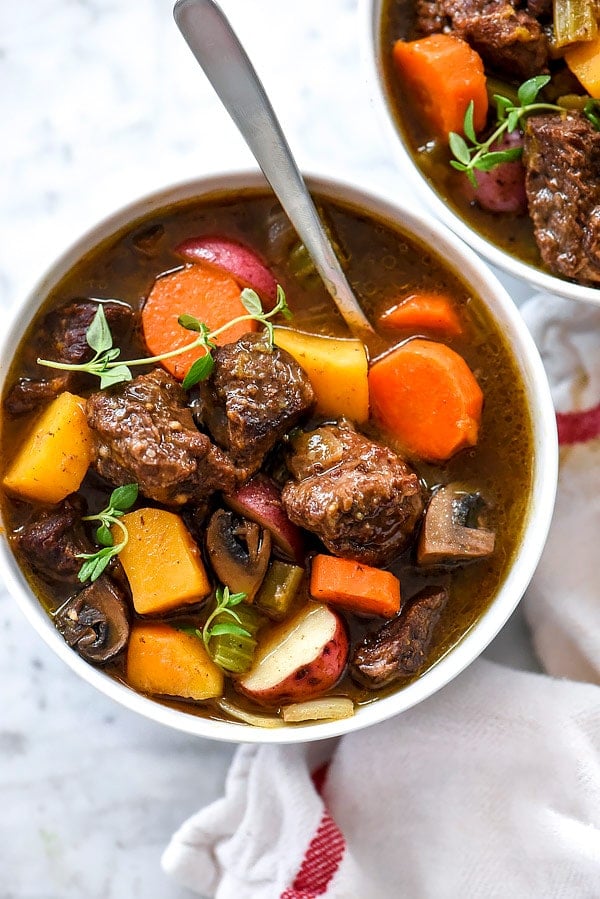 FoodieCrush
This is a classic comfort dish that perfectly calls to mind all the flavors of fall. Tender chuck roast pairs with carrots, potatoes, and butternut squash in this hearty stew that can easily be made in the Instant Pot OR slow cooker.
Cotter Crunch
Hearty beef stew with only 6 ingredients and minimal prep sounds like a dinner dream come true. This easy all-in-one entree is made in a dutch oven, but you can use any oven safe pot or large bakeware.
Big Bear's Wife
Serve up this taco-tastic soup for a Tuesday, or any day of the week. Add a dash of hot sauce for tongue-tingling flavor and try scooping with chips instead of a spoon, and I am. here. for. that.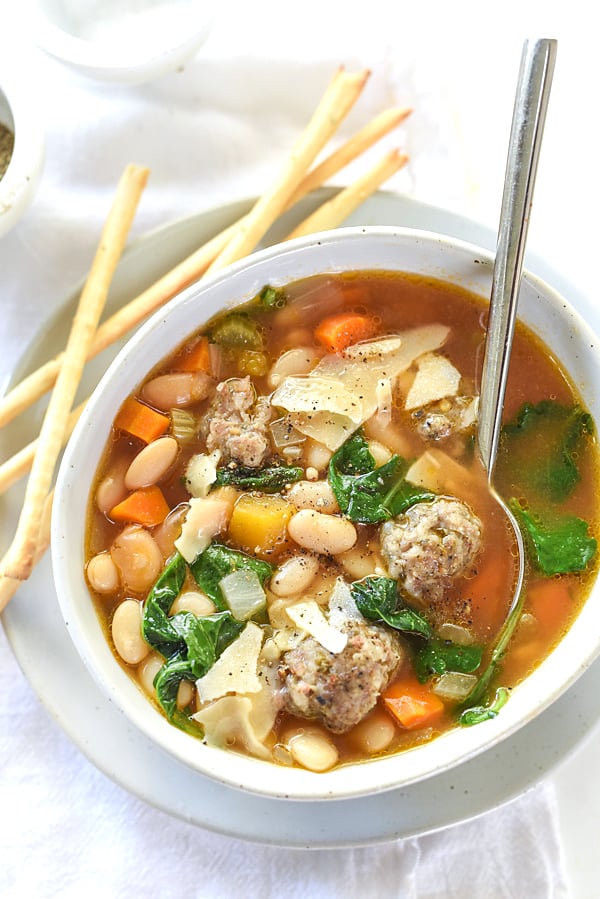 Foodie Crush
This flavorful Italian soup with sausage, white beans and kale is your slow-cooker solution to weeknight hunger. This recipe features a two-step cooking process to walk you through using dried beans, but you can always make it easier by using canned.   Even better–these mini sausage meatballs don't require any pre-cooking or searing, cutting your prep in half.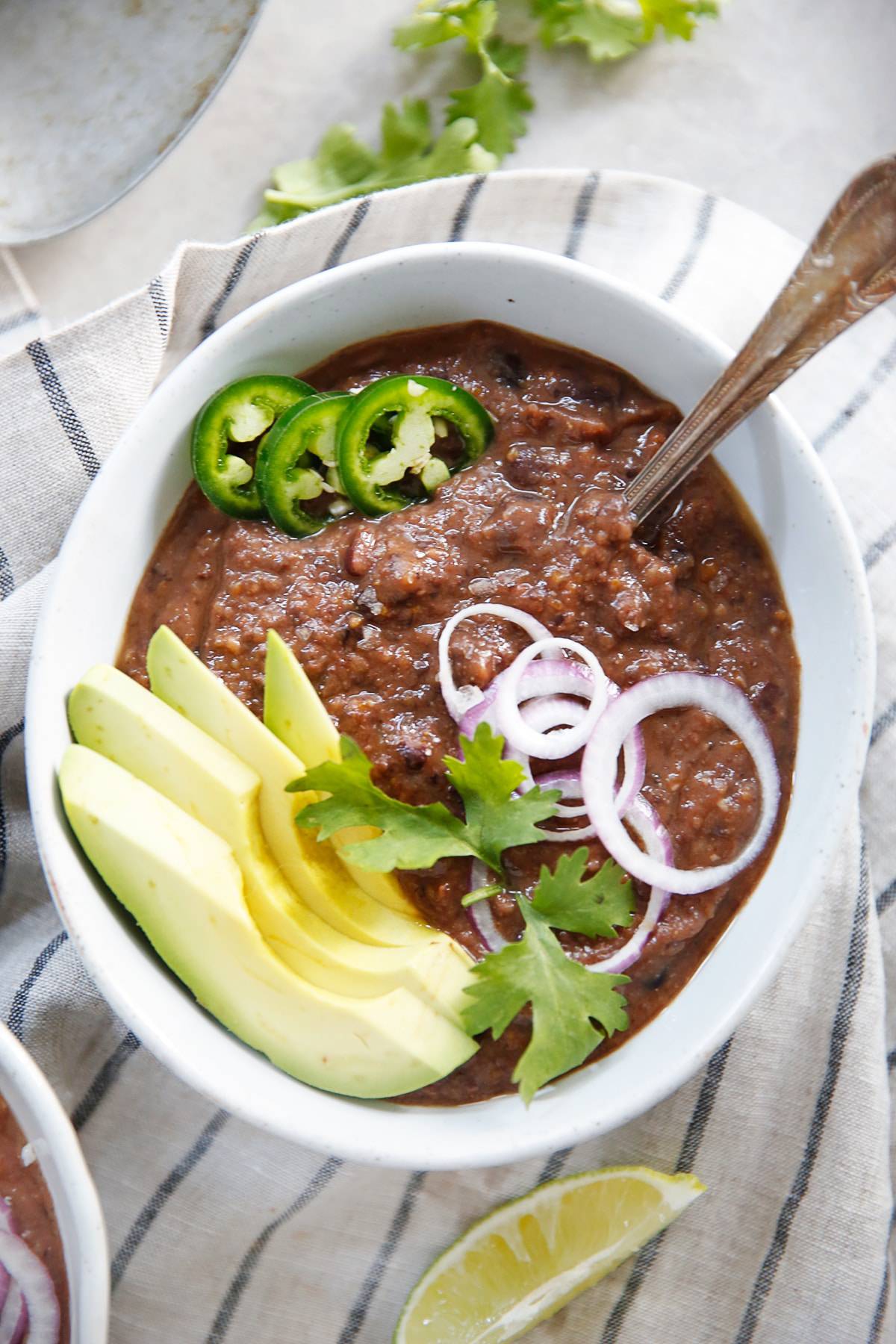 Lexi's Clean Kitchen
Black bean soup thick enough to double as a bean dip sounds like a great game day addition. Serve up this easy, wholesome soup with all your favorite toppings.
Love and Lemons
If you're still clinging to summer (hands up!), but realize you slowly need to succumb to fall, make the best of both worlds with this combination chowder. Lentils add body and substance to sweet corn, potatoes and a luscious cashew cream base.
Naturally Ella
The key to this meat-free chili is bittersweet chocolate and ground pecans–surprisingly savory with mole-style kick.  Kidney, pinto, and navy beans add a protein punch.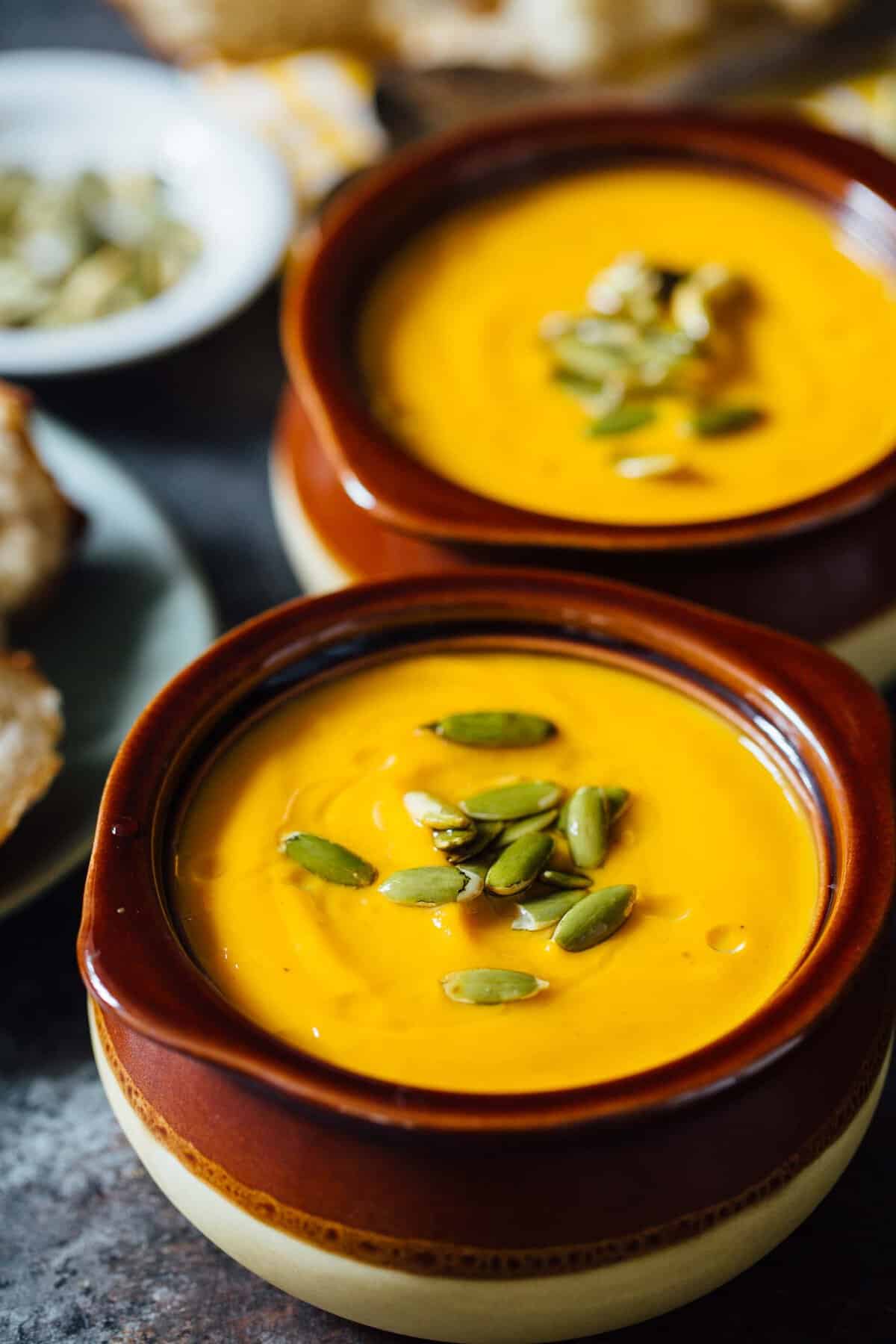 Table for Two
You know I'm obsessed with my Instant Pot Butternut Squash, and this recipe spins a new version with a smooth and seasonal soup. This would make a great lunch with this salad or this sandwich .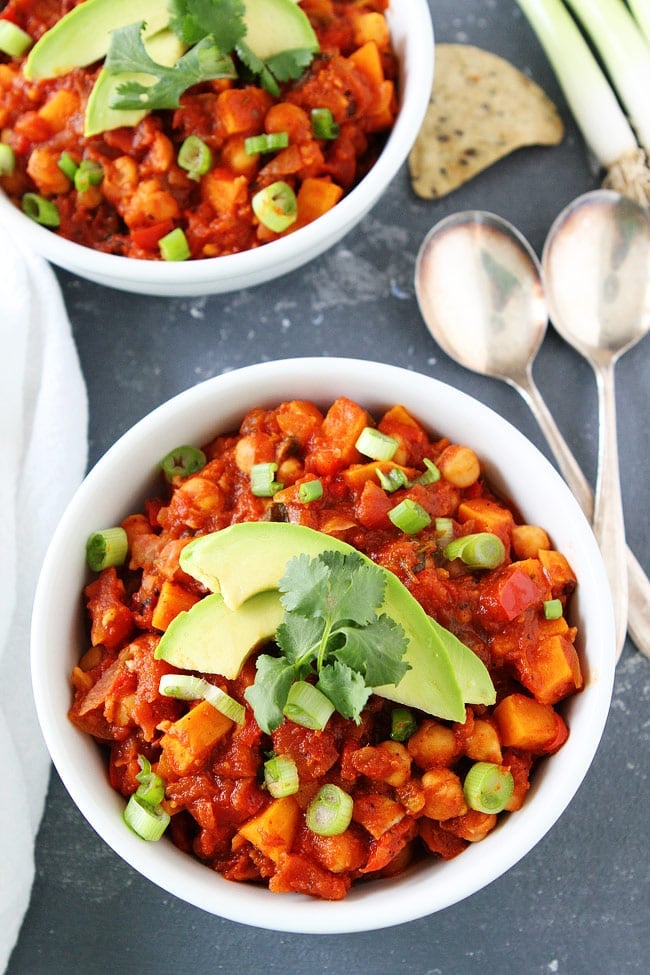 Two Peas and Their Pod
This vegan recipe remixes your tired and true chili play list with heaps of chickpeas and sweet potatoes for all the good vibes minus the meat.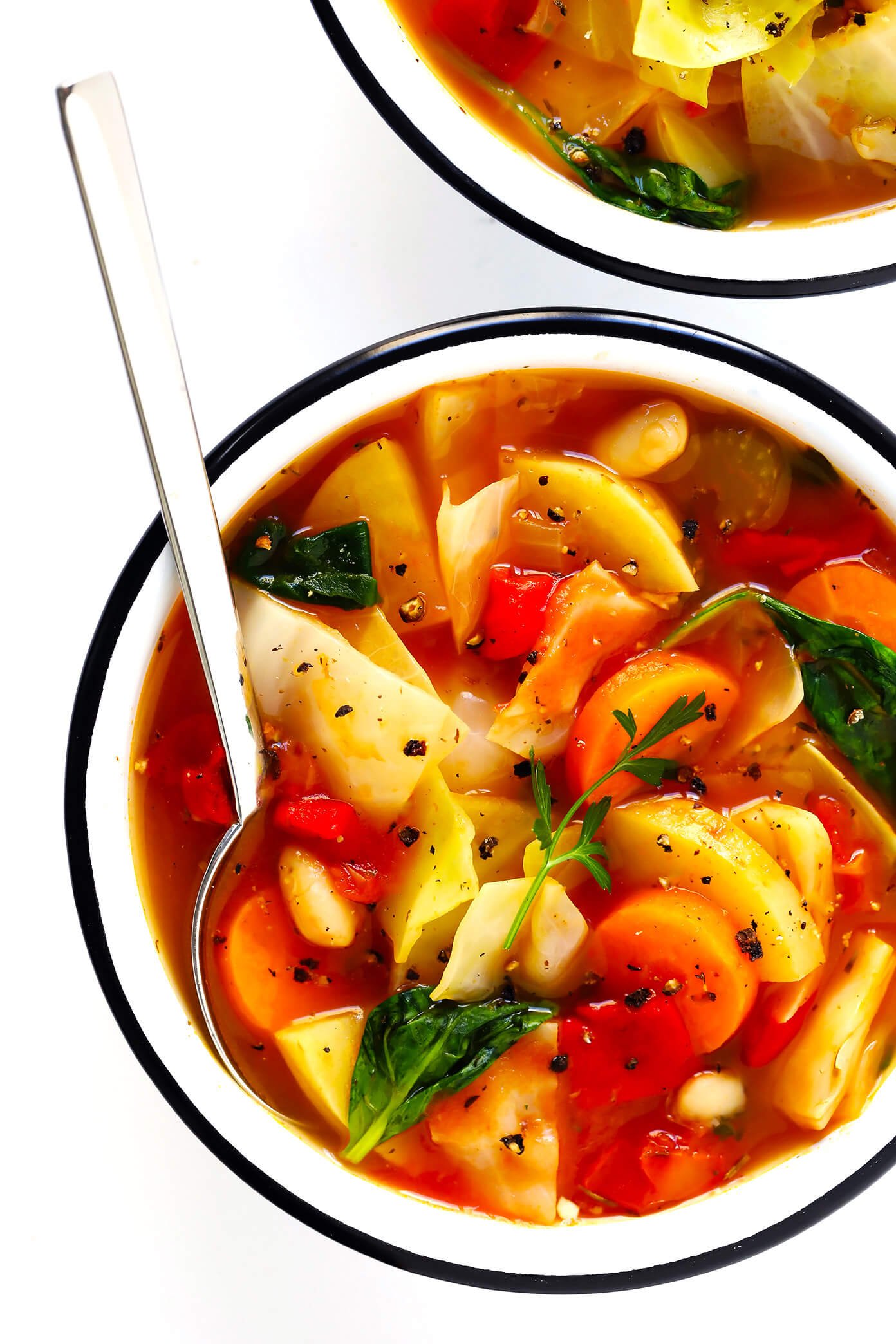 Gimmie Some Oven
Wait–don't go! I promise this savory soup has nothing to do with that crazy retro diet. I'm all about nourishing your body with healthful foods, and this soup will do just that. Customize to your liking with different levels of spice or seasoning.
Spend With Pennies
Dive spoon-first into this traditional Austrian dish and don't forget the bread for dipping. Smoked paprika provides authentic flavor for this melt-in-your mouth beef and veggie stew.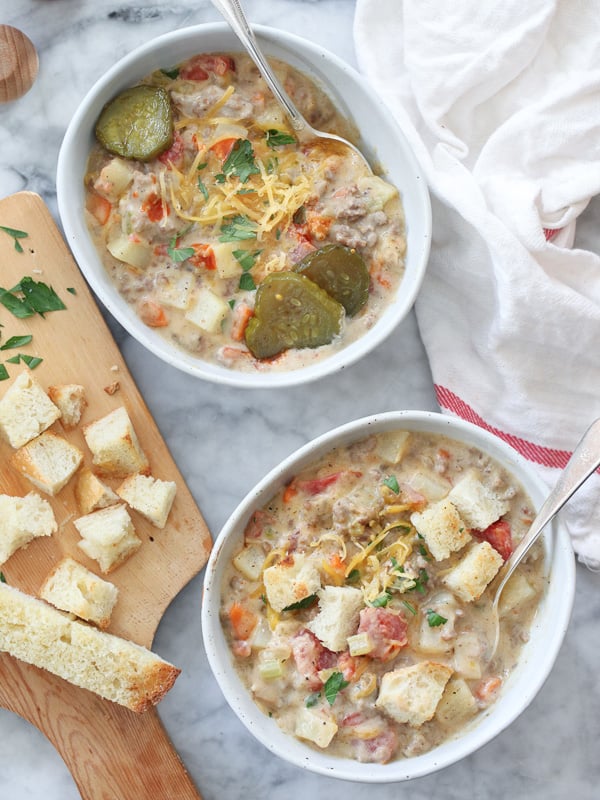 FoodieCrush
When it's too chilly to man (or woman) the grill outside, get your back yard barbecue fix with this hearty and healthy burger mashup—and yes! Pickles rule! This bowl covers all the burger bases from spicy sweet pickles to ooey gooey cheese, topped with buttery crisp croutons.
Need a few ideas to accompany these belly-warming bowls? Try:
And for even more soup-spiration, check out:
So do tell! What comfort foods are going to keep you warm this winter?
xo, Heidi
As always, thank you for reading and supporting companies I partner with, which allows me to create more unique content and recipes for you. There are affiliate links in this post of which I receive a small commission. All opinions are always my own.  
Thanks for reading and subscribe to FoodieCrush to have each post delivered straight to your e-mail box.
Craving more life balance, less stress, and better health? Check out my Nourished Planner, the daily planner to help create simplicity and under-schedule your life.