A clean, herb-infused broth makes this slow cooker tortellini soup with Italian sausage a favorite to keep in your weekly meal plans.
This post is in partnership with McCormick.
"Oh babe, this is so good. Hey! Don't eat all the broth! That's mine." My husband. He's usually really good about sharing. "Oh. This is really good." Until it comes to soup. He LOVES a good soup. And he wants it all for himself.
I've said it here before. My man is a soup aficionado. And if you can spell aficionado without having to hit dictionary.com, you are one swell spelling bee winner, because I can't. But back to the crockpot tortellini soup…
Not only does the slow cooker create a broth for this tortellini soup that tastes flavorful and ultimately craveable, but the perfumed scent of sausage, onion, celery and garlic that wafts from the kitchen as it cooks will also have you wishing you could give that lid on the slow cooker just a crack to dip a spoon in for juuuuuust a bite for taste testing.
Or better yet, dip in a big old slice of sourdough. Fancy that. We're a family of dippers.
What's in This Tortellini Soup?
Veggies and broth are the supreme staple for a simple soup like this. What I like about that fact, besides that it's so easy to pull together, is the clean flavor it imparts. This sausage tortellini soup is one of those soups you can plan to make later on in the weekly meal planning because this list of fresh ingredients hold their goodness longer, and the whole batch is flavored with dried herbs you can keep handy in the cupboard.
But to get that full dose of flavor, I don't use just any any dried herb.
When McCormick asked me to try their new line of Herb Grinders I was intrigued. They describe the herb grinders as a whole new flavor innovation designed to deliver more aroma and more taste. Each grinder contains dried herbs with larger cuts of leaves you can grind when ready to use, keeping the herbs fresher, longer.
Grinding fresh also makes the herbs finer and smaller in texture. What I liked about that for this soup is because I used the basil, oregano and parsley herb grinders, the finer ground herbs blended seamlessly into the broth, so that with each bite, no one herb overpowered the other.
The stock is simple but deep thanks to the addition of tomatoes to the chicken broth and the soffrito of veggies (what Italians call the combination of onion, celery and carrots) as well as a bit of sherry to tenderize and flavor the sausage when cooking.
How to Make Tortellini Soup in a Slow Cooker
You'll first need to brown the sausage in a skillet that's been preheated over medium-high heat. Once the meat is browned, add the garlic, onion, and celery and continue cooking until the veggies have softened.
Season with salt and pepper, then pour in the sherry wine and cook until it's evaporated. Transfer the mixture to your slow cooker, then add in the carrots, broth, and tomatoes. Grind in the herbs and stir.
Cover the slow cooker and cook on low for 3 hours. Add the kale and tortellini and cook for another 30 minutes before serving.
I garnished my sausage and tortellini soup with Parmesan cheese, just because.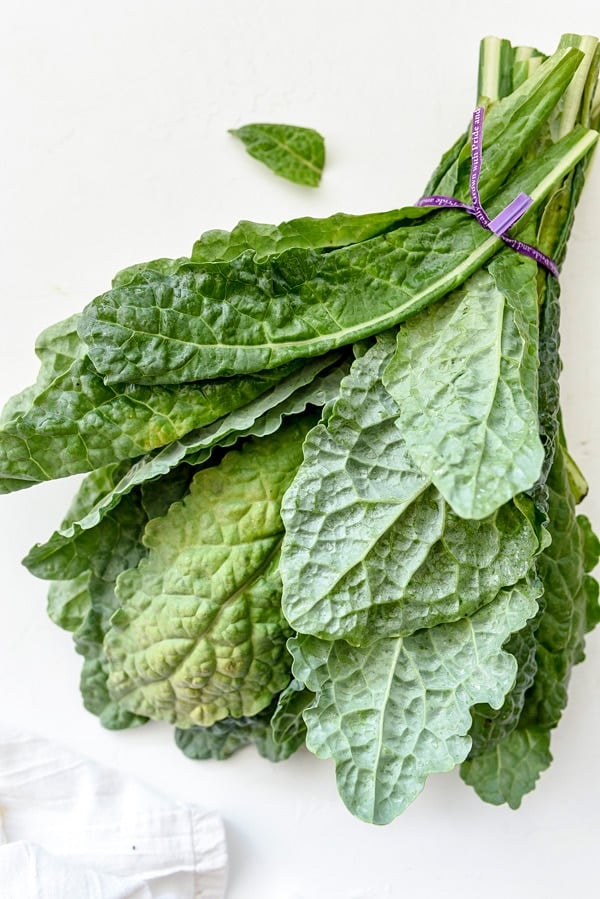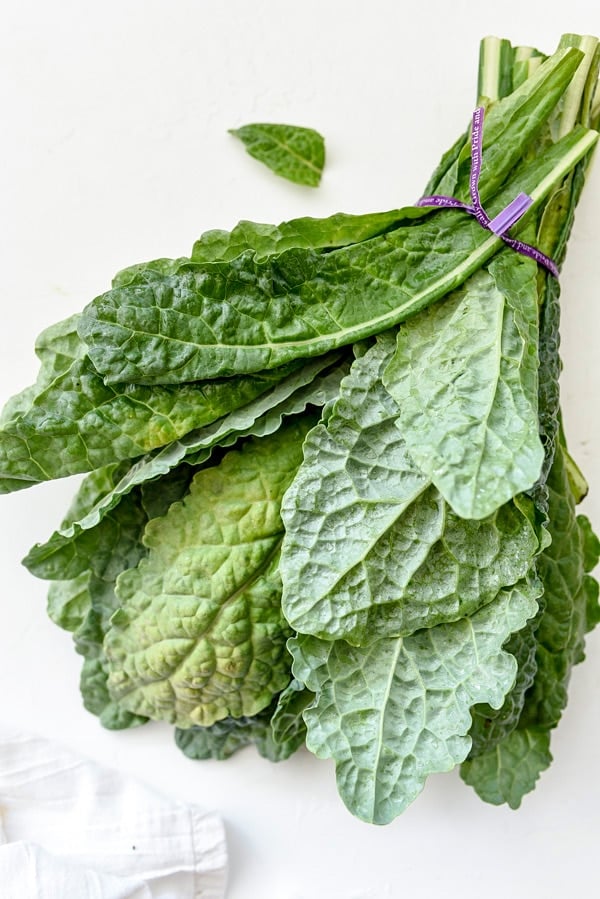 Can I Make This in an Instant Pot?
Absolutely! I've made this soup in my regular slow cooker before, but now that I have my Instant Pot, I'll be saving my old slow cooker to use just for bigger batch cooking. What is special about the Instant Pot is it has 7 functions in one pot. You can use it as a slow cooker, a pressure cooker, a yogurt maker and so much more.
But the thing I LOVE about this appliance is its function to sauté meats, chicken, veggies, and more directly in the insert. No need to dirty another pan or pot. It makes each slow cooker recipe a true one-pot meal and perfect for soups like this one.
Is There a Kale Substitute I Can Use?
Of course. I used lacinato kale, or dinosaur kale, in this easy tortellini soup for a bit more bulk, and freshness, added at the end with the tortellini. Spinach, swiss chard, or arugula could be used instead.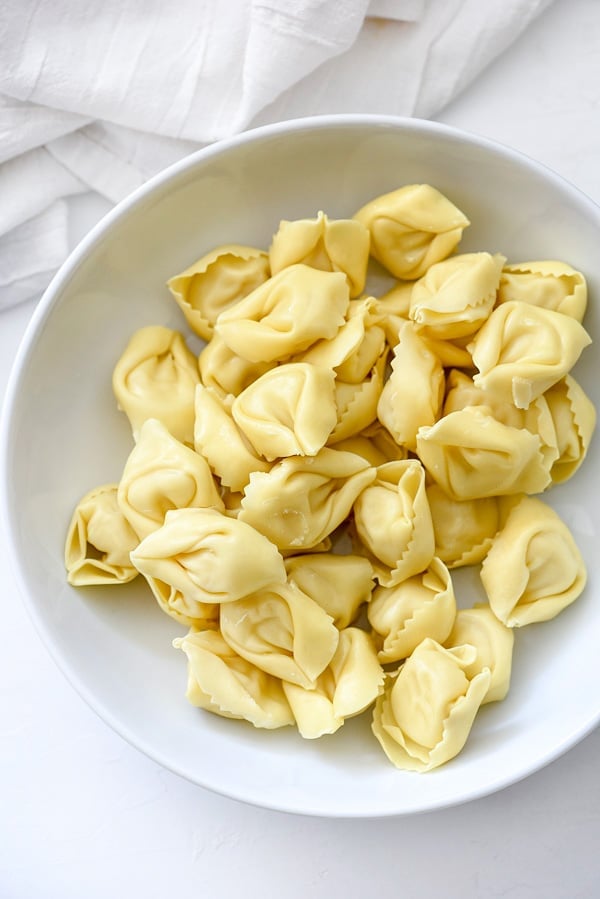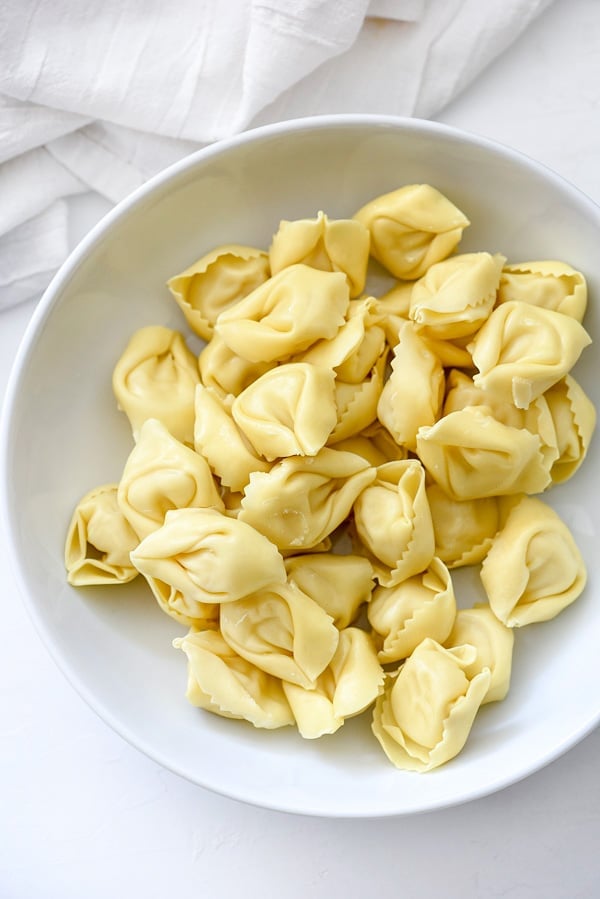 Tips for Making Tortellini Soup
I like a 3-cheese tortellini in my soup, but you could use a spinach and cheese or other flavor you prefer. When adding your fresh tortellini, be mindful not to overcook them. Fresh tortellini cooks up quickly, and the little bundles of cheesy pasta bulk up more the longer they sit in the broth. If you let them cook too long, there's a greater tendency for them to break down. If you use dried tortellini in your soup, allow for at least 30 minutes extra cooking time.
If you don't have sherry on hand, use a white wine you'd be willing to drink instead.
Oh, and I highly recommend serving this sausage tortellini soup with crusty sourdough bread or even soft potato rolls. Because like my husband says, brothy soup like this is made for dipping.
More Slow Cooker Soups You Need to Make
If you make this recipe, please let me know! Leave a comment below or take a photo and tag me on Instagram or Twitter with #foodiecrusheats.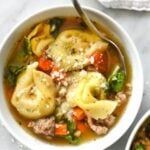 Print
Slow Cooker Tortellini Soup with Sausage and Kale
A clean, herb-infused broth makes this slow cooker tortellini soup with Italian sausage a favorite to keep in your weekly meal plans.
Ingredients
1

pound

ground sweet Italian sausage

1

onion

, diced

2

stalks celery

, diced

4

cloves

garlic

, pressed or minced

1

teaspoon

kosher salt

1

teaspoon

freshly ground black pepper

⅓

cup

sherry or dry white wine

2

carrots

, diced

1 15-

ounce

can diced tomatoes

8

cups

chicken stock

1

teaspoon

McCormick Basil Herb Grinder

1

teaspoon

McCormick Oregano Herb Grinder

½

teaspoon

McCormick Parsley Herb Grinder

3

cups

chopped lacinato

, dinosaur kale, stems removed

1

pound

fresh 3-cheese tortellini

Grated Parmesan cheese for garnish
Instructions
Preheat a large skillet over medium-high heat. Add the sausage and cook stirring occasionally until browned. Add the onion and celery and cook for 3-4 minutes then stir in the minced garlic, season with the kosher salt and freshly ground black pepper and cook for another 2-3 minutes. Add the sherry or white wine and scrape up any fond or bits on the bottom of the pan, cooking until it evaporates.

Transfer the sausage and vegetables to the insert of the slow cooker. Add the carrots, diced tomatoes, and chicken broth. Grind in the basil, oregano and parsley and stir. Cover with the lid and set the cooker to low and cook for 3 hours.

Add the tortellini and the kale to the slow cooker and cook for 30 minutes.

Ladle into bowls and sprinkle with parmesan cheese.
Notes
To make this tortellini soup in an Instant Pot, first brown the meat and vegetables using the browning setting. Then cook the soup using the slow cooker setting. 
Nutrition
Calories:
505
kcal
|
Carbohydrates:
42
g
|
Protein:
25
g
|
Fat:
26
g
|
Saturated Fat:
9
g
|
Cholesterol:
72
mg
|
Sodium:
1398
mg
|
Potassium:
707
mg
|
Fiber:
4
g
|
Sugar:
8
g
|
Vitamin A:
5131
IU
|
Vitamin C:
39
mg
|
Calcium:
168
mg
|
Iron:
4
mg
More Dinner Recipes with Sausage You'll Love
We send good emails. Subscribe to FoodieCrush and have each post plus exclusive content only for our subscribers delivered straight to your e-mail box.
Follow me on Instagram, Facebook, Pinterest and Twitter for more FoodieCrush inspiration.
This post was in partnership with McCormick. To learn more about the new McCormick Herb Grinders and some simple recipes to put them to use, click here!
As always, thank you for reading and supporting companies I partner with, which allows me to create more unique content and recipes for you. There are affiliate links in this post of which I receive a small commission. All opinions are always my own.