This list of savory salads that make a meal will have you eating salads every day of the month, all year long.
Summer may be coming to a close, but don't give up those greens just yet.
I get it, I get it. It can be so hard to give up those warm summer days spent peacefully relaxing or jam-packed with awesome activities. And now that school's back in session, and there's a hint of chill in the morning air, it's easy to fall into a ho-hum meal rotation, or start snacking on lunch box leftovers.
Stop in the name of love for salad!
This is the most bounty-ous time of year to take advantage of all the seasonal harvest favorites. Take your pick of kale, squash, apples, sweet potatoes, and so much more in this monthly roundup featuring 30 days of sumptuous salads that are a full meal in themselves, or an enticing side to any healthy dinner.
FoodieCrush
This Mexican inspired combo makes any meal a fiesta! Get crunchy, creamy, sweet, and savory in every flavor-infused bite thanks to roasted butternut squash, cranberries, pepitas, and a tangy dressing.
Love and Lemons
Use  up the last of summer's sweet corn, and pair it with silky sweet potatoes, seasonal apples and a spicy chipotle glaze.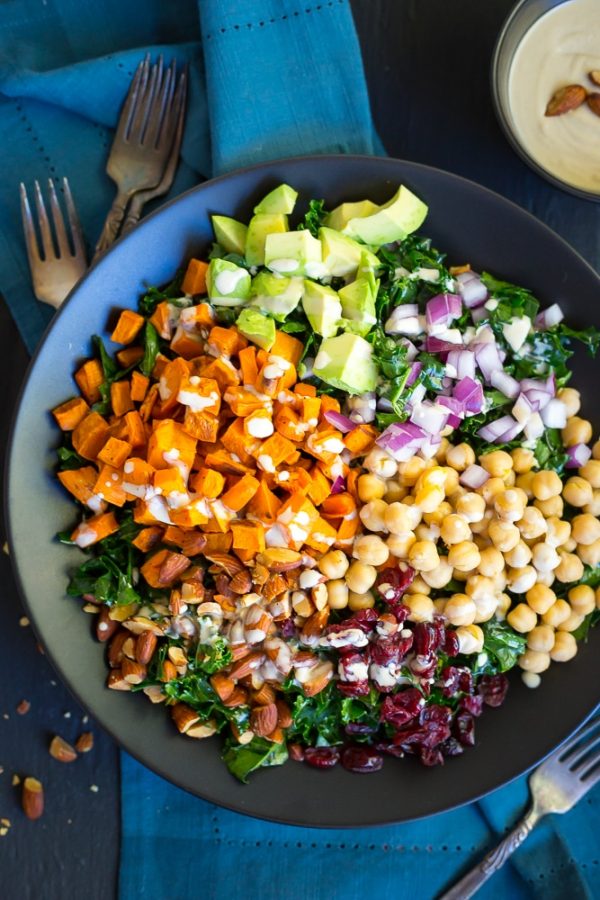 She Likes Food
Be the boss of your day with this super food lunch or satisfying dinner salad. Chopping all the ingredients into uniform sizes adds so much texture in each nourishing forkful. I like to get a bite of everything at once!
Cookie and Kate
Veggie-friendly and protein-packed, this hearty salad makes the most of basic veggies and a can of beans. Toss in roasted pumpkin seeds for plenty of crunch.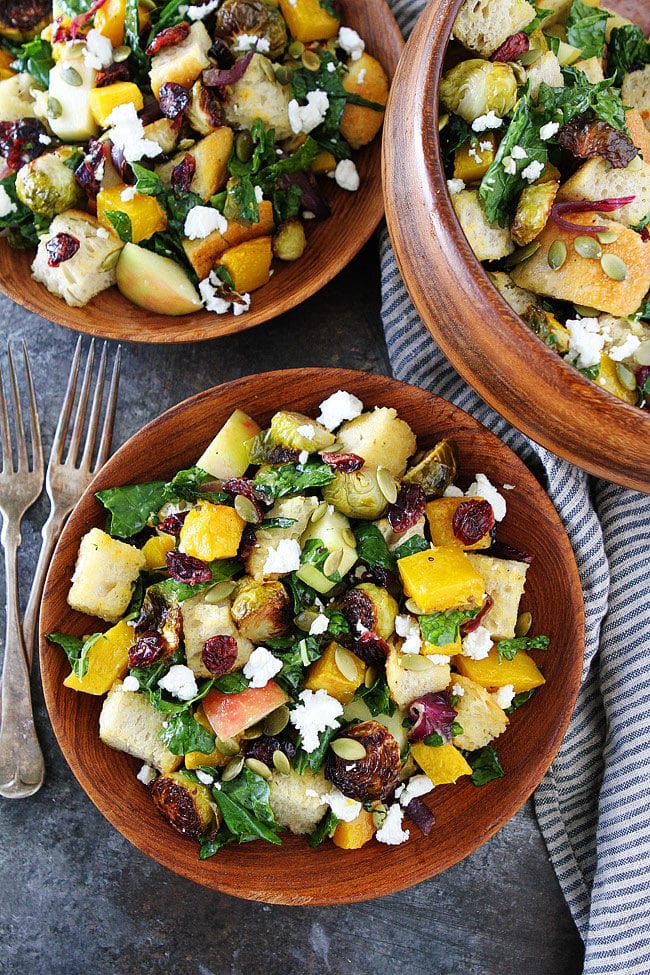 Two Peas and Their Pod
Two of my favorites–bread and salad–sign me up! Add a healthy dose of roasted veggies, tart cranberries and juicy apples for a fancy dinner side or just a fancy lunch for yourself.
Iowa Girl Eats
Fire up the grill while it's still reasonable outside  and dig into this salad that even a meat and potatoes man (or woman!) will appreciate.
How Sweet Eats
Crunchy munchy honey roasted cashews, crispy homemade croutons, creamy goat cheese and velvety buttercup squash make this a seasonal slam dunk–extra points for the maple dijon dressing.
Cafe Delites
This med-style salad is chock full of heart healthy fats including salmon, avocado, olives, and tons of fresh veggies. A double-duty marinade and dressing make this a snap to put together.
FoodieCrush
I'm so ready to make Brussels sprouts a thing! Dive into seasonal eating with shaved sprouts, sweet beets and smooth goats cheese, accented by toasted pecans and a tangy mustard dressing.
Fit Foodie Finds
Your taste buds won't know what hit 'em when you load your plate with this tantalizing Thai dish. Grilled corn, peppers, and plenty of zing from red chili paste will brighten up any sad desk lunch.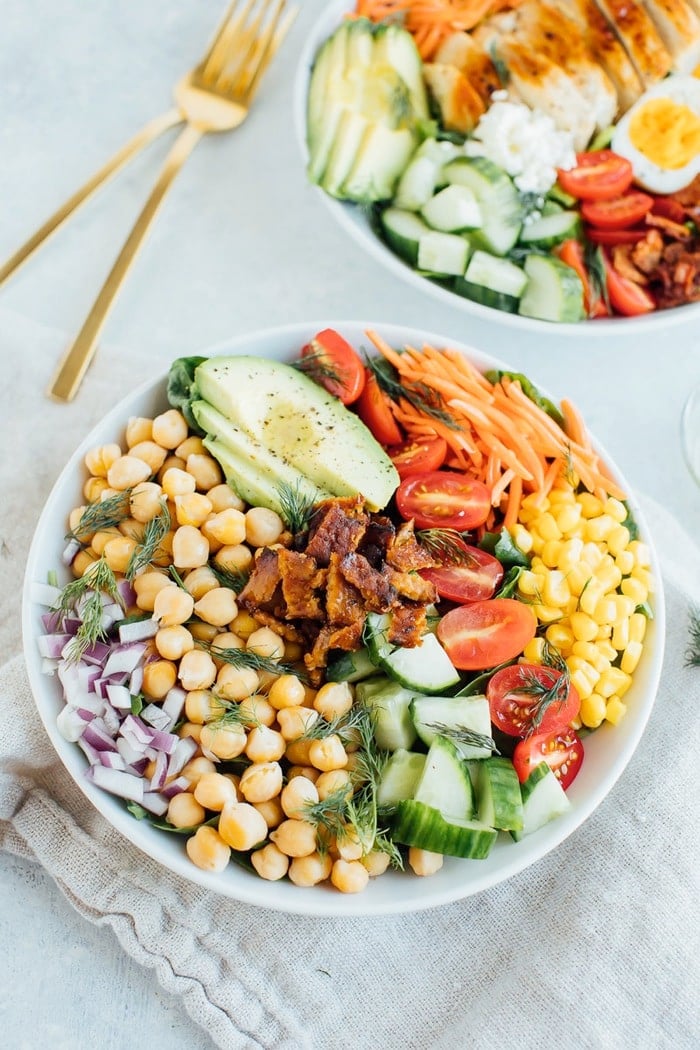 Eating Bird Food
Say what? A totally veggie-based dish that still packs 19 grams of protein? It's true! Lots of satisfying texture from chickpeas, crunchy tempeh bacon, and greens will have even the most devoted meat eater munching through this lunch.
FoodieCrush
Like your favorite light-knit sweater, this salad belongs on your table as the perfect transitional piece between the last days of summer and early Fall. Roasted squash, crunchy apples, and a a spiced apple cider vinaigrette add seasonal flair, while keeping it light.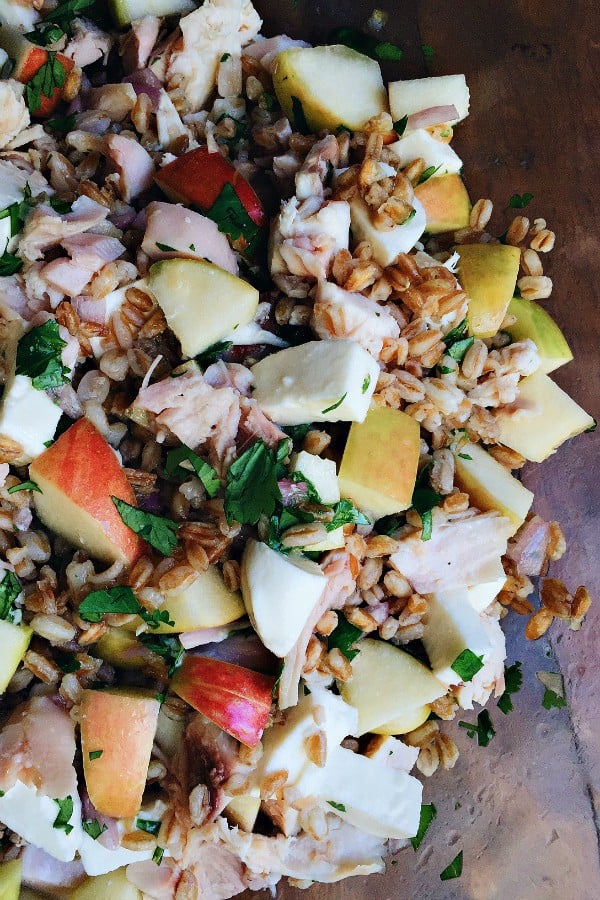 Reluctant Entertainer
This healthy blend of nutty grains, fruit, and cheese makes for a beautifully balanced lunch or striking dinner side. This recipe calls for farro, but you can easily swap in any leftover grain you have on hand.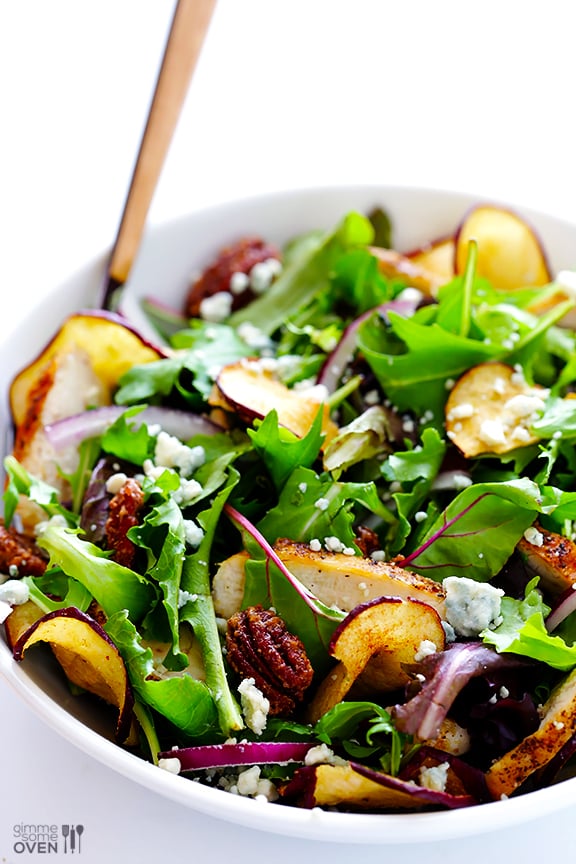 Gimmie Some Oven
We don't have a Panera Bread here in Utah, so it's my first fast food go-to if I'm in a pinch while traveling. I always order this salad, so I can't wait to make this copycat version full of thinly sliced crispy apples, pecans and juicy chicken at home.
With Salt and Wit
Another day, another kale salad. But this colorful melange of hearty veggies sets itself apart from the crowd with a luscious dressing, and texture galore thanks to creamy chickpeas and roasted peanuts.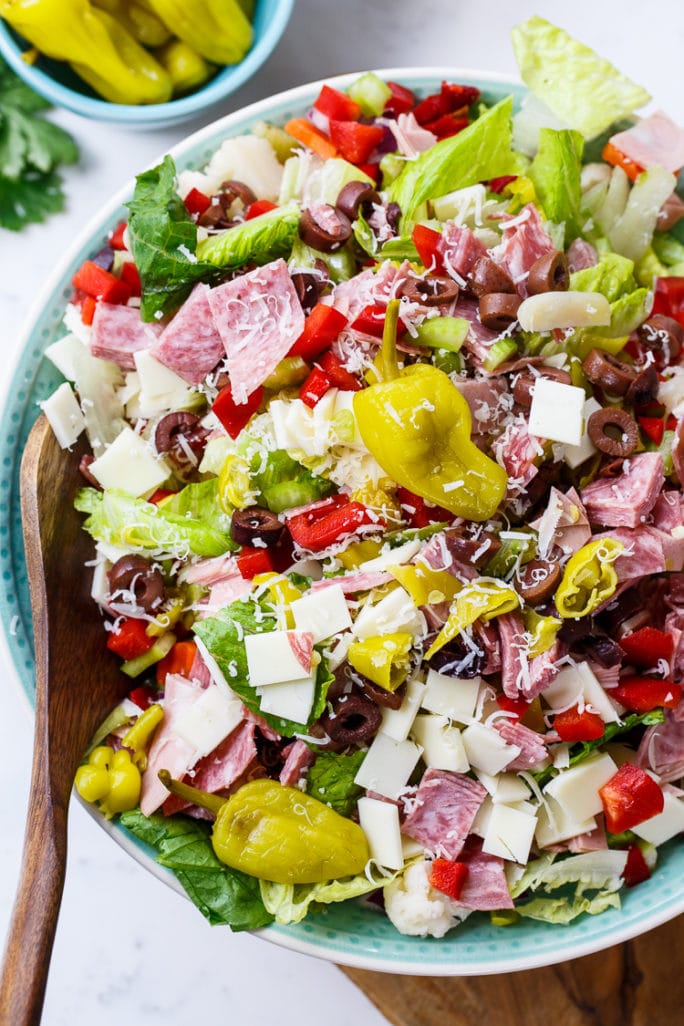 Spicy Southern Kitchen
A slew of authentic Italian meats, cheeses, and Giardiniera veggies make this a delicious deli-style meal that will keep a that pep in your step all the way until dinner time.
How Sweet Eats
The standard kale salad gets an inspired makeover all the delicious flavors of fall with smoky honey pepita clusters, cinnamon shallot vinaigrette, crisp apples and sharp white cheddar.
Cooking Classy
Pears are often overshadowed by apples and pumpkin spice everything this time of year, but you can make the best use of this forgotten fruit by tossing it with field greens, shaved Parmesan, tart cranberries and nuts with this simple and healthy salad.
Ambitious Kitchen
Almost too pretty to eat! Take your tastebuds on a trip around the world with this vibrant, veggie-packed dish topped with an enticing peanut curry dressing.
The Modern Proper
No stuffy salads here! Make an updated version of this classic with sassy candied walnuts, white balsamic vinegar, and shredded kale.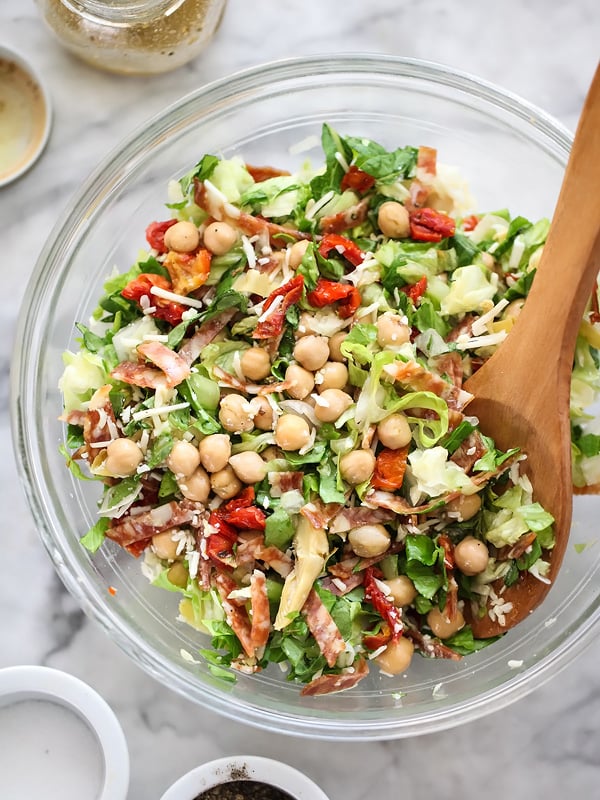 FoodieCrush
This restaurant-inspired chopped salad combines easy marinated chickpeas,  salami, artichoke hearts, sun-dried tomatoes, Asiago cheese, and a zesty red wine vinaigrette for authentic Italian taste at your own kitchen table.
Skinny MS
Citrus adds a splash of sweetness to savory blue cheese, pecans and Brussels sprouts in an easy dish that gets even better the next day.
Skinny Taste
We all love a good steakhouse-style wedge salad, but it's just not practical to tote that around in your lunchbox or stash in the office fridge. Problem solved with this reimagined blend of green lettuce, tomatoes, blue cheese, and bacon.
Viktoria's Table
We don't often think of mushrooms as being "in season" because they're in stores year round, but Fall is peak mushroom time in many parts of the country. Use this readily available ingredient to transform an easy batch of lentils into a gorgeous and tasty salad, topped with caramelized onions, salty capers, and pine nuts.
Skinny Taste
Don't let the simplicity of this salad stop you from relishing this as the perfect accompaniment to any main dish. Just a handful of pantry staples paired with readily available fresh produce make this an easy addition to your weekly menu.
Cafe Delites
You may have seen this beauty floating around on Pinterest before, but it's so good, we had to mention it again.  I love this for a week of healthy lunches, or a satisfying light dinner.
The Suburban Soapbox
Rescue  fruit that may have been sitting on your counter for a little too long, or just isn't ripe enough to toss in a lunchbox yet, by roasting it for maximum flavor.  Add lightly sweetened nuts, sharply flavored cheese, and pomegranate arils delightfully autumnal dish.
Minimalist Baker
This flavorful and salad gets it's kick from a creamy roasted garlic dressing and fills you up with subtly spiced chickpeas and loads of chewy greens.
The Recipe Critic
You can't stop the chop with this delectable mix of fall favorites. Diced fruit, romaine, bacon, cranberries and feta play favorites with a creamy poppy seed dressing you won't want to quit!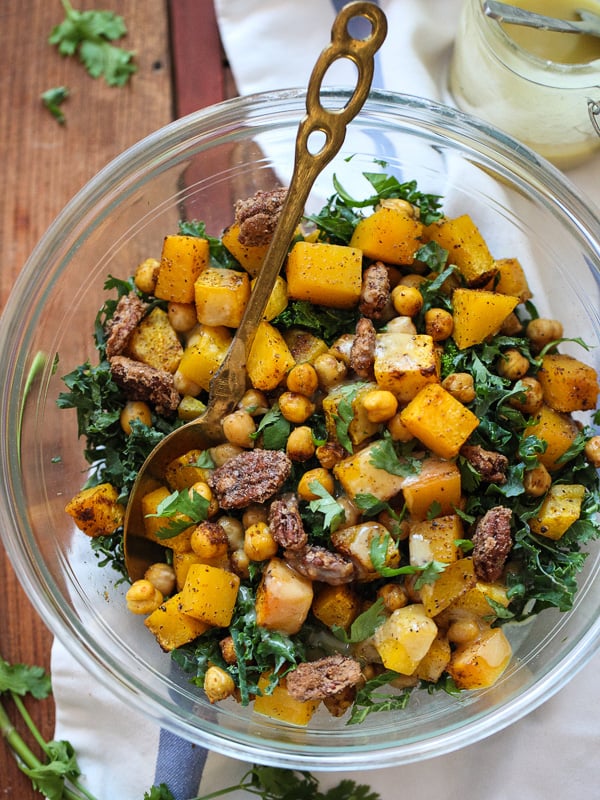 FoodieCrush
This oldie but goodie is one we come back to again and again. Roasted squash, candied pecans, chickpeas and kale are complimented by mellow tahini dressing to bring in the harvest season with style.
More Recipes You Will Want to Make Now
With a fresh salad for every day of the month, this list should keep you feeling slim and satisfied long after swim-suit season is over. If you're looking for more inspiration, check out:
How are you getting ready to welcome fall in your home? Are you already breaking out the Halloween decorations, or are you relishing the last warm days of the year? I love hearing about your ever day lives!
xo, Heidi
Do you have a simple side you love to make or a request for a recipe? Share it in the comments below, or email it to me at [email protected]
As always, thank you for reading and supporting companies I partner with, which allows me to create more unique content and recipes for you. All opinions are always my own.
Thanks for reading and subscribe to FoodieCrush to have each post delivered straight to your e-mail box.
Learn more about my printed day-planner Nourished Planner here, and sign up for free, emailed weekly meal plans.
Follow me on Instagram, Facebook, Pinterest and Twitter for more FoodieCrush inspiration.