Simple vegetarian soups are easy to come by, but this healthy curried lentil soup recipe serves a purpose, too.
This recipe is brought to you by Kroger
My best friend is one of the most enthusiastic people I know. She is a PhD. She is a dreamer. She is a CEO. She is an avid, and I mean AVID animal rescuer. She travels, she mentors, she's curious, she's beautiful, she loves mimosas, and in business and in life, she is the ultimate planner.
And my best friend has Stage 4 Metastatic HER2 Positive Breast Cancer.
Wait. Hold up. This is not part of Kim's plan.
Stage 4. Cancer. Those words…they're so scary to hear. I have no idea what it's like to live with them banging about in your brain, rattling your heart, day in and day out.
Ironically, I received her call about the cancer diagnosis on a Saturday morning while at a Kroger retreat in Detroit. She had been to the doctor the day before. She told me the cancer was back. She told me she wished that five years ago her insurance would have allowed her to have the double mastectomy she wanted, instead of just the one she did have. I'll never forget that phone call as I paced the floor, talking to Kim, my head spinning out and my heart breaking for my friend.
And now, here I am, sharing our story and a very special recipe in a post sponsored by Kroger's Sharing Courage breast cancer awareness program for women, their families, and their support systems. And each and every one of them are very important stories to tell.
Just like everything else she's done in life, Kim is confronting her cancer methodically, analytically, and head-on. Or in this case, with her cleanly-shaven-thanks-to-chemo head-on. I mean, if you have to rock the bald head, this girl shows how to ROCK THE BALD HEAD!
The cancer has spread to her bones, her liver, and her lymph nodes. She has completed 8 rounds of chemotherapy with her body handling the three-fold treatment of perjecta, herceptin, and taxotere extraordinarily well so she will continue for the foreseeable future. Since her diagnosis, she has quit her job and stress as a CEO, is researching how CBD/THC treatments can help, and is doing her best to create a simpler, stress-free lifestyle and incorporating an all-organic, plant-based diet shown to help prevent cancer.
Because like she says, there's no reason to worry about the small stuff she did before. You just gotta let it go.
Sticking to her vegan diet is a challenge. Kim is an adventurous eater, but she isn't much of a cook. That's where I knew I could help her by coming up with easy recipes she can cook at home. When I asked her what type of recipe she was looking for, her only request was that it be easy and have lots of flavor because eating salad after salad after salad quickly gets old.
So while I can't cure her cancer, I can cure her cravings, and I'm starting with this Indian-inspired, totally flavor-filled, organic, vegan, lentil and butternut squash comfort food soup.
Sharing Courage: Kroger's Commitment to Breast Cancer Research
Nearly every day I'm at my local Smith's grocery store where I look at the fresh produce and see the stocked shelves and spy my favorite items on sale. I also notice that the majority of shoppers are women. And statistics say that of those shoppers fondling the ripe avocados and weighing their produce, it's likely that 1 in 8 of those women will develop invasive breast cancer over the course of her lifetime.
That means about 12.4% of all women in the U.S. will develop some form of breast cancer. And that's why Kroger is doing something about it.
Since Sharing Courage's inception, Kroger has generated $36 million to support breast cancer education, services and research, with an additional $1 million to be donated in 2018. Kroger knows breast cancer takes a toll on the lives of their associates and customers, and is continuing its commitment to finding a cure for this deadly disease, and to helping women and their families to find the treatment and resources they need.
Sharing Courage funds go to:
Supporting research.
Providing mammograms and other treatments for women in need.
Funding cancer education classes and support groups.
Purchasing wigs, mastectomy supplies and transportation assistance.
All of the funds stay in the cities and towns where their Customers and Associates live and work. There is no national donation.
Supporting the fact that diet can be the best medicine for patients and caregivers as they fight this illness together.
This program is just one more reason I'm proud to be a partner with Kroger, a company that really does give back to its community.
How to Make this Healthy, and Easy Lentil Soup
Packed with dietary fiber, protein, folate, and B vitamins, lentils are a nutritional powerhouse and the base of this healthy, plant-based, vegetarian/vegan soup.
Lentils are low in calories and have little to no fat. Besides their color, there is a difference between green, brown, and red lentils that becomes apparent as they cook. I used Simple Truth Organic green lentils because they hold their shape better while cooking, compared to red lentils that tend to dissolve easier. You could also use brown lentils if you prefer, however red lentils will become more mushy as they cook.
Unlike beans, there's no need to soak lentils before cooking them. Simply add them to the vegetable broth and water, where they will thicken the soup's broth as it cooks. If you prefer a thicker soup in the likes of a stew, use 1 or 2 cups less water to create a heartier, comfort food "stoup."
Kim's requested flavor bomb comes with the addition of the Indian spices curry, garam masala, and ground cinnamon. I cook the spices into the onion, garlic, and ginger mixture to deepen their flavor, adding warmth to the soup. The aroma as it cooks is intoxicating.
The soup is finished off with a can of Simple Truth Organic garbanzo beans for even more protein, and a few big handfuls of greens, not just for their pretty looks, but for another layer of nutritional punch.
I make this step extra-easy and Simple Truth Organic Power Greens that are preservative-free, pre-washed and de-stemmed. Plus, I love the variety of tender green leaves that come in just one package, including:
baby spinach
swiss chard
kale
mizuna
And there you have it. An easy, purely plant-based soup that makes a meal, and so full of flavor Kim will surely approve.
If you make this recipe, please let me know! Bookmark this recipe and leave a comment below, or take a photo and tag me on Instagram with #foodiecrusheats.
Print
Curry Lentil Soup with Butternut Squash and Greens
This easy green lentil soup recipe can be made thick and chunky like a stew or more brothy like a soup depending on how much liquid you use. To make it thicker, reduce the amount of liquid to 4 cups of vegetable broth and 2 cups water.
Ingredients
1

tablespoon

extra virgin olive oil

2

cups

chopped onion

2

teaspoons

kosher salt

, divided

4

cloves

garlic, pressed or minced

, (1 tablespoon)

1

tablespoon

fresh grated ginger

1

tablespoon

curry powder

1

teaspoon

garam masala

½

teaspoon

ground cinnamon

4

cups

Kroger vegetable broth

4

cups

water

1

½ cups

Simple Truth Organic green lentils

4

cups

diced butternut squash

1

15-ounce can

Simple Truth Organic garbanzo beans

, drained

1

tablespoon

fresh lemon juice

4

cups

Simple Truth Organic Power Greens

, (or a mix of kale, baby spinach, mizuna, and swiss chard)
Instructions
Heat a large stock pot or dutch oven over medium heat. Warm the oil in the pot then add the onion with 1 teaspoon of the kosher salt, and cook until softened, about 5 minutes, stirring often. Stir in the garlic, ginger, curry powder, garam masala, and ground cinnamon and cook for another 2 minutes or until the mixture is fragrant.

Add the chicken broth and the water and bring to a boil. Stir in the lentils, then cover, lower the heat to simmer and cook for 30 minutes, stirring occasionally.

Add the remaining 1 teaspoon of kosher salt, the squash and the garbanzo beans and cook until the squash is tender, about 10 minutes. Adjust the seasoning and stir in the lemon juice and the leafy greens. Serve with additional lemon if desired.
Notes
To make this Lentil Soup in the Slow Cooker: Follow instructions through Step 1. Then, add the onion mixture to the insert of a slow cooker with the broth, water, and lentils and cook on high for 3 hours or low for 6 hours. Add the butternut squash and chickpeas and cook for another hour or until the squash is tender. Stir in the rest of the ingredients.  To make this Lentil Soup in the Instant Pot: Follow Step 1 instructions in the Instant Pot set to SAUTÉ. Add the ingredients in Step 2, then cover and seal the Instant Pot, and set to HIGH pressure for 15 minutes. When done, quick release the cooker, add the butternut squash and seal the pot, set to HIGH pressure for 3 minutes. Allow the cooker to release the pressure naturally, about 10 more minutes. Stir in the greens and lemon juice. Thin with more water or vegetable stock if you like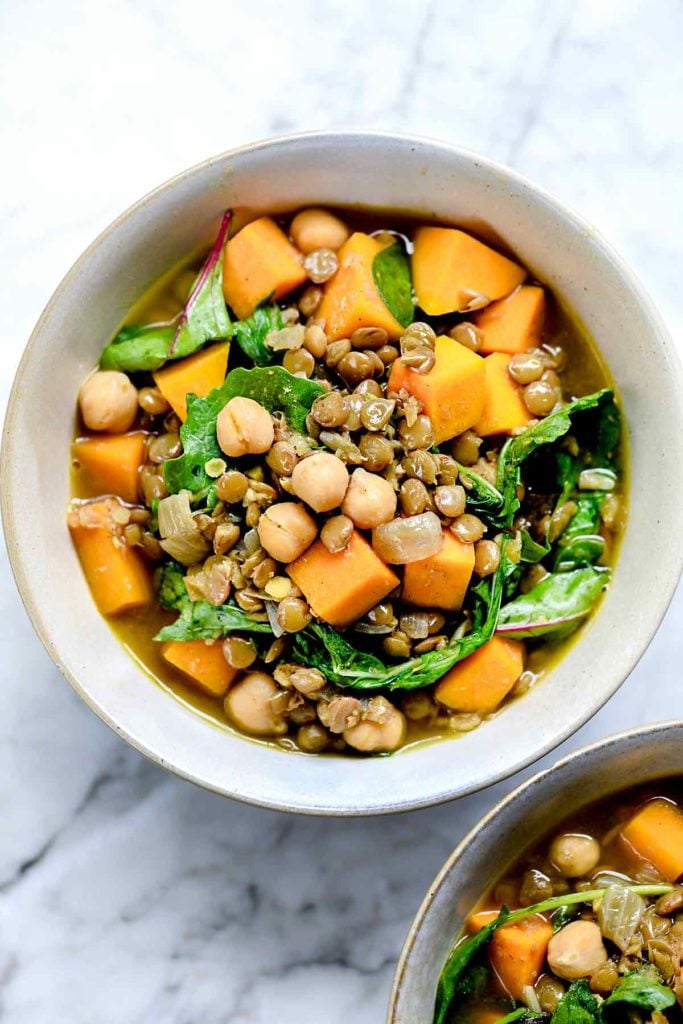 5 More Plant-Based, Comfort Food Soups That Make a Meal
Before I sign off, I do want to know how cancer has affected you and those you love. We are all in this together and can only make change and create a better life when we share our own. So please, share your story, big or small, in the comments below. Or, email me directly at [email protected] . I really do care, and I really do want to know.
XOXO, H
This post is sponsored by Kroger. As always, thank you for reading and supporting companies I partner with, which allows me to create more unique content and recipes for you. All opinions are always my own. 
Thanks for reading and subscribe to FoodieCrush to have each post delivered straight to your e-mail box.
Learn more about my printed day-planner Nourished Planner here, and sign up for free, emailed weekly meal plans.
Follow me on Instagram, Facebook, Pinterest and Twitter for more FoodieCrush inspiration.