These 30 irresistible, lighter, healthier spring pasta recipes are simple and perfect for when you're craving carbs but don't want to feel weighed down.
Happy April!
We're pretty happy to greet spring's arrival, because that means fresh produce, flowers, and all things green—and the start of rosé season, of course.
So when the weather shifts from snowflakes falling to daffodils blooming, our food cravings shift as well, from heavy comfort foods to lighter fare. We're big fans of pasta around here—it's basically our spirit animal—and we crave it on the regular. But come spring, we find ourselves trading in the noodles cloaked in rich cream and meaty red sauces for lighter, simply-sauced dishes with fewer calories and big flavors.
These lighter pastas highlight seasonal veggies like asparagus, peas, and greens, and are seasoned with fresh herbs, garlic, and lemon, and you can throw many of them together in 30 minutes or less, making them totally weeknight-friendly.
And so without further ado, here are 30 lighter, easy, spring green pasta recipes to make in April!
FoodieCrush
This perfectly garlicky, always delicious and popular seafood dish gets a healthy makeover with a mix of zucchini noodles and whole wheat linguini, and it's also made with a lot less butter (your hips will thank you).
With Food + Love
Take what you know about macaroni salad and throw it out the window, because you're going to want this dill and lemon-flavored pasta on repeat all spring and summer-long.
Billy Parisi
The recipe calls for from-scratch pasta and features a recipe, but let's be real, who has time for that on a weeknight? The store-bought stuff does the trick and salty prosciutto, tender spears of asparagus, mushrooms, and creamy ricotta and burrata all work together to make this pasta next-level good.
Vanilla and Bean
Garlicky toasted breadcrumbs give this vegetarian pasta a crunchy bite, and capers, lemon, and red pepper flakes make it sing with flavor.
A Thought for Food
The only real way to improve upon carbonara is to give it a fresh spring makeover, with asparagus and peas.
FoodieCrush
This vegetarian Mediterranean orzo pasta salad with crunchy vegetables and spinach, briny olives, and feta cheese makes a healthy, easy-to-make, meal-prepped meal or flavorful pasta salad side.
Two Peas and Their Pod
You just need 7 ingredients and 30 minutes to make this dreamy rigatoni with zesty lemon, peppery arugula, and gooey burrata.
Healthy Seasonal Recipes
Finally, an alfredo our appetites and health can agree on. This dish boasts just 300 calories per serving, but you'd never know it, thanks to some smart (and equally delicious) ingredient swaps.
Show me the Yummy
A garlic and herb-flavored goat cheese gives these veggie-loaded pasta shells a wonderfully creamy sauce, and not only is everything made in one pot, it's ready in under 30 minutes. As the Barefoot Contessa would say, how easy is that?
Parsnips and Pastries
Asparagus, rainbow chard, zucchini, peas, and plenty of fresh herbs make up this spaghetti in a white wine and lemon parmesan sauce both light and hearty.
How Sweet Eats
You don't need a ton of ingredients to make a damn fine pasta, and this one is proof. Simply take some whole wheat farfalle, toss it with a garlicky, red wine and feta vinaigrette, a bunch of arugula, toasted pine nuts, and a bit more crumbled feta for good measure, and voila!
Our Salty Kitchen
This vegetarian pasta is packed with a host of fresh herbs, veggies, and dollops of zesty lemon-mint ricotta, and perfectly captures the essence of spring.
The Cooking Jar
There's just something so perfect about the marriage of garlic, lemon, capers, and fresh basil, especially when rigatoni, flaky salmon, and parmesan are added to the mix. And pssst, this one only takes 30 minutes.
Gimme Some Oven
This no-frills pasta is so easy, you could practically make it in your sleep! With just 5 ingredients (olive oil or butter, linguini, garlic, arugula, and parmesan, it's full of flavor, inexpensive, and ready in under 30 minutes. But, if you really wanna gild the lily, you probably won't regret adding toasted pine nuts.
Little Broken
This white lasagna is a refreshing respite from its beefy red sauce counterpart. Filled with a milk-based parmesan sauce, chicken, mushrooms, and spinach, and no boil noodles (hallelujah), it totally hits the spot.
Well and Full
Tender little pillows of gnocchi are cloaked in a zippy, mustardy arugula pesto and served with crisp snow peas or snap peas and fresh chives in this gloriously green dish.
Natasha's Kitchen
Popeye would love this super creamy 30-minute linguini studded with chicken, green onions, mushrooms, and plenty of spinach!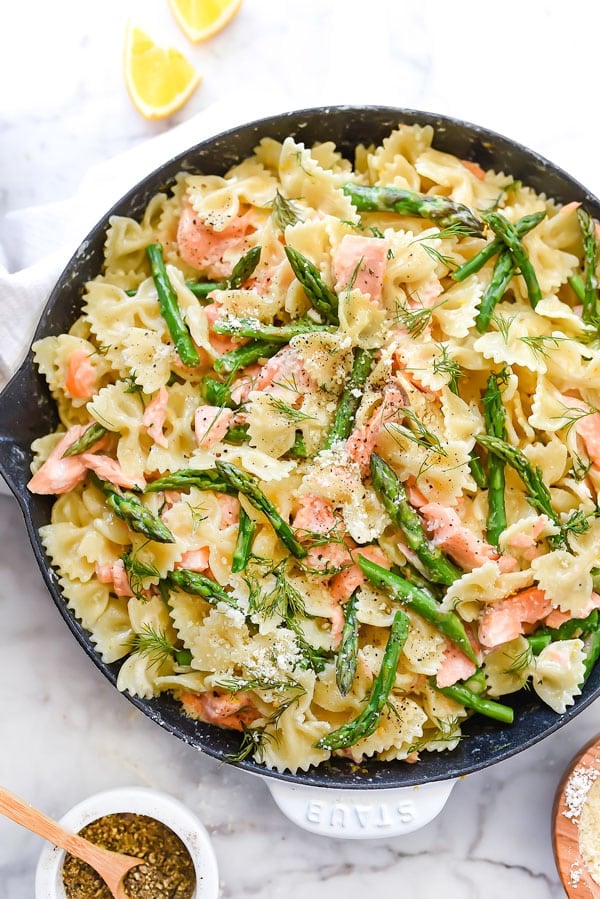 FoodieCrush
Leftover salmon gets a recipe remake with bowtie pasta, fresh asparagus, and dill in this super simple Parmesan cream sauce that makes meal prep a breeze. This salmon pasta couldn't be easier to make!
Feasting at Home
This gorgeous bowl of vibrant is fit for a green goddess, and features an abundance of  emerald veggies, tofu, and soba noodles, all tossed in a tangy ginger-sesame dressing.
FoodieCrush
This one pot primavera might as well be spring's food mascot. It's chock-full of fresh, seasonal veggies and herbs, and is made healthier with almond milk subbing in for the cream and butter. Full of amazing flavor, thanks to garlic, parmesan, lemon, thyme, and dill, it's a creamy, dreamy pasta win!
The Baker Chick
This healthier take on mac and cheese is one you can feel good about. Perfectly creamy and cozy, but made with a whole head of cauliflower (and a lot less butter), this is the perfect way to get your mac and cheese fix without the guilt. Plus, the toasted Panko topping gives it a nice crispy crunch that totally seals the deal.
Well Plated
Avocado and Greek yogurt make a light and creamy sauce for this whole wheat orecchiette with lemon, basil, green onions, arugula, asparagus, and peas.
Lexi's Clean Kitchen
This gluten-free, crowd-pleasing pasta with chicken sausage, spinach, broccoli, and asparagus is teeming with delicious flavors and comes together in one pot, and in just 30 minutes.
FoodieCrush
Busy weeknights call for simple recipes that can be pulled together in a flash, and nothing's simpler than a basic, homemade basil pesto pasta recipe that even a kid can make and clean up after too.
Creme De La Crumb
20 minutes is all you need to make this simple bowtie pasta with artichokes and asparagus in a creamy lemon sauce.
The Full Helping
Not only does this vegan pasta deliver mega flavor, it's awesome for a hit potluck dish, or a light and healthy weeknight supper. It's loaded with Mediterranean ingredients like marinated artichoke hearts, olive oil, and lemon, and also features orzo, asparagus, peas, chickpeas, and fresh parsley and dill.
Flourishing Foodie
Spaghetti is tossed with an easy, homemade walnut basil pesto and topped with florets of caramelized cauliflower, fresh snap peas, and avocado, for a winning combination that won't weigh you down.
Skinnytaste
Lean chicken sausage, broccoli, orecchiette, plenty of garlic, and pecorino come together for an easy and flavorful weeknight dinner you can throw together in no time.
Waiting on Martha
This incredibly light and easy to make pasta features grilled asparagus, peas, and a bundle of fresh herbs, and is a great way to celebrate the greens of spring!
How Sweet Eats
With roasted spring veggies, ribbons of fettuccine, and a light, but creamy goat cheese sauce, how could you say no to this bright bowl of goodness?
For more healthy cooking inspiration, check out some of these other posts from our 31 Days Series:
Thanks for stopping by and visiting FoodieCrush. Have something to say? I'd love to hear from you. Let me know in the comments below.
As always, thank you for reading and supporting companies I partner with, which allows me to create more unique content and recipes for you. All opinions are always my own.
Thanks for reading and subscribe to FoodieCrush to have each post delivered straight to your e-mail box.
Learn more about my printed day-planner Nourished Planner here, and sign up for free, emailed weekly meal plans.
Follow me on Instagram, Facebook, Pinterest and Twitter for more FoodieCrush inspiration.
SaveSave
SaveSave
SaveSave
SaveSave
SaveSaveSaveSaveSaveSave
SaveSave
SaveSave
SaveSaveSaveSaveSaveSave
SaveSave
SaveSaveSaveSaveSaveSave
SaveSave
SaveSaveSaveSave
SaveSaveSaveSaveSaveSave
SaveSave
SaveSaveSaveSaveSaveSaveSaveSave
SaveSaveSaveSave
SaveSave
SaveSaveSaveSaveSaveSave
SaveSaveSaveSaveSaveSaveSaveSaveSaveSaveSaveSaveSaveSaveSaveSave
SaveSaveSaveSaveSaveSaveSaveSaveSaveSave
SaveSave