These 30 recipe ideas for fall-flavored casseroles are great for whipping up homemade autumn-inspired dinners this month.
Happy November!
Cooler weather has finally arrived—unless of course you're in L.A., and in that case, we're sweating in sympathy with you. There's something about chilly temps that makes us crave all things carb-laden and cozy, so for our 11th installment of our 31 Days Series, we're bringing you 30 days of fall casseroles to warm up with this month, because nothing says cozy like a casserole. They're the proverbial queen of comfort food.
A longtime staple in America's cuisine, these baked concoctions appear at family reunions, holiday gatherings, potlucks, and more. Maybe you grew up on your mom's tuna noodle casserole, or your grandma's chicken and rice—either way, any time you take a bite of one, the nostalgia reigns and food memories come flooding back.
With casseroles, no matter what's underneath, it seems the most popular have a thick blanket of melty cheese, crispy toasted bread crumbs, or some sort of breaded topping, totally canceling out their often plain Jane appearance. From French, to Mexican, to Cajun, to Italian, (with plenty of vegetarian options sprinkled in), we've got every kind of casserole you could dream of.
Ready to kick it old-school eatin' style? Let's' dig in!
To see all of this year's 31 Days Series, check them out here:
31 Days of Healthy Comfort Food Recipes to Make in January
28 Days of Lighter Pasta Recipes to Make in February
31 Days of Weeknight Chicken Dinners to Make in March
30 Days of Healthier Salads that Make a Meal in April
31 Days of Sheet Pan Dinners to Make in May
30 Days of Easy Grilling Recipes to Make in June
31 Summer Slow Cooker Recipes to Make in July
31 Days of Summer Produce Recipes to Make in August
30 Dinners to Make When There's No Time to Cook in September
Here's how to make meal planning your month of meals a snap.
First, download this free printable weekly meal planner/to-do list to fill in, tape to the fridge, take to the grocery store, or use for reference next year when you can't remember what the heck were your fave recipes from this one.
And then sign up for your free weekly meal plan and prep list here.
You get the idea. Now get cooking!
Food Faith Fitness
This carb-friendly casserole is inspired by spinach and artichoke dip, and you'd never guess the ultra creamy alfredo sauce that binds it all together was made with cauliflower! But believe it, folks, it's a game-changer.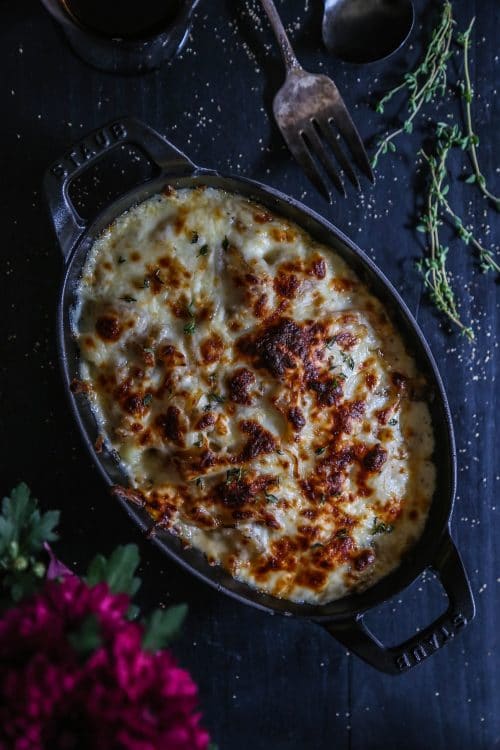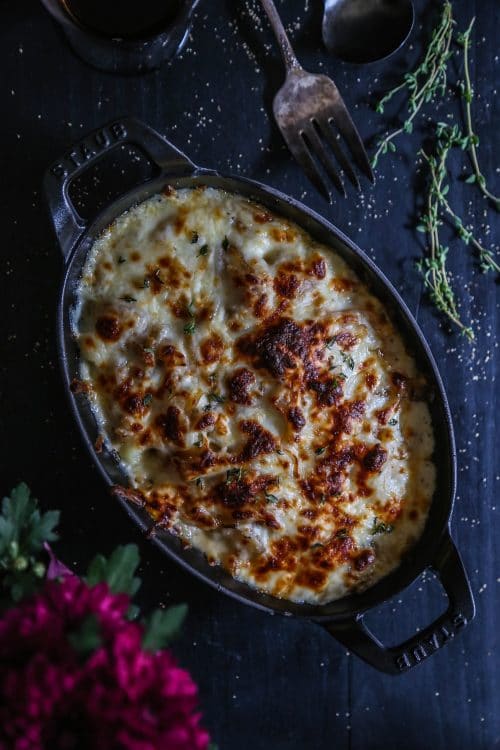 Climbing Grier Mountain
One of your favorite soups just got casseroled. Add little pillows of gnocchi into the mix, and ooh la la, things are looking pretty sophisticated. This is definitely not your mama's casserole!

A Spicy Perspective
All of the flavors you love from Jambalaya make up this kickin' Cajun casserole, which makes for an excellent, crowd-pleasing party dish.
The Endless Meal
Pumpkin, bacon, pasta, and cheese—this recipe has all of our favorite things, with a little kale thrown in for good measure.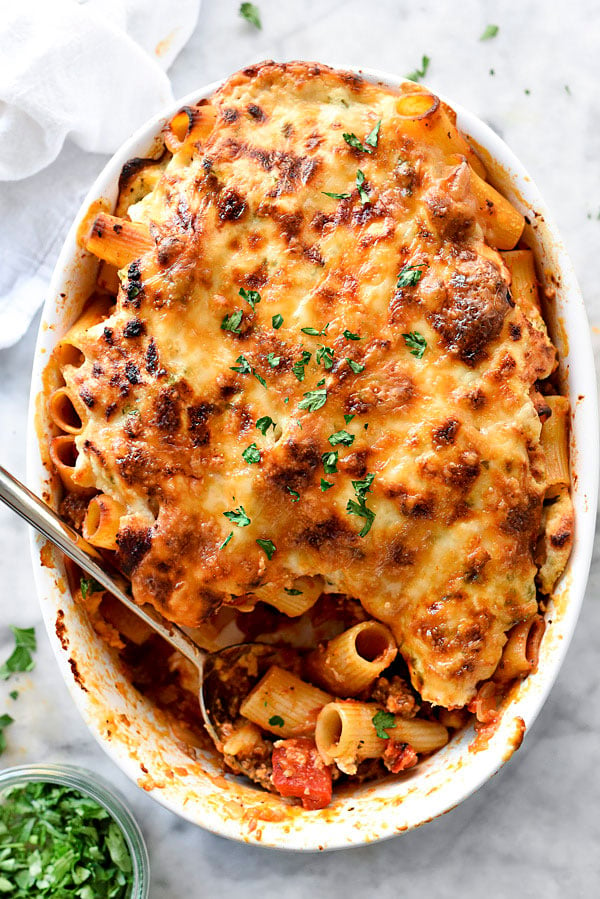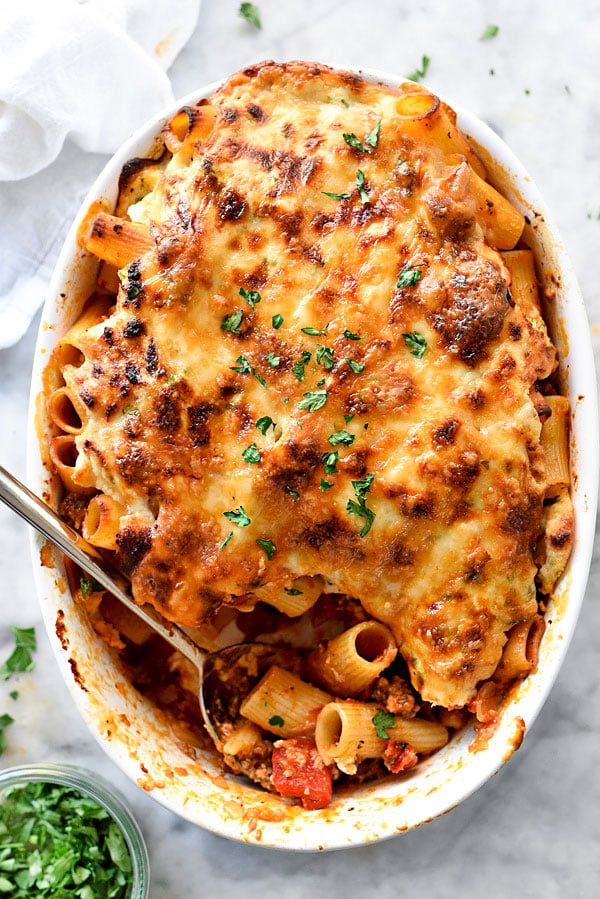 FoodieCrush
This easy baked rigatoni is studded with sweet Italian sausage, roasted red peppers, and ricotta, then topped with a blanket of golden-brown, bubbly provolone cheese. All you need is a bottle of red, and you're well on your way to channeling Italia.
Cooking and Beer
Chicken and rice casserole gets a fancy makeover with this recipe, which features porcini mushrooms, parmesan, and a heavenly shallot-garlic-sherry sauce. It gets topped with spoonfuls of fresh burrata and roasted almonds, and you've got comfort food at its finest.
Bev Cooks
You've gotta love a homemade meal that takes just 10 minutes of prep. Italian herbs, chunks of chicken, broccoli, and red pepper all get tossed together and topped with grated havarti, for a low-maintenance, guilt-free, carb-free weeknight meal.
Pinch of Yum
Creamy, dreamy cauliflower sauce strikes again in this healthified alfredo pasta bake. Meaty pan-roasted mushrooms make it extra filling, fresh sage makes it taste like fall, and the gruyere it gets sprinkled with makes us weak in the knees.

RecipeTin Eats
The Italians have lasagna, but the Greeks have Moussaka. Layered with eggplant, ground beef, and tomato sauce, and topped with a creamy béchamel and crispy Panko crumbs, it's pure heaven on a chilly night.
Molly Yeh
Tater tots, guys, TATER TOTS. The hotdish is a midwestern comfort food classic, known to show up at potlucks, picnics, and church suppers, and it's usually made with a can of creamed soup (though this one trades the gunky, processed canned stuff for a healthier homemade version). This particular  hotdish is a breeze to make, and tastes just like chicken pot pie, but instead of a pastry crust, it gets topped with tater tots (genius), and we're in love.
The Recipe Critic
Taking one of our favorite Italian classics and turning it into a casserole is always a good idea. This one is super easy to make, and is great for the whole family.
Feed Me Phoebe
Comforting shepherd's pie gets a healthier makeover in this Thai-inspired version, which boasts aromatic flavors of red curry, coconut, and lime, and features a creamy mashed pumpkin topping. What's not to love?
The Roasted Root
For those nights when you're craving pasta, but don't want to break the diet, you can count on spaghetti squash to save the day. This hearty bolognese casserole is loaded with flavor, and makes the perfect for dinner for Meatless Mondays.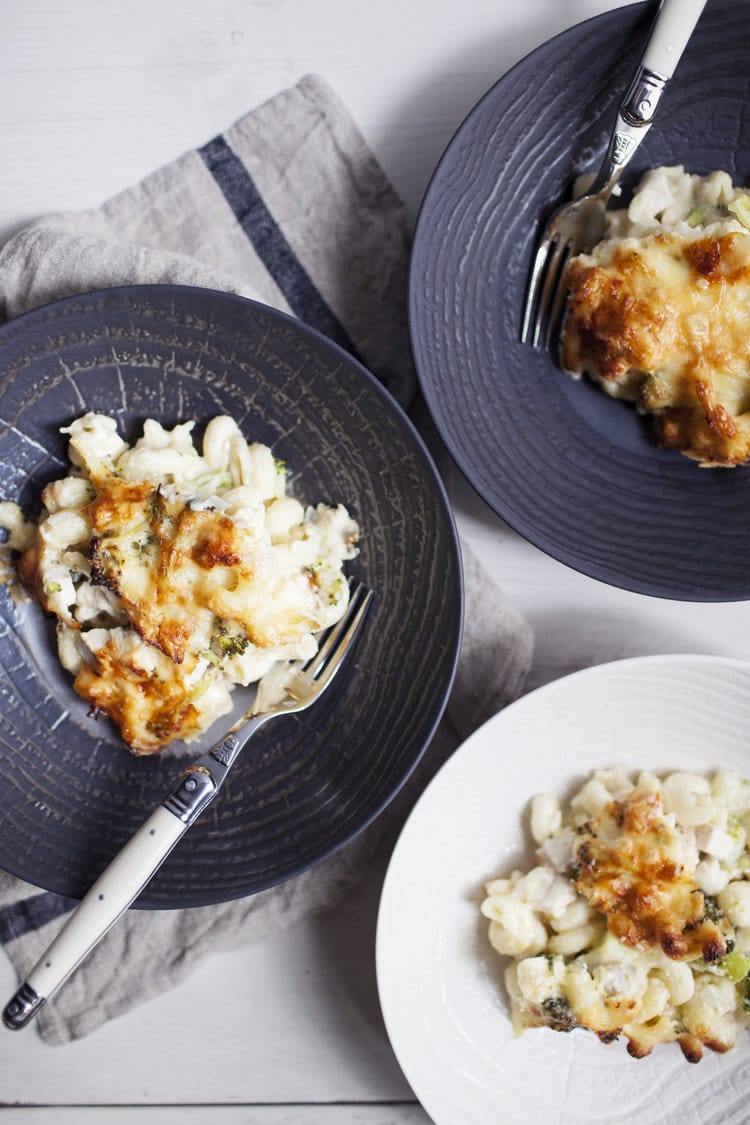 Hey Modest Marce
Mac and cheese is pretty perfect all on its own, but sometimes you just need a little extra oomph from some aged cheddar, chicken, broccoli, and Asiago cheese. This casserole is is efficient too, because you get your starch, veggies, and meat all in one dish. Boom.
Cotter Crunch
"Healthy" and "casseroles" aren't words you typically see next to one another, but this recipe is proof they can peacefully coexist. This filling dish is packed with protein and veggies, and spiralized sweet potatoes step in for pasta, making it gluten-free and easier on the waistline. Double win!
How Sweet Eats
Rarely would we think of adding beans to mac and cheese, but this recipe is proof it's a good idea (especially when they're creamy white beans, and especially when bacon's involved, because beans and bacon go hand in hand, of course). But beans aren't the only reason why this isn't your average mac and cheese. A spicy arrabbiata replaces cheese sauce, Parmesan and fresh basil get stirred in, and everything gets topped with provolone cheese and baked until golden-brown, bubbly, and begging to be devoured by the masses.

Food Faith Fitness
Not only is this cozy fall casserole made in just one pot, it's packed with so much healthy goodness. Made with brown rice, spinach, lean ground chicken, and a cheesy Parmesan pumpkin sauce that's to die for.
Cafe Delites
Who doesn't love breakfast for dinner? This nutritious casserole is studded with a rainbow of veggies, with sausage for added protein. You can easily use a combination of whatever vegetables and meat you have on hand—it's totally  customizable.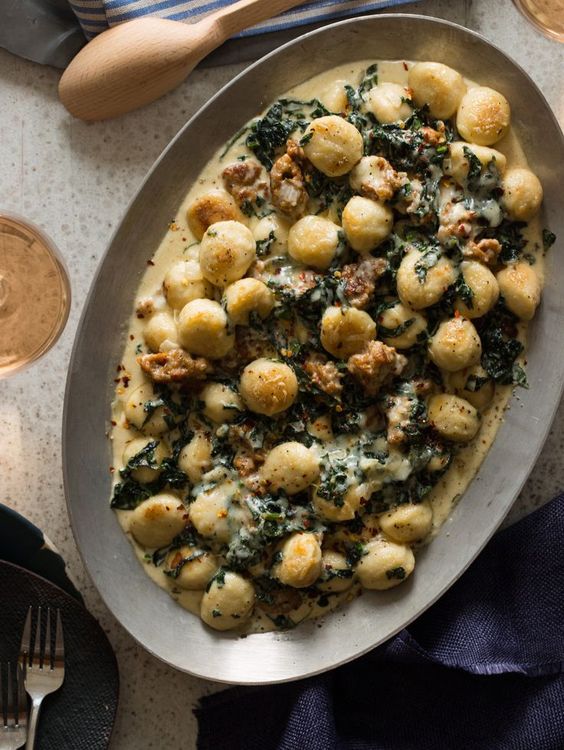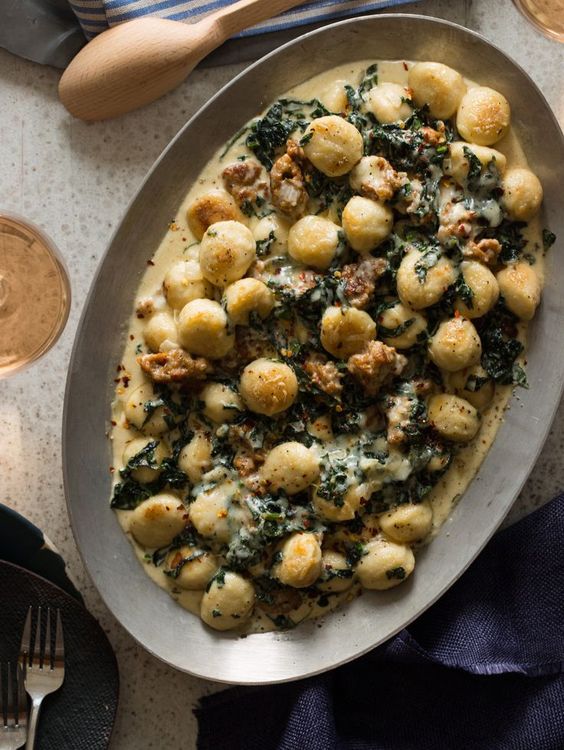 Spoon Fork Bacon
Gnocchi is just lovely in general, but this gnocchi is baked, so it gets all nice and crispy, and takes these little pillows of heaven to a whole other level.
Lisa G Cooks
This lightened-up casserole made with lean ground beef, cremini mushrooms, rice, broccoli, and a yummy gravy only requires five minutes of prep and is made entirely in one skillet. Not to mention it's ready in less than 30 minutes!
Then Endless Meal
Savory flavors of sage, onion, garlic, and kale mingle with sweet pumpkin, buttery toasted pecans, fusilli, and cottage cheese for a deconstructed fall lasagna you won't be able to stop eating.
Real Food by Dad
This three-step dish is the kind of casserole you can effortlessly throw together on the fly. It's all decked out with spinach, garlic, sweet sausage, tomato sauce, and plenty of mozzarella and fontina cheese. You can use store-bought tomato sauce or make your own, but either route you go will lead to a delicious and comforting dinner.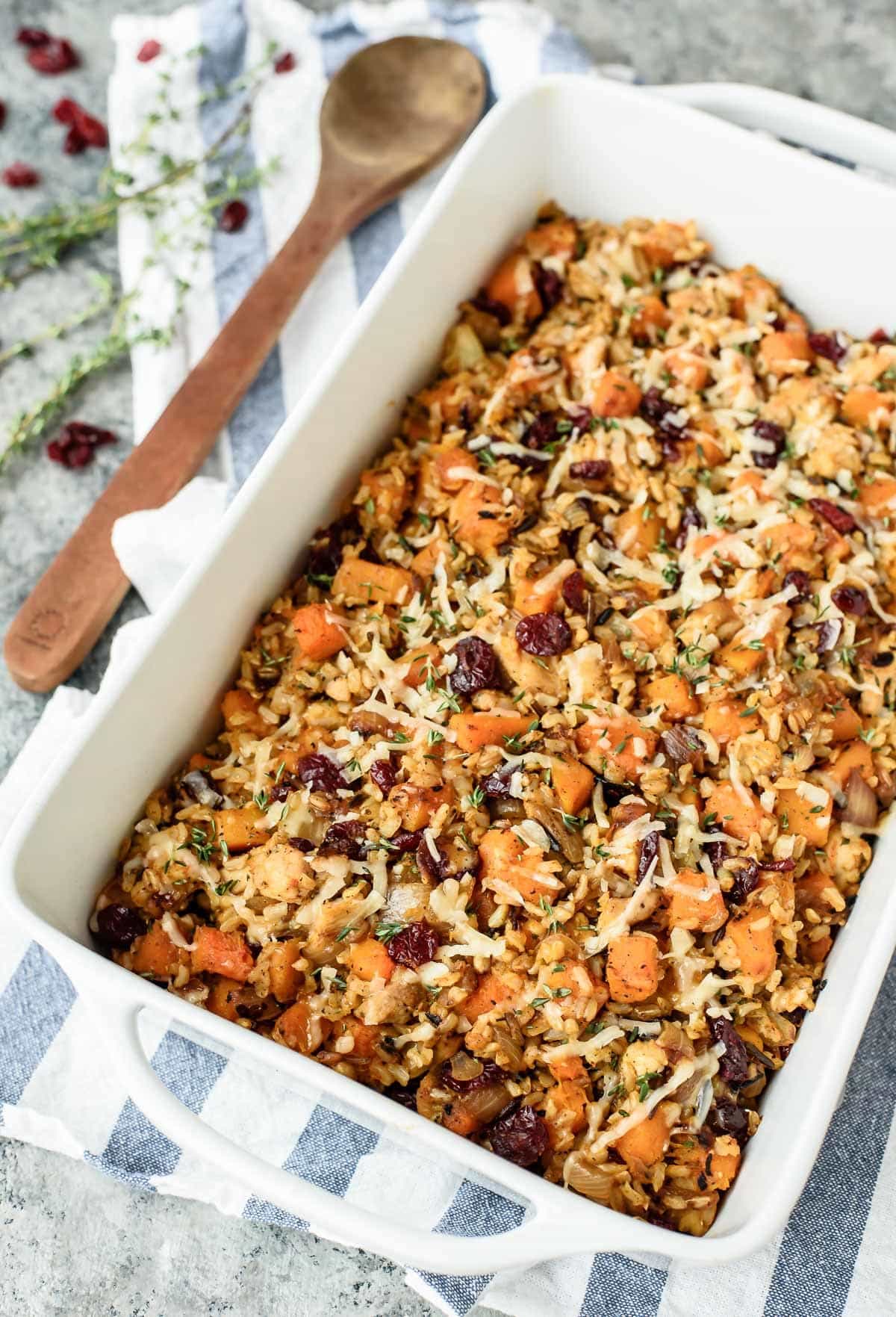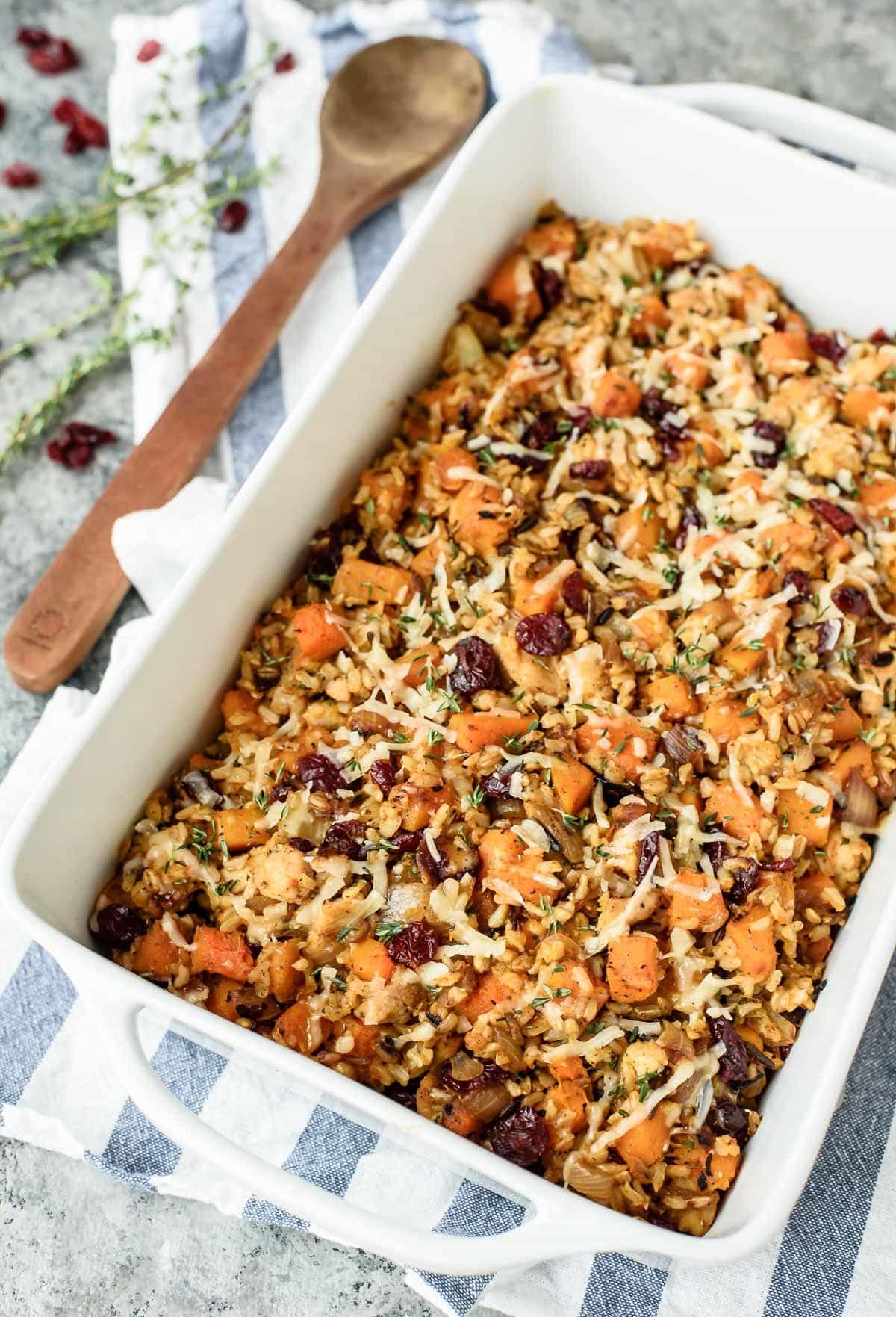 Well Plated
You've got to love a casserole that tastes like Thanksgiving. This one's got hearty wild rice and tender chicken thighs, and is studded with roasted chunks of butternut squash and tart dried cranberries, then sprinkled with Parmesan and fresh thyme. Easy, healthy, and comforting, it checks all the boxes!

Table for Two
Okay, we've got two words for you: Pumpkin and Burrata. Need we really say more?
FoodieCrush
This easy, cheesy Mexican casserole is layered with tortillas, chicken, black beans, butternut squash, and an irresistible sour cream salsa verde sauce, and feeds a crowd. Make your own salsa verde if you're feeling ambitious, but jarred works just fine, especially in a pinch.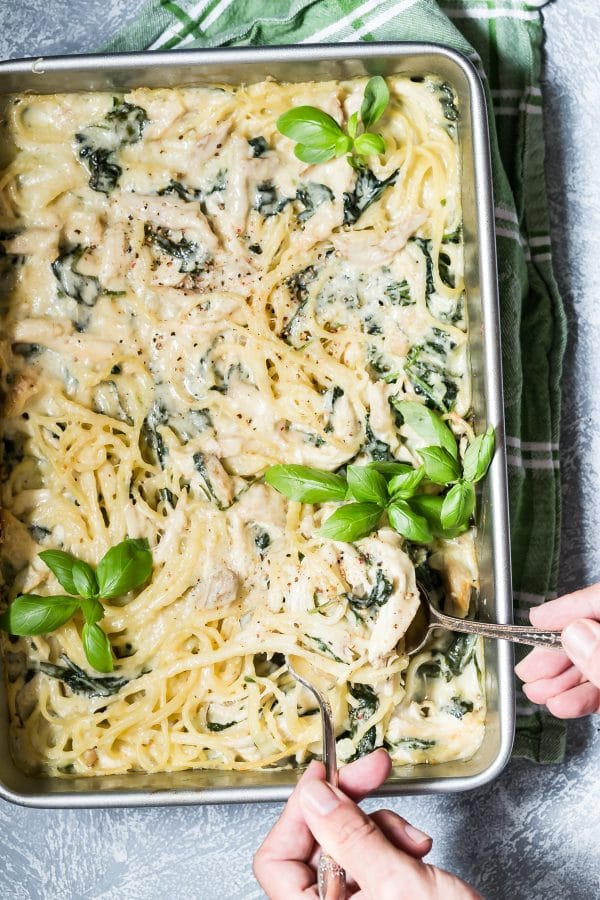 Foodness Gracious
Despite its Italian name, Tetrazzini is actually an American dish, and it's been around for over 100 years. It's a noodle casserole made with spaghetti, meat or seafood, and a buttery mushroom cream sauce, that sometimes gets topped with breadcrumbs or almonds for some added crunch. It's a great way to use up extra roast chicken or turkey (hint, hint: bookmark this for your post-Thanksgiving turkey leftovers)!  This one also has spinach, so you get those greens (because, you know, balance).
A Saucy Kitchen
Tangles of spiralized sweet potato are mixed with tons of healthy veggies, black beans, a homemade enchilada sauce, lots of cheese in this enchilada-inspired casserole. Don't worry, the enchilada sauce is simple, but if you are pressed for time, you can definitely use store-bought.
RecipeTin Eats
This insanely easy casserole tastes just like the one we grew up eating, except it's made entirely from scratch. Not only does it take just five minutes of prep, and it's made in one pan, so you can rejoice over fewer dirty dishes! And if that weren't enough to win you over, it's only 350 calories per serving. Yaaas.
Coffee and Crayons
This meat-free lasagna is an awesome say to get all of your veggies in. It features spinach and a butternut squash and ricotta purée, nestled in between zucchini noodles, with plenty of cheese in between.

The Live-In Kitchen
Here's another casserole you can feel really good about. Filled with crispy quinoa, black beans, Mexican spices, loads of veggies, and healthy cheese, this dish is wonderfully filling, yet it won't weigh you down.
Thanks for stopping by and visiting FoodieCrush. Have something to say or a recipe round-up request to make your dinnertime meal making easier? I'd love to hear from you. Email me at [email protected] or let me know in the comments below.
As always, thank you for reading and supporting companies I partner with, which allows me to create more unique content and recipes for you. All opinions are always my own.  
Thanks for reading and subscribe to FoodieCrush to have each post delivered straight to your e-mail box.
Follow me on Instagram, Facebook, Pinterest and Twitter for more FoodieCrush inspiration.