This super easy teriyaki chicken takes only 10 minutes to prepare and then the Crockpot does the rest of the work for a true family favorite.
Easy Crockpot Teriyaki Chicken
Chances are if you're a mom, you're familiar with the blog I Heart Naptime. It's a treasure trove of family-friendly meals and crafts, activities and DIY's for kiddos, that are a godsend if you're a parent.
Six years ago, founder Jamielyn Nye started the successful blog when her own experience with motherhood inspired her to create a space for women that would spark their creativity.
With a keen eye for design and creating, Jamielyn has built an impressive following (her blog receives millions of visits each month), and now she's got a brand new cookbook to boot. The I Heart Naptime Cookbook features 100 easy, no-fuss recipes you can make in under an hour.
Jamielyn's cooking approach is fresh, easy, and loved by every eater in the family no matter what age — a kitchen mantra that is music to our ears. From her recipe for for BLT Salad with Homemade Buttermilk Ranch dressing, to One-Pot Cheesy Bacon and Chive Macaroni, and Apple Snickerdoodle Muffins (that are definitely on my must-make list) Jamielyn's taste for eating is sure to please.
But this cookbook has a little something extra special in it too, with the addition of Jamielyn's signature DIY craft ideas like DIY utensil holders, DIY napkins, and fun ideas of how share your kitchen-made gifts. It's how Jamielyn and the I Heart Naptime Cookbook turns each meal into a celebration.
Jamielyn's grandmother was one of her biggest influences, as she taught her a lot in the kitchen, and instilled a love of cooking in her at a young age. When scheming up content for her blog, Jamielyn draws inspiration from everything around her — going to new restaurants, reading through old magazines, and strolling through the farmers market. "I love taking a new spin on recipes that have been passed down for generations," she says.
"I was inspired to write this book after having my recipes scattered all over the place," says Jamielyn. "I wanted to compile all my favorites into a pretty book that my readers could enjoy in their home. I'm most proud of my homemade caramels and French baguettes because it took me awhile to perfect them."
"The whole process was such a fun adventure. It was so much more work than I ever would have imagined, but so rewarding at the same time, " Jamielyn shares. "It was challenging because I was pregnant while writing this book. I finished it just a week before my baby was due. Most days I'd spend all day testing recipes in the kitchen, and by the end of the day my feet were so swollen that I literally could press on them and they would stay pushed in."
But Jamielyn's perseverance pushed her to the finish line and she soon had two new babies to cradle. "The reward was finally seeing my cookbook in print. That made it all worth it."
And now, my List of 10 Q's for Jamielyn's A's
1. Describe your recipes in 3 words:
Colorful, easy, delicious.
2. If you could be one blogger other than yourself, who would you be?
I would love to be The Pioneer Woman for a day. I think it would be so fun living up on her ranch and seeing how she runs it all.
3. Which 3 blogs do you follow/are obsessed with/can't live a day without?
Oh this is a hard one! There are so many fabulous bloggers I love to follow! I follow most of my favorite bloggers on Instagram and I would say my top 3 feed to follow would be @sugarandcloth, @iambaker, and @twopeasandpod, because they are simply gorgeous!
4. What is the one kitchen tool you could never give up?
My KitchenAid…I use it daily!
5. What dish are you obsessed with mastering that you just can't get quite right?
I would have to say homemade pasta…because, hello pasta! Still trying to make the perfect noodles.
6. What did you have for dinner last night?
Teriyaki chicken bowls (from my cookbook). *Jamilyn's dinner choice is just one reason it's the recipe I featured from her cookbook. ~ Heidi
7. What's one secret talent outside of the kitchen nobody knows about you?
I love doing updos for weddings (I used to be a hair stylist).
8. You're happiest when cooking/eating:
Chocolate chip cookies and chips/guacamole.
9. The one secret to your success is?
BUTTER :)
10. How does being a mom help inform the things you create for your blog and the recipes in your book? 
My kids were the inspiration for most of the recipes in this book, because I wanted it to be a book full of recipes my whole family would enjoy.
Thank you Jamielyn for being our foodie crush and congratulations on producing your cookbook! Now, let's dig into the recipe.
The Recipe: Crockpot Teriyaki Chicken
The I Heart Naptime Cookbook is packed with over 100 recipes that if they aren't already, are poised to become family favorites. I had a really hard time choosing just one recipe to share from her book. Savory or sweet? Breakfast or dinner? Cajun Chicken Pasta or Seven-Layer Pretzel Bars? Oh, the options!
So I weighed in with the family and had THEM choose. Dinner. It's always the hardest choice of the day. But this easy Crockpot chicken recipe was deemed perfect for summer moving into fall eats.
This slow cooker teriyaki chicken is incredibly easy to prepare and if you keep an even minimally well-stocked pantry, you should have everything on hand to pull it together.
What's in This Crockpot Teriyaki Chicken?
The homemade teriyaki sauce and chicken require just 9 simple ingredients. Here's what you'll need to make this Crockpot teriyaki chicken recipe:
Chicken breasts
Cornstarch
Granulated sugar
Light brown sugar
Soy sauce
Apple cider vinegar
Garlic
Ground ginger
Black pepper
How to Make Crockpot Teriyaki Chicken
To make this recipe, simply pull out your slow cooker, whisk the homemade chicken teriyaki sauce together and then put both into the slow cooker to cook on low for 4 to 5 hours.
Unlike some slow cooker recipes, there's no browning or sautéeing to be done. It all happens in your slow cooker.
Once the chicken is cooked through and tender to taste, chop or shred the chicken, top over rice, garnish, and serve. It's truly that simple. And truly that good.
Can I Use Honey Instead of Sugar?
Honestly, I'm not sure! I've only ever made this easy teriyaki chicken recipe as written, so I can't speak to how different sugar substitutes would affect the flavor or texture of this dish.
Can I Make This in an Instant Pot?
You can definitely cook this teriyaki chicken recipe using the slow cooker function on your Instant Pot. But I've never made it using the pressure cooker function.
What to Serve with Teriyaki Chicken
You can easily transform this Crockpot teriyaki chicken into teriyaki chicken bowls by serving it over a bed of rice. You can also serve teriyaki chicken with one of the following:
Tips for Making Crockpot Teriyaki Chicken
If you're sensitive to salt, you may want to use low-sodium soy sauce instead of regular when making the chicken teriyaki sauce. My family loved the homemade teriyaki sauce as it's written, but choose whichever soy sauce you prefer.
Note that you must cook the Crockpot teriyaki chicken on low for only a few hours. If you cook the chicken for longer, it'll be incredibly tough.
Leftover slow cooker teriyaki chicken can be frozen and reheated later. It's a great protein to have on hand for last-minute lunches and dinners.
More Easy Chicken Crockpot Recipes You'll Love
If you make this recipe, please let me know! Leave a comment below or take a photo and tag me on Instagram with #foodiecrusheats.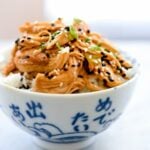 Print
Crockpot Teriyaki Chicken
This Crockpot teriyaki chicken takes only 10 minutes to prepare and then the slow cooker does the rest of the work for a true family favorite.
Ingredients
2

pounds

boneless skinless chicken breasts

2

tablespoons

cornstarch

1/2

cup

granulated sugar

1/4

cup

light brown sugar

1/2

cup

soy sauce

1/2

cup

apple cider vinegar

3

garlic cloves

pressed or minced

1

teaspoon

ground ginger

1/4

teaspoon

freshly ground black pepper

Sesame seeds and sliced green onion for garnish
Instructions
Place the chicken breasts in a slow cooker and pour in 1/4 cup water so it seeps under the chicken and set the heat to Low.

In a medium bowl, whisk together another 1/4 cup water and the cornstarch, then whisk in the granulated sugar, brown sugar, soy sauce, vinegar, garlic, ginger and pepper.

Pour the sauce over the chicken, cover and cook on Low for 3 1/2 to 4 hours, or until the meat shreds easily with a fork. Remove any fat and shred the chicken.

Return the chicken to the slow cooker and stir to coat with the sauce. Turn the slow cooker to Warm until ready to serve. Serve with white or brown rice and garnish with sesame seeds and sliced green onion, if desired.
Nutrition
Serving:
1
g
|
Calories:
301
kcal
|
Carbohydrates:
30
g
|
Protein:
34
g
|
Fat:
4
g
|
Saturated Fat:
1
g
|
Cholesterol:
97
mg
|
Sodium:
1260
mg
|
Potassium:
633
mg
|
Fiber:
1
g
|
Sugar:
26
g
|
Vitamin A:
45
IU
|
Vitamin C:
2
mg
|
Calcium:
22
mg
|
Iron:
1
mg
More Crockpot Dinners to Make
Visit Jamielyn and her blog at I Heart Naptime. Purchase The I Heart Naptime Cookbook: More Than 100 Easy & Delicious Recipes to Make in Less Than One Hour here.
This post was compiled by Heidi and FoodieCrush contributor Hayley Putnam. Follow Hayley and her foodie tastes and other flights of fancy on Pinterest and Instagram.
Craving more life balance, less stress, and better health? Check out my Nourished Planner, the daily planner to help create simplicity and under-schedule your life.
We send good emails. Subscribe to FoodieCrush and have each post plus exclusive content only for our subscribers delivered straight to your e-mail box.
Follow me on Instagram, Facebook, Pinterest and Twitter for more FoodieCrush inspiration.
As always, thank you for reading and supporting companies I partner with, which allows me to create more unique content and recipes for you. There may be affiliate links in this post of which I receive a small commission. All opinions are always my own.