This chicken fajita inspired recipe is full of Mexican spices, beans and sweet bell peppers making for an easy and filling crock pot chili you will love.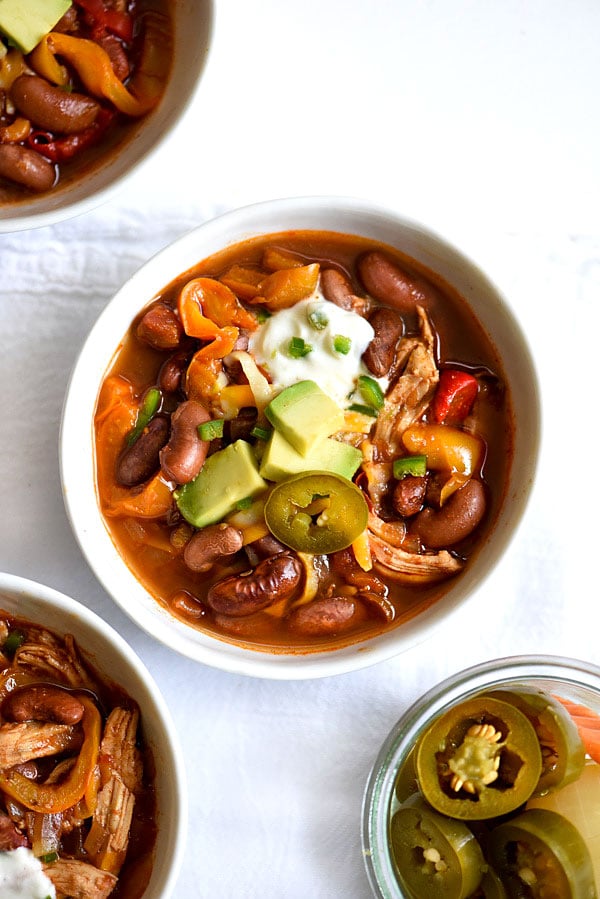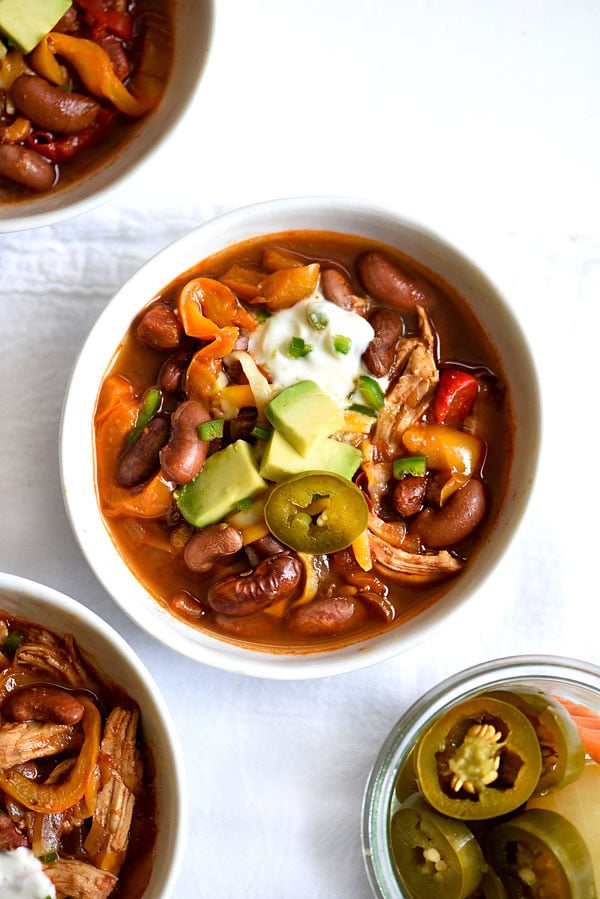 You can call it crock pot. I often call it slow cooker. Tomato, tah-mah-toes, either way, slow cooking/rocking the crock is what's for dinner.
Chicken chili in the crock pot makes for the perfectly easy dinner for weekend eats and is just one more truly, honestly, I promise it's easy reason to get into the kitchen, rather than escaping it like Alcatraz.
I mean, isn't it easier to cook at home on the weekends? Sure! But sometimes I'm left sporting a blank stare at my refrigerator shelves wondering what is going to magically appear after the day's multitude of events and projects that have totally escaped my reach.
This recipe though? A little planning ahead, a few pantry staples, some pre-cooked chicken and a rainbow of bell peppers that never seem to grow old in the crisper is all you really need for a spiced up flavorful weekend comfort food dinner.
Dude. You've got this.
To Soak or Not to Soak
Let's talk beans. The magical fruit.
Crock pot cooking is really all about convenience. And more often than not, beans that are ready to roll (make that dump from the can) are considered the fastest addition to homemade chili.
However. I've been enlightened. Dried beans from the bag, or better yet the bulk bin, just might be where it's at.
Soaking beans takes no effort at all. Simply add the beans to a pot or large bowl, cover with water and soak overnight. Drain them the next morning and you have rehydrated protein power boosters ready for slow cooker chili chillin'.
Now, when using beans in crock pot recipes I wondered aloud (to anyone and no one at all) whether the soak time is really, truly necessary?
According to my research, soaking the beans before cooking in the crock pot (or any other pot) isn't needed at all. In fact, beans not soaked prior to cooking have a better bite and more flavor than their water logged cousins, and no, soaked beans don't remove the gasses that make you gassy. Beans are gonna do what beans are meant to do. Discover why here.
This Mexican flavored chili is a shining example of one of my favorite ways to crockpot, when the recipe doesn't call for any extra browning, and is truly a one pot, make-ahead meal.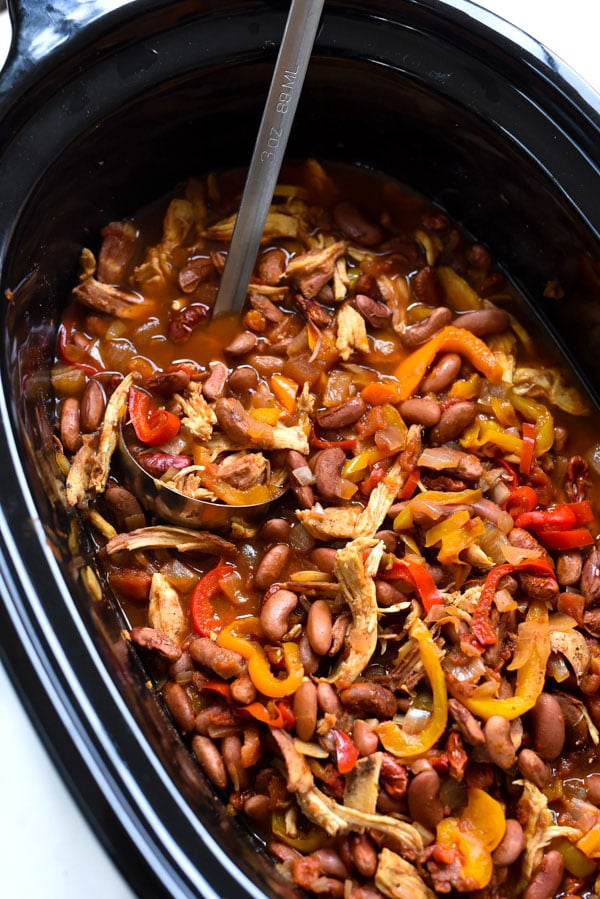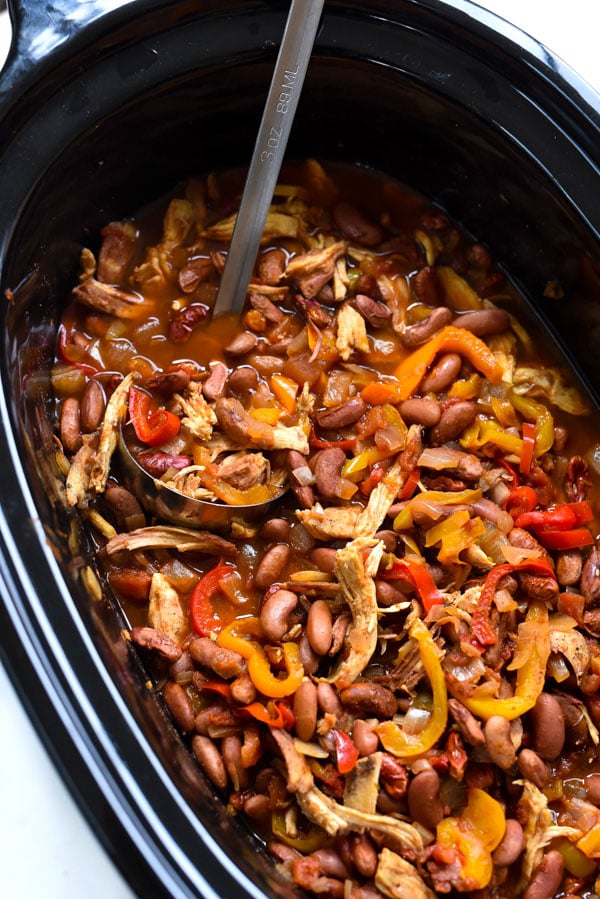 About the Recipe
This chili gets it's south of the border flavor thanks to an easy Mexican-flavored mix of spices and tex-mex Rotel tomatoes with chilis. I used the standard can of Rotels, but they do come in varying degrees chili heat so suit the one that meets your taste.
Along with the canned Rotel tomatoes, I used tomato paste mixed with boiling water as the moisture maker in this chili. The boiling water gives the bean cooking a jump start, avoiding that slow cooker internal temperature ramp up. Depending on your slow cooker and whether you're using dried or pre-soaked beans, you may need to add more water as the mixture cooks. Check in toward the last half hour to see if more water is needed.
Layer the beans along the bottom of your crock pot or slow cooker so they get the maximum amount of cooking time contact with the hot water and tomato paste mixture. Here is your soaking method, friends!
If using pre-soaked beans plan on a cooking time of about 6 hours on high or 8 hours on low and use about 2 cups of the tomato flavored hot water. If using dried beans, use 3 cups flavored tomato water and cook for 8 hours on high and 10 hours on low. Again, cooking time with dried beans could vary on your slow cooker so I advise the first time you make this to start your cooking time a little earlier than later and then keep the chili warm in the crockpot until ready to serve.
I use red, yellow and orange bell peppers in this recipe to add the rainbow connection to this dish. Sure does make it pretty. Bell peppers are one of the best ways to get your daily allowance of vitamin C so hoarding these sweet bites in your chili bowl is perfectly acceptable.
If you make this recipe, please let me know! Leave a comment below or take a photo and tag me on Instagram with #foodiecrusheats.
Print
Slow Cooker Chicken Fajita Chili
Mexican spices heat up this easy crock pot chicken chili recipe with sweet bell peppers.
Ingredients
15

ounce

bag dried light red beans **see note in instructions

3

bell peppers

, red, yellow or orange or a combination of the three, seeded and sliced

2

yellow onions

, sliced

2

cans Rotel tomatoes with chilies

, with juice

2

chicken breasts

, cooked and shredded

3 to 3 ½

cups

boiling water

4

ounces

tomato paste

2

tablespoons

chili powder

1

tablespoon

cumin

1

teaspoon

oregano

1

teaspoon

garlic powder

1

teaspoon

kosher salt
Instructions
**If cooking with pre-soaked beans, reduce the amount of hot water to 2 ½ cups and cook for about 6 hours on high or 8 hours on low.

Place the dried beans in the bottom of a 6 quart slow cooker. Layer the bell bell peppers, onions and chicken over the beans and top with the tomatoes and their juice.

Whisk the water and the tomato paste until well combined. Add the chili powder, cumin, oregano, garlic powder and salt whisk again. Pour the water tomato spice mixture over the ingredients in the slow cooker.

Cover and cook for 8 hours on high and 10 hours on low. Check the water level and add more water if chili seems dry..

Serve with chopped avocado, sour cream, cheddar cheese and

pickled jalapeños

with cornbread on the side.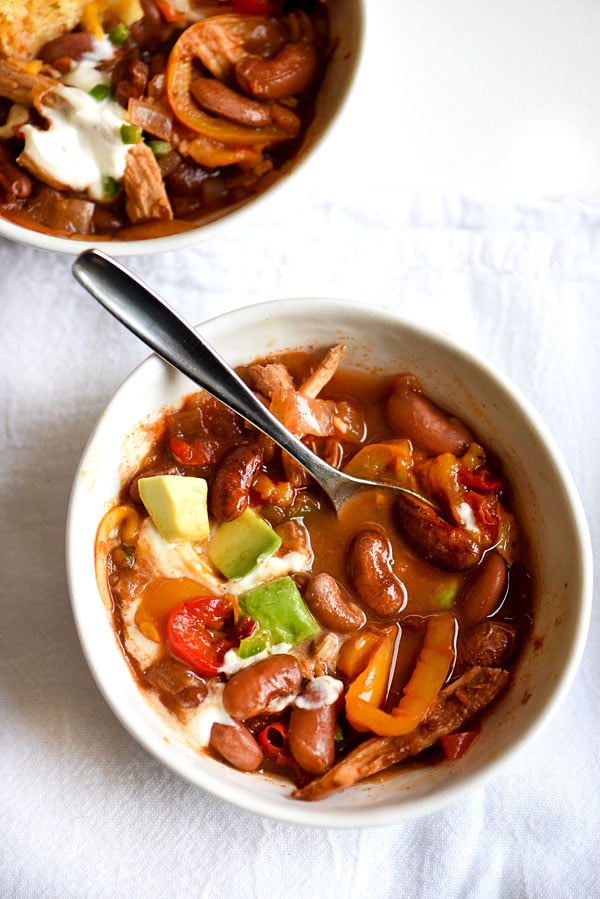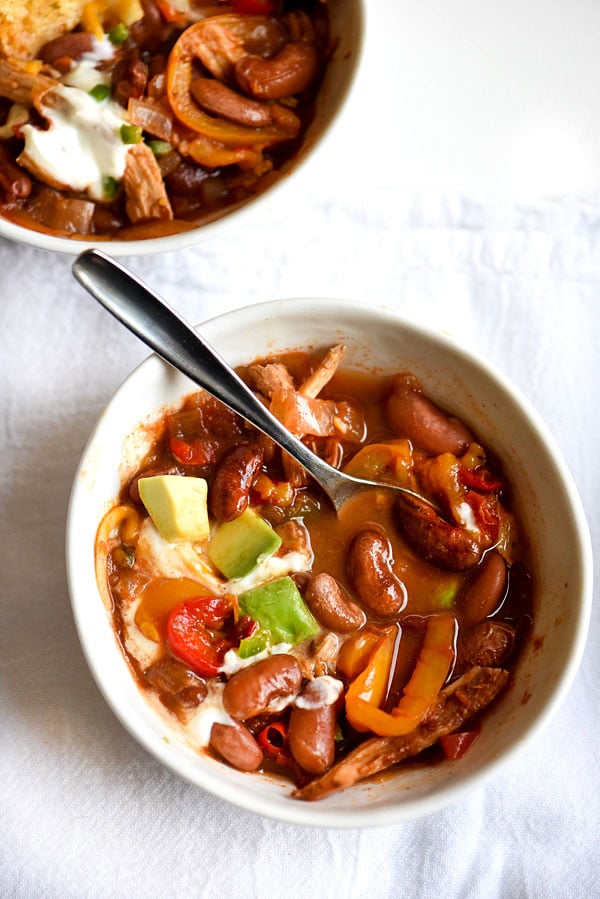 All the Fixins to the Sides
Chili is all about making it your own, and that boils down to the fixins' and sides you serve with it. Here's a few ideas to get you going.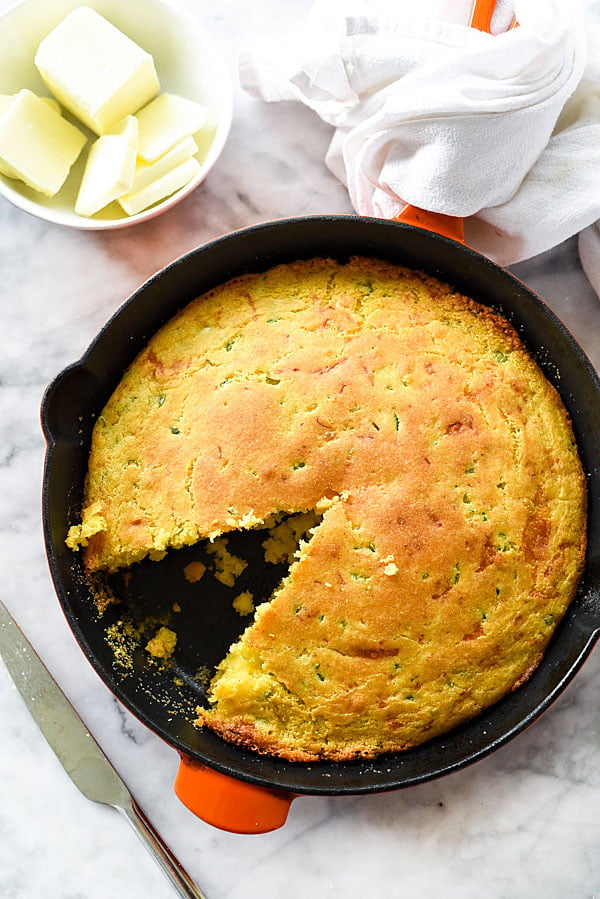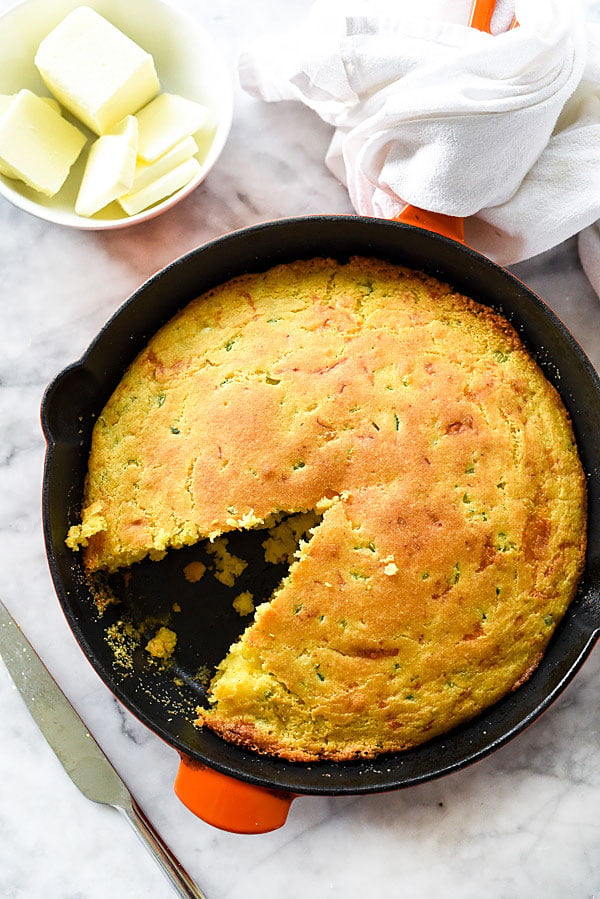 Cheddar and Jalapeño Skillet Cornbread
Crispy on the outside but soft on the inside, this spiced up cornbread is ready for dipping.
Get the recipe | FoodieCrush
Apple Pecan and Feta Salad with Honey Apple Dressing
I like a contrast in texture when I eat chili. A salad of apples and nuts add that cravable crunch.
Get the recipe | Jessica In the Kitchen
Pickled Jalapeños
Chili isn't complete once the cooking is done. Now it's time for flavor builders. These pickled peppers are my fave.
Get the recipe | FoodieCrush
Brown Butter Pecan Chocolate Chip Cookie Bars
Let's keep going with this simple theme and bake everyone's favorite dessert, but in a single pan.
Get the recipe | She Wears Many Hats
Food to Fodder
That's my cravings for fall food eats but I want to hear yours.
What's your favorite weekend main?
Thanks for stopping by and sharing your comments. Have a great day and cook something good!
As always, thank you for reading and for supporting companies I partner with, which allows me to create more unique content and recipes for you. All opinions are always my own.  
Are you following me on Instagram, Twitter, Facebook and Pinterest? 
Thanks for reading and subscribe to FoodieCrush to have each post delivered straight to your e-mail box.