This slow cooker corned beef creates tender, fall-apart chunks of beef thanks to braising in beer and vegetables for an unbelievably easy and delicious one-pot dinner.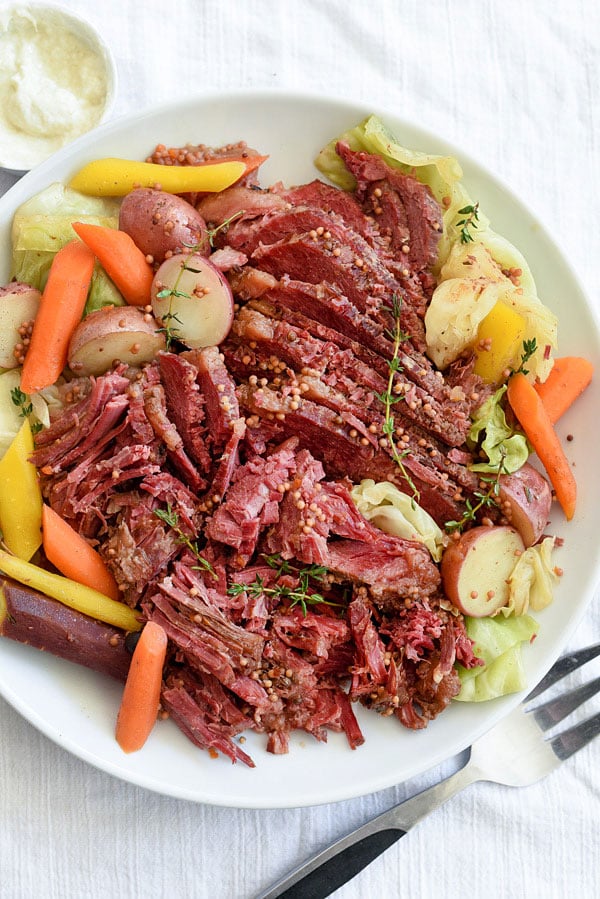 One of the very first "adult" dinner parties I had at the apartment I shared with my boy toy/now husband was a St. Patrick's Day party with my friends from college.
We'd finally all graduated, some of us later than others *wink*, and most had moved from our small agricultural college town to the thriving metropolis of Salt Lake City. Actually, it wasn't actually thriving or a metropolis but it did have a heartbeat and was poised for growth.
That night we had green beer (duh! we were still recent college graduates), 7-layer dip (so Irish of us!) and corned beef and cabbage.
While the rest of the party played a mean game of hearts, my friend Julie aka Wells aka Pepper (because we each had about 19 different nicknames) and I tended the corned beef and discussed the merits of adding beer to the stewed meat or not, comparing notes on cooking on the stove top or baking in the oven, and in general were thrilled that in the end our guests had consumed enough green beer to deem the dinner a raging success.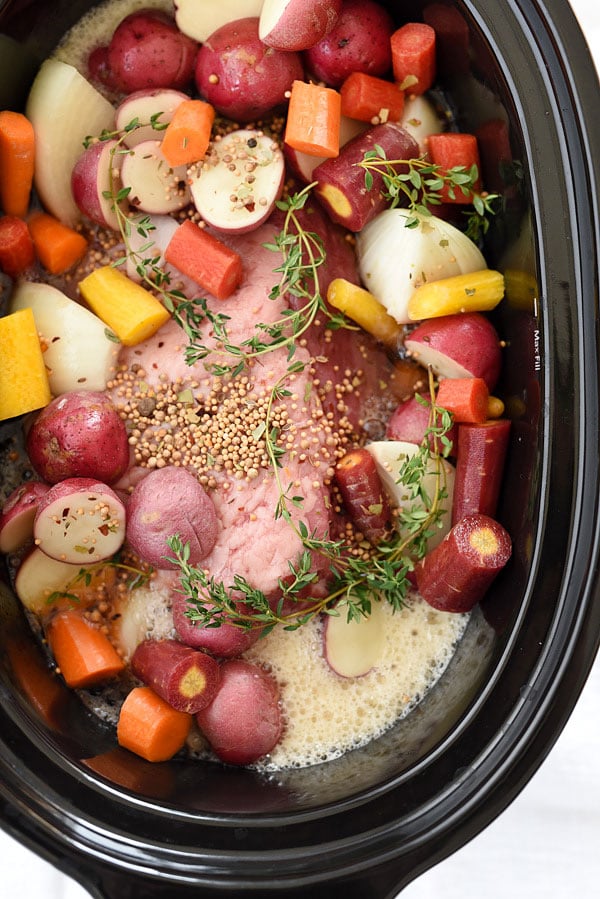 Since that time I've made this meal every single year. Like many of you it's a tradition you just can't ignore come March. It's a ritual. And I'm good with that.
I've baked my corned beef. I've cooked it on the stove top. But the method I seem to go to time and time again is tossing it all in the crock pot or slow cooker (this one is great for cooking on the stove top, too!) for one of the simplest dinners you'll make all year.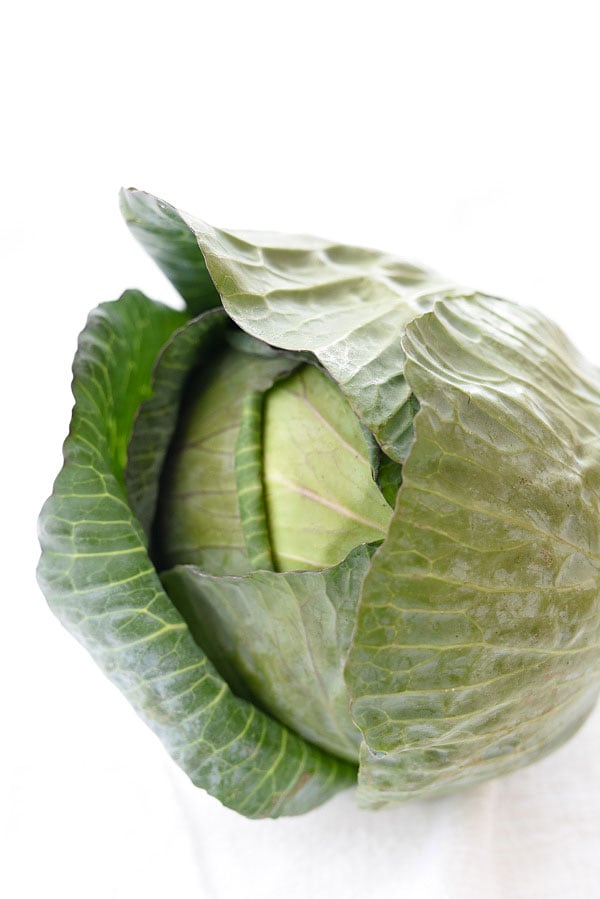 About the Recipe
My local Smiths Marketplace (aka Kroger) gets the most gorgeous Savoy cabbages in this time of year because it's the time of year people will actually eat cabbage. This winter hardy vegetables is at it's height of the season now. I feel bad for cabbage, it gets a bad rap but it's so good! Just look at these leaves, so firm and crisp. When choosing your cabbage, look for one that is heavy for it's size and doesn't emit any bitter smells.
It seems like corned beef is rather hard to find any other time of year outside of March, which makes it the perfect excuse to make it more than once. When choosing your package of corned beef, remember it will shrink by about 1/3 when cooked. I usually buy a 3 to 3 1/2 pound piece of the pre-brined flat cut beef that handily serves 4 with leftovers for Reuben sandwiches..
Now, you could go all scratch crazy and brine your corned beef yourself (here's a recipe for that) but in my opinion, that's simply taking the ease right out of this recipe. I look for an uncured corned beef round that has had no nitrates or nitrites added, that could have potential carcinogenic affects. Or not. Who knows. But when I can, I go cleaner when it's an option.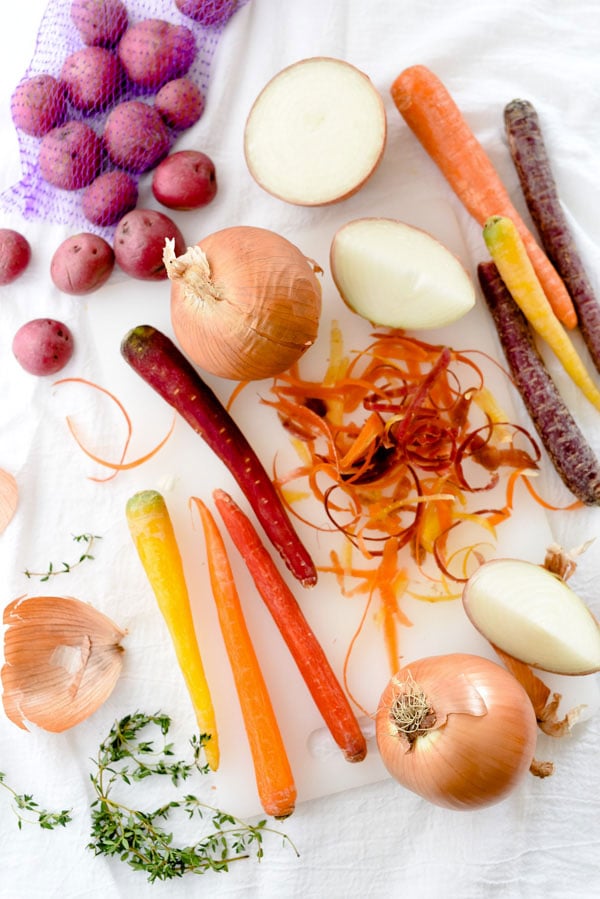 The corned beef I buy comes with its own spice packet included. If your spice packet feels a little skimpy, feel free to add an extra teaspoon or more of coriander seeds and allspice and another bay leaf or two to the whole deal once you've popped it into the slow cooker.
I cook the veggies in with the corned beef to give it more flavor. All of the veggies EXCEPT the cabbage because of it's delicate nature. I add that in the last 45 minutes to hour of cooking time.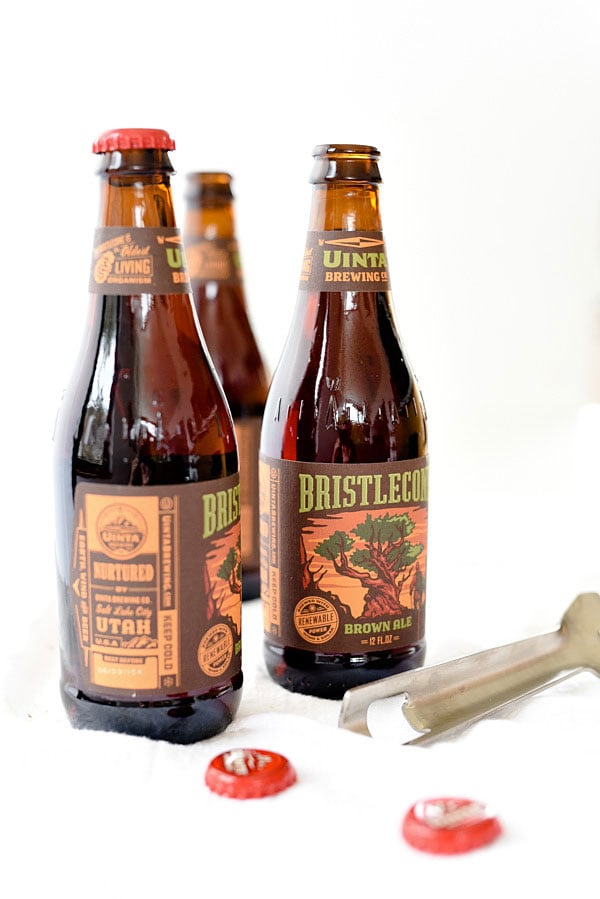 Then there's beer. I douse the whole set up with two 8-ounce beers. Choose a brown ale, a lager or even a regular old Bud Light will do.
If beer isn't your thing, simply cover the beef and veggies with 16 ounces or so of cold water and let the stewing begin. The spices should flavor it all well enough.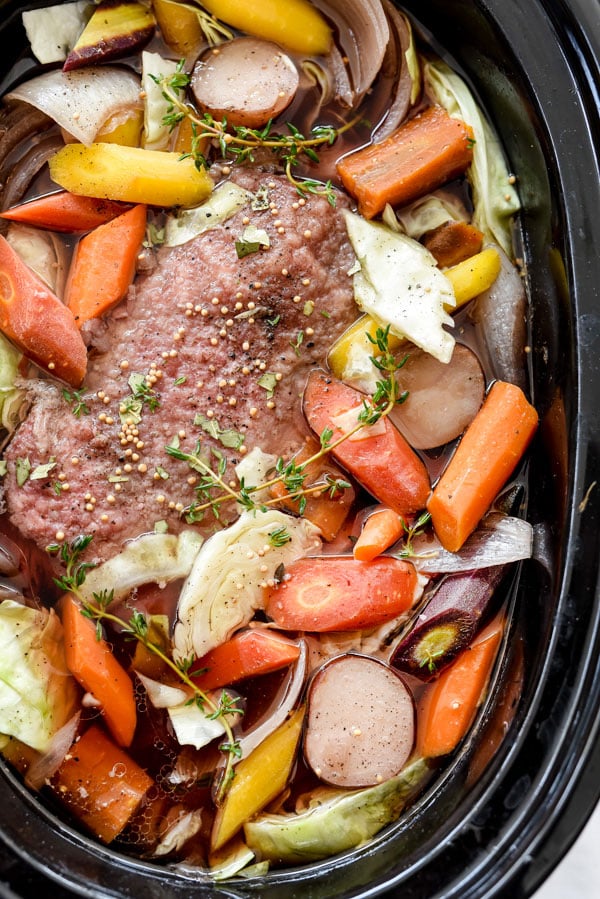 Cooking Time
I've varied my cooking time again and again with this recipe, testing and re-testing to decide what I liked best.
My conclusion? I really like a corned beef that is fall apart tender. So tender that when you cut it across the grain with a knife, it simply falls apart. Braising the beef in beer and in a slow cooker does help the corned beef retain its moisture but be aware it could get dry if you cook it forever and a day.
Most recipes recommend you cook the brisket for 4 to 4 1/2 hours on high in the slow cooker. In doing so you'll have nicely cut portions that while tender, simply don't fall apart when stuck with a fork.
If you're like me and want that fall apart texture like the corned beef in the photo below that I cooked on high for closer to 6 hours.
The only part of this cooking cautionary tale is I would recommend removing the vegetables from the slow cooker at about 4 hours so they don't turn into mush, then return them when you add the cabbage to the cooker.
The result is a fall apart chunks piece of corned beef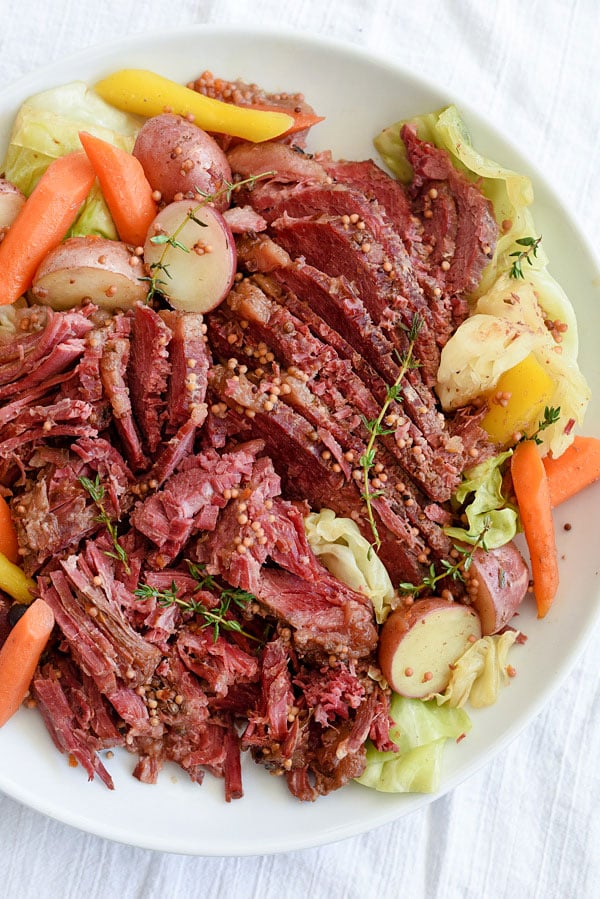 If you make this recipe, please let me know! Leave a comment below or take a photo and tag me on Instagram with #foodiecrusheats.

Slow Cooker Corned Beef and Cabbage
This slow cooker corned beef creates tender, fall-apart chunks of beef thanks to braising in beer and vegetables for an unbelievably easy one-pot dinner.
Ingredients
3 carrots, peeled and cut into 3-inch pieces
1 yellow onion, peeled and quartered
½ pound small potatoes, halved
1 corned beef brisket (about 3 pounds), plus pickling spice packet or 1 tablespoon pickling spice
2 8-ounce beers, I prefer ale or lagers
6 sprigs fresh thyme
½ head Savoy cabbage, cut into 1½-inch wedges
½ cup sour cream
3-4 tablespoons prepared horseradish to taste
Instructions
In a 5-to-6-quart slow cooker, place the carrots, onion and potatoes. Place corned beef, fat side up, on top of the vegetables and sprinkle with pickling spice. Pour the beers over the vegetables and brisket. Sprinkle with the sprigs of fresh thyme. Cover and cook on high until corned beef is tender, 5-6 hours or 10-12 hours on low.
Arrange cabbage over corned beef, cover, and continue cooking until cabbage is tender, 45 min to 1 hour (or 1½ to 2 hours on low).
Meanwhile, mix the sour cream and horseradish together. Thinly slice the corned beef against the grain and serve with the vegetables and cooking liquid with the horseradish sauce.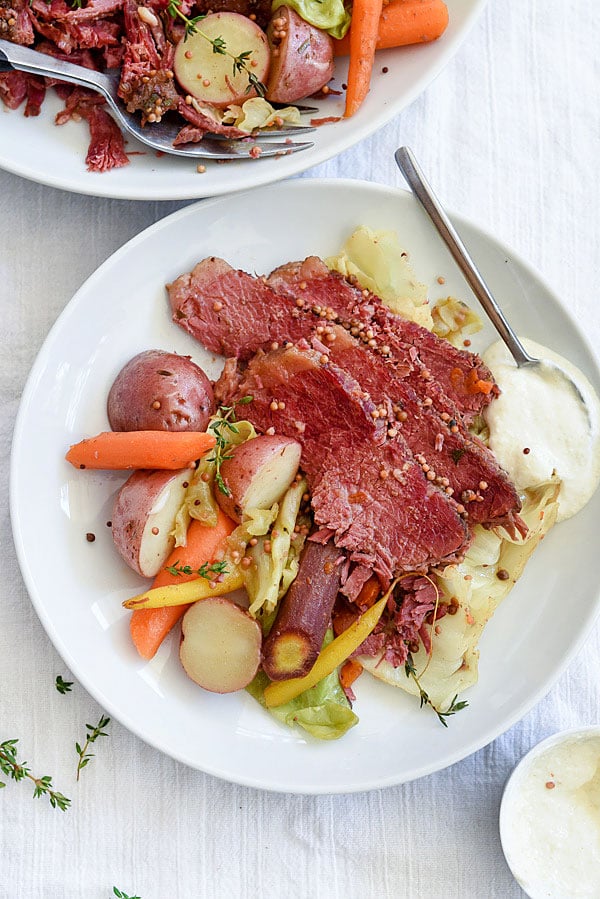 #EatSeasonal March
As we have for the past few seasons, Becky of The Vintage Mixer has posted her list of what's in season to eat now and from that list, has amassed a group of us who are posting #eatseasonal recipes today. Some are some are sweet, some are savory and they're all in season now. They're all good and they're all seasonal and are listed below.
Please hop over to their sites, say hi and enjoy their seasonal inspiration.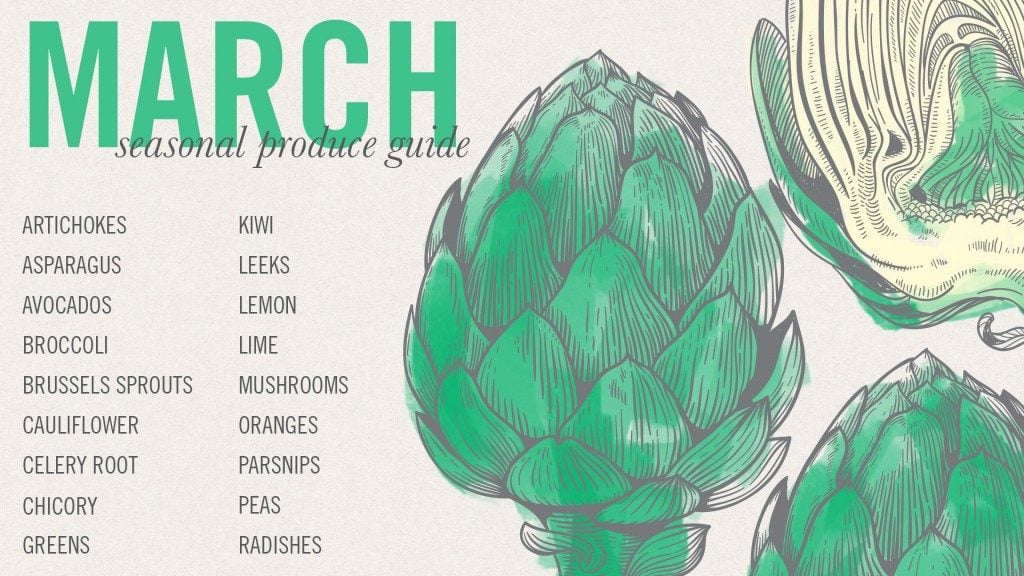 We'd love to see what you're eating seasonal now, too. Share your eats and follow the #eatseasonal hashtag on Instagram and Twitter to discover more seasonal eats.
Roasted Asparagus and Brussels Sprout Panzanella Salad from Floating Kitchen
Strawberry and Preserved Lemon Lassi from Simple Bites
Asparagus & Feta Cheese Crustless Quiche from Cookin' Canuck
Roasted Vegetable Asiago Fettuccine Alfredo from Completely Delicious
Crispy Parmesan Asparagus Fries with Lemon Greek Yogurt Dip from Flavor the Moments
Watermelon Radish and Arugula Salad from Food for My Family
Pappadew Pepper Cauliflower Hummus from Kitchen Confidante
Lentil, Avocado, and Radish Salad from Letty's Kitchen
Kiwi Lime Sherbet from The Vintage Mixer
Tuna Salad with Pickled Habeneros from Project Domestication
Baked Thai Beef Stuffed Artichokes from Climbing Grier Mountain
 As always, thank you for reading and supporting companies I partner with, which allows me to create more unique content and recipes for you. All opinions are always my own.  
Are you following me on Instagram,  Twitter, Facebook and Pinterest? 
Thanks for reading and subscribe to FoodieCrush to have each post delivered straight to your e-mail box.
Subscribe and have every FoodieCrush post delivered straight to your e-mail inbox
(Visited 252,098 times, 1 visits today)