You can cook it fast or cook it slow, but either way this corned beef and cabbage creates tender, fall-apart chunks of beef thanks to braising it in the Crock Pot or Instant Pot with beer and vegetables for an unbelievably easy and delicious one-pot dinner.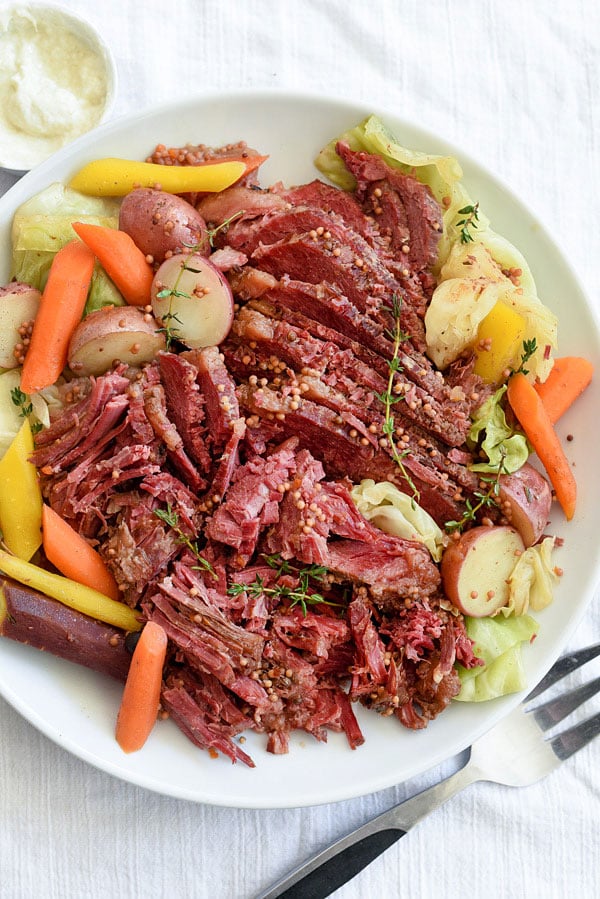 Instant Pot or Crock Pot Corned Beef Recipe
When asked whether corned beef is actually good for you, I say it may not be something to eat each and every day of the year, but I feel it's totally fine when you eat it just like everything else you should—say it with me—in moderation!
But is corned beef actually Irish or not? Sure it's traditionally served in the U.S. each and every St. Patrick's Day and while you won't likely find it served at the local pub in Ireland, it IS Irish-American.
I make corned beef and cabbage every single year around St. Patrick's Day. Because like many of you, it's a tradition that just can't be ignored. It's a ritual. And I'm good with that.
In fact, I will cook a whole corned beef just so I can make my favorite Reuben sandwiches loaded with sauerkraut, that delicious sauce and melted cheese piled high on grilled rye bread, because seriously…who can say no to a killer reuben??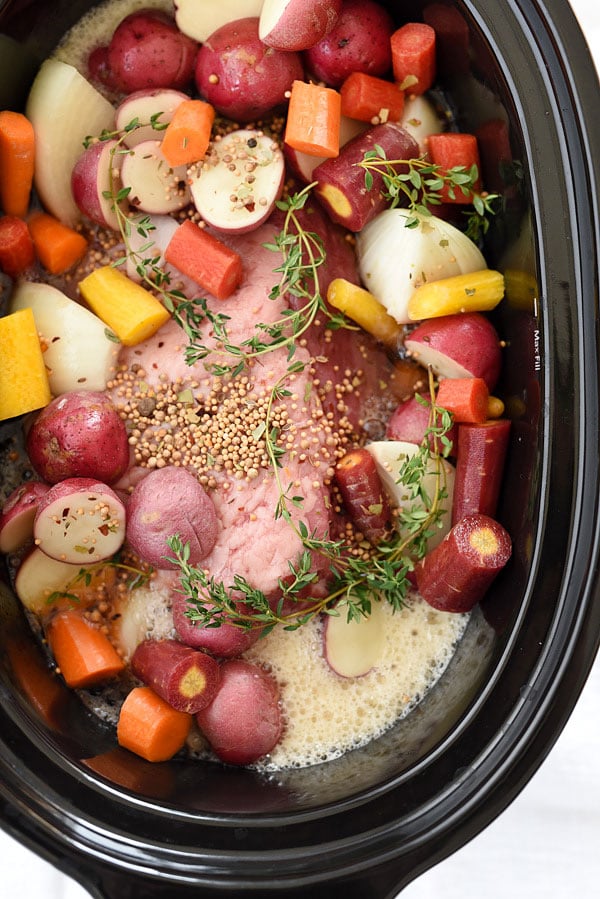 Corned Beef and Cabbage Ingredients
For such a flavorful dish, homemade corned beef and cabbage requires surprisingly few ingredients. Whether you're making slow cooker corned beef or Instant Pot corned beef, the ingredients remain the same:
Carrots
Yellow onion
Small potatoes
Beef brisket
Beer
Fresh thyme
Savoy cabbage
Sour cream
Prepared horseradish
What's the Best Cut of Meat for Corned Beef?
It seems like corned beef is rather hard to find any other time of year outside of March, which makes it the perfect excuse to make it more than once. When choosing your package of corned beef, remember it will shrink by about one third when cooked.
I usually buy a 3 to 3 1/2 pound piece of the pre-brined flat cut beef that handily serves 4 with leftovers for Reuben sandwiches. I look for an uncured corned beef round that has had no nitrates or nitrites added, that could have potential carcinogenic affects. Or not. Who knows. But when I can, I go cleaner when it's an option.
But which cut of corned beef is best?
The Difference Between Corned Beef Point Cut vs Flat Cut
Corned beef is usually offered in two cuts: the point cut and the flat cut.
I prefer the "point" cut, with more marbling and fat that makes this corned beef juicy, fall apart-tender and delicious. Plus there's a generous fat cap on top of the meat that melts flavor into the meat as it cooks. Once it's done cooking I discard the fattier pieces if my husband doesn't snack on them first.
If you prefer a leaner corned beef, go with the "flat" cut. It's leaner with far less marbling, and literally flatter so you can cut slices easier after cooking. But just like meat of any kind, this cut won't have quite the flavor since the fat is less.
Like any meat, cut your corned beef against the grain for the best slices.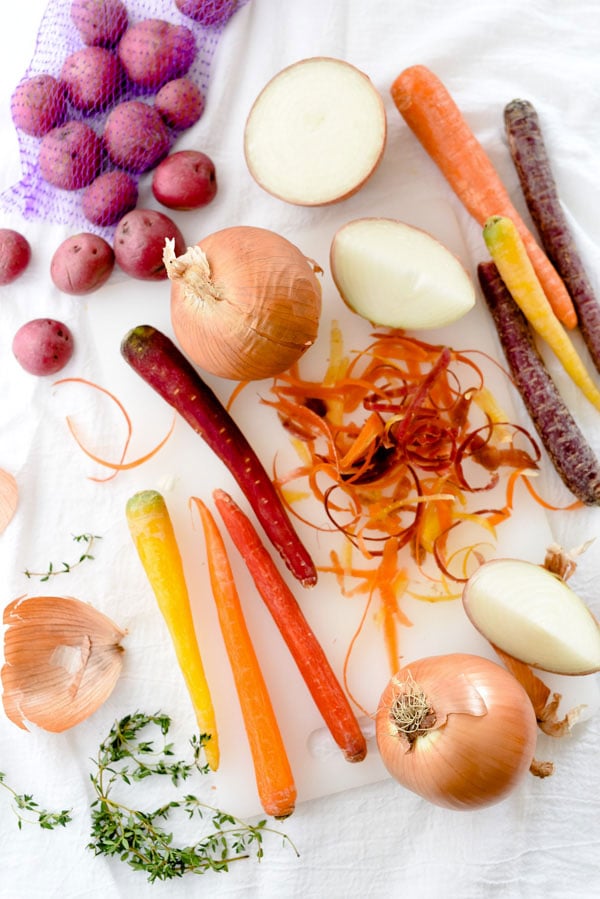 How to Cook Corned Beef in a CrockPot
I've baked my corned beef. I've cooked it on the stove top. But the method I seem to go to time and time again is tossing it all in the Crockpot or slow cooker (this slow cooker is great for cooking on the stove top, too!) for one of the simplest dinners you'll make all year.
I've also become a convert to cooking corned beef in my beloved Instant Pot and have added instructions below.
To cook Crockpot corned beef and cabbage, simply arrange the carrots, onion, potatoes, and corned beef in the slow cooker and pour the beers over the veggies. Sprinkle with fresh thyme and cook until the corned beef is tender.
Then, place the cabbage on top of the beef and continue cooking until the cabbage is tender. So easy, right?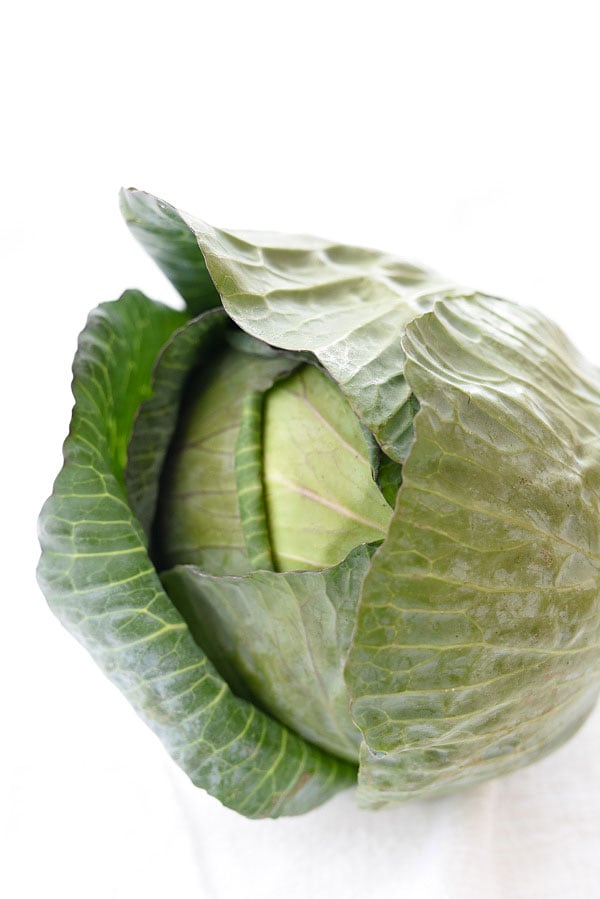 How Long to Cook Corned Beef in the CrockPot
I've varied my cooking time again and again with this Crockpot corned beef and cabbage recipe, testing and re-testing to decide what I liked best.
My conclusion? I really like a corned beef that is fall apart tender. So tender that when you cut it across the grain with a knife, it simply falls apart. Braising the beef in beer and in a slow cooker does help the corned beef retain its moisture but be aware it could get dry if you cook it forever and a day.
Most recipes recommend you cook the brisket for 4 to 4 1/2 hours on high in the slow cooker. In doing so you'll have nicely cut portions that while tender, simply don't fall apart when stuck with a fork.
But…
If you're like me and want that fall apart texture like the corned beef in the photo below, cook in the slow cooker on high for closer to 6 hours.
The only part of this cooking cautionary tale is I would recommend removing the vegetables from the slow cooker at about 4 hours so they don't turn into mush, then return them when you add the cabbage to the cooker. The result is a fall apart chunks piece of corned beef.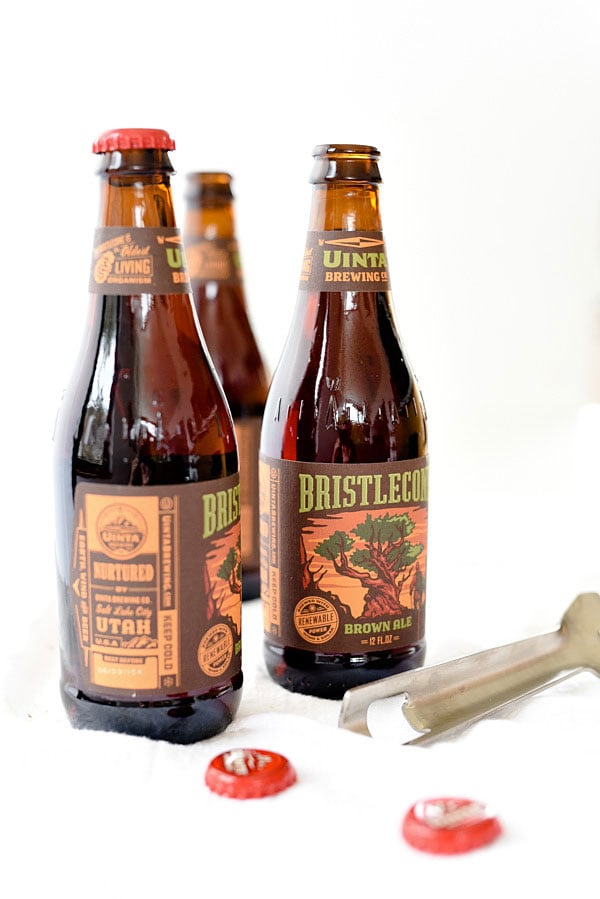 How to Cook Corned Beef in the Instant Pot
Because I'm such a fan of pressure cooking in the Instant Pot, this slow cooker corned beef recipe was a natural for me to convert.
To do so, I cooked the corned beef with the onion, spices, thyme, and beer on HIGH pressure for 90 minutes then did a quick release and added the potatoes, carrots and cabbage to the pot, set to HIGH and cooked for another 5 minutes, then did a quick release again.
One tip to make the Instant Pot corned beef cook quicker is to cut it into 2-3 chunks so it cooks faster and more evenly. Since I slice mine up to serve anyway, I didn't care whether I had a big chunk of meat to plate or not, and the delicious bites were a-okay with me.
What's the Best Beer for Corned Beef and Cabbage?
I douse the whole set up with two 8-ounce beers. Choose a brown ale, a lager or even a regular old Bud Light will do.
Can I Omit the Beer?
If beer isn't your thing, simply cover the beef and veggies with 16 ounces or so of cold water or beef broth and let the stewing begin. The spices should flavor it all well enough.
Or, you can always go half and half water/broth to beer. It's totally your choice.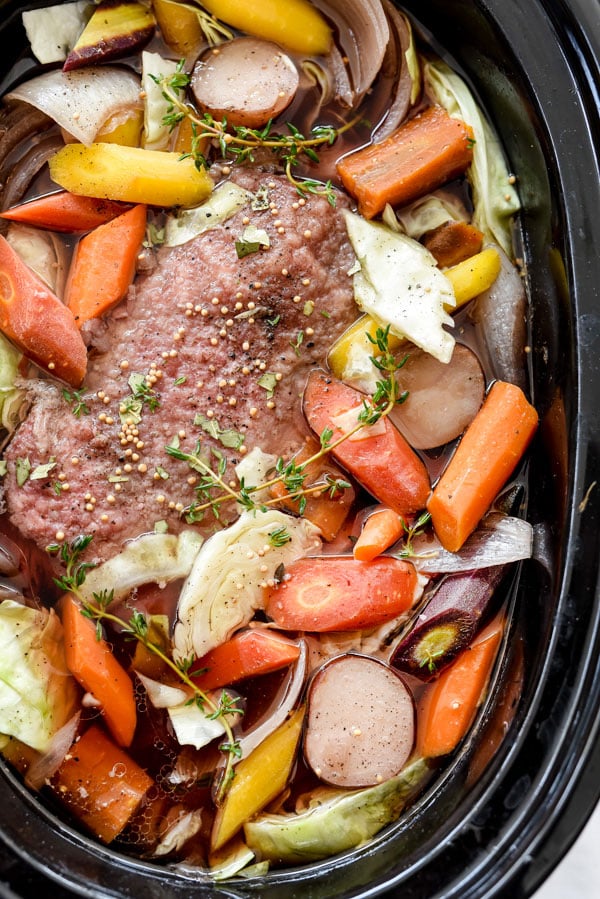 Tips for Making the Best Corned Beef Recipe
Note that rinsing the corned beef will remove the salted brine that could make your liquid extra salty. The meat should have already infused all the flavor from the brine, so it is safe to say rinsing corned beef won't dilute the flavor from the meat itself.
Another note about the corned beef spices: the corned beef I buy comes with its own spice packet included. If your spice packet feels a little skimpy, feel free to add an extra teaspoon or more of coriander seeds and allspice and another bay leaf or two to the whole deal once you've popped it into the slow cooker. Or, you can always brine your corned beef yourself (here's a recipe for that) but in my opinion, that's simply taking the ease right out of this Crockpot corned beef recipe.
I cook the veggies in with the corned beef to give it more flavor. All of the veggies EXCEPT the cabbage because of its delicate nature. I add that in the last 45 minutes to hour of cooking time. You could also add the potatoes at the 3 hour mark if you like a firmer potato, and be sure to use a sturdier potato like a red rather than a creamier potato like a white so it holds up to the cooking time.
My local Smiths Marketplace (aka Kroger) gets the most gorgeous Savoy cabbages in this time of year because it's the time of year people will actually eat cabbage. This winter hardy vegetables is at its height of the season now. I feel bad for cabbage, it gets a bad rap but it's so good! When choosing your cabbage, look for one that is heavy for it's size and doesn't emit any bitter smells.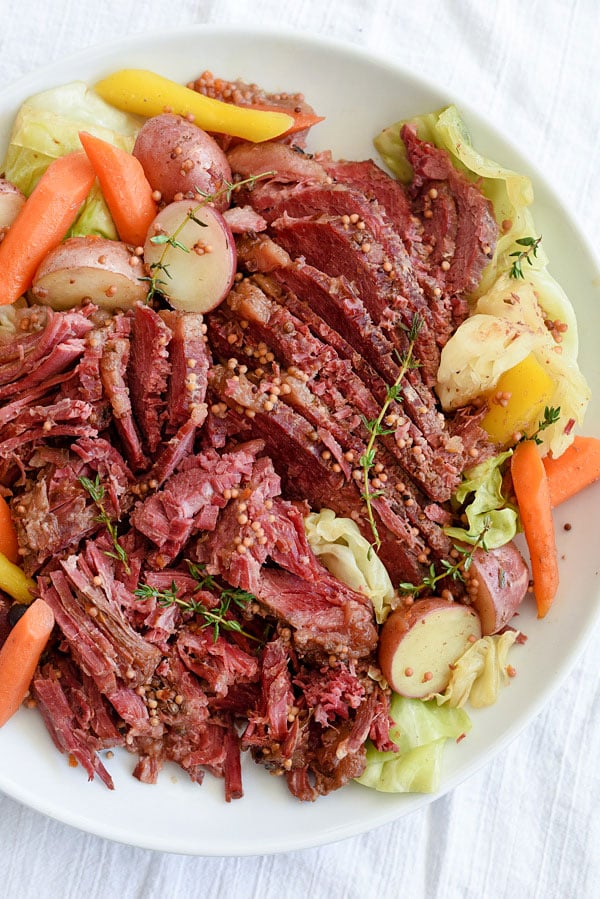 More Easy Beef Recipes to Make
If you make this recipe, please let me know! Leave a 
 rating on this recipe below and leave a comment, take a photo and tag me on Instagram with #foodiecrusheats.
Crockpot Corned Beef and Cabbage
This Crockpot corned beef creates tender, fall-apart chunks of beef thanks to braising in beer and vegetables for an unbelievably easy one-pot dinner.
Total Time
6
hours
15
minutes
Ingredients
3

carrots

, peeled and cut into 3-inch pieces

1

yellow onion

, peeled and quartered

1/2

pound

small potatoes

, halved

1

corned beef brisket

(about 3 pounds), plus pickling spice packet or 1 tablespoon pickling spice

2

8-ounce

beers

(I prefer ale or lagers)

6

sprigs

fresh thyme

1/2

head Savoy cabbage

, cut into 1 1/2-inch wedges

1/2

cup

sour cream

3-4

tablespoons

prepared horseradish

, to taste
Instructions
To Cook in the Slow Cooker:
In a 5-to-6-quart slow cooker, place the carrots, onion and potatoes. Place corned beef, fat side up, on top of the vegetables and sprinkle with pickling spice. Pour the beers over the vegetables and brisket. Sprinkle with the sprigs of fresh thyme. Cover and cook on high until corned beef is tender, 5-6 hours or 10-12 hours on low.

Arrange cabbage over corned beef, cover, and continue cooking until cabbage is tender, 45 min to 1 hour (or 1 1/2 to 2 hours on low). Thinly slice the corned beef against the grain and serve with the vegetables and cooking liquid with the horseradish sauce.
To Cook in the Instant Pot:
Cut the corned beef into 2-3 chunks so it cooks faster and more evenly. Add to the insert of a 6 quart Instant Pot with the fat cap up. Layer with the onion, spices, thyme and beer. Cook on HIGH pressure for 90 minutes then do a quick release.

Add the potatoes, carrots and cabbage to the insert, close, and set to HIGH pressure for another 5 minutes. Natural release for 5 minutes, cut, and serve.
For the Horseradish Sauce:
Mix the sour cream and horseradish together in a small bowl. Refrigerate for up to 1 week.
Nutrition Facts
Crockpot Corned Beef and Cabbage
Amount Per Serving
Calories 383
Calories from Fat 234
% Daily Value*
Fat 26g40%
Cholesterol 90mg30%
Sodium 1900mg83%
Potassium 787mg22%
Carbohydrates 12g4%
Protein 23g46%
Vitamin A 5215IU104%
Vitamin C 48.9mg59%
Calcium 54mg5%
Iron 3mg17%
* Percent Daily Values are based on a 2000 calorie diet.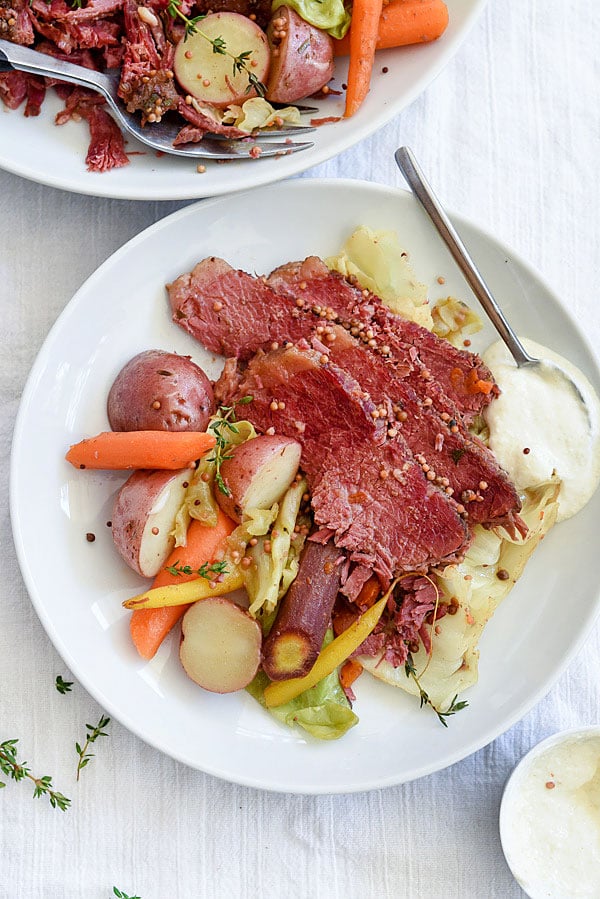 Recipe Ideas for What to Serve with Corned Beef
It's easy to go traditionally Irish with St. Patrick's Day fare to compliment corned beef all day long. Here's a few suggestions to get you going:
Get my FREE 10 Commandments of Slow Cooking Success
There are a few tricks to make slow cooking one of your fastest weeknight or weekend culinary secrets.
Subscribe below to get my FREE DOWNLOAD of 10 Commandments of Slow Cooking for Success for my tips to get slow dinners on the table fast.
We send good emails. Subscribe to FoodieCrush and have each post plus exclusive content only for our subscribers delivered straight to your e-mail box.
Follow me on Instagram, Facebook, Pinterest and Twitter for more FoodieCrush inspiration.
As always, thank you for reading and supporting companies I partner with, which allows me to create more unique content and recipes for you. There may be affiliate links in this post of which I receive a small commission. All opinions are always my own.