"Beer is proof that God loves us and wants us to be happy." ~ Benjamin Franklin
As you'll find out when you ask me over for dinner sometime—which I'm hoping you certainly would consider because on a good night I can be a pretty darn entertaining dinner guest and just might clear the dishes from the table if I'm feeling generous—and you ask me to bring a little something sweet to our potluck dinner—say for instance an Irish celebration that is happening this coming weekend—my dessert of choice usually veers from the frilly and delicate sweet treat variety to something a bit more sturdy and craveable. Macarons? Not. so. much. It will be a long, long time before I try my hand at making a macaron. I'm afraid I don't have the patience or the skill to pull them off.
Basically, macarons scare me.
No, I'm definitely more of a hearty dessert type of gal, baking up something a bit more forgiving and a tad more freeform. Chocolate Stout Brownies in all of their fudgey glory are right up my dessert alley.
So are you staring at your computer right now thinking to yourself, "What the, whhhhaaat? Why would someone waste a perfectly good beer to ruin brownies, or any other recipe by dumping it into a recipe?"
Oh honey. Hold your horses and let the heads of your brews settle down. I have a selection of 20 great recipe reasons to add beer to your favorite recipes. But first we need to get to the bottom of these brownies.
Whenever I make chocolate brownies I find myself adding that little something extra to deepen the flavor and enhance the taste of the brownies. Most of my brownie making escapades involves the addition of instant espresso powder and kosher salt to add to the chocolateness. This time it's the stout that does the trick. You won't taste the beer taste at all, it's merely a richness that enhances my love of chocolateness.
I prefer my brownies dark and somewhat of the fudge-like arena of taste. I don't really care for them with frosting or too cakey, like, you know, the ones you see in the grocery store with a thick layer of lard frosting and decorated to fit the theme of the month in little plastic containers? If I wanted frosting and cake I'd eat cake. Am I right or am I right?
I also like my brownies with a focus on the chocolate instead of the sugar. I crave an afternoon treat—or maybe even breakfast bite—with a more dedicated taste of deep chocolate, one that perfectly balances a great latte, so I like to use bittersweet chocolate in my brownie recipes but will certainly entertain a semisweet as well.
For this recipe I kept the sugar at just one cup, but if you make these and feel they don't give you the sugar fix you were looking for, feel free to give them another try with another half cup of sugar added to the mix.
A few brownie making tips:
1. While I didn't use the flavored Chocolate Stout in this recipe, if you feel so inclined to add yet another delicious layer to your brownie, by all means, DO IT! A chocolate glaze (no, not frosting) on the crunchy top wouldn't be half bad either. Give it a whirl, let me know what you think.
2. I took a tip in baking these from my Wisconsin cheese tour last year where I learned from a local chef a terrific secret to baking moist and delicious brownies. "Go low and slow," he said. 250 degrees. That's all you need. And that's all I do now. And they come out perfectly crackled on the top and moist on the inside.
3. Patience. Brownies require patience. Not for cooking or preparing. No, patience to keep you from eating straight out of the pan or cutting and devouring too soon. Brownies are best eaten the second day after they've had some time to settle in and get ready for the ride, so plan ahead and bake them, let them cool and then put away your salivatory glands until the next day or you'll end up with an ooey, gooey mess. These babies need standing time.
4. If you're afeared of the beer, you can omit from the recipe.
Print
Stout Chocolate Brownies
Ingredients
½

cup

stout

10

ounces

60% bittersweet chocolate chips

1

cup

butter

1

cup

sugar

1

teaspoon

vanilla

½

teaspoon

kosher salt

3

eggs

1

cup

flour
Instructions
Preheat oven at 250 degrees F. Prepare a 9" X 9" baking pan with aluminum foil allowing foil to hang over the edges and spray with cooking spray.

Bring stout to a boil and reduce to simmer and cook for about 10 minutes or until reduced to ¼ cup. Set aside to cool.

In a double boiler or a small bowl atop a small saucepan filled with 1 inch of water, melt chocolate chips and butter over high heat, stirring occasionally, until melted.

Pour melted chocolate into a medium bowl and cool slightly. Add sugar, vanilla, salt and stout and mix well with a whisk or wooden spoon. Add eggs one at a time, mixing just until combined before adding the next egg.

Fold flour into mixture and pour into baking pan. Bake for one hour or until a toothpick comes out clean. Allow to cool in pan for 2 hours or overnight to firm up for best cutting. Dust with powdered sugar if desired.
Now that we've gotten a taste of the creamy nectar of the beer gods, here's a few more sturdy stout pours nestled in delicious food blogger recipes. Enjoy, my Irish for a day friends.
Chocolate Stout Sorbet from Hannah at Nothing but Delicious
Drunken Buffalo Sandwiches with Fried Sage from Bobbi of Fresh and Foodie
Guinness Floats from Ali of Gimme Some Oven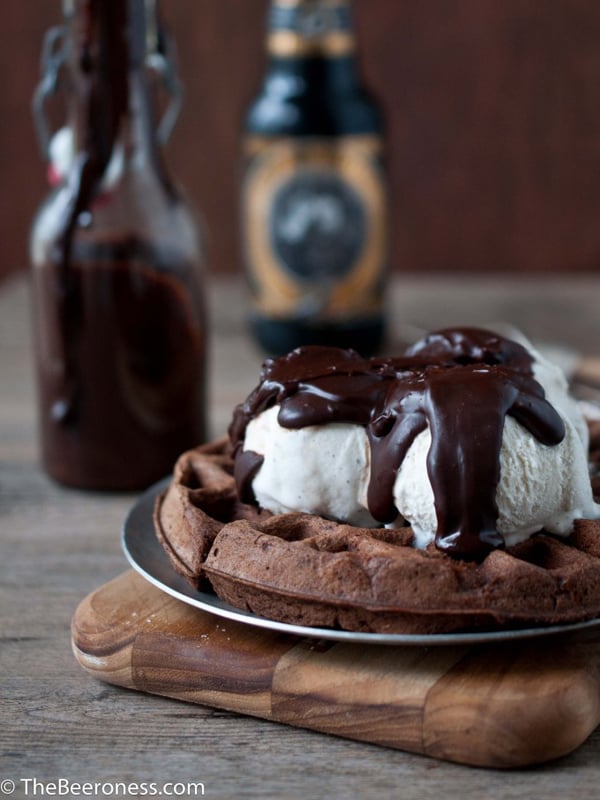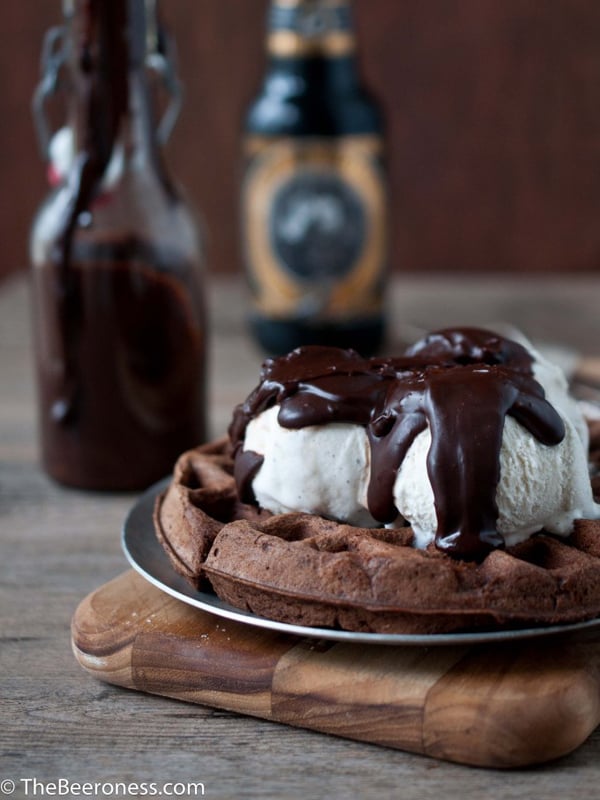 Chocolate Stout Waffle Sundae with Chocolate Stout Fudge Sauce from Jackie of The Beeroness
Zeppoles (Italian Donuts) with a Stout, Chocolate Chili Sauce from Zach and Justine of Cooking & Beer
Beer-Candied Bacon from Laura of Tide and Thyme
Scallops On Smoked Sweet Corn Puree with Stout Balsamic Glaze from Jackie at Domestic Fits
Chocolate Stout Pudding Pie from Giselle on the Kitchn
Chocolate Stout Cookies with Salted  Caramel Frosting and Pretzels from Theresa of Craving Chronicles
Beef and Stout Pie from Lana of Never Enough Thyme
Milk Stout French Toast from Steph of The Girl and Her Beer
Stout-Braised Short Ribs from Angie at Sea Salt with Food
Stout French Dip from Jackie of The Beeroness
Fried Spicy Sweet Pickles and Shiner Bock, with a Chipotle Mayo Dipping Sauce from Kelly of the Meaning of Pie
Cheeseburger Beer Soup from Karen at Soup Addict
Gingerbread Cake from Krissy at Krissy's Creations
Chocolate Stout Crepes and Irish Cream Whip from Megan of Wanna Be A Country Cleaver
Mushroom and Stout Pot Pies with Sweet Potato Crusts from Laura of The First Mess
Vegan "Beef" Stew with Dark Truth Stout from Katherine of Gouda Monster
Stout Cupcakes with Chocolate Covered Pretzels from Jamie of My Baking Addiction 
Crispy Beer Battered Fish Sandwich from Kevin at Closet Cooking
If these recipes find you just tipping the top of the cooking with beer iceberg, definitely head over to see what Ali at Gimme Some Oven is cooking up during Guinness Week and Jackie has a plethora of beer induced recipes at The Beeroness.
Related Recipes
Mom's Homemade Fudge
Caramel Apple Brownies
Devil's Food Bundt Cake with Espresso Ganache
Thanks for reading and please keep in touch by subscribing to FoodieCrush and follow me on Twitter, Facebook, Pinterest. Posts may include affiliate shopping links of which I receive a small percentage of sales to allow me to create new and special content like this for my readers, so thank you for your support. All opinions are my own.