Whether it's for quick pickled vegetables or long-term canning projects, there's no limit to the vegetables that can be pickled with this basic homemade pickling spice recipe.
The pucker! The crunch! Ever since I can remember, I've been an avid pickle eater. Whether it's a spicy garlic kosher dill, tangy French-style baby gherkins, or sweet bread and butters, pickles have topped just about every sandwich I've eaten and been a staple snack eaten straight out of the jar for as long as I can remember. It still drives my mom nuts whenever I fish pickles out of the jar with my fingers instead of a fork.
As I grew older and my taste buds broadened, and so did my pickle obsession, expanding from classic pickled cucumbers to pickled asparagus, onions, green beans, beets, cauliflower, and so much more. Pickled veggies are the perfect foil to cut through the richness of any cheese or charcuterie board or make a perfect topping for buddha bowls or meatball sandwiches. Oh man, I can taste them now.
Depending on what type of pickled deliciousness you're looking for, crafting a customizable homemade pickling spice gives the freedom to mix and match flavors to compliment any pickled veg you're craving.
What is Pickling Spice and What Is It Made Of?
So what is pickling spice? Most basic pickling spices always include mustard seed, peppercorns, and bay leaves, and depending on what's being pickled, more aromatics can be added. As a blend, these spices add tang and flavor to vinegar and water brines, holding up well over long pickling period, but are also flavorful enough to infuse their magic in quick pickling situations ,too.
These are the ingredients I start with for my basic homemade pickling spice:
Whole black peppercorns
Mustard seed
Coriander seed
Dill seed
Allspice berries
Red chili flakes
Bay leaves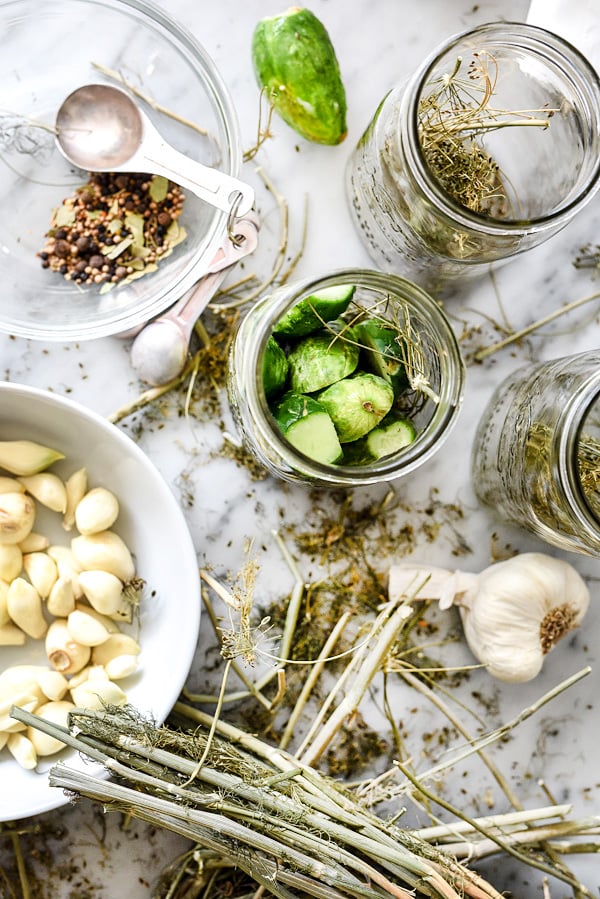 Other Pickling Spices to Add to Your Blend
One of the best things about pickling spice blends is there is no one way to make them. Be creative! Be flexible! Play with your food! Take notes of what spices fit your taste, then mix and match with different flavor combinations to create your own signature bite.
Star anise
Cardamom seeds
Celery seeds
Cinnamon sticks
Dill seeds
Whole cloves
Dried ginger
Fennel seeds
Juniper berries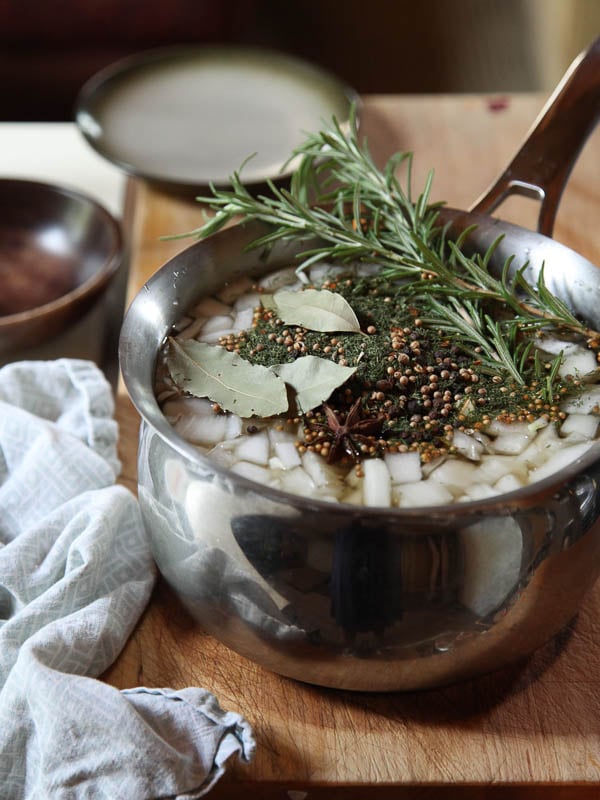 How to Use Pickling Spice
Once you've concocted your spice blend, it's time to start pickling.
Start with equal parts vinegar and water. I prefer a strong pucker power so my ratio of vinegar and water is equal at 1:1 with 2 tablespoons of kosher or pickling salt per cup of liquid.
Use a combination of vinegar for best flavor. For a more balanced flavor, I use both white and apple cider vinegar.
Add the pickling spice to jars, then the liquid brine. Bring the vinegar and water (equal parts) to a boil with the salt and cook until dissolved. Add 2-3 tablespoons of the pickling spice to a 32 ounce glass jar with lid, add the vegetables, then pour over brine. Place lid on top and let the brine cool completely before refrigerating. Let sit for 1-3 days before eating.
See my recipe for killer spicy garlic dill pickles for more info on pickling.
Vegetables Made for Pickling
Pickled cucumbers are a natural, but there's so many other veggies that love a pickling spice brine too, like:
Jalapeños
Asparagus
Cauliflower
Carrots
Okra
Cabbage
Tomatoes
Radishes
Zucchini
If you make this recipe, please let me know! Leave a 
star rating on this recipe below and leave a comment, take a photo and tag me on Instagram with #foodiecrusheats.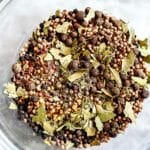 Print
Homemade Pickling Spice
Whether it's for quick pickled vegetables or long-term canning projects, there's no limit to the vegetables that can be pickled with this basic homemade pickling spice recipe.
Ingredients
2

tablespoons

black peppercorns

2

tablespoons

mustard seed

2

tablespoons

coriander seed

2

tablespoons

dill seed

1

tablespoon

allspice berries

1

teaspoon

crushed red pepper flakes

10-12

dried bay leaves

, crumbled
Instructions
Add of the ingredients to a small bowl and stir to mix.
Nutrition
Calories:
259
kcal
|
Carbohydrates:
39
g
|
Protein:
12
g
|
Fat:
13
g
|
Saturated Fat:
1
g
|
Sodium:
51
mg
|
Potassium:
823
mg
|
Fiber:
17
g
|
Sugar:
2
g
|
Vitamin A:
764
IU
|
Vitamin C:
9
mg
|
Calcium:
464
mg
|
Iron:
9
mg
More Favorite Pickle Recipes
We send good emails. Subscribe to FoodieCrush and have each post plus exclusive content only for our subscribers delivered straight to your e-mail box.
Follow me on Instagram, Facebook, Pinterest and Twitter for more FoodieCrush inspiration.
As always, thank you for reading and supporting companies I partner with, which allows me to create more unique content and recipes for you. There are affiliate links in this post of which I receive a small commission. All opinions are always my own.